Like a well-guarded treasure, you are invited inside the hotel's black and crystal showcase. This very special hotel stands at the heart of the 8th Paris Arrondissement, and is conceived as a tribute to women and to that most precious of jewels; the diamond. The hotel is close to the Opera, the department stores on the Boulevard Haussmann and Place de la Madeleine and is the ideal starting point for discovering the Center de Paris and its famous monuments.
This trip's choice was good. I chose a beautiful yet humble hotel that's just a few meters from Paris' most important communication hubs; La Garre st Lazare. The ambiance is a mix of The Champs Élysées MacMahon hotel with its dark modern decoration and the simplicity of colors and details each room enjoys, like paintings of women on the curtain and color. I stayed at this hotel for three calm nights. The rooms were clean and the atmosphere was very pleasant atmosphere, in a wide-enough room, a nice bathroom, free internet connection and a wide choice of TV channels. An experience I recommend.
My bedroom offers an elegant and intimate feel. Perfect for a nice stay in Paris. The facilities and décor have been very carefully thought out to bring guests simplicity and comfort: Contemporary furniture, padded bed heads, Swarovski crystals, crocodile-style wall-coverings, Chopard branded amenities, curtains decorated with women's' silhouettes… In a variety of black, grey, mother of pearl, red and orange colors. The Superior Chamber of the Hotel offers a design style for your maximum comfort. Each bedroom has diamond-themed decor which conveys a sensual atmosphere.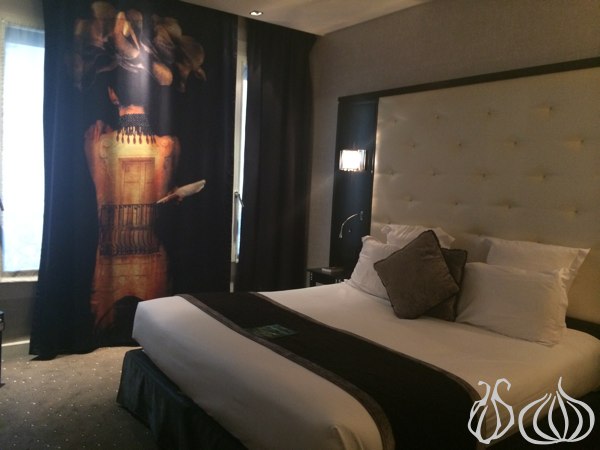 Room amenities:
King size bed, soft continental quilt, sensual under-mattress (two individual beds stuck one to the other. Don't expect to sleep in the middle of the bed because you'll fall in)
Big screen LCD satellite television with VOD
Workspace
Minibar
Safe
Italian style shower
Air conditioning
Sound proofing (not the best out there, I heard the planes passing over Paris all night long)
I enjoyed:
The bed covers, thick and fluffy
The shower water pressure
The hotel decoration
The welcoming reception staff
Needed improvement:
The very slow internet speed
King size beds should be king size beds. Not two single beds joined together
The unacceptable... Utmost levels of unprofessionalism:
It was 10:55am on the day I was checking out, all lights went off. What am I in Lebanon? After waiting for five minutes, I called the reception who informed me without even apologizing that they were running their annual maintenance checks. Come on! Shouldn't have we been informed? What would have happened to the elder people, what would have happened to people showering, what would have happened to people in the elevators? I had to wait even more and then to my biggest surprise the fire alarm went off. You know what a fire alarm is, right? This unpleasant unbearable sound that makes you feel like you want to kill yourself. In complete darkness, we had to listen to this unpleasant sound for five long minutes. It took a while for things to go back to normal. All the calmness enjoyed in the three days were ruined in a few seconds.
So the next time you check into Best Western Opera Diamond Hotel, make sure to ask if they are running some maintenance checks.