The easiest way to decide what type of restaurant you want to open is simple - so it seems in Paris - is to follow the trend today. A burger joint is what's popular now and they have been mushrooming across the capital. A grill, a frier and some meat is all you need to have a fruitful restaurant where youngsters can come grab an American bite, but some reality check is required here. It's not as easy as they make it sound... It's not at all an easy task to compete at serving the best burger.
I came across Brown & Baker, a new Burger and Bagels shop, by coincidence. Facing the Trinity Church of Paris' 9th district, the place looks interesting with a creative and appealing branding. It looks like a franchise, but it turned out to be a local creation developed by a young man. The place is nice:
A small space with a couple tables
Yellow painted walls give this restaurant its identity
Green flowers wallpaper cover the left wall
Black and white squared tiles cover the floor
Pictures, the American way, decorate the walls
A kitchen with its open window at the end of the restaurant sends the orders to the hungry customers
A two levels space where the upper area feels more privacy
Yellow leather benches
Black wooden tables
Ketchup, tobacco and mustard are already set on the tables
The restrooms are underground
We were welcomed by a gentleman who answered all my curious questions, while having a quick discussion about other burger shops around town. I told him about Shwartz and Breakfast in America and what I didn't like about both. He smiled, and agreed: Here, I expected to taste something much better than the other two... I was unfortunately wrong. The menu:
Salads

Burgers
Extras
Bagels
Sweets
Milkshakes
Formule dejeuner sur place
We Ordered:
Chicken Caesar salad (Grana padano, sucrine, filets de poulet roti, oeuf mollet, croutons, tomates confites, sauce caesar) 13€. Fresh and tasty
Little Italy salad (Sucrine, roquette, jambon cru, mozzarella, tomates crues et confites, sauce pesto) 14€. Too salty with a fade aftertaste. Nothing is really special about this salad
Cheeseburger (Boeuf, cheddar, tomates confites, oignons caramélisées, laitue, sauce classique, pickles) 12,5€. Acceptable but not great
Burger Barbecue (Boeuf, cheddar, tomates confites, oignons caramélisées, bacon grille, laitue, sauce barbecue, pickles) 13€. The BBQ sauce tastes good but that's it
Italian Burger (Boeuf, tomates confites, laitue, jambon cru, roquette, Grana Padano, sauce pesto, pickles) 14€. Too complicated and too watery. It contains too many cold sections making it annoying to eat
Dark chocolate mousse (Oreo facon crumble) 5€: Awesome! Bravo
Philadelphia cheese cake 6€: Tasty even though the biscuit is not crunchy
Ice cream (2 scoops) 5€: Good
Cafe gourmand (Marshmallow, brownie, lemon curd) 5,5€: An innovative idea. Bravo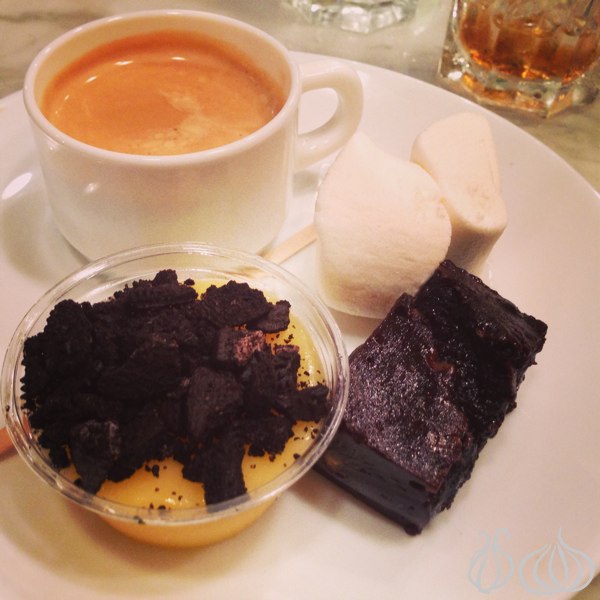 The Burger verdict:
The meat is too small for the bun. 125g are not enough although the price is the same as the 280g at Shwartz. Half the quantity for the same price?
The thickness of the burger is good: Easy to be devoured with your hands
The meat quality is very good, fresh and non frozen, it crumbles under your teeth like it should
The bun is too dry and unpleasant to chew
A very average overall taste
The pluses:
The meat is great. Juicy, non fatty, fresh and tasty

All the vegetables are fresh and from a good quality
A special lunch formula makes it affordable for everyone: burger, fries and soft drink for only 15€
Expect to taste a new burger creation every week
The desserts are great
The minuses and must change: A lot has to be done...
The bread is too dry. Trying to be different by using French bread doesn't make it tastier. Not a good idea after all

The meat is too small. For 13€/burger, and a meat that is only 125g, that's way too expensive
The meat is smaller than the bread. Many bites are only filled with bread and sauce. Consider using a 150g minimum
The place is too noisy. Some curtains or some sound buffing tools are a must
The fries we received are under cooked and are dark brown color, they are soaked with oil and soggy. On the other hand, the table next to us received light yellow fries. The cooking homogeneity is not consistent. Each plate receives a different taste
Too tight: Tables are small are packed one over the other. Eating experience is unpleasant
The service is way too slow. All we did is eat burgers and we had to sit in here between 12:00 and 01:30pm. 20 minutes for the desserts to be delivered?
No coasters and no placemats: Each time you grab your soft drink cup expect to be soaked with water
Wet napkins are a must in a diner! Burgers are eaten with your hands
Where is the coleslaw salad? Is it by any chance those little few cabbage slices hidden under the fries? Those little tiny things that are too crunchy and taste nothing like a burger salad? It's either you serve a decent portion of salad or just don't. This way you appeared to be unacceptably stingy
When it was time to leave, we paid and left. The same person who I had a discussion about burgers and so on, did not seem keen to hear my opinion. The place was full and this is what matters. Happy customers or not, its not the issue!
At Brown & Baker, the only thing I'll order again are the desserts - if I come back again. All the rest is not even worth trying. A long list of improvements has to be fixed before this place gets close to reaching the minimal American standards of a diner.
Three burger places already tried, each worse than the other.