Starbucks, the company that reinvented the modern coffee shop, is turning its attention to another venue: the teahouse. Last year the 19,000-cafe giant acquired Teavana, a chain of mall stores that sell tea and teaware. This week, Starbucks opened the first Teavana tea bar on New York's Upper East Side with plans to open 1,000 stores in North America within 10 years.
"We have confidence and excitement and optimism about?…?the tea bar concept, not only in the U.S. and North America, but opportunities in other places around the globe," says Cliff Burrows, Starbucks's president for the Americas, Europe, Middle East, and Africa, and Teavana.
If Starbucks is where people head for a caffeine fix before work, Teavana intends to be where they go for a leisurely lunch or an afternoon break (times when they're less likely to be at a Starbucks). Dine-in customers can get their drinks and food on real dinnerware, and the snacks are upscale items such as mushroom and kale flatbread and lemongrass ginger chicken rice balls.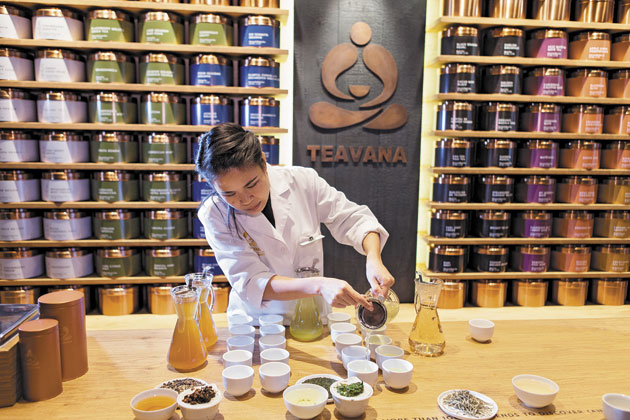 The prices are slightly higher than in coffee shops, and the store sells tea and accessories for the home. To prevent customers from expecting a quick-service experience, there's zero Starbucks branding. Instead, the wall of the New York store is bejeweled with colorful tins showcasing Teavana's 100 varieties of loose-leaf teas—including such unorthodox blends as White Chocolate Peppermint Rooibos and Strawberry Blush Rosé Oolong. The menu lists the 100 loose-leaf teas as "signature teas" and "rare teas." What features more prominently are Teavana's handmade drinks, which aren't available at its more than 300 mall stores. There are tea-based lattes (which start at $3.95) as well as "craft tea fusions," basically nonalcoholic tea cocktails that use such mixers as pineapple coconut water and fresh mint ($4.95). "The area where we will be innovating is the tea lattes," Burrows says, noting the CocoCaramel Sea Salt Latte. "We wanted to be pretty bold and out there." The second half of the menu has breakfast pastries and sandwiches, and for later in the day flatbreads, salads, small plates, and desserts. "Lunch will be important," Burrows says.
What's your thoughts on that?