It was 8am when my friend and I reached Al Falamanki. Nestled in the heart of Achrafieh, facing Dunkin Donuts on Sodeco, this restaurant is a piece of heaven amidst Beirut's busy life. Hearing the news that Al Falamanki has introduced a special breakfast formula, to celebrate their 5th year anniversary, I rushed to try it out... The experience was awesome. Mind you, Al Falamanki has already been serving breakfast, which I make sure to enjoy at least once a month, but they have officially created an inexpensive breakfast formula... Not only is this place a source of peace, the story behind it is really something. You will be taken into Khalil's world in an instant... a typical story of "poor gone good." But who's Khalil you may be asking.
Well, in a nutshell, Al Falamaki restaurant was created by Anis Falamanki who wanted to honor his father Khalil Al Falamanki.
Khalil was born in 1917. he was not able to get much of an education due to his father's early death, which drove him to move down to Beirut from the mountains. But Khalil's talent for sports helped him become a renowned professional wrestler. An injury forced him to stop his wrestling career. But one fan, a wealthy Egyptian businessman Tarek Fakhry hired Khalil as his bodyguard. He then became his confident and they traveled the world together for many years. During his travels, Khalil met celebrities who admired his absolute loyalty to Tarek, as well as his charm and charisma. He was close friends with people like Alfred Hitchcock, Kirk Douglas and Maria Callas to name but a few. After Tarek's death, these celebrities stayed in close touch with him... Along the years, Khalil collected a lot of memorabilia, photos and so much more. Anis decided to give his late father's many memorabilia a suitable home and, at the same time, honor his father's other passions which included food and music by creating Al Falamanki.
Who by now is not familiar with Al Falamanki - a wide space in the heart of Achrafieh area, boasting an open terrace with a Lebanese style indoor seating serving a wide range of Middle Eastern and authentic Lebanese preparations. Al Falamanki welcomes you 24 hours a day, 7 days a week serving breakfast, lunch and dinner as well as a full day Arguile service. Al Falamanki is the place to enjoy your time, nibble on special Lebanese food in a nice atmosphere, meet up with old and make new friends while enjoying the history behind the place.
I this think, that this year can officially be called "The year of Breakfast". Many restaurants have introduced the breakfast/brunch concept creating special formulas for that. Al Falamanki officially created a breakfast formula to celebrate their 5th year anniversary. At a very reasonable price, this formula can be enjoyed starting 7am until 4pm excluding Sundays and public holidays. The formula is simple, affordable and fulfilling:
Tray mix 12,000L.L: Kishk, Al Falamanki labneh mix, thyme & olives, Khalil's cheese, olives, 1 drink
Manoushe combo 10,000L.L: Meat mix, kishk, thyme, cheese, cheese & apricot jam, vegetable selection, 1 drink
The place is wonderful... I love it:
Give your car to the valet, climb up a few stone steps and be welcomed into a large terrace that will transmit your sense far from Beirut's chaos
The rich greenery adds a touch of freshness while blocking strong summer sun spells from the sofas and tables below
At the very end, a house, with its high ceiling. It is kept to look as a hangar or what was known as "ahwet el ezez" in the early days
Pink walls, old Lebanese tiles and glass facades make this space relaxing a soothing one
All the walls are decorated with musical instruments, old paintings, backgammon boxes and Turkish hats
The L-shaped space is divided in the middle by the open kitchen and furnace
The kitchen is clean and interesting. Utensils are well displayed
You can find square tables, others rectangular and relaxing sofas around, that can host hundreds of customers who normally gather during the afternoons for a match of backgammon and after party hours for breakfast
My favourite spot is the large dining table that is surrounded with 12 chairs. It really makes me feel at home
Earth colors perfectly blend together in this space that I enjoy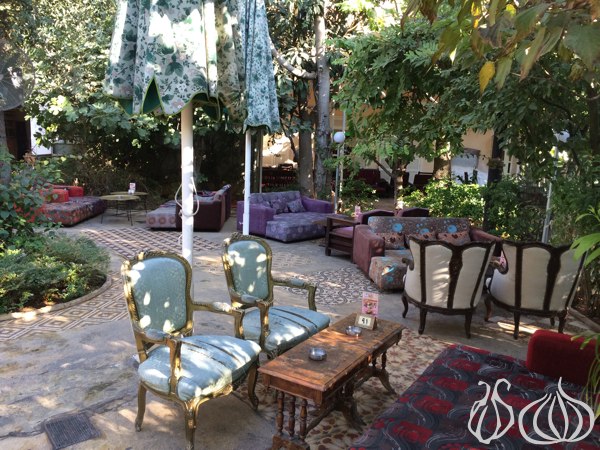 The menu:
The story of Khalil Al Falamanki
Seasonal sides
Salads
Al Falamanki after-hours and breakfast
Combos
Hot appetizers
Cold appetizers
Eggs
Grills and Other
Oven
Saj
Deck of cards for 7,500L.L
Desserts
Drinks
Shishas
On today's breakfast:
A platter of mannish Zaatar, meat, cheese, kechek, Akawi cheese and peach jam. Simply superb. A soft and tender dough covered with fresh and warm ingredients. The zaatar, my favorite is one of its kind. I enjoyed it more than I had expected, and the best part was I felt no heart burns side effects. Imagine 5 tasty manakish served with a selection of local vegetables for only 10,000L.L. Impressive!
A platter of Lebanese mezze: Labnet el Falamanki, zaatar, jennet khalil, green olives, kechek and a mix of vegetables. My favorite items at Al Falamanki, the ones I always order are now offered in one single platter for only 12,000L.L. Extraordinary!
We ordered on the side: Steak halloum, the one and only grilled piece of halloum served with fig jam.Yum!
Scrambled eggs with awarma were the least impressive this morning as they are richer in oil than anything else. Soggy, oily and lack seasoning. I was expecting much better
With tea on the side, we enjoyed a rich, generous and very affordable breakfast in a pleasant atmosphere. If you still don't know what Al Falamanki is, believe me, you are missing out on a lot. My suggestion for a first impression, don't visit it after-hours or late afternoon when shisha smoke reaches the street. Come for lunch or breakfast. I love:
Al Falamanki's bread is exquisite. Homemade signature thick Markouk bread like no other
The presentation of food is always perfect
The ambiance and style of the restaurant
The prices are really cheap
The waiters have been working here for the last five years and know the accustomed customers by name
It was already 10am and I was enjoying my start of day, but reality checks in having to run back to work. If you were to ask me today, where a good spot for breakfast can be enjoyed in Beirut, I can honestly say that this is one of my favorites.