Browsing the net I was led to an exceptional infographic by an amazing artist called Joumana Medleg showing the baklava pieces and their names. Breathtaking indeed!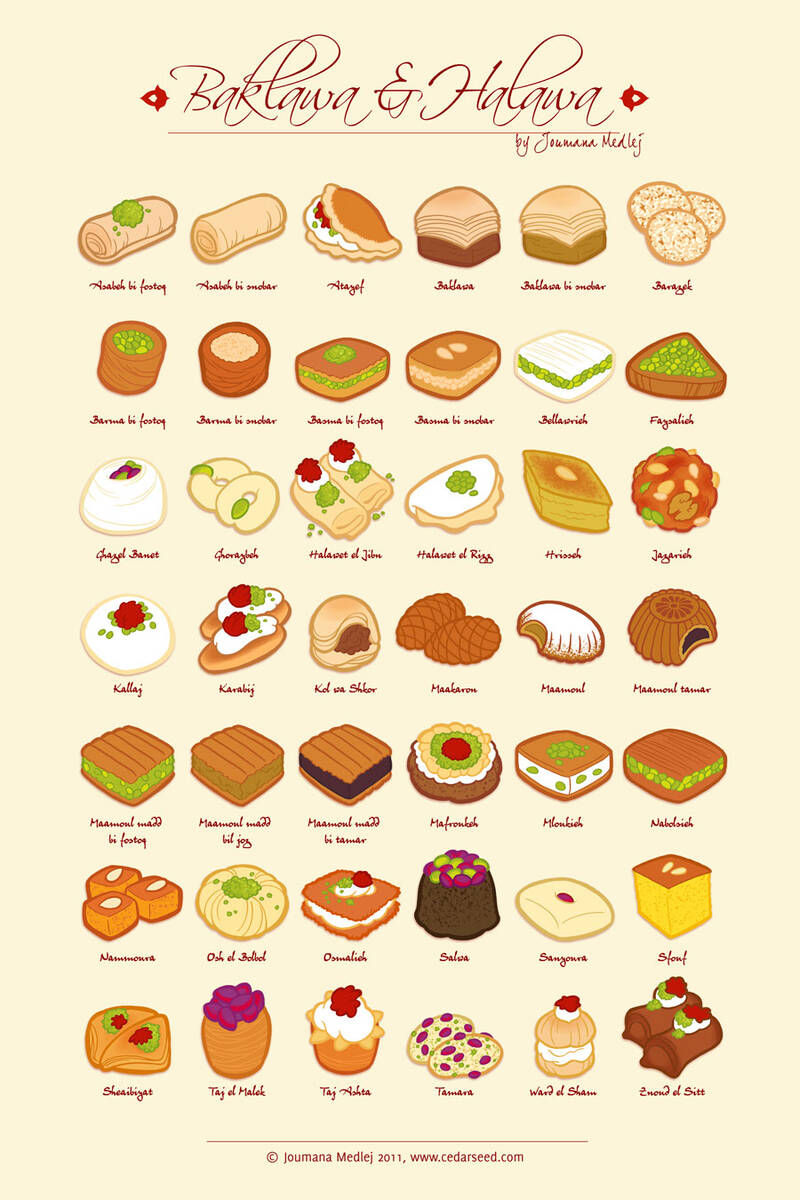 Below is a brief description of each:
Asabeh: "Fingers",

crispy paste rolled over a stuffing.

Atayef: Sweet crepe filled with cheese or nuts, served with 'atr (sugar syrup with orange blossom water), usually during Ramadan.
Baklawa: The generic, layered pastry, with chopped nuts , soaked with 'atr.
Barazek:Flat pistachio and sesame cookies.
Barma: "Roll", shredded wheat rolled around a stuffing.
Basma: "Smile", square semolina pastries stuffed with nuts.
Bellawrieh:Square

pastry made of a fibrous wheat paste, stuffed with pistachios and soaked in 'atr.

Faysalieh: A triangle of pastry stuffed with pistachios.
Ghazel banet: "Flirtation of girls", cotton candy
Ghoraybeh: Lebanese shortbread cookie made simply with flour and sugar.
Halawet el jibn:

Lebanese dessert made of cheese dough,

ashta (a thick clotted cream)

and rose jam.

Halawet el rizz:

Rice mixed with white cheese and sugar, served with ashta.

Hrisseh: A soft, dense Lebanese cake associated with Christian holidays.
Jazarieh: Despite its "carroty" name, it's made of grated candied pumpkin mixed with nuts.
Kallaj: Fried wheat layer filled with ashta, specially served during Ramadan.
Karabij: Shortbread fingers served with a special white cream made of egg whites, 'atr and soapwort.
Kol wa Shkor: "Eat and give thanks",

crunchy half-moon-shaped paste filled with pistachios or nuts.

Maamoul: Shortbread pastries stuffed with pistachios, nuts or dates, molded in characteristic wooden molds. They're associated with
religious holidays – Easter or Ramadan. Easter maamouls are made in two shapes: round (stuffed with dates) to symbolize the crown
of thorns, and oval (stuffed with nuts or pistachios) to symbolize the sponge Christ was given to quench his thirst.
Maamoul madd: Maamoul prepared in a "spread" and cut up rather than individually molded.
Mafroukeh: A festive dessert recipe, made of layers of semolina, ashta cream and roasted nuts.
Nabolsieh: C

heese dessert topped with crushed pistachios and 'atr.

Nammoura: Square pieces of golden semolina cake topped with almonds.
Osh el bolbol: "The nightingale's nest".
Osmalieh:

Fibrous wheat paste sandwiching ashta cream

Sanyoura: A sugar cookie.
Sfouf: A Lebanese cake from almond-semolina flour flavored with turmeric (hence the bright yellow), sugar, and pine nuts.
Sheaibiyat: Triang

les of crispy pastry layers filled with ashta.

Taj el malek: "The king's crown",

shredded wheat crowns filled with pistachios.

Taj ashta: A "crown" with ashta, a thick clotted cream.
Ward el Sham: "The Rose of Damascus", ashta between two layers of crispy phyllo dough.
Znoud el sitt: "The lady's arms"
Recurring ingredients:
Fostoq: pistachio
Snobar: pine nuts
Tamar: dates
Joz: Walnuts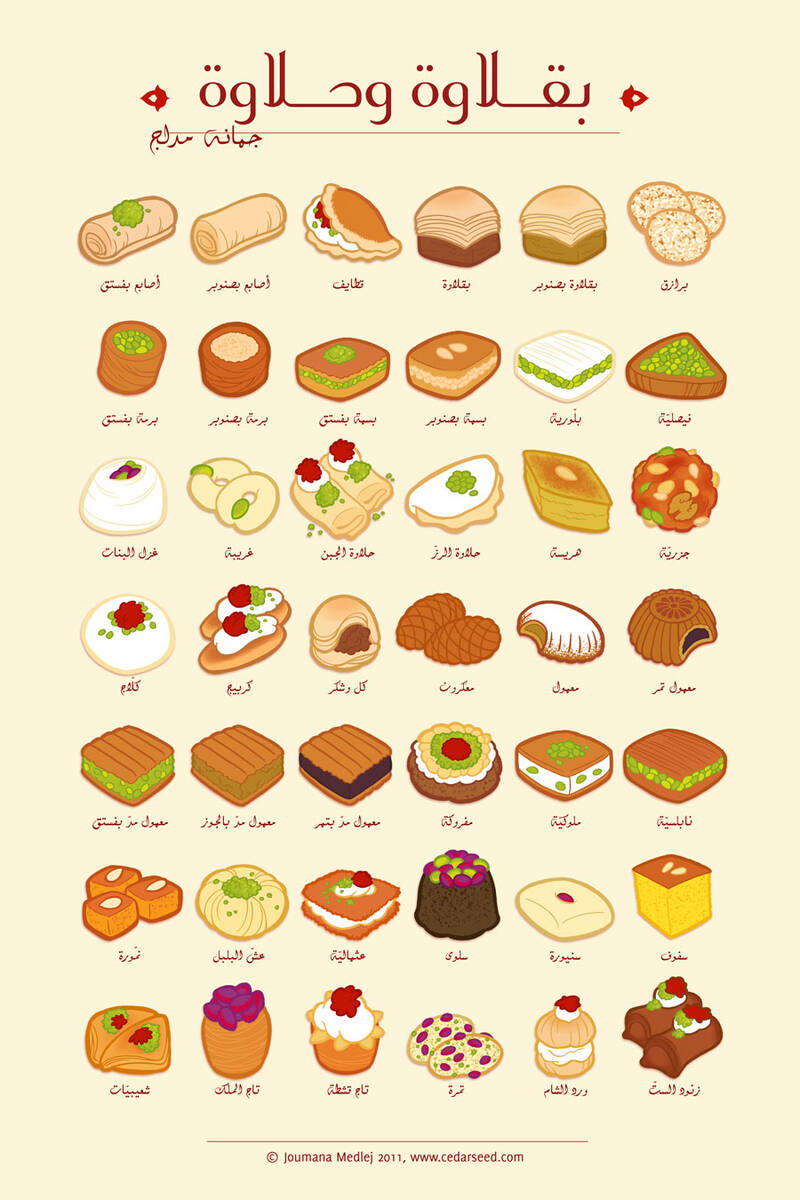 Born in Lebanon, Joumana Medlej started drawing at 11 and has not been able to stop since. Self-taught in illustration, she graduated in 2001 with a Bachelor's in Graphic Design from the American University of Beirut. She worked as an animator before deciding to freelance to expand her creative horizons. She was involved in mail art, learned bookbinding, experimented with mixed media and watercolour, and exhibited both artwork and travel photography.
She created and published Lebanon's first adventure comic series, Malaak: Angel of Peace, and the humorous comic Driving in Lebanon. She was apprenticed to a master calligrapher for several years while creating computer games for one of the Middle-East's first game developers. She is now settled in London, UK, where she is dedicated full-time to her own calligraphy, going deeper into the potential of the ancient art of the Kufic script, while pursuing illustration for her own pleasure.
She is also an avid cook and baker, and all-time animal lover, with a passion for ethnography and a history of globetrotting.
You can buy Joumana's products here.