I still remember the symphony, experienced that night... The tacos crumbling under my teeth like tam-tams, the guacamole caressing my palate like horse tail on a violin, the vibes pumping in my ears like sticks on a drum... As simple as it is, El Molino put a smile on my face from start to finish, a dinner I recommend and surely will repeat soon.
I used to consider El Molino to be my cantina since university days. With my friends, we came here on a weekly basis to indulge in some fine Mexican food without understanding how a small place like El Molino that's non pretentious and that cozy, can offer one of the best Mexican food in town... At a very reasonable price.
In 1992, the first fajita, and margarita in Lebanon were served here, and since that time three generations have already experienced el Molino... I think we all agree that the consistency of the food and the service, haven't changed throughout the years. El Molino, defeating all prices on the market, imports its products straight from Mexico and Los Angeles preserving the true flavors one expects to taste, the flavors of Mexico... Transporting you to Latin America for a night.
Meet Tony, the owner, who welcomes you in his paradise with a big smile on his face looking around for any imperfection that might have escaped while the staff makes sure to make of your experience a unique one.
We were here at 9pm, on a busy Friday night, in the oldest city on the planet and chose to sit next to the window overlooking the Phoenician port of byblos. Things went smoothly while we enjoyed some delicious food.
The place's little details:
Enter an old house, where old vibes are still felt
Brick color square tiles cover the floor
Wooden tables fill the space, with ceramic designs in their center
A simple Mexican ambiance decorates the place with sombreros, porcelain tiles and panchos
The restaurant is divided into three distinct space. The outside terrace, the closed balcony and the inner dining space which is accessed from the arcade door
As you enter, the biggest and best table is the one to the right side. A rectangle that can welcome up to ten guests.
Wood, lots of wood decorates the place
As you sit on one of the tables next to the glass, a beautiful view on the marina will make of your evening a memorable one
Stone walls remind you of the city's ancient cachet
Colorful, the space is decorated with colored glass and lanterns
A simple, fresh and well lit space is relaxing
Dinner starts with tortilla chips and tomato dip served as you walk in. Those are charged LBP2,000/person. You can ask not to be served but I surely don't recommend you do so. Those chips are so light, so thin and so crunchy that I could eat from them all night long. Unique nachos that are not salty and don't taste like commercial chips bags.
The lemon margarita pitcher followed. A big pitcher served with large plastic cups lines with salt and a lemon slice. Large cups served with a straw. Margarita was exceptional, rich and generously filled with alcohol.
Now that we're ready, let's enjoy dinner:
Nachos Rancheros with shredded chicken LBP26,000: In a copper casserole, tortilla chips are topped with shredded chicken, ranchera sauce, beans, jalapeños and topped with guacamole and sour cream before melted cheese covers the mix up. All together mixed with ranchera sauce, beans, jalapeños, sour cream, guacamole. That's a plate better enjoyed with a fork. Dip in the mix of a hundred textures where crispy nachos are mixed with soft guacamole, warm beans and fresh vegetables before reaching the melted cheese that adds a certain unmatched finesse. The best part is the shredded chicken with no garlic and a great taste. A perfect first impression and a plate not to be missed.
Guadalajara Platter LBP22,000: This mix plate is a combination of taquitos, quesadillas and chicken wings. Fresh and crispy taquitos, even though fried they don't feel oily served with avocado sauce on top next to hot grilled quesadillas generously filled with melted cheese and some spicy chicken wings on the side, juicy and good. A plate that's just perfect.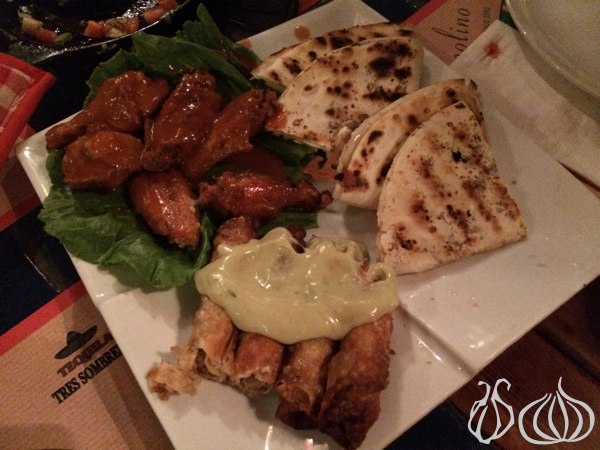 Tacos LBP18,500: Four crispy tortilla filled with tender grilled beef, black beans, onions and topped with shredded lettuce, diced tomatoes and shredded white cheese. Super crunchy tacos filled with a generous and equilibrated mix of flavours that transport you to Mexico in every bite. Loved the textures, the freshness, the vegetables, the warmth of the ingredients... I crave those tacos every night.
Fajitas LBP33,000: Marinated strips of steak, chicken breast and grilled shrimps served with vegetables on sizzling iron skillet. Tender chicken, juicy meat, fresh shrimps served with rice, whole beans, guacamole and freshly baked tortilla that are so thin they kind of look transparent. A recommended plate for sure.
Carne Asada LBP32,000: Grilled filet Mexican style, served with grilled vegetables. You usually expect to be asked how you like your meat but at El Molino, you don't have to since the meat is well cooked and comes so juicy you will nod your head in appreciation. If you want to eat light, that's a plate to order.
Dinner was exceptional... Food was simply exquisite so we decided to give desserts a try. Dessert was as good as dinner:
Cajeta Mousse LBP12,000: Served in a porcelain cup, a chocolate mousse is topped with caramelized goat milk. A tasty mouthwatering mix that's adequately sweet with a proper texture and a rich body.
Coconut ice cream LBP8,000 followed, a famous brand called "Menorquina" available at many restaurants in town. A tasty ice cream served in a coconut shell. This brand also has pineapple and lemon.
The things I appreciated:
No garlic is used to marinate chicken at El Molino
Ingredients used are so fresh that you feel them in very bite
Loved the Guacamole that's so rich without a prominent taste of onions
Beans dip is produced using while beans, a preparation I prefer on the mashed one some Mexican restaurants produce