Another day in London attending Food Blogger Connect 2012.
The Interesting Program: Getting 'Geeky' with Lightroom, Introducing Your Readers to Restaurants & Products, The Brave New World of E- Publishing, Food Blogger Tools, SEO & WordPress 101, enlightning School of Photography, Graduate to Self Hosting, Bodyguards & Facelifts – Security & Technical Upkeep of a Blog, The Social Media 'Grand Plan'.
Rich social evening entertainment:
Russian Revels:
Mother Flipper Burgers:
Pasta e Basta:
Wines Of Lebanon:
The Hop Box:
The Recipe Taster:
Nice discoveries today: Better Brekkie: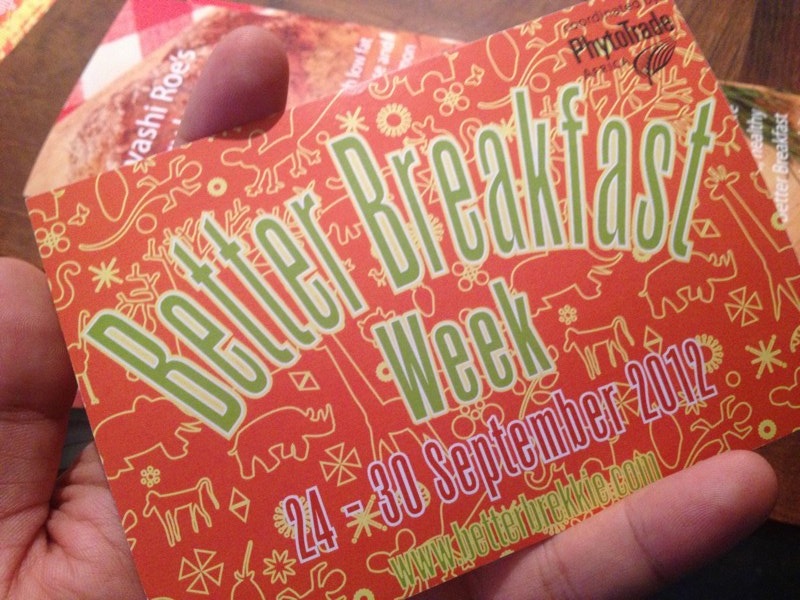 Research shows that only half of us bother to eat breakfast before leaving home and that even some children go to school on empty stomachs. The first meal of the day is on the decline yet all the evidence suggests that tucking into a good healthy breakfast not only gives us the energy we need to face the day, it improves brain performance and behaviour and can help control our weight too!
Delicious lunch enjoyed: Toma Mexicano:
I've tasted:
steak fajita tacos made with free range British marinated beef held within corn tortillas and laid on a bed of fresh cos lettuce then loaded with homemade salsa roja, yummy avocado sauce, pico de gallo and mature cheddar, garnished with a juicy wedge of lime.
A second very interesting day. Tomorrow I'm attending a photography session... Will keep you posted.