Located in the heart of Sarba, I arrived at Furn Beaino at 7am. Yes this early. I have been aiming to come to this bakery for a while now especially that everyone around keeps recommending their Lahme Beajine - I had to try it for myself...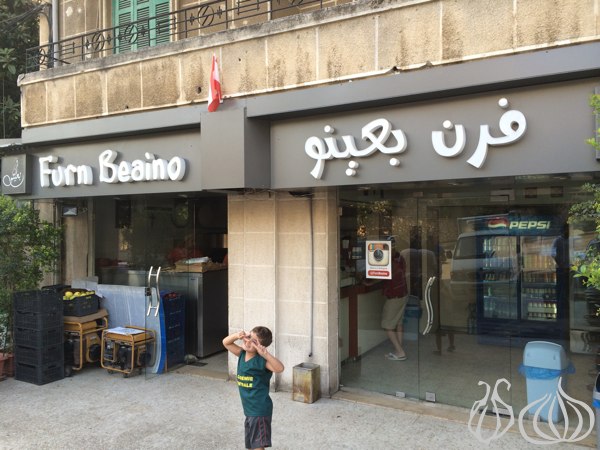 In Sarba, a few meters from Habana, is Furn Beaino. Opened since 1975, this two door bakery has been producing the same items with no sophistication. As you walk in, you will find a meat fridge - this is what's unique about this place - they make their meat for their Lahme Beajine, along with the kafta and soujok sandwiches.
The menu is simple:
Lahme Beajine
Zaatar (extra)
Jebneh (extra)
Shanklish
Sbenegh
Lahme w Jebneh
Zaatar w Jebneh
Jebneh w Jambon
Soujouk
Soujouk w Jebneh
Kafta
Kafta w Jebneh
Kawarma
I started with the zaatar: A large 30 cm Mankoushe filled with a generous load of thyme. A tender dough that's so pure that the first bite might be bizarre. No sugar and no additives, wait until you taste the Zaatar to judge. Together, the Zaatar and dough are so enjoyable. It includes the right amount of oil, fine Zaatar and sesame seeds … It's good, but I've honestly had better.
The cheese mankoushe followed. The same impression to start. The first bite is weird since the dough has a neutral taste, but don't judge too quickly. Reach the cheese part which is felt in every bite. A watery and salty cheese (akkawi cheese) enjoyed in thin dough with crispy borders… It's also good, but I've honestly also had better.
Sitting at the corner facing the mirror, I could live the vibes of this place. A large LCD TV displays the CCTV camera of the entrance, a bar for dine-in customers with four stools, the Pepsi fridge next to the meat display, while a busy team prepares one order after the next on their stainless oven.
Hygiene is taken seriously here... wet napkins, nylon gloves, stainless steel kitchen utensils… food safety is key.
Every person that comes here, enters with a smile on their face, while they come in to enjoy an early bite that will prepare them for their long day ahead
Zaatar and cheese manakish are good but not exceptional. Come here for the meat.... It is really awesome!
Now I understand... The Lahme Beajine. Paper-thin dough, firm like a biscuit and covered with a fresh mix of meat prepared in house, tomatoes and onions. A mix of three colors layered on a beautiful circle. It's not soggy at all. You will enjoy pure rich meat. Ask for one served on a plate. Cut it in eight pieces like a pizza and enjoy every slice calmly. Enjoy the way it looks first, then the taste while every bite crumbles under your teeth. Have a bite, and another and you'll end up eating more than you had planned... Without garlic, the right amount of onions, this lahem beajine is breathtaking. I couldn't stop looking at its details, the crispy black borders, the meat covering the entire surface homogeneously… Bravo! Everyone was right; Furn Beaino does have a fine Lahme Beajine.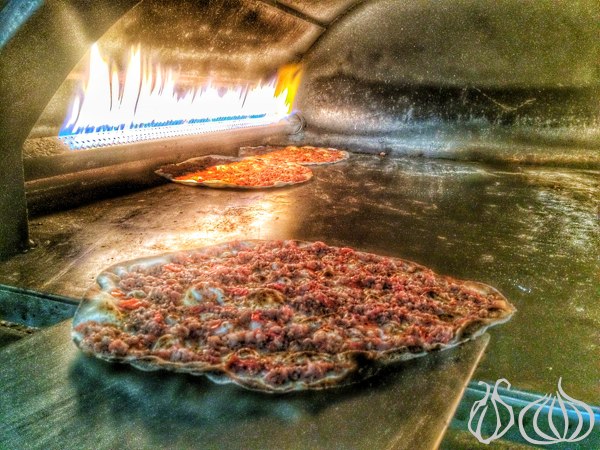 Now that I know what's the place all about, I approached the cashier for the bill. With the receipt you get a branded wet napkin. After I paid, I asked to meet one of the owners.
Wissam, the son, talks about this family business with such passion. He is the one handling Furn Beaino's Instagram account where beautiful pictures are posted everyday. His brother Samer helps him but both work with their father Toni. They work hard from the first minute the bakery opens until closing at 11pm, everyday except sundays, the family reunion day.
Wissam insisted I try the cheese and ham as well as their kafta. The way they prepare their cheese and ham sandwiches are nothing like you have tried before. You will enjoy 100g of three types of cheese over premium ham. Yes the ingredients are unique but again, the dough is taste a bit dull in taste. Maybe it needs a bit more salt to give it some flavor?
On another hand, the kafta mankoushe is something you should order for lunch. Using the same dough, 100grams of kafta is spread covered with 60 grams of the same trio-cheese mix. Cooked to perfection it's then decorated with tomatoes, cucumber pickles and a subtle line of mayonnaise, An innovation full of taste: The kafta mix is juicy and fresh releasing a cocktail of rich flavors with every bite. This is something I enjoyed and felt that the ingredients truly complement the same dough.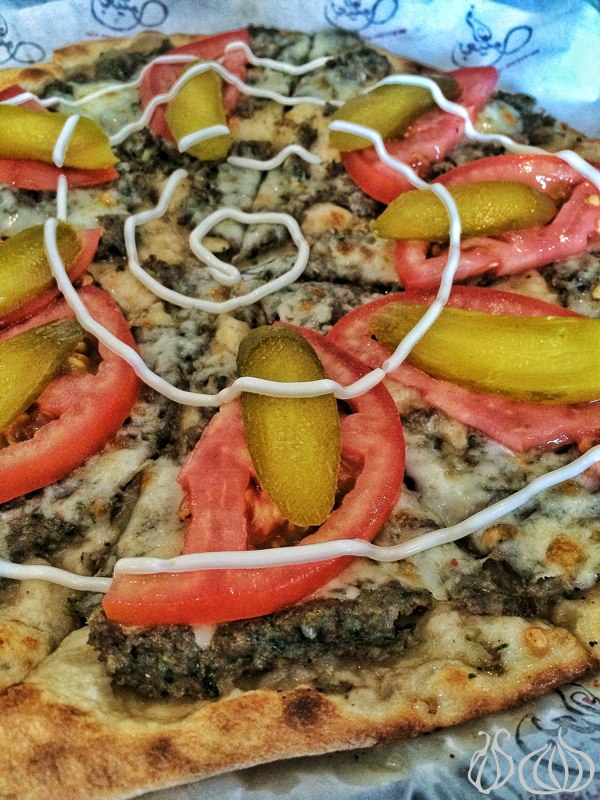 The details I like:
Take away sandwiches are rolled then put in a small nylon bag, not to spill around.
The owner, with his large smile, handles the cash machine as he welcomes a long list of accustomed customers.
A simple space that's clean and neat.
The Lahme Beajine dough is unique, different from the ones used to make manakish
The quality if the meat is exceptional
PS:
A bit heavy for a breakfast. Keep those meat sandwiches for lunch.