I know, I should have been working on a Monday morning instead of touring around... Driven by passion, on this beautiful Monday morning I decided to give Zahle a visit. I'm new to the area so following some friends recommendations I landed at Georges Massaad for a foul and hummus breakfast. I have been told that there is no great mankoushe in the capital of the bekaa.
Georges Massaad is located on the main Zahle highway, few meters after the Saraya. Pass the Saraya and land in front of a shop opened back in the fiftees.
A guy approached me and asked what would I like to have. Not having the time to finish, he was shouted in from behind by Mr. Fouad, the original owner's son: "on the other table there are three persons, why did you give them only two forks?". Scared, the man ran to prove that he delivered two forks then came back for the order.
Hummus, balila, fool, eggs and a plate of vegetables; the guy thought that my family was following. I simply told him that I like to taste everything.
Few minutes after ordering, I received a plate of hummus, decorated with hot chickpeas in its center, a plate of hot foul with olive oil, a plate of balila and simple scrambled eggs.
A quick reminder:
Ful medames

is an

Egyptian

/

Sudanese

dish of cooked and mashed

fava beans

served with

vegetable oil

,

cumin

and optionally with chopped

parsley

,

onion

,

garlic

, and

lemon

juice. A staple meal in

Egypt

and

Sudan

, it is popular in the

cuisines

of

the Levant

,

Somalia

,

Djibouti

,

Eritrea

,

Ethiopia

and

Saudi Arabia

.

Balila or Msabbaha: Msabbaha

is a variation of

hummus

popular in the

Levant

.

The main difference between msabbaha and hummus is the texture. In contrast with hummus, the chickpeas here remain whole. Like hummus, it is eaten with fresh pita bread. The base of the dish is balila: warm cooked chickpeas in their own water with a little added cumin, chopped parsley and lemon juice. Pine nuts fried in olive oil or samneh (clarified butter) are sometimes poured over the balila. Other ingredients include tahini and minced garlic.
Hummus:

is a

Middle Eastern

and

Arabic

food

dip

or

spread

made from cooked, mashed

chickpeas

blended with

tahini

,

olive oil

, lemon juice, salt and garlic.

Today, it is popular throughout the

Middle East

(including

Turkey

),

North Africa

(including

Morocco

), and in

Middle Eastern cuisine

around the globe.
This is not going to be the lightest of breakfasts...
So let's eat:
The humms is simply authentic, tasty and full of flavor. Adding to that the hot chickpeas that melt under your teeth like butter. The balila looks appetizing and was served so hot that it was bubbling on the table in front me. I'm not going to pretend that I'm a balila expert but I can safely say that I've eaten something exceptional. So juicy, so tender, so rich with premium ingredients and perfect seasoning.
Foul is as good as the rest. Mixed with some chickpeas, olive oil and lemon, every bite is enjoyable to the max. I was enjoying this moment so much, without garlic, fresh crunchy vegetables and a cup of tea.
All was very tasty coupled with a tender bread baked the same morning. The eggs are as good as they should be, homemade, home style and no sophistication. Served in a round plate is a circle of white and yellow mix. Sparkle on some salt and pepper, throw a piece of bread, take it all between your fingers and stuff it up your mouth. Enjoy it as you like, the village way, since your manners were left in beirut.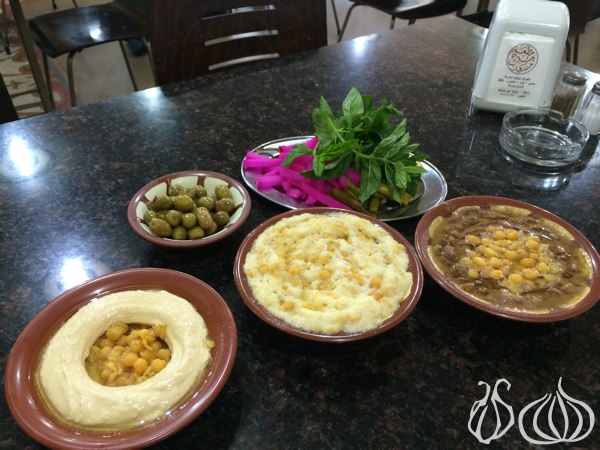 I was happy, sitting in the corner of this refurbished restaurant where dark wood, old mosaic tiles and marble smooth your senses.
I was enjoying the moment when I heard someone on the table next to me ordering raw food. It was only 10am and people were coming here to eat raw meat, raw liver and kafta. I waited to have a look at the mix.
A tasty breakfast in a funky spirit, this place is interesting to visit if you want to start your day in style. L.L5,000 a plate, the math is simple. I paid L.L22,000 for the four plates and tea, a price that can be shared by at least three friends. Located few meters away from Le Salon des Familles, continue your journey by buying a stock for Beirut.
Georges Massaad:
+961-8-801037