Have you ever wondered where the best desserts are available around the world? Have you craved for the best cheese cake... tastiest cupcakes... well I found it... Magnolia Bakery in New York City, an amazing place located thousands of miles away from Lebanon across the Atlantic Ocean. Maybe some people might say I am exaggerating or that the place may be too commercial, but I would insist and say - I beg to differ.
I tried two of their several branches in New York City, one located in Bloomingdale's department store and second which its a stand alone shop on Bleecker Street.
We arrived one day to Bleecker Street, a very nice and calm area with a few top notch stores like Marc Jacobs and Book by Marc, Zadig et Voltaire among others and saw a cue of over a 20 people waiting for their turn to go into Magnolia bakery. I was told that it's always like that... I can understand why now. As your turn arrives, you grab a box and fill in whatever cup cakes you crave for... if that's not what you want then head to their cakes section and find a selection of creamy pies, cakes, cheese cakes. The smell, my goodness - fresh aromas overwhelm you. That was when I said, I guess dieting should not be on my to do list on this trip. The set up is so cute. It's small and dainty and very warm with authentic details that take you a step back in time as you walk in. The staff is very welcoming.
"You can't come to New York and not taste anything from Magnolia Bakery," my New York friends told me. I did just that... and I truly went over board. I ordered their Peanut Butter Toffee Bar: Amazing rich taste of peanut butter, crunchy without being too much. I also ordered their mini cheese cakes in two flavors: Caramel Pecan and their Red Velvet with a Chocolate Cookie Crust.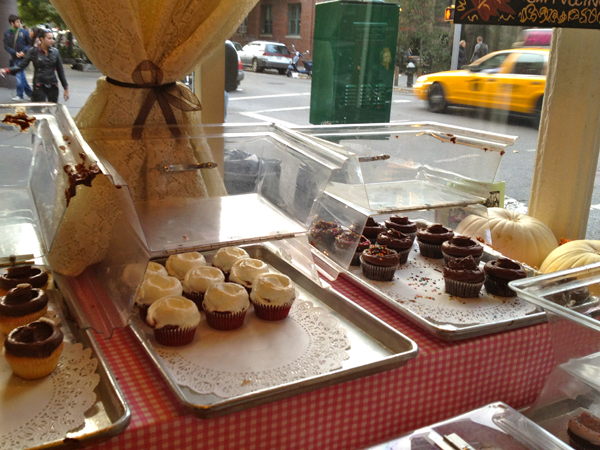 I was in heaven while eating every bite. The cream, the flavor, the sweetness. I can't tell you how I felt. I had the three pieces in full without blinking an eye... I was craving for more. The day before leaving New York, we insisted on going back to Magnolia Bakery. We went to the one in Bloomingdale's Department store. I walked in and followed the amazing fresh smell. My friend strongly recommended we try their Blueberry Jumboree. Gosh, what can I say. Just imagine pecan shortbread crust layered with whipped cream cream cheese filling and fresh blueberry topping. If you get the chance to go to NY, please add Magnolia to your to do list.