One of the leading hotels of the world is worth a visit: Luxury and refinement at the best levels imaginable is experienced at Chedi Hotel in Sultanate of Oman.
It was 11pm when our plane coming from Bahrain landed at t
he Muscat Airpor
t where a shuttle service was waiting to take us to the hotel. As soon as we reached the mini van, our luggage were taken and a bottle of Evian water was offered to each and every one of us. A driver in the hotel uniform, with a smile on his face, welcomed us to the Sultanate of Oman.
Arriving at the hotel, an army of helpers rushed to the car to grab our bags. The receptionist invited us to have a complimentary welcome drink at the bar while they prepare our keys and check the rooms are perfectly clean and ready to host us. The first impression is great on all fronts starting with the decoration and the staff that follows.
The Chedi Hotel, one of Muscat's finest hotels is proud to be part of
The Leading Hotels of the World
community and deserves this membership. Situated on a large surface of land, this unique residence nestled on the Indian Ocean has a lot to offer. Pools, spa, green spaces and unique rooms make you want to stay here forever.
Where the majestic Al Hajar Mountains meet their luminous reflection in the serene waters of the Gulf of Oman, the Chedi Muscat rises amidst an elegantly landscaped twenty-one acre garden oasis with 158 Omani influenced guestrooms and villas. This sublime yet central location equally suits leisure and business travelers while six distinct restaurants, a thirteen-suite Balinese spa, three swimming pools, including the 103-metre Long Pool, 400-square meter health club plus two executive meeting rooms enhance Muscat's considerable cultural attractions.
Considering that it rarely rains in Oman, this hotel is built on a wide piece of land where reaching your room has to be done by walking outside. The few meters I walked through were worth it, as I discovered their superb rooms. Each and every room is more of a home away from home.

The deluxe room where I spent three days is really majestic Not a single little tiny detail is left unattended to:
These 52 guestrooms in the one and two story Chedi Wing offer more space to unwind under soaring ceilings. Oversized windows welcome natural light and palm fringed garden views that compliment neutral hued Asian style minimalism with Omani details. In the open plan bathroom, a powerful rain shower and luxurious bath products await while complimentary room amenities include minibar, daily fresh fruit, in room Nespresso machine and high tech toys including a 32-inch flat screen television and Bose entertainment system with iPod & dock.
Three bottles of water are changed two times a day
Aqua di Parma shampoo bottles are changed and replaced as much as you desire every single morning
All the mini bar's soft drinks and beer are free of charge (that's a premiere for me)
The room has it all: a safe, coffee machine, mini bar, a working desk, two sinks, an individual shower, an individual toilet, sofas, a large TV and a beautiful view. Every evening, a postcard is placed on your pillow with a different English word translated into Arabic and written in calligraphy.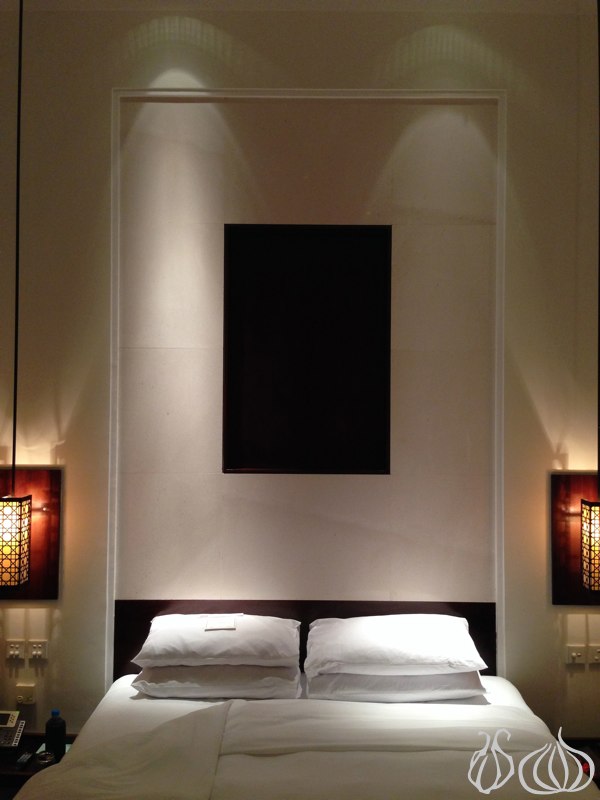 The room's details:
As soon as you open the door facing the gardens and pools, a dressing area, toilet to the right and shower to the left appear in front of you
Two sinks, one for each member of the family with a space to place a travel bag for each
Continue ahead, where the room welcomes you
High ceiling and a large relaxing space
A welcoming area to the right and a large king size bed to the left
In the room, all imaginable amenities are available
Size: 39 square meters
32-inch flat screen TV
Bose entertainment system
iPod & iPod docking station
Complimentary wireless Internet
Complimentary minibar – water, soft drinks and beer only (refreshed once daily)
Complimentary breakfast served at The Restaurant
Complimentary fruit basket (replenished once daily)
Complimentary use of Business Center facilities
Nespresso machine & tea station
Luxurious bath products
The Pluses:
Everything was just great... I spent three memorable nights
The rooms size is so relaxing
The TV channels choices are more than needed
The restaurants, serving delicious delicacies are all worth a try
The breakfast makes your day start in style
The minuses:
Thank you for this amazing rain shower installed in the bathroom, but how can women shower without getting their hair wet? Isn't a shower handle a must?
My room didn't have a Nespresso electricity plug, so enjoying a nice coffee was not possible
A mistake happened at breakfast: Four pieces of glass were found in the cereals bowl and were close to being eaten by my friend! Even though the chef and manager changed all the cereals bowls, we were expecting a decent apology that never came. This is a big issue I forgot about, considering that everything else was excellent
An amazing experience I will surely repeat soon. A hotel that has it all truely amazed me and left me mesmerized. When traveling to Muscat, this luxury spot is to be considered.