Elegantly curved Omani arches make a dramatic first impression in this vaulted, crystal chandelier lit dining room with contemporary cool dark grey terrazzo floors, expansive bay windows on the gardens and live piano music. Four open show kitchens add entertainment and aromas as Muscat's finest culinary talents prepare Western, Asian, Middle Eastern and Indian fare, best paired with sips of the beautifully displayed winning wine list. Dine as well on the outdoor patio or among eight equally chic private dining rooms with lounge areas that make memorable venues for business dinners, family gatherings and festive events.
Lunch started with a basket of fresh bread, olive oil and balsamic vinegar. A perfect first impression: Professional waiters and a beautiful set of cutlery we all enjoyed. A fine dining experience on all levels, provided by each and every single detail this restaurant has to offer. The menu:
First
Second (Arabic, Indian, Asian, Contemporary)
Desserts
Drinks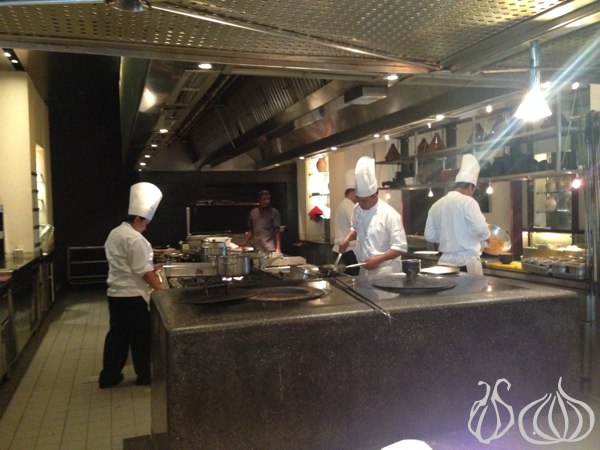 We had for lunch:
Lobster Salad (asparagus, avocado, cucumber, olives, snow peas, salad leaves, pesto) Simply majestic! What a beautiful and tasty plate. I just fell in love with it.
Assorted Sashimi (salmon, tuna, red snapper, king fish, Yamasa soy, pickled ginger, wasabi). A beautifully decorated plate of fresh sashimi cuts with shredded carrots and a lemon slice
Sushi Roll (California) 6 rolls. The simplicity of the sushi rolls make them delicious and enjoyable. With no sophistication whatsoever, six maki rolls are served on a black plate with white ginger. I enjoyed them and specially the fresh crab used in those unique California rolls. Yes, fresh crabs and not those synthetic pink plastic imitations used around the world
Crispy Fried Local Squid (sumac, lemon, chili mayonnaise). This is a very interesting plate. Fresh local squid, crunching in style under your teeth until a spicy aftertaste blasts your taste buds with love. I loved this plate's taste and presentation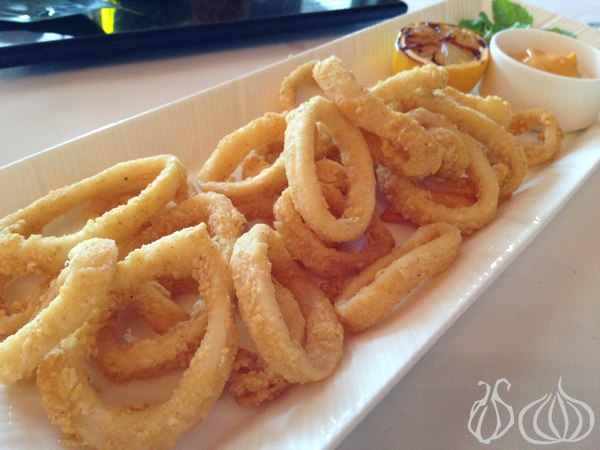 Omani Seafood Grill (lobster tail, king prawn, Shari fillet, Hammour, saffron rice) A mix of different seafood pieces served with tainted rice. Oman is known for its rich sea life, a richness displayed in this dish I enjoyed.
Phad Thai Kung (Fried rice noodles, prawn, bean shoot, dry radish and tamarind sauce). This is a plate that talks for itself. Look at the photo filled with passion
Desserts: A single item intrigued me. "Labneh Ice Cream". I unfortunately couldn't taste it but I hope whoever out there has can please share their experience with us.
After lunch we ordered a selection of sorbet, served in a stainless container filled with crushed ice. A tasty ice cream that remains cold and fresh. Soft, light and delicious, lunch ended in style. I enjoyed lunch as much as I enjoyed this beautiful hotel where everything seem to be perfect.