It was 11am when I reached Rabieh club. Ms. Joelle welcomed me into the wide kitchens, "Good morning Anthony, come with me, he is waiting for you." We took the elevators and went down to meet the grand master himself; Nicolas Audi.
Supervising the work of his chefs, he approached me with skeptical a smile on his face, "Good morning Anthony, I was waiting for you... Let's start cooking..."
Starting as an interior architect, Nicolas Audi successfully transitioned into the world of gastronomy. Bound by family ties to the Lebanese and Mediterranean Cuisines, Audi breaks down and reconstructs recipes from across the region, innovating and integrating various cuisines from around the world. His expertise brings contemporary and classical together, combined to offer the Lebanese population foreign yet familiar gastronomic experiences.
Aware that his company's success relies on flexibility and the acceptance of the industry's constant evolution, his fixation on product quality never falters. With this vision, he engages in culinary architecture. Sketching and drawing every dish, Nicolas Audi has high regards for presentation and culinary aesthetics.
Starting a new series of interviews, I decided to meet the names, working hard, day and night to provide Lebanon with the culinary standards it has reached. Restaurants open every week and with them dozens of catering companies setting a new trend in town... Behind those names, behind those innovations are persons who dream, passionate cooks who's jobs are too make you smile while tickling your taste buds.
Searching for the best, I thought who was more eligible to be the 'opening act' of this series of articles other than Mr. Nicolas Audi himself.
I asked to spend sometime with Mr. Audi in the kitchen, a request that was immediately accepted. At 11:15am, on a beautiful Thursday morning, I was welcomed into Nicolas Audi's catering haven where 15 chefs work day and night to deliver their best and that's what has put his name on top in this sector.
As the innovator of custom catering in Lebanon, Nicolas Audi manages the company horizontally. This means being involved in the production of every dish, all by delegating and motivating his team of professionals, satisfied by handing down his savoir-faire to each of his colleagues. With patience and humility, Nicolas Audi has made his mark in the culinary world and is now a pillar of gastronomy in Lebanon.
What I loved in here is the humble spirit overpowering all the corners of the atelier. No one is famous, nobody dreams of becoming a star. In here, love is in the air, love for food, for premium ingredients and a dedication to this institution where almost all, have been working in for more than 10 years.
Georges Nader, Executive Chef at Nicolas Audi's kitchen has been working patiently and to perfection every day for the past 22 years. He treats each day as if it was his first. With a big smile on his face and a relaxed attitude, he was happy to learn more about
NoGarlicNoOnions
as he asked me a series of questions... So I took advantage of that asking mine; They have nothing to hide in this kitchen, work is done with complete transparency and open for everyone to discover. I was so happy to get down to the nity gritty details behind what makes a difference between a kitchen and another.
Good to know before we continue:
If you're a smoker, don't even think of applying for the job. Smokers have altered taste buds and cannot fit for a position of a cook
All utensils and casseroles in the kitchen are squeaky clean just like they have just been bought. Not a single scratch or any other cooking marks are visible
Plates and portions are prepared on an individual order basis. Every casserole is prepared with passion with a homemade feel and delivered to the customer. You won't see any large sized rice marmite or army style cooking
All staff members know their limit: A certain number of daily orders cannot and should not be exceeded
In the middle of the kitchen is a screen, displaying the orders one on top of the other. Each chef knows his job and reports directly to the head chef
Monsieur Audi as everyone calls him in-house, supervises the work and tastes everything before it's delivered
Be assured that only the best ingredients are used here, imported or bought from certified local producers
Even cleaning water is sterilized before being used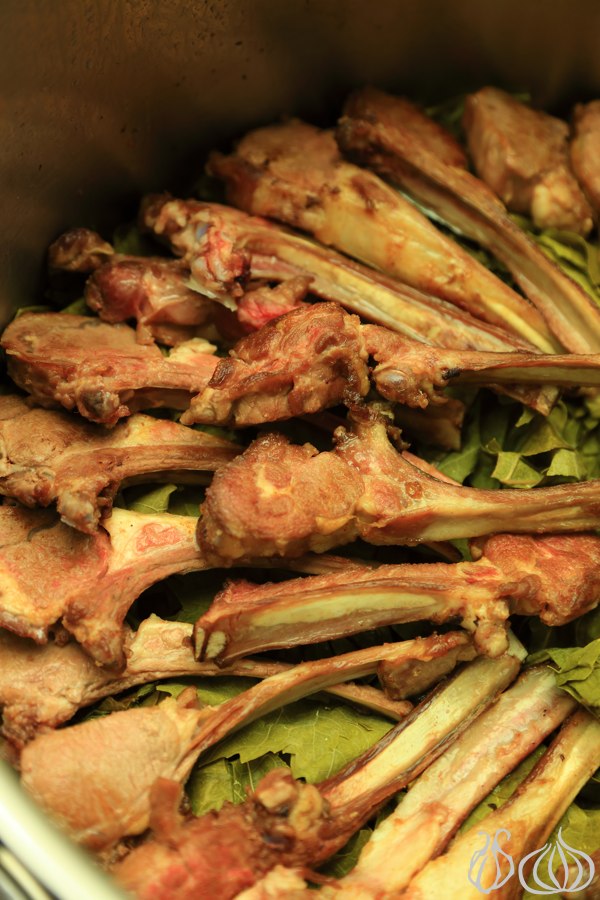 A typical day in the kitchen:
A typical day at Audi catering starts at 8am, where the chefs meet up, each in his respective section: The cold section, the hot section, the pastry, the Lebanese bites and the butchery
A computer, mounted on the wall, shows the orders and their quantities. Every person in charge starts working quietly
The purchasing team takes the orders and prepares the needed ingredients for the day's fiesta
It's amazing how work is synchronized around the premisses. A certain serenity haunts the place
Quantities are well balanced, where every order is maximized by 10% minimum. A portion for 20 persons is prepared to feed 22 or more
Looking at the chefs, each puts all his dedication into his task. Every meal is prepared as if his kids were going to eat from it
Chef Georges supervises the process then tastes everything before giving his approval
Cooked meals are sent half prepared to their destination and continued on the spot. The recipe of success!
While waiting for Mr. Audi to prepare the needed ingredients, I was offered a bite of Foccacia (cherry tomato, parsley, garlic on an olive oil dough) as well as few pieces of maamoul... not any maamoul, but "the" maamoul everyone should taste before they die. A crunchy light dough filled with organic pure non commercial honey that melts on your tongue in style. Imagine the softness of the dough crumbling under your teeth until the honey erupts all its flavors to caress your palatal buds. So yummy, so majestic...
Back to the most important part: Cooking with Nicolas Audi
On the menu today: "Chapontrufféetfarciaveclégumes" or what's known to be in English a Capon or a castrated rooster.
The two large capons were prepared, cleaned and stuffed with slices of black truffles. Kept aside, it was time to prepare the vegetables accompaniment
First of all, the chicken should have a stock to bathe in. That's the part that takes most of the time
A "Bouquet Garnis" is prepared, constituted of parsley, carrots, onions, thyme, laurel leaves and capsicum
Those vegetables are mixed with the rest of chicken and cooked in the oven all together
Afterwards, the small tomatoes are boiled for few seconds only. Beautiful tomatoes that are not cherry and not Roma but something in between. Those tomatoes are then peeled and left aside
Artichokes are then cleaned and cut in four parts before dropping them in a bath of warm water and lemon
Here is time to slightly cook the vegetables. Artichokes are fried in olive oil for few minutes, followed by the tomatoes and mini potatoes
Before putting everything in the oven, the two capons are deposited into a large marmite surrounded by the vegetables before pouring the chicken stock on the mix
A long cooking process of one hour will give the final result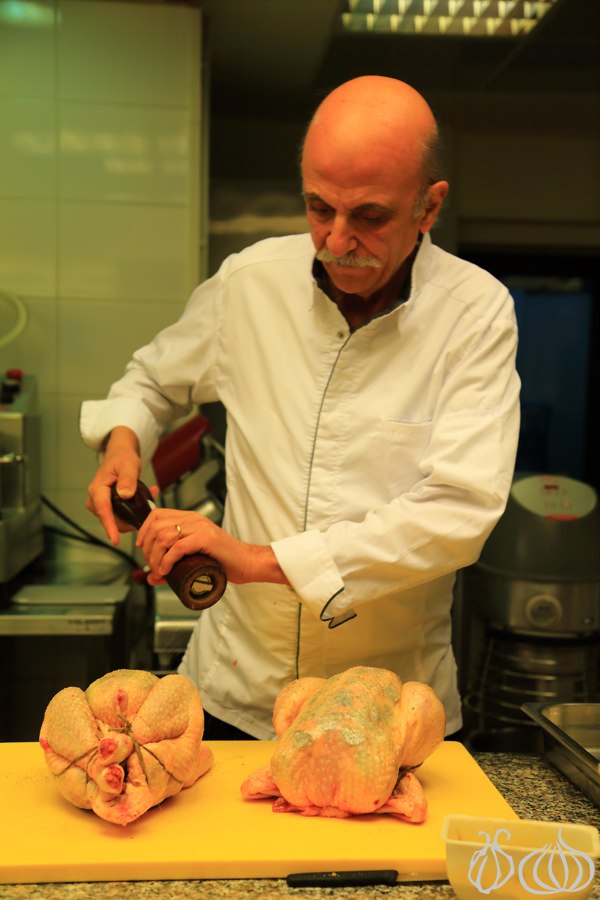 While preparing, -what is described in 9 points took more than 2 hours- I had all the time to satisfy my curiosity. I was curious to know how Mr. Audi started, how he creates his plates and how things are running around here. A man driven by passion tells me his stories with a modesty rare to find in our country.
"I create new recipes, try them, taste them and then give it to the chef to pass along to the team," Mr. Audi tells me. And here was when my long series of questions started.
Living in Achrafieh, he believed Rabieh was the perfect location to develop a catering kitchen, a location in the middle of the forest, away from the city's pollution.
"I love cooking and I love the diversity of premium products that can be used to create unique meals," he continued saying. "Hindu cooking inspired me as well as my trips around the world. I travel to discover and taste while taking notes that can help me accomplish my own recipes and creations. Tasting is a big part of the job, feeling the ingredients and trying to reproduce them with a personal touch."
What started as a family cooking back in the eighties, Mr. Audi worked with esteemed establishments like Sofil Catering in 1992, growing further in satisfying Lebanon's palatal buds until he created a brand under Nicolas Audi Catering.
Minutes turned into hours while one story followed another, getting to know more about the pillars that make this person a great man. I was so happy to learn about how he started and how he got to this level of perfection we see today.
It all started in a hotel, once upon a time, when he asked to join the kitchen. With no CV and no experience, destiny wanted him to be accepted for this job and this was the beginning of a love story... Love of food, love of cooking and dedication to a passion that can be shared with the world.
At 2pm, I was invited to have lunch with the team. Smoothly, they all gathered on the dining table to taste one of the cooks meal. Today lunch was rice and green peas along with Moudardara with wheat and laban. The chefs and staff spend precious moments around this meal which makes them one family. Mr. Audi's two sons and daughter joined him as well. I was really touched to see such an authentic ambiance filled with peace, just peace and love.
I can spend days in the kitchen with Nicholas Audi. I loved the ambiance, the cleanliness, the passion and his stress-free environment. Behind every name is a chef, behind every chef is an army of happy cooks all working together to elevate the company name to even higher grounds.
All good things sadly do come to an end. I was running late and had to move."Before you leave," Mr Audi said, "come with me, I want to show you something."
Mr. Audi accompanied me into his office and showed me one of his culinary drawings, something he is known for. Every new creation in his kitchen is drawn on a large board and disected into tint pieces of information and explained thoroughly to his team.
Not everyone who reads a recipe can reproduce it. Cooking is a passion...And this is Mr. Audi's way of transmitting this knowhow, that's full of love, passion and flavor to his team.
We bid each other good-bye while promising to meet up again soon. This experience is a peek into the kitchen of one of Lebanon's renowned names in the culinary world. Soon I will have a review of Nicolas Audi's brasserie and restaurant located in Rabieh Club as well. Stay tuned!