Situated in the district of Saint Germain des Prés, La Crêperie des Canettes resembles a ward-room where you can enjoy galettes, crêpes and pancakes. Open for lunch and dinner, you will discover a unique recipe of French galettes and crêpes. La Bréhat, the home-made caramelized crepe with salted butter and the galette corsaire for the big eaters.... For nearly 30 years, la Crêperie des Canettes has been considered as one of the most famous crêperies in Paris by many guides such as: Yelp, Routard, Paris Pas Cher, Cityvox, le Figaroscope.
We arrived to La Crêperie des Canettes after 2pm to be welcomed by a nice blue interior with the kitchen on the left and a chalkboard on the right, a fishermen's-like cozy corner or even a sailboat interior with paintings and pictures of sea themes, two long corridors of tables with plastic white chairs... A place full of aromas preparing you for the big moment mouthwatering moment.
We ordered:
Corsaire (chopped steak, tomatoes, cheese, eggs, onions, tomatoes couli, fresh cream)
Secile (cheese, ham, tomatoes, mushrooms, onions, olives)
Secile is served with the fillings on top. Covered with slices of tomatoes, fresh mushrooms, black olives, green lettuce, ham and cheese all covered with oregano. Even though its filled with ingredients, this crepe is close to being tasteless. A bizarre feel of emptiness. It needs more seasoning, more salt, more flavors - some action.
As for the other order, the Corsaire, this crepe comes only filled from the inside. You look at it and you get the wrong first impression thinking it might be dull as you can't seen anything. Don't judge it until you finish the first bite. A cocktail of aromas and flavors all blended together adequately to make you say yummy. Every bite has a feel of the cooked eggs white, floating egg yolk, thicker pieces of tender meat, fresh cream mixture all adding a subtle taste with a gentle sweetness added by the tomato couli. Bravo!
La Crêperie des Canettes Galettes are just exquisite!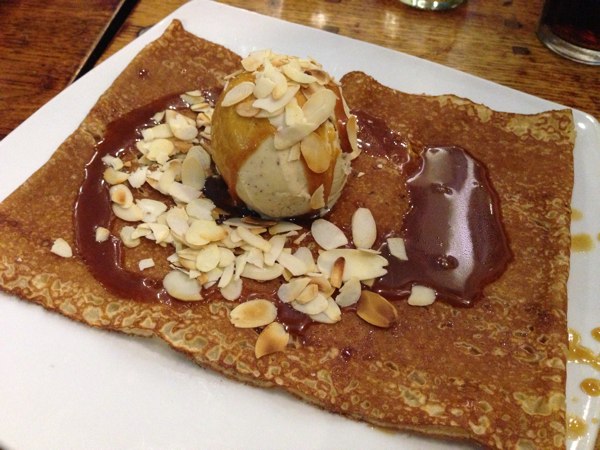 The desserts:
Brehat (caramel with salted butter, vanilla ice cream, toasted almonds)
Capitaine (hot chocolate, caramelized bananas, flamed with rum)
Capitaine: Homemade dark chocolate sauce within a garden of caramelized bananas covered with flamed rum. The crepe smells better than a Chanel perfume. Is there anything more majestic than that?
Brehat: A taste of salt and sweetness haunt your five senses before the crunch of the small almonds slices clothes the door of this garden of tales. You cannot imagine how good it is. I loved this crepe and its homemade caramel sauce so much that I forgot about the ice cream on top. I just pushed it away to enjoy this piece of heaven.
The pluses:
We had the chance to taste the homemade whipped cream served in a glass. We ate it with a spoon like you eat ice cream. It's perfect on all levels. Adequate sweetness, adequate consistency, freshness and love. Just filled with passion!
The Galettes and Crepes dough are unique. Unique indeed.
All the ingredients used are so very fresh
The dark chocolate sauce is amazing
The overall taste is delicious
The minuses:
The service is a bit too slow and the waiters too serious.
The Coke is served without ice and none was suggested
" A la Crêperie des Canettes, embarquez dans un carré de bateau le long des côtes bretonnes, en plein coeur de Saint Germain des prés. Nos galettes et crêpes évoquent le grand large de Ouessant à la mer Caraibes. La Corsaire et la Pirate raviront les affamés. La Bréhat et la Belle-île éveilleront les papilles des gourmands tandis que les petits mousses se régaleront avec la crêpe bonbon."