Throughout your life you encounter different experiences, meet new people and taste many types of foods... but a few of these experiences you may still remember, a few of these experiences leave a mark in your life. A big part of my childhood was spent at Sevan. Who is Sevan? What is Sevan? A small casual bakery located on the Bikfaya Highway...Sevan is a place I have spent a great deal of my childhood at... How many deliciously hot thyme man'ouches I have had there... The number of crunchy thin Lahme biajin I devoured, while drooling over their unique hot and melting cheese man'ouches...
When I was a little boy, my grandmother would take me to Sevan. With 250L.L in hand I went to buy a Zaatar man'ouche and the then famous, now obsolete, pyramid Bonjus. For only 250L.L, I would buy one of this country's biggest man'ouches - and trust me when I tell you its the best I have had to date...
Sevan left a legacy to his son Georges - this bakery, which he opened in 1969 at the same location and using the same oven which was kept as a family jewel. Today, Georges, with the help of his wife, serves his loyal clientele of the Metn area every day except Mondays. His day starts at 5am, when hundreds of man'ouches - or some would say, Lebanese pizzas are prepared with love and passion. The know-how and art poured in each is like no other...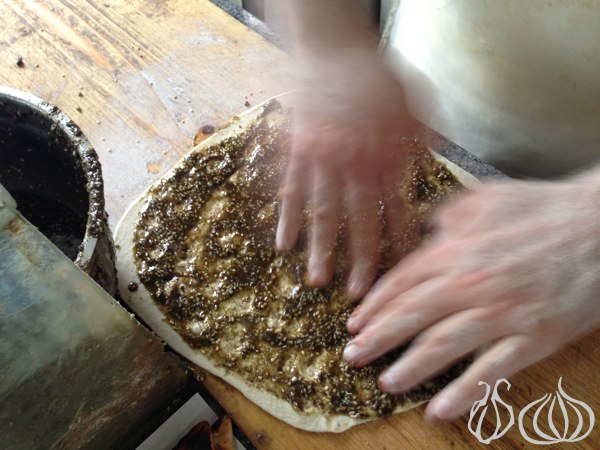 The Zaatar, is prepared on the spot since its dough is special and should preferably not be reheated. He prepares it with his hands then covers it with Zaatar and starts pressing in it with his fingers like it should be done. True to it's name, he carves every piece as the word man'ouche means carve in English. Afterwards, Georges has a special way of taking the dough with his bare hands as he throws it into the oven. Nothing like I have seen before, Georges puts his hands underneath the dough to pull up the uncooked man'ouche up to his elbows then throws it inside the hot oven for couple minutes. He then takes it out, covers it with pine nuts and summak then folds it in half for the customer to enjoy. A ritual people enjoy watching.
Crunchy and filled with rich ingredients, this man'ouche is unique.
The menu:
Zaatar for 1,500L.L

Cheese for 4,000L.L
Meat for 3,500L.L
Today Sevan may be selling one of the most expensive man'ouches around, but when you taste it and feel the ingredients and mixes prepared by Georges, you'll understand why the numbers are high.
You will never eat a cheese man'ouche elsewhere. Sevan uses cheese from Czech Republic and not from Syria like others do. He cuts into small small cubes, mixes it with onions and dried mint leave before spreading it onto the dough. Did you ever eat a cheese mix like this anywhere else?
Lahme Beajine:
Here is the big piece of art. I unfortunately stopped eating them a long time ago since it contains a load-full of garlic and onions. But I can tell you that they are better than the ones at Afif's Lahme Beajine (Ambarotoriat el Lahme Beajine) in Faraya, those who are familar to this place... Trust me... Meat, tomatoes, onions, pine nuts and parsley on a thin crunchy dough. You would eat four without even noticing.
Located just next to Liban Post, on Mazraat Yachouh, Bickfaya highway, Sevan's Bakery is a must try. Will be waiting for your feedback and comments once you try it.