Mhanna sur Mer is one of those places you walk into and gush with amazement and leave feeling happy... The whole experience is all about perfection! Last year's dinner was breathtaking giving Mhanna a 91/100 grade. Now this year's was even better...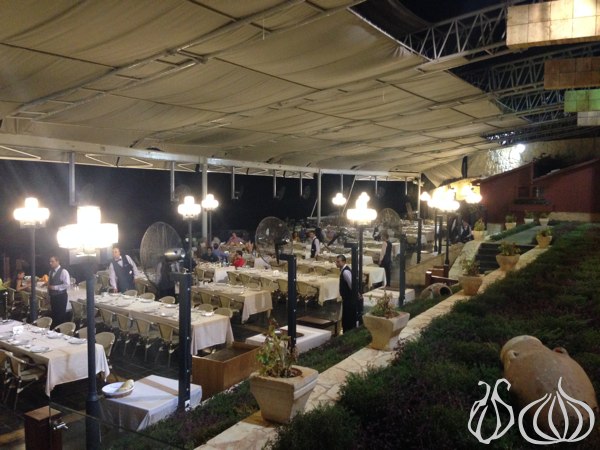 I've been toMhannaSurMer six times already and every time I come, I like it better than the time before. Overlooking the sea with a calm and pleasant atmosphere,Mhanna's terrace is so wide you won't feel any of the other customer's voices and movements. Covered by a very high tent blocking the sun's heat and night's humidity, a premium dining experience is guaranteed.
The place is soothing and enjoyable:
Take the elevator to level zero
A well lit inner space welcomes you
Continue to the large terrace covered with an impressive metallic structure
Tables parallel one next to the other fill the space
A kids area is hidden on the left
Ventilators on both sides of the restaurant push away the summer's heat
Street lights give an homogeneous lighting
Beige with white stripes table cloths
Beige design plastic chairs with hand support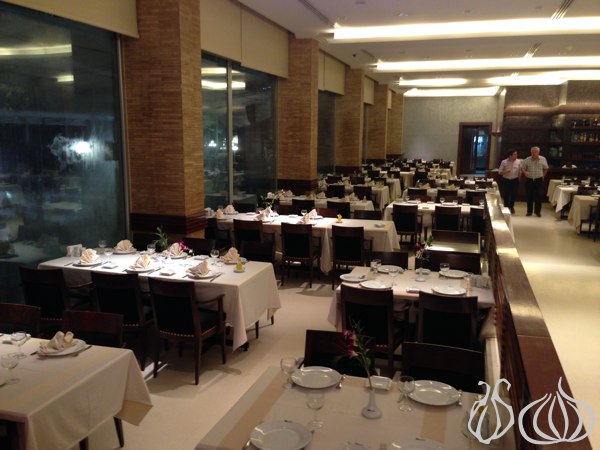 Every detail counts:
Branded plates and cups
A nice cozy lighting illuminates the inner and outer space
Continuous fresh air from dozens of fans around that will sooth off the summer's heat
Homemade hot bread served generously
Rich portions nicely presented
Plates are not thrown on the table one on top of the other. Service is handled with style
Tonight dinner started with fresh almonds served on ice before a full-fledged mezze was served. Omar, our waiter, is exceptional to say the least. Intelligent, welcoming, professional and active all by being a good listener made our night memorable. Seeing me taking pictures, he helped take some nice ones as he passed every plate by me, before placing them on the table. He even produced a special giant bread for me to take pictures of - they looked more appetizing. Thanks Omar, everything was really awesome.
At Mhanna, the service is impeccable:
You don't need to look around for a waiter, or make the effort of even pouring water or serve yourself with tabboule for example… Instantly a waiter jumps behind you for help. An extraordinary service is the least one can say about it.
Mhanna is simply one of the best Lebanese seafood restaurants in the country.
The food is delicious:
Mhanna's arak is tasty with no negative aftereffects
Hummus, prepared without garlic is unique
Stuffed vine leaves is a plate I recommend
Crunchy kebbe melts under your palate
The hummus with meat is exquisite
The goat Labneh is a piece of art
Sambousik are so tasty
Shrimps are very good
Grilled cheese rolls, crunchy and tasty

Mashed potatoes is warm and perfectly seasoned

Lettuce, mint and radish are served in the vegetable platter and the cucumbers and tomato freshly cut in a bowl of ice

The meat is tender and soft

My favorite tonight: An innovative halloumi cheese wrapped in Zaatar flavored bread, cut in slices and picked with a toothpick. Soft warm and tender
A Lebanese dinner wouldn't be complete without the usual fruits offered. If you think that you've seen a complete choice of fruits, think again as what we experienced tonight was outstanding.
The choice of fruits offered: (2 plates of each)
Kaki
Kiwi
Figs
Peach
Watermelon
Melon served in tower shape around a martini syrup cup
Red and yellow apples
Pears
Prickly pear
Raisins
Wow! What an awesome experience. After being offered coffee by a man with a funny mustache wearing the typical traditional clothes, it was time to leave. We did so with a big smile on our faces as we planned our next visit.
You have to see it to believe it: Mhanna sur Mer is more of a culinary dream than a simple dining experience.