During my last visit in Ireland I was so happy to have had the chance to go and visit one of my favorite places in the world: M&S Food. I can't tell you enough how satisfying it is for me to walk around the isles, satisfy my senses, discover unique products, especially unique products to the country they are in...
M&S have over 20 shops including three Simply Food outlets throughout Ireland. M&S opened its first shop in the Republic on Mary Street, Dublin in 1979 (now part of the Jervis Shopping Centre). A shop in Grafton Street, followed in 1988, Cork in 1989, then in 1996 the Grafton Street location to its present location in the former Brown Thomas store and finally the first out-of-town shop in Liffey Valley in October 1998. The new Grafton Street shop now boasts M&S's only 'The Restaurant'.
Whether you're looking for delicious new meal ideas for a celebratory feast, fresh and tasty products for dinner, or just want to liven up your lunch, Marks & Spencer Simply Food provides a wide range of inspiring products to tantalize your taste buds.
If you're on the go, choose from an appetizing selection of meals and snacks including salads and sandwiches, as well as a wide range of refreshing drinks. For restaurant quality food at home try the delicious new Autumn additions to the M&S Cook range, including the fragrant monkfish and king prawn curry with pak choi in a creamy coconut sauce.
M&S even though being an English brand, has been tailored to cater the Irish market with its needs. The best of Irish food are sold here, Atlantic salmon farmed off the coast, venison from the Finnebroughe Estate and carrots grown in Comber.
More than 20 Irish suppliers producing over 250 products fill the shelves:  Their Bramley apples are grown in the orchards of County Dublin. Their Irish sparkling water is from a spring in County Tipperary. They also sell Irish strawberries & raspberries during the summer months. All their M&S mushrooms are grown and hand selected in County Monaghan. All milk sold in their Irish stores is produced on 3 Irish farms. Their Wexford cheddars are made in county Wexford and won the Gold World Cheese Award 2007. Cassidy's Irish whiskey is a smooth blend specially prepared for us by Noel Sweeney, master distiller at Ireland's only independent distillery, Cooley distillery in Dundalk...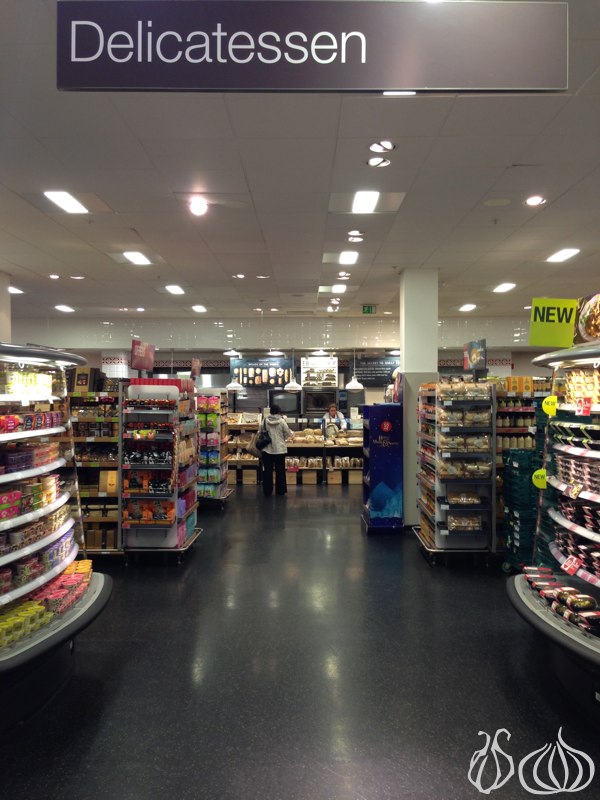 The different sections of the shop:
Salads, fruits and vegetables, citrus, apples
Berries, lamb, bacon, mince
Coated fish, poultry, sausages, fish deli, salmon, fish cakes
Roasted poultry, cold meats, quiches, canned soup, cooking sausages, pasta & sauces
Herbs & spices, oils & dressings, tea & coffee, crisps & nuts, biscuits
Bread rolls, bread loaves, water, birthdays cakes, cake, soft drinks
Sweets
Wine
Chocolates
Cheese
Milk, cream, desserts, hot desserts, cream cakes
Pies, savory pastries, vegetarian meals, soups
Indian, pizza, Chinese, kids meals
Italian
Pasta & sauces
Food on the move
Espresso bar
Flowers
The M&S Food hall welcomes you with a cafe on the ground level serving quick bites, sandwiches and cakes along the famous handmade espresso. Take the escalator to the lower level to be welcomed by a rich cocktail of aromatic smells that will make you smile. As you walk along the perfectly organized isles, colors of all kinds will incite you to buy even more. Everything is packaged and prepared for an immediate consumption. Another cafe, down below serves sandwiches and drinks if you prefer to sit in a calmer atmosphere.
Unique Wines:
Again, you can pick up a nice bottle of wine at any local grocery store or wine shop. However, Marks & Spencer brings you some of the newest and most exciting wines from around the world on a consistent basis, and may provide you with a unique option this season. For example, M&S has recently begun to supply customers with a few lovely 
wines straight from Lebanon
, 
a wine producing region on the rise
. Though the region itself is very different from France in terms of climate and geography, many Lebanese winemakers have been trained in France, and this has resulted in the production of wonderful, rich Mediterranean style wines from Lebanon.
I love the new season and with it comes wonderful times for people who enjoy good food and drink. I strongly recommend that you do a bit of shopping for specialty foods and table items, given the chance,  at Marks & Spencer.