There's an amazing hotel located on Monot Street. Exceptional is the word, I would use. Down the street, before you reach the perpendicular road taking you back to Achrafieh is O Monot, a fine hotel that serves great food...


As you enter the lobby, you will be transported by the fine luxurious decor meticulously handcrafted and designed by the woner homself, Serge Abi Saleh. Mirrors installed here and there make the place look bigger, relaxing sofas, design lanterns and a bar. I could spend hours here.

Although the décor took me by storm, I couldn't help but notice some details that are important to the hospitality business. The place was empty, it felt understaffed and the receptionist seemed sleepy and didn't even stand up to welcome us as we walked in. We had to ask which floor the restaurant was located on, as there was no mention on the elevator buttons.
Located on the 10th floor, we walked into an empty restaurant. Around 10 minutes later we stepped out onto the terrace to check it out, and there was were we found the waiters.

The restaurant is as beautiful as the hotel itself. An amazing, luxurious space filled with a dozen tables, designer chairs, sofas, a chimney and a mini bar; with a breathtaking view of Downtown Beirut.
Up on the terrace is the mini pool, a couple of wooden tables surrounded by fabric-covered chairs facing the bar where lounge music enchants you, a 360 degrees view covering Achrafieh on one side, and Downtown district, the Four Seasons Hotel and the House of Parliament on the other.


Again, I have to point out that for a beautiful, small and luxurious hotel like this one, they should employ a more trained staff. The waiters should smile more, know the menu better and make you feel at home.

Let's see what's on the menu:

Salads
Sandwiches
Mains
Bites
Desserts
Let's eat. The food is exquisite!
Goat's cheese salad with pistachio, LBP24,000: A large square plate filled with a mountain of greenery and two pieces of toast, each with a piece of warm goat's cheese and peanuts. The goat's cheese is amazing, the crunchy peanuts even better and the bread superb. The salad is a generous mix of cherry tomato quarters, green apples, Lolo verde and Lolo rosso lettuce in subtle touch of vinegar. A very good salad indeed.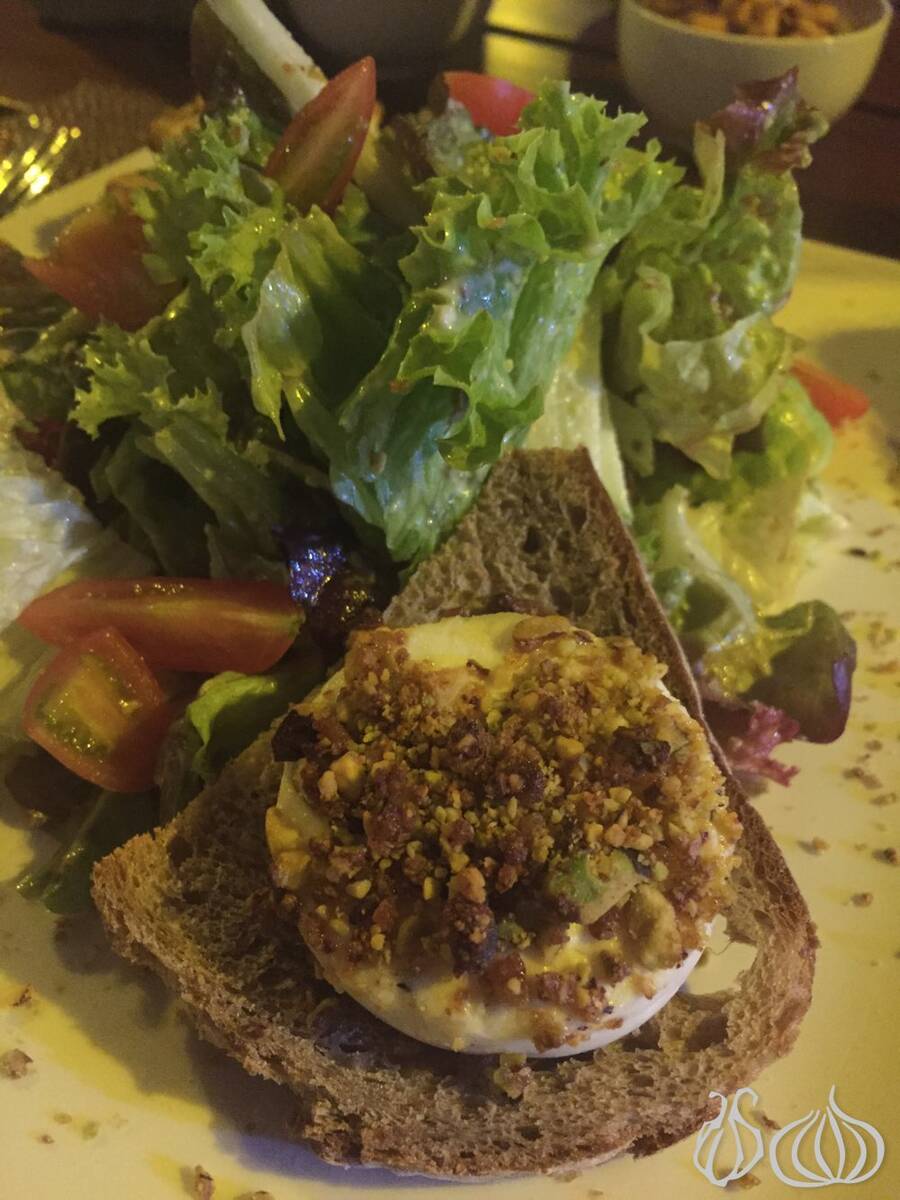 Shrimp Thai salad, LBP26,000: An oval plate filled with a colorful selection of bell pepper, al dente thin white noodles and some juicy and tender shrimp alongside some thinly sliced mango. The crunch of the cucumbers, the freshness of the lemons, the spiciness of the sauce and the quality of the ingredients makes this plate an exceptional one. Lovely, really lovely, the food is amazing…
Club sandwich, chicken, bacon and Emmental cheese, LBP30,000: A piece of fine dining. A simple club sandwich that's full of taste and aromas served alongside a unique portion of golden crunchy fries. Three layers of lightly and pleasantly chewy bread, filled with some tender, moist chicken, lightly crunchy bacon, soft eggs and a spread of premium mayonnaise. I really loved it. The lettuce adding a crunch, the extremely thin cucumbers and the thinly sliced tomato adding a light sweetness.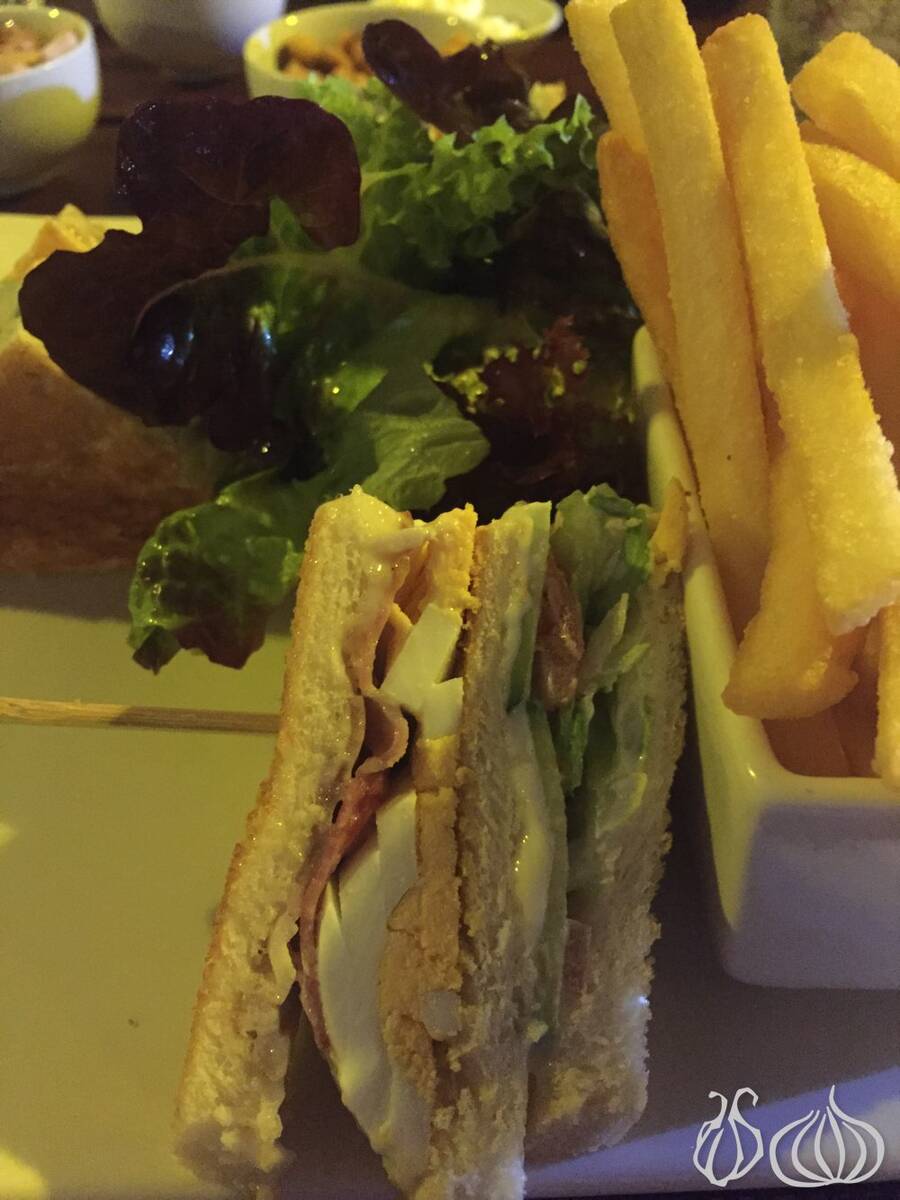 Indonesian chicken noodles, LBP25,000: Thick noodles cooked al dente, fresh meat, colorful crunchy vegetables, and rich in olive oil, soy sauce and flavor. This is a creation of a chef with international knowhow and standards.
Dessert followed. I enjoyed the creme brûlée served in a round plate and topped with a thick, crunchy layer of caramelized sugar. A rich layer of cream served cold and preheated a la minute to give a warm layer on top. A good last impression.

The pluses:
Bread is tasty, warm and fluffy.
Ketchup and mustard are served i individual portions the fine dining way.
High end cutlery is used.
Generosity is felt in all the plates.
Food is indeed great!
The minuses:
I saw some table napkins in the restaurant, but not on the terrace, which should have them as well.
I would recommend that you try O Monot's restaurant and enjoy a great taste of well prepared dishes in a beautiful luxurious setting… in hope that the staff be better trained.