Osaka has recently changed and improved literally everything in its premises in Hamra, taking the Japanese experience to another level. After ten years of operation, Osaka now boasts a new decor, a serious one with fine lines, as well as a new highend menu that now includes beautiful food photos, nice placemats, bamboo chopsticks...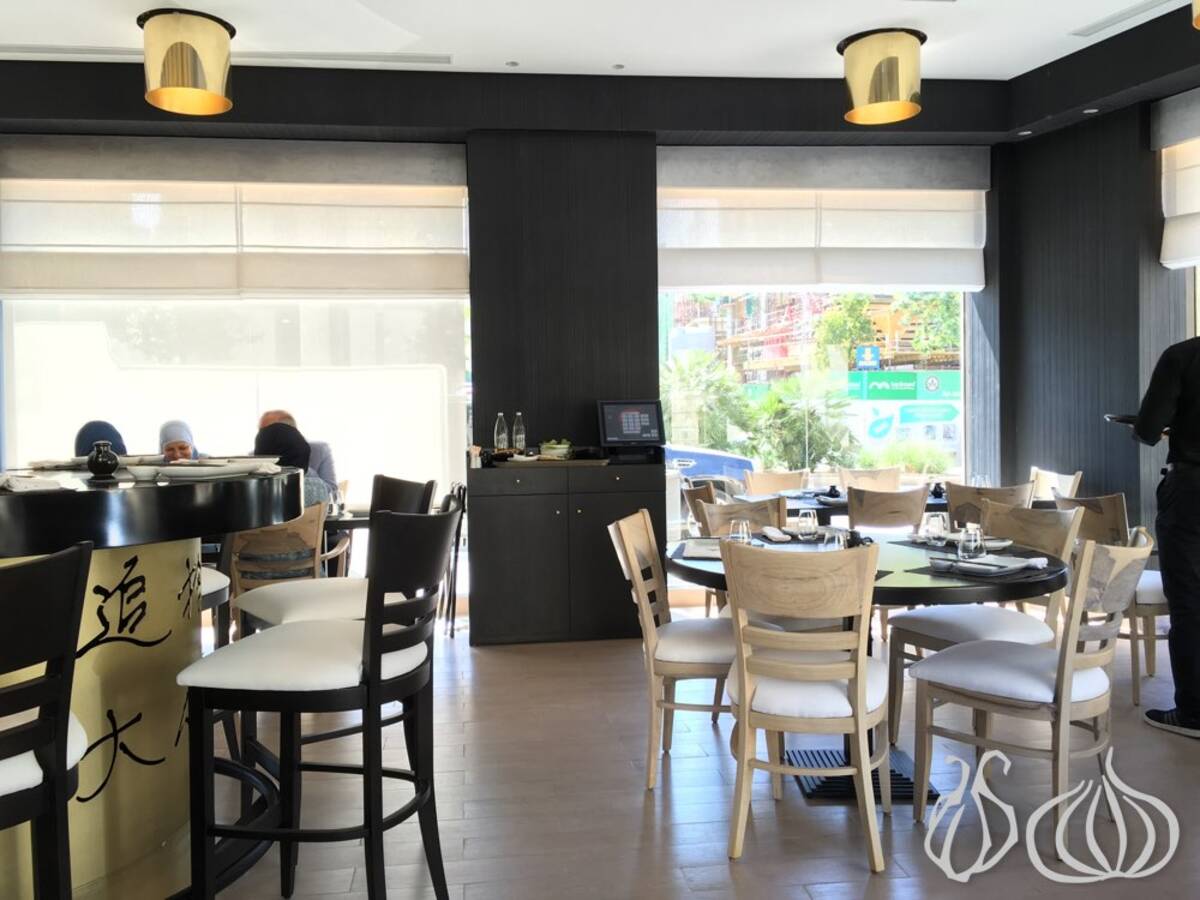 A new decor, a new menu and a professional well trained staff creates a memorable experience.
The littlest details has been looked into. The floor is bright, too bright in fact, the ceiling is painted in beige and grey, there's a dark colored island in the middle with touch of of gold, black tables surrounded by rugged wooden design chairs, high stools surround the bar, golden cylinders pend over the bar and much more finesse is poured into this triangular space that is open to the surrounding with large glass facades.
I like the new look, but it was a bit cold for my taste.
A white on black 20 page menu includes everything, from tempura, sushi, sashimi, sets, specialities and desserts. The menu's photos are clear and non-commercial.
Lunch was delicious:
Chili edamame: A black ceramic plate hosts edamame marinated in chili sauce and decorated with sliced chili pepper. Well cooked edamame with a light crunch, a marinated chili sauce with a smooth sweetness and in my opinion not enough spiciness. A good start.

Salmon and tuna tataki: Served on a long black plate, the tuna and salmon tataki are lightly seared, posed one next to the other on a floating bed of tataki sauce. Covered with black sesame they add a touch of finesse and surely more taste. I enjoyed the zesty boost and sweet notes embracing a fine quality of fish.

The fresh crab salad is a must; shredded crab, a generous portion of it, served with berries on a bed of ripe avocado and lots of lemon. Two thumbs up for such a fine taste. Not easy to eat with chopsticks though, a fork will be more pleasant.

Mixed seafood carpaccio: On a white plate, a bit disturbing, comes thickly sliced layers of salmon, tuna, butterfish, hamachi, grouper on a spicy yuzu sauce. That's something spicy! Fine fish melt under your teeth like butter. Can the plate be black please!

Crispy squid: That's a wow plate. Super crunchy, crispy to the bones, a mountain of it decorated with green chili, lemon cubes and served with tartar sauce on the side. An addictive serving.

The salmon shredded phyllo roll is exceptionally outstanding. Three rolls of esmalliyeh wrapped around rice, scallops and salmon topped with teriyaki sauce. What a crunch! What's a taste! What a finesse! Extremely recommended!

Now came the Makis; Makis at Osaka deserve a review of their own. Salmon wrapped around eel and avocado with a light sauce, no mayo is felt, the taco wraps are so unique offering a flaky and enjoyable crunch, the unagi shake is to die for, the salmon skin can't be better; shredded to perfection, they crunch, don't stick and leave a spicy punch at the end. "The rolls of happiness if I may describe them."
One of the best Japanese experiences in Beirut now comes with a new facelift. Better service, better quality, tastier food and a new decor. It is recommended.