Oliviero is an Italian restaurant that knows how to provide delicious choices ranging from local or contemporary cuisine. It's a true truffle place!
What's nice about this place is that you can choose between two menus: Della Tradition E Del Territorio or Contemporanea (local or contemporary cuisine). It started by a stylish, colorful salad and then I ordered the Risotto Carnaroli Acquerello Ai Porcini as a starter then Spaguetti Del Chiati Con Carbonara Del Tartufaio, a very special Aldente Carbonara, and for desert, the Il Demi-Cut Di Chocolate Con Slasa Di Pere Cot Nel Rubacuori, a sauce made of stewed pears with sweet wine.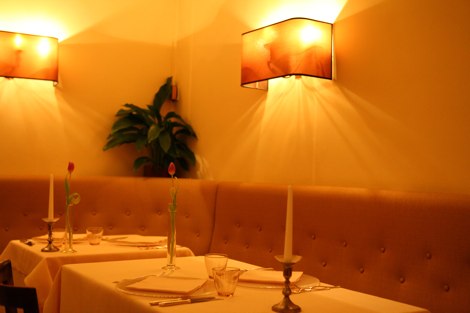 A complementary Primi Plati: Parmesan cheese with tomato on a stick of ice cream opened the party. Everything is fresh; including the freshly shaved Parmesan and the freshly cut truffles. Providing a wide variety of still and sparkling waters from the four corners of Italy is what this restaurant is known for. In addition, the waiters are always smiling, which makes your experience memorable.