Sometimes things as small as a piece of chocolate can draw a smile on anyone's face... So just imagine a beautiful paradise of chocolates in various colors and flavors filled with amazingly rich ingredients... This is when I rediscovered Patchi, a local chocolate haven that has exceeded Lebanese borders...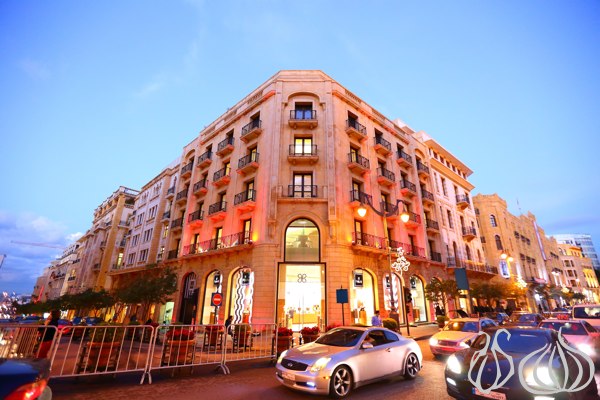 My interest in Patchi started some time ago when I discovered that the brand was big in London. While walking around the food court of Harrods, I came across a section where a variety of Lebanese chocolate manufacturers are sold. I felt proud my country and the quality of products we offer the world. That day I was so happy to learn that Patchi has started producing Chocolate bars, just like the ones produced by big international chocolate makers Lindt, Cote D'Or. Patchi raised the bar among local producers and I was intrigued to plunge deeper into their paradise. Heading down to their main branch in Downtown Beirut, I wanted to know more about the brand. I was amazed to discover five storeys of chocolate wonders. The journey all starts on the ground floor where the main chocolate store. Season's beautifully crafted arrangements alongside 50 different chocolate flavors are on display inside a glass protected counter. Displayed like jewels, every piece is handled with care. Behind the counter is a chocolate safe where you will find millions of chocolate pieces inside the hundreds of Plexiglas drawers.
I walked around this chocolate paradise, eager to learn more about what the other floors carry. On the first floor, you'll find fine crystals, home accessories and decorative items for sale; the second floor parents and couples come in to prepare for their special events; the third floor is where the corporate sector is handled and on the last floor, you will find tableware marvels. It was time for the chocolate tasting that took place on the third floor where Mrs. Hindy, head of Public Relations, welcomed me warmly to accompany me through the rich collection.
Patchi chocolate creations span over 50 flavors crafted with true love and passion exclusively for the palate of chocolate aficionados. Every piece is an absolute treat for any occasion. The creations are endless... imagine an exquisite marriage of tantalizing chocolate and dried fruits, gianduja, loukoum, nuts and so much more, made of the finest ingredients and free of any colorings or preservatives, today's tasting session was a trip out of this world...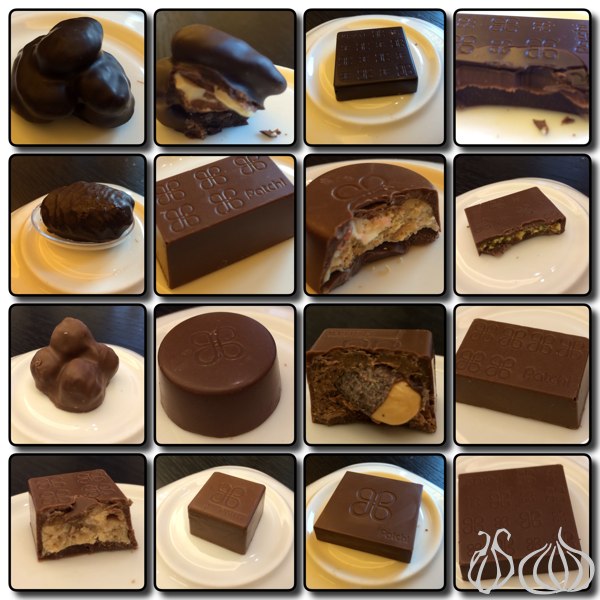 Let's do some tasting... The choice was to aim high and to look deeper into the ultimate indulgence collection: The Deluxe Collection. This collection is a perfect choice for those looking to excite every sense in their body. With sumptuous fillings like wafer, biscuits, caramel, praline, and much more, who says you can't have it all?
Diamantine: A graceful balance between milk chocolate and ground almond pieces. This cube like piece wrapped in golden paper contains milk chocolate embracing a single piece of almond covered in crunchy caramel. I would recommend you eat it as is to enjoy the mix of crunchiness, sweetness and rich chocolate combination
Dolce: A desirable blend of milk chocolate with the softest caramel and peanut cream center, with a hint of ground peanut pieces. This rectangular shaped piece wrapped in green paper is filled with concentrated and homogenous mix of peanuts and caramel over a ground peanuts layer. Bite into it to discover the mix of white, brown and green little bits of peanuts that gives an interesting texture to the mix. I love how the details of this piece are mastered to perfection. Even though I'm not a sweet chocolate fan, this one is a very interesting piece
Prestige: A crunchy sensation of pistachio croquet adorned with milk chocolate. Here, we moved to black wrappings. A big square piece filled with crunchy pistachio, condensed homogeneously in the middle bathing in milk chocolate. Every bite is a rich combination of crunchiness that I adored.
Rocher Milk: A remarkable presentation of whole caramelized hazelnuts dipped in rich milk chocolate coat. In a mountain-like shape, five hazelnuts are dipped in milk chocolate and wrapped in a golden paper. That's one of my least favorite for its strong crunchiness and over sweetness. I would use less hazelnuts and more chocolate to balance the sweetness of the caramel.
Raffine: An irresistible flavor of milk chocolate that unveils a smooth center of cream cheese, biscuits and strawberry jam. If you are a cheese cake fan, this would be your favorite piece. Round and wrapped in green paper, this piece is a real perfect bite of cheese cake. I think it would be better though with less sugar? Two pieces of Raffine and you have your daily dose of sweetness. For a chocolate lover, that's too much.
Chartmante: A luxurious mixture of milk chocolate, silky cotton candy and aromatic ground pistachios. This is wow! Two thumbs up to the creator. Imagine in a rectangular box of chocolate condensed with a mix of white cotton candy (ghazel el banet) along with some crunchy pistachios. Heavenly and a well balanced piece.
Capricio: An exceptional fusion between milk chocolate, gianduja and pistachio. This piece is too creamy and too sweet for my taste but well done. The gianduja cream is a signature which Patchi creates perfectly well.
Desire: An oriental union of one single date enfolding a crunchy roasted almond, finely covered with a coat of dark chocolate. Dark and strong, this piece is like no other. It's the only one served on a plastic cup and wrapped in gold paper. Softness and crunchiness combined where the date takes over all the other ingredients. A must try of you like this fruit.
Dark Rocher: A select offering of whole caramelized almonds covered with an intense coat of dark chocolate. If I had to choose between this and the milk chocolate, I'll definitely go for this one, where the taste of chocolate is felt with no sweetness. The textures of this piece is interesting.
Parfait: A unique experience for the senses with dark chocolate and a sumptuous caramel truffle center. Unique indeed! Inside this thin square is a majestic cream of intense non sweet caramel which pairs perfectly well with dark chocolate. This piece is distinguished from others for its round borders.
Biscuitine: The perfect statement of milk chocolate that unveils a crunchy layer of wafers. Voila! We have reached the end of our tasting with one of Patchi's favorite pieces. Unlike the other piece, this piece boasts one big logo engraved in the middle. The crunchy wafer inside releases a disappointing buttery and oily taste that covers on the softness of the wafer and strength of the chocolate. I would personally change the recipe using less butter to bring up the flavor of the chocolate. We are buying chocolate after all.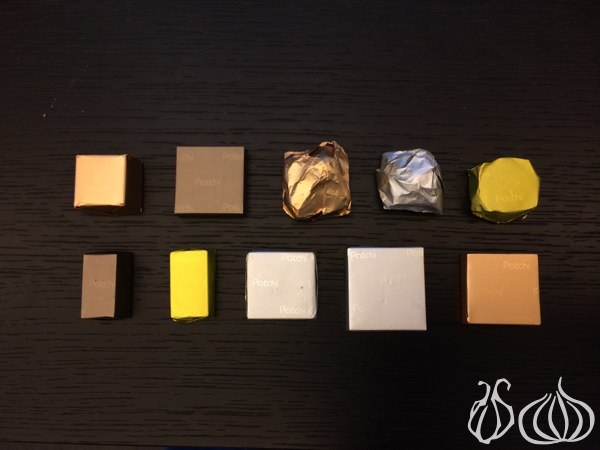 My tasting notes:
I loved the fact that the pieces are perfectly created. Attending to the tiniest detail, each is mastered to perfection making every piece a little jewel. The chocolate and its content are are sculpted to perfection. You feel that they were created just for you...
The sizes and corners of the pieces are just perfect. I was amazed by their borders and their content - mastered to perfection
All pieces are engraved with the Patchi's logo in different sizes depending on the design
I've eaten more than fifteen pieces and didn't feel any heartburn or over sweetness
Just close your eyes, and you'll feel each of the ingredients used inside as the chocolate melts over your tongue
My favorite is the Chocolate Parfait, which combines the finesse of a dark chocolate and softness of a strong caramel filling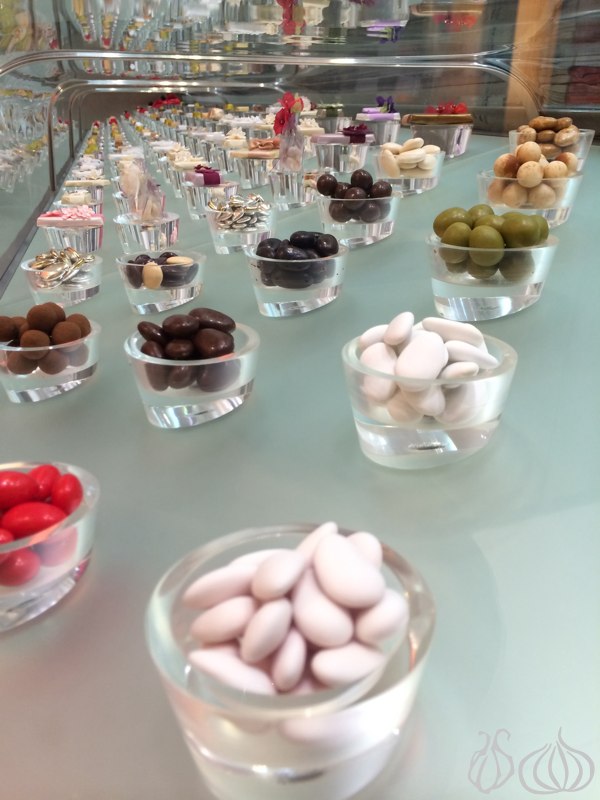 One of the things that really struck me about Patchi, besides the fact I could become addicted to the feuillitine, is how each chocolate is precisely wrapped with a large sticker sealing each chocolate shut. There is no chance that your chocolate has been touched, smelled or in any way tampered with by anyone else. Once it has been expertly made and flawlessly sealed within the foil wrapper, it is safe from germs and stray hands.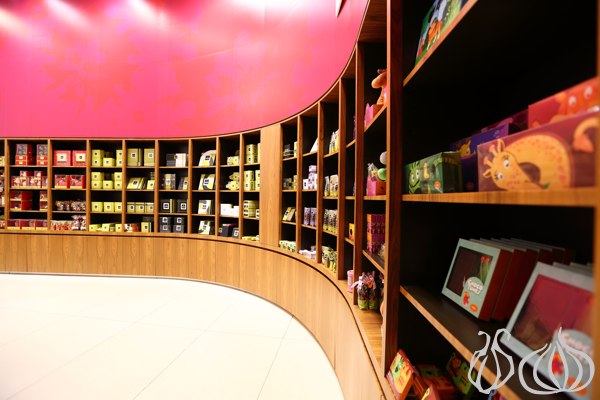 I would improve:
I suggest there should be some kind of color and size coding. Things are really not clear and when buying an assortment for home, you won't know which is what. New and clear coloring are a must especially to when you want to differentiate between milk and dark chocolate.
The wafer was my least favorite and needs a makeover
Today I rediscovered Patchi. I had always believed that it was a brand that was over priced for its packaging; I was wrong. Quality, perfection, taste, flavors and know how are put into every piece available at Patchi, a brand that has reached international heights. We should be proud...