Located on the first floor of the Golden Tulip, EL Mechtel Hotel, Peppino is an Italian restaurant bringing some of Italy's greatest flavors to the city. What do you get when you a place that combines: An Italian chef, a cozy ambiance, an appealing interior with beautiful decorative details, and to top things off - a welcoming staff?
A great Italian restaurant...
Although the decoration is nice, it's a bit too dark for my taste, thus the rather dark images. A long bar in the middle proposes the aperitifs, an open kitchen cooking fresh ingredients with aromatic smells and a square restaurant divided into many private sections for intimacy seekers. Colorful chairs on a side, beige on the others distributed along the wooden floor where long rectangular tables can host from two to eight guests at a time.
The details that caught my attention:
I loved the idea of having a private closed room for businessmen or large families
De Cecco pasta bags are placed all around the kitchen counter for customers to make sure the best is used
The staff is very welcoming and smiley
Antonio their Italian chef has works with an attitude that makes you feel you're right at home
It all started with some aperitifs - their special signature "Apperetivo Peppino" that looks like the Apper Spritzer (Campari, white wine and tonic water)
The menu sections and choices:
Antipasti (Penne, Bruschetta, millefoglie, carpaccio, insalata, salmone...)
Zuppe (Minestrone, pasta)
Pasta (Linguine, Gnocchi, Rigatoni, Paccheri, Risotto, Farfalle, Spaghetti...)
Carni (Scaloppine, Scottadito, Filetto...)
Pesce
Pizze (Salmone, Tonno, Siciliana, Margherita...)
Dolci
Drinks
We ordered for dinner:
A selection of three carpaccios (Beef, Octopus and Sea bass)
Octopus salad served in a french lettuce over a long thick pizza bread
Tomato and Mozzarrella salad presented on a red lettuce and a thick piece of Pizza bread
A mix of grilled and fried fish (Red mullet fish, sea-bream, shrimps and sole)
Aranchini di Risso: rice, safran, stuffed with meat and cheese comes in a cone. A Sicilian specialty.
Chicken liver
The grapefruit salad served inside an emptied grapefruit.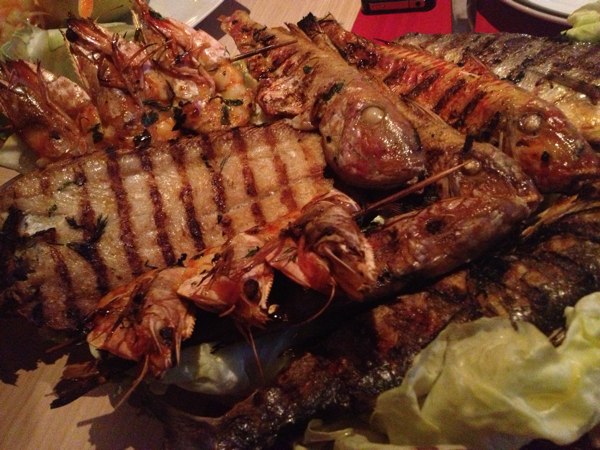 The culinary experience:
The beef, octopus and sea bass carpaccio are delicious and carefully presented with lemon slices. My favorite was the sea bass seasoned with vanilla oil: A first for me.
The octopus lemon seasoning adds to the overall taste an additional hint of pleasure. Every piece crunches under your teeth with a feel of unequal freshness.
The tomato and mozzarella salad is tasty.
Arancini are fried rice balls coated with breadcrumbs that originated in Sicily in the 10th century. Arancini are filled with ragù (meat sauce), tomato sauce and mozzarella. Also a first for me. It's like eating Risotto in a bowl, or if I can compare it to the Lebanese Kebbe. Arancini is for Italians what Kebbe is for Lebanese.
The fish prepared the Italian way, with the lines of the grill marked on them. All of us Mediterranean people have a gift of preparing fish in a special way. I felt like I am eating today's catch on the shores of Jounieh, Lebanon.
My favorite is the Raviolli especially prepared for us by Chef Antonio
The wine was unexpectedly good: Gris de Tunisie, Coteaux de Tebourba 2011, Les Vignerons de Carthage.
Desserts:
Tiramissu
Bignolata
Millefoglie
Sorbetto
Composta di Frutta
Pere al Peperoncino con Semi freddo al Gorgonzola
A pleasant experience I will surely repeat as soon as I visit Tunis again.