I wanted to enjoy some good Chinese food and after trying P.F.Chang a few times already, I thought why not... Let's go enjoy some good food with no surprises. I have tried the one at The Beirut City Centre a few times while their ABC branch only once before, and my experience each time was great.
I chose their ABC branch this time after hearing rumors about the difference in service between PF Chang's ABC and BCC. People have been saying that although the food is good in both places, the service at the BCC branch is much better... and they were right...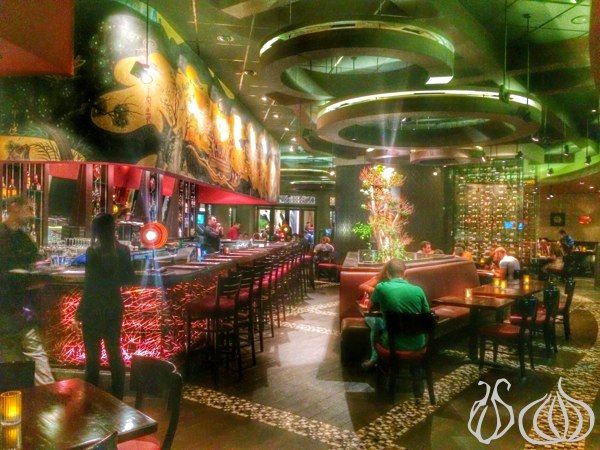 Located in the food court, P.F.Chang's cannot be missed as the big horse rises to welcome you. Walk a couple meters before reaching the immense restaurant, divided into three distinct dining spaces and a bar.
You can't but be amazed by the beautiful decor this large space boasts. A general feel of brownish colors overpowers the place with tiles of wood and stone. In the middle is a big wine cooler, set next to the bar, separating the space into two distinct areas. Take a closer look at the details of architecture where an open kitchen preparing one dish after the other with nothing to hide, the long bar protected by the signature cat and its wood lanterns and the Bonzai trees, renowned to refresh at P.F.Chang's restaurants.
Filling the space are burgundy leather chairs surrounding wooden tables decorated with candles while a wall, on the left side, is painted in gold adding a touch of luxury. I couldn't but notice the three different colored clothes in the kitchen and dining space; blue, red and black. Nice, cozy and candle lit... we were ready.
The Menu:
Starters
Soup & Salads
Sides
Chicken
Duck
Beef & Lamb
Seafood
Noodles mains & rice
Drinks
After reviewing their
BCC twice
and admitting to their professionalism in service and their staff's attention to details, I decided to go and give ABC's spot a try and yes, unfortunately everyone was right, the service here was far less than expected. I have rarely seen anything like that before.
We chose a table... and waited to be served. Soft drinks took an eternity to come as the waiter who was handling our section was busy while another was too far. No one stopped by our table and I was hoping that one of them would just come and see what we needed.
Let's Eat:
Spring Rolls 10,000L.L: (A traditional favorite. Fresh and crispy vegetable rolls prepared daily) Perfectly rolled, these crunchy spring rolls are generously stuffed and most importantly not oily. Enjoy them with some sweet and sour sauce
Lo Mein Vegetables Noodles 19,000L.L: (Classic Chinese egg noodles) Simply good. It's perfectly cooked, adequately salted and richly flavored. Broccoli, mangetout and carrots add a colorful touches and interesting flavors. These noodles are neutral in taste can be enjoyed with beef, meat or dish
Dynamite Shrimps 23,000L.L: (A cup of flavorful battered shrimps with an explosive spicy sauce. A true favorite) Served in a Martini cup with a piece of cabbage leaf cut in half for decoration, this plate is unique. The juicy shrimps melt under your teeth like butter while the sauce explodes on your tongue to reveal its freshness and spiciness. An interesting and strong spicy aftertaste, interesting flavors, beautiful textures in a generous mix that brings out the true flavors of ingredients. This is how real dynamite shrimps are done… Hopefully others can learn from this dish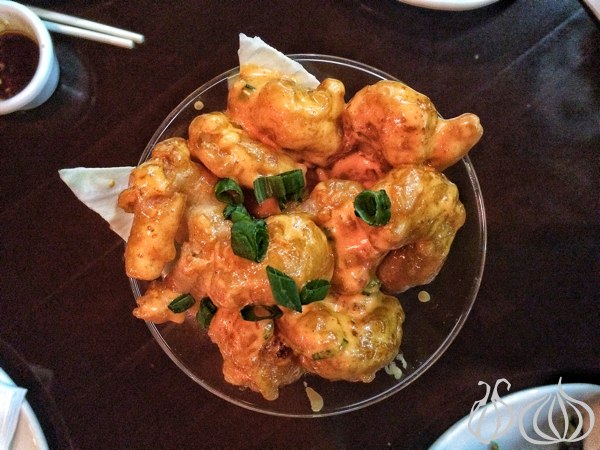 Crispy Honey Chicken 27,000L.L: (Diced pieces of chicken breast prepared with rich, sweet and tangy sauce. Served over a bed of rice sticks) These little chicken cubes are perfectly cooked, soft and tender and served on a bed of rice cake and green onions. They are adequately sweet and this makes them superb. The best thing at P.F Chang is the fact sweet plates at are not sticky or chew
Philip's Better Lemon Chicken LBP27,000: Diced chicken breast mixed with broccoli, green onions, lemon slices in a sweet and tangy lemon sauce. Juicy chunks of chicken mixed in lemon sauce with a light sweet flavor. Premium quality of the chicken is used...
The service sucks:
Waiters were running around like headless chickens

The manager didn't approach any of the tables or smile to any of the customers

I didn't see one waiter smile. I didn't feel welcomed at all
Thank you for the comment card. Next time, give it to me with a "pen" so I can fill it
I hoped to have some dessert. But unfortunately the waiter was so busy running around that he didn't even ask
Service is way too slow... yes, too slow
Gilbert, handling our sections and others at the same time was rarely around. He didn't stop once at our table; He listened to demands while walking like if it was a basketball game. I wished he stopped at our table, looked me in the eyes once, smiled, or felt attentive to what I needed
A sense of "hurry up, others are waiting" haunts you while you try to eat calmly
Coffee? Dessert? No time, pay and leave
Don't misunderstand me. I still love P.F.Chang's but I will stick to their BCC branch from now on. I actually visited the BCC branch a week after ABC - I was approached by the manager and the staff was amazingly welcoming and Ahmad, the waiter, made our lunch memorable.
I loved the food as always... and by the way, if you're looking to try some special sushi rolls, P.F.Chang's now serves some in both branches.