Napoletano Italian restaurant, nested in the heart of Franklin Roosevelt street at a walking distance from the most famous avenue is one of those places many recommend. Simple yet welcoming and innovative, expect to taste some of Italy's tastiest preparations in Paris.
We reached early without a reservation and were seated in front of the big furnace cooking on a wood fire delicious pieces of circular passions. Thin pizzas covered with layers of tomato, cheese and ham, decorated with some olives cook gently until becoming crusty. Bizarrely today, my favorite dish was the Caprese salad. One of the best I've ever tasted.
The menu choices: Cold starters, hot starters, salads, pizza, fresh pasta, pasta, risotto, desserts and fresh fruits.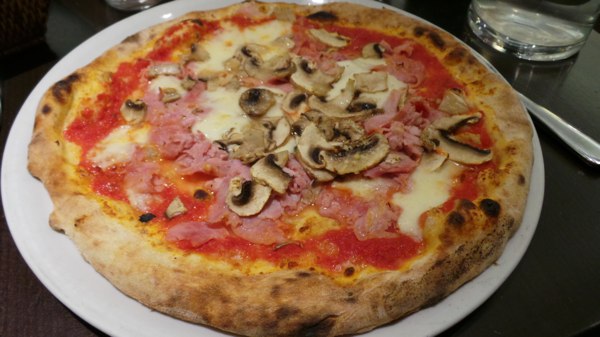 The Caprese salad deserves a minute: Insalata Caprese (salad in the style of Capri) is a simple salad from the Italian region of Campania, made of sliced fresh buffalo mozzarella, tomatoes and basil, seasoned with salt, and olive oil. In Italy, unlike most salads, it is usually served as an antipasto (starter), not acontorno (side dish). The one tasted today is just perfect. As simple as the ingredients are, this one, floating in olive oil and perfectly seasoned made me say YUM!
Following that, we ordered a Seafood Risotto: Rice, Mussels, Clams, Calamari, prawns, cherry tomatoes and shrimps. This was one of the few times I could eat my favorite dish as most restaurant prepare it with garlic. All the ingredients were fresh and the rice perfectly cooked but the overall preparations needed salt and black pepper. After some seasoning the taste changed drastically.
The simplest pizza: Isabella: Tomato sauce, ham, mushrooms and mozzarella. Mmmmm... It is great. Not as good as the one tasted at Cesar, to be honest, but good enough to be renowned and considered one of the best out there. A friend of mine who already tried Napolitano insisted I try their homemade Tiramisu. Eating three different plates didn't leave much space in my tummy, so unfortunately I had to skip that. The way he described it - A live ritual of cream pouring over the biscuit layers of the cake... You can imagine... If you have the chance to try it, let me know what you think.
A nice and simple experience I will surely repeat.