In the heart of Muscat's oldest mall, you can experience the breath of our traditions. It's a Lebanese restaurant down in Muscat, a beautiful place with Lebanese roots and Lebanese spirit, local music and local designs.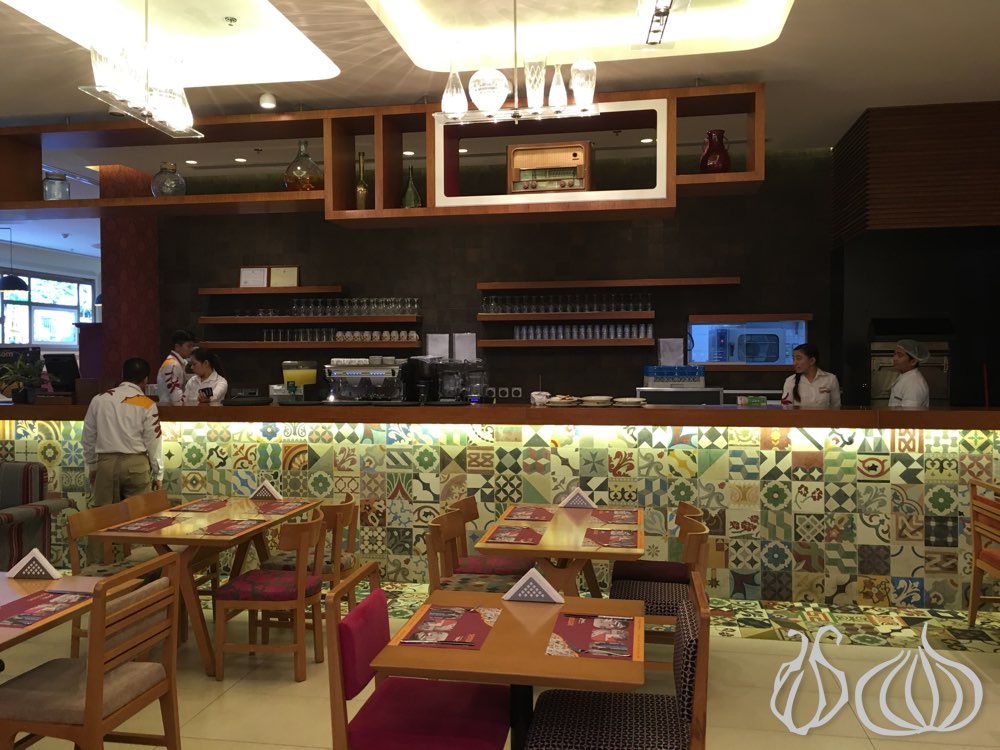 Semsom, the local restaurant with many branches in the Gulf, has been implemented in Oman for a year now. With a large space over the mall's entrance and a terrace, Semsom at 2pm had more than 10 waiters taking care of the place.
To the right is a library with some old Lebanese decorations. A long bar covered with colorful tiles, the oven where bread is freshly baked. A place filled with light-colored wood and dark burgundy chairs. Inside is a long corridor decorated with photos from Lebanon taking you to the terrace.
With a welcoming staff, smiles on their face, effective and quick, we waited to be served.
Lunch starts with Zaatar offered next to toasted flat bread.
The food is delicious, exactly like I usually enjoy in Beirut:
Hummus, sumac and Zaatar, a pink hummus with a fine consistency, a lemony touch and balanced flavors of tahina and salt. That's my kind of hummus.
Stuffed grapevine leaves: A square plate with half a dozen grapevine leaves set on top of each other stuffed with the usual mix. A well textured leaf and some intense, sour juices. I enjoyed crunching the leaves and feeling the inner part of the vines. The lemon taste lasts for a long time while you prepare to dig into another one.
Frikeh salad: Frikeh, 2015's trendy food, has made it to Semsom. Frikeh mixed with diced cucumbers, tomatoes, pomegranate and parsley. The texture of those tiny little bits exploding or crunching all at once in this juicy lemony salad. It doesn't only taste good but looks good, the cucumbers, the pomegranate, the mini diced vegetables and the frikeh.
Apples and meat ras asfour: A metallic place filled with diced meat and apple cubes. A fresh smell of cinnamon and apple before taking the first bite. A super tender meat, light bodied apples and cinnamon. A good mix, the apple and cinnamon add a twist, but the plate lacks crunch and texture. Cooked apples lose their sweetness but add the acidity this plate needs.
Chicken liver: Good sweetness, but a bit dry. I prefer the Lebanese version.
As we enjoyed Fayrouz tunes, the main course landed.
Kafta arayess followed by the mixed platter. Kafta, meat and chicken. Tender, flavorful and aromatic. Kafta, juicy and well spiced, stuffed between two loads of Lebanese bread and toasted to perfection. Add some hummus and enjoy. Lamb chops and tender meat served in a generous plate that makes your mouth water.
The bread should be mentioned on its own. Freshly baked bread that stays warm and tender even after ten minutes. That's a recipe of choice.
For a Lebanese night out in Muscat, Semsom is up to the standard.