After reviewing the Cronut at the Four Seasons Hotel, which I obviously didn't like much, I decided to try the one being at Casper and Gambini's. Although the Cronut craze was born in New York City, the hunger for trendy foods stretches across the world and Casper and Gambini's were the first to tap into these waters.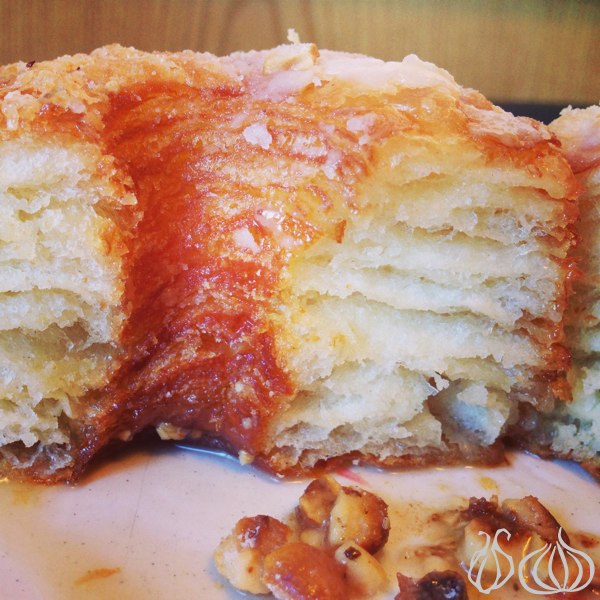 Casper&Gambini's and Four Seasons Hotel are the only two places who have dared to reproduce the unique creation which chef Dominique Ansel from New York has launched a while ago.
The waiter at Casper & Gambini's was professional enough to explain that they make them on the spot and they are better served and enjoyed hot. Even so, I decided to have it delivered so I can do the comparison adequately and fairly, without giving advantage to any of the two creators.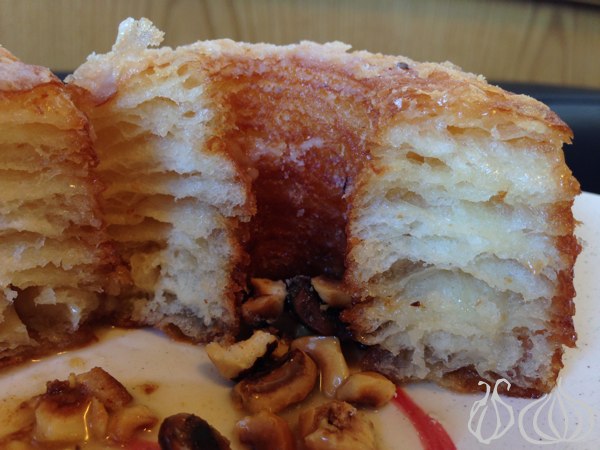 Let's state some points to start:
Casper & Gambini's Cronut is available now available in one flavor, plain
It is glazed with sugar exactly like a commercial donut
The mille-feuille pastry hybrid are clear and each detachable one from the other
This cronut is served hot and freshly prepared as ordered
Crunchiness and juiciness are two sensations this cronut offers
Casper & Gambini's cronut is served with a maple syrup mix adding the needed sweetness and flavor

I like the different clean layers that looks like an accordion

I like the pureness of white in the inside
My description of The Casper & Gambini's Hybrid-Cronut:
A large piece of pastry that looks rich and appetizing
Dozens of pastry layers, one over the other looking like a mille-feuille
Pastry dough with a golden color, looks like a croissant without reflecting oiliness
Served with maple syrup, this cronut is not one of those you can buy on shelf
Clean, symmetrical, clear and neat, this creation is appetizing.
Tasting the Cronut:
Casper's cronut is served hot
Each and every cronut is prepared on the spot within a 15 minutes
The first impression is strange as I felt like I was eating "Kellage Ramadan". Same taste, same external crunchiness and same inner softness without the ashta
Exactly like eating a glazed donut, this flavor follows you from start to end. Even though constituted of pastry layers, I didn't taste anything close to being a croissant
Crunchy and fresh, I couldn't stop at one piece but had to eat two whole cronuts at once
The only inconvenience of its texture is that the upper layer is too hard. Removing it, makes the rest more pleasant to eat
I am hoping that they introduce more flavored creams inside it
The maple syrup that comes with it tastes exactly like sugar syrup, "Ater" with a harder consistency
Nuts added on side add an interesting touch
The Verdict: Casper's cronut, which costs $7.5/piece, is closer to the Lebanese taste. It's like the creators wanted to introduce the Lebanese version of the cronut making it sweet, crunchy and close to the taste of some of our favorite Lebanese sweets. I am not sure if it has nothing to do with the New York original so maybe changing its name or adding next to it a synonym may be a good idea.
My recommendation:
Each of the cronuts served at Four Seasons Hotel and Casper and Gambini's have nothing to do with one another. It's like eating a cupcake and éclair. If I were you, I would taste both before judging which one you like best.
I liked the Casper & Gambini's cronut, to be honest and although I have not tasted the original Cronut to know what it actually tastes like - but I liked what I ate at Casper & Gambini's. It's crunchy, tasty and original to say the least.