The hummus comprises nothing more than what it should: pummeled chickpeas, tahini, lemon juice, salt and olive oil. Yet Lebanon's hummus has brought food critics, amateur locals and foreign globe-trotters to their literary knees. It has inspired them to label it the unqualified "best," and seduced them to write tantalizing comparisons bordering on the pornographic. Praised, worshipped, and turned to cliche, in short, our hummus is worth it – whatever "it" may be. Find below my favorite 10 hummus spotted around Lebanon.

Bayrut Street Food: A New Restaurant, A New Concept, Good Hummus
You've surely noticed this black signboard dressing the building at the entrance of Gemmayze, marketing a new restaurant concept called "Bayrut Street Food". It makes you want to find out more about it... Hoorah! The hummus is delicious, beautifully texture, right acidity, the right amount of tahina and just about enough lemon. Two thumbs up for the Hummus!


Fouad Massaad: The Authentic Breakfast of Zahle

In Zahle, when you say Foul and Hummos for breakfast, Georges Massaad is the only place to visit. Georges Massaad is located on the main Zahle highway, few meters after the Saraya. Pass the Saraya and land in front of a shop that serves breakfast, lunch and dinner opened back in the fifties. The hummos is simply authentic, tasty and full of flavor. Adding to that the hot chickpeas that melt under your teeth like butter. The balila looks appetizing and was served so hot that it was bubbling on the table in front me; I've eaten something exceptional. So juicy, so tender, so rich with premium ingredients and perfect seasoning. Foul is as good as the rest; the real authentic flavors.
Foul and Hummus Mazraani: Tyre's Famous Local Breakfast

Breakfast in Tyre, there aren't many options and what's there is known by all. The famous Baroud, or Mazraani, both offer a premium quality prepared with love and dedication. After visiting Baroud last year, I was back for the tasty local street breakfast and this time met Mr. Mazraani and his son, who have been producing these awesome plates since 1968. Ali, the founder, still comes to work, making sure his son Houssein follows in his footsteps. Hummus with Tahini: A Levantine Arab food dip or spread made from cooked, mashed chickpeas, blended with tahini, olive oil, lemon juice, salt and garlic. Today, it is popular throughout the Middle East and in Middle Eastern cuisine around the globe. Everything was exceptional. The hummus is one of the finest I've ever had in my life. Smooth hummus that melts like butter under your palate. The Foul was strong in flavor, with aromas that caressed my nostrils. The Mousabba7a, served warm, was simply exceptional. Served with fresh bread, a la minute, all the dishes are served hot, and with a street ambiance in the heart of one of the world's oldest cities… A must try!
Al Halabi: New Decor, New Staff and The Same Great Taste!

We enjoyed exactly the same quality my grandfather introduced me to more then 25 years ago: the unique goat Labneh; the iconic Hummus; my favorite moudardara… lemony makanek; one of a kind Hummus with meat; spicy and sweet mouhammara; grilled birds; amourette lamb and much more. Meat followed, tender and soft like butter, the grilled beef and probably veal is exceptional. Do not leave without ordering kabab khechkhach. the hummus; the unique, light and smooth hummus worth visiting Al Halabi for alone. It is creamy, balanced in taste with a bit of lemon and the right amount of tahini. More importantly, no garlic is added to the recipe.
Restaurant Fawzi: Back for Some Good Lebanese Food
It has been two years since I last visited Fawzi up in Faqra... I remember the food as being good and most importantly full of life and passion. During the week we were filming "48 hours in winter around Lebanon", I made sure to visit Fawzi again. Food is better than great now and I could see improvements on all fronts, generosity of service, and plates full of delicious Lebanese offerings. Hummus with meat: a very good recipe. Soft hummus and tender meat combine for a smooth and enjoyable dish. The fries are homemade, crunchy, well salted and perfectly cooked.
Spread on several levels and hosting a terrace by the sandy beach, Chez Sami located at the entrance of Maameltein welcomes its guests for lunch and dinner. A restaurant with warm lights and fine materials, the place is decorated with wood, parquet floor and straw covering the ceiling, offering a distinguished decor without forgetting the Mediterranean feel. Give your car to the valet, walk in front of the fish display and down to the beach. The first impression is however of a dull place, a dim corridor... some fresh vibes missing! Good hummus; light and smooth, creamy and lemony with pine nuts on top. A generous load of pine nuts with olive oil over a clean hummus portion. Enjoyed that one! I always said that you can know the level of a Lebanese restaurant from its hummus.
Fouad: An Enjoyable Lebanese Gathering
I would call it a my Coup de Coeur, a dream place, a home away from home… Fouad is a small restaurant nestled on top of the river in Hrajel and serves some of Lebanon's tastiest traditional bites prepared with love and dedication by the owner Fouad and his passionate team. I've been here more than 30 times and still enjoy it like if it was my first time. Hommos with soft tender meat with grilled cut almonds and pine nuts. Crunchy soft and tenderness blended together. Yum!!!!


Abou Jihad: Enjoy a Delicious Lebanese Lunch

You enter into a clean and neat restaurant where fresh aromas welcome you into Abou Jihad, a Lebanese restaurant like none you are used to... Hummus: A beautiful texture, generous plate and covered with olive oil. A soft lemony after taste is so pleasant. I enjoyed it and didn't feel the tiny little bit of garlic inside. Today I discovered one of my favourite hummus in town. Hummus with meat: very rich and super generous. I loved it even thought the meat is a bit chewy. It is fresh meat: understandable. Each and every bite is filled with rich flavours. Meat, oil, pine nuts, fat and hummus. A must try!
Al Sultan Brahim: Lebanese Seafood at its Finest

It's a restaurant with a rich history, a restaurant I used to visit on Jal el Dib highway before it opened its iconic location in Maameltein. Al Sultan Brahim has taken it even further by opening its latest baby in downtown Beirut. Hummus is the star. The star which has taken the restaurant to the fame it has today. Extremely mashed, like whipped cream, rich like chocolate and smooth like butter. Tahina that caresses your palate while the chickpea flavor explodes with hidden love. Lemon as it should be and lots of passion felt in every bite. The hummus DT is simply made of whole hummus, Al Sultan hummus and shatta red spicy sauce with lots of pine nuts. Kudos for the combination.


TicTac Abou Rami: Al Mina's Favorite Foul

I was recently indulging in an early morning tour around the tight streets of Tripoli and Mina. Foul and hummus is a daily ritual for all of us, and some of its cooked well, other times it's not. I've been to some places where the flavors don't show and others that master the art of good food and taste, one of those places is called Abou Rami, TicTac.Back to the food, the mashed hummus is smooth with a balanced mix of tahina and chickpeas, with lemon, salt and warm chickpeas on top. Fava beans mixed with bitter orange and well cooked beans with lemon and oil. Those are so flavorful and so good. I loved the fatteh as well, and to end the experience the Malysiiya appeared which is good, but I prefer to enjoy it at Akra.


Al Soussi: Expertise and Knowhow Poured into an Authentic Breakfast

Been here, done that, but I didn't have enough time to enjoy my food while shooting an episode on Beirut street food. After visiting Soussi a couple of months back, Lebanon went viral and hundreds of you visited this amazing place to meet the men behind this fantastic breakfast place. The hummus with grilled meat in its fat. This is a plate you should not miss. The lemony touch, the intense flavor of tahina and the tender meat. I've been around much, tried dozens of hummus, Balila, Mousabbaha and Foul places... Had eggs, salads and all kinds of authentic breakfasts... Al Soussi is different, the vibes at Al Soussi and the passion put in every plate are all very different and I love them. Al Soussi is a place you should try before you die in Lebanon.


Babel Dbayeh: Fourth Review, Same Great Experience

I'm not sure if you'll appreciate another review of Babel, the fortress of Dbayeh... I've been here more than a dozen times and I wish I could find a single mistake. What I do find every time I go is delicious food, professional staff and a pleasant ambiance. A light-colored hummos, which looks a little like Labneh, prepared without garlic and where the tahina and lemon blend together in a smooth mix of perfection. If the hummos is that good, imagine what the rest is like! I finished a whole plate of Hummos by myself, filling their whole wheat, homemade bread with the enjoyable blend.


Akra Tripoli: Enjoying Foul The Old Fashioned Way

Our Tripoli street tour started at Akra, a renowned foul and hummus place known as 'the cave'. In the heart of the old souk, a few meters away from the clock, Akra is a wonderful place and I'm happy we came here. Foul, hommos madkouk, foul bi thini, hommos lahme, malizia and fatteh, everything is prepared without garlic unless you ask. The normal hummus is again, excellent. The work and effort put into it is clear. A beautiful flavor of chickpeas is followed by an aftertaste of lemon. Yum! Another plate has the same core but covered with minced meat and fried nuts... I knew I'd eaten something great that day.
Their hummus tastes so good with an intense zesty boost andtahini flavor. Their eggplant mix is exquisite and so fresh and as for the meatballs, they are intense in flavor... Bravo is the least that can be said. Hummus: A real hummus, warm and Asti g those fresh ground chickpeas, lemon and salt. A flavor I appreciated. The pink hummus: amazing! That's really amazing. A lightly pink hummus mixed with sumac and Zaatar. So light, so fresh, so smooth and tasty. Bravo!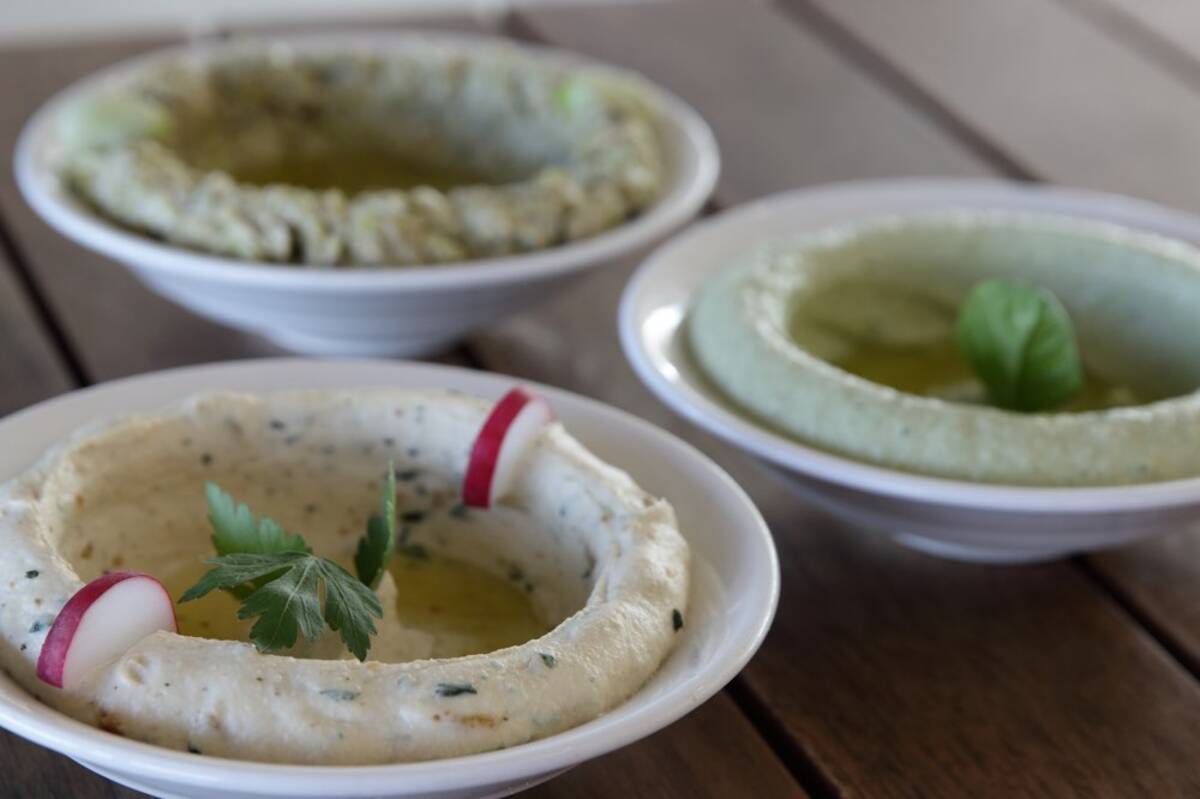 Check the complete Top 10 list.