Pasta is one of the world's most favorite foods! Spaghetti, lasagna, rotini, tortellini - there are over 600 known pasta shapes. It's delicious, it's nutritious, it's versatile. It can be enjoyed as a main course, or as a side dish. Top it with your favorite sauce and Parmigiano - let's eat! Check out my favorite restaurants serving pasta around town:

Di Fiori: For the Love of Pasta up in Kobayat

For the love of his country and surely for the love of pasta, Tony Zaher and after a long tour around the world's famous kitchens settled down in his hometown where he passionately prepares fresh pasta. The food is undoubtedly tastier than many outstanding restaurants in Beirut and Tony's passion is like none. Worth a trip all the way to Akkar hoping the chef decides to have a location for him down in the capital.
La Petite Maison Beirut and Beyond...
We were two people and ordered four starters to share before moving on to the main dishes. The plates were so good, we finished them in seconds. The Cep Rigatoni is better than that served in hundreds of Italian restaurants I've been to. Al dente like they should be, enjoyable salty, lightly oily and mixed with pan-fried ceps.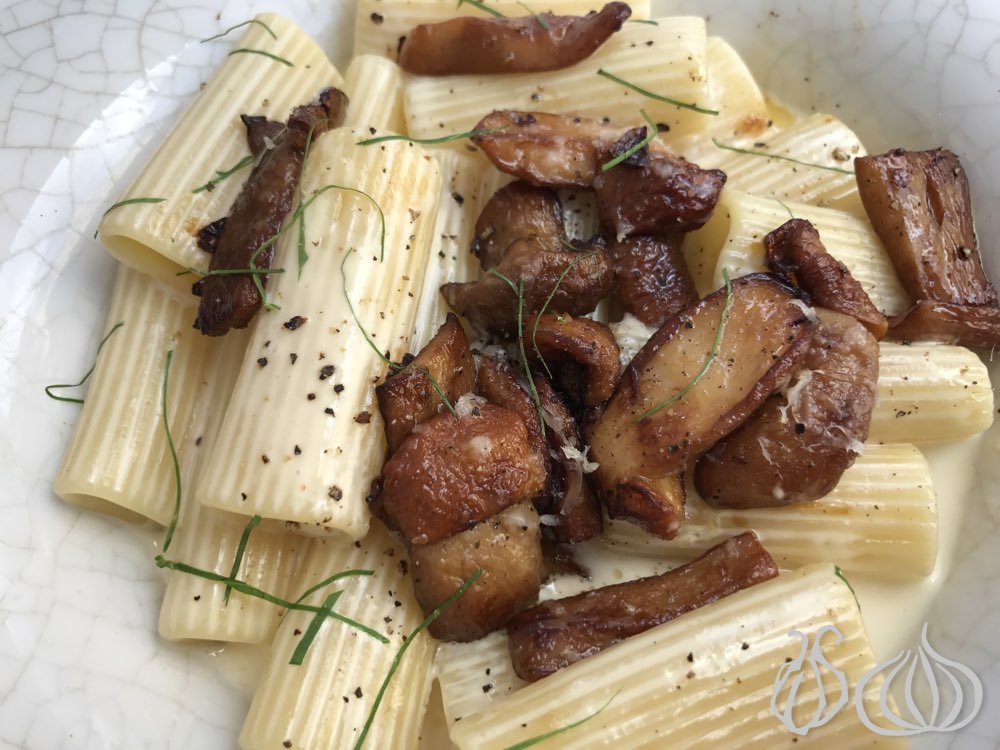 Tavolina: Casual Italian and Good in Beirut

One of Beirut's best Italian restaurants is located in Mar Mikhael next to Prune and Das-Kutche. Open for more than five years already, Tavolina is the baby of chef Dany Khairallah and passionate entrepreneur Dany Aprat. I've been here several times already, to enjoy their unique pizzas and outstanding kinds of pasta prepared the traditional Italian way.


Gavi: The New and Trendy Italian Restaurant in Beirut

It's called Gavi and it is today one of the trendiest Italian restaurants in Beirut. Brought to us by the owners of Kampai, Gavi is an upscaled Italian that welcomes you in the gardens of the Kampai building. Down the elevator, is a big restaurant, a rectangular space, with a large terrace overlooking the gardens.


Sapori e Vini: It's About Positive Vibes and Delicious Food

When I walked in, I couldn't but say "WOW"! The architect deserves an award and the decorator as well. It's probably one of the few restaurants in Lebanon where you feel transported into another dimension... walk into a world of Italian aromas and colors, find yourself at ease, relaxed and happy by the details... the music, the decor, and the service. I fell in love for the second time and that before even starting to eat.


Via Roma: Recommended Homey Italian Cuisine by Chef Massimiliano

An Italian bakery and Italian restaurant has newly opened on the internal Naccach-Antelias road. A casual Italian eatery welcomes you for breakfast, lunch, and dinner as of eight-thirty until eleven at night. Walk in into a vibrant space built under a high ceiling. Glasses of wine coming down over the bar, a display of cakes and pastries, a cooler where Italian wines are showcased and a set of high and low tables.


Matto: A Crazy Italian Experience Opens in Jal el Dib

It's where Italy is showcased in a fun way, where decor transports you into another dimension; it's where the view is fantastic and where music is soothing... it's Matto, the latest Italian Experience and talk of the town, now open on Aishti seaside inside the new Aishti home. Loved the first impression, especially the welcoming, decor, and music with the rich aromas coming all the way from Italy to charm you. "Matto" for crazy! I was ready to be enchanted.
Les pattes... comme c'est bon! Cooked al dente, filled with flavored, not too watery and not too dry, amazingly textured and well balanced. I tried two of them and loved them both equally. The spaghetti... exceptional! Bottarga flakes with caviar d'Oursin. The spaghetti cooked al-dente, a sticky and enjoyable sauce, intense flavors... a journey!
PZZA.Co: Great Food and Extravagant Dessert Pizzas
Rigatoni creamy Bolognese with tomato sauce with minced beef 24,000L.L: Al dente cooked rigatoni bathing in a rich, homemade tomato sauce with its lemony aftertaste and mixed with minced meat. Just add some Parmesan to make things even tastier. This is a signature dish, which should not be missed. I've had it before and appreciated it so much that I finished the whole plate all by myself.


Mac n' Cheese: Macaroni Has Its Own Shop in Mar Mikhael

Mac n' Cheese, the famous street food stand of Souk el Akel, is now in Mar Mikhael. Proudly Lebanese, these macaroni cooked with saffron have impressed many making it one of the souk's most popular foods. Pasta and melted cheese lovingly cooked on the street of Mar Mikhael.


Paname: Enjoying the Finesse of Simple Things

In the heart of Saifi, the chic quarters of Beirut, comes Paname, a French bistro or almost as they like to call it. Paname is a newborn from the people behind "Burgundy," Lebanon's best restaurant. Simpler and less fine-dining, Paname welcomes you for a French experience with inspirations from Italy and flavors from Lebanon. Breakfast, lunch or dinner, Paname promises an enjoyable culinary experience prepared by the chef behind Burgundy, the one and only Youssef Akiki.


Marinella: Worth Skipping Work For

You can't imagine how great lunch was, especially for someone like me, who is a big fan of spaghetti and risotto. I could eat risotto and spaghetti every day and believe Marinella serves the best this country has to offer. Simple and unsophisticated, lunch at Marinella is recommended.
Mario e Mario: A Cosy Italian in the heart of Beirut

Delicious tortellini filled with ricotta spinach and decorated with sage. A plate floating in butter, real and rich butter, cooked al dente and ready to amaze. It's not a plate for the faint-hearted, a dish you will remember for a long time. Mushroom risotto, a generous portion of it, again white truffles and flavors, lots of them that will make you remember this plate. We had the mussel spaghetti and the lobster linguini as well as the white truffle tagliatelle. The three of them were great; pasta perfectly cooked al dente mixed in delicious sauces.