It's surely not a place for tourists lost somewhere in a tight street, a restaurant known for taking raw fish and sashimi managed by locals who don't speak English. Seeing us amazed them! I'm sure they were wondering how we landed here.
Street food at it utmost level, boxes of bottles, fresh fish alive on the sidewalk, tennis balls to prevail chairs from moving, writing on the walls, fridges and papers signed all over. Korean food, Korean people, Korean everything and I knew I was going to enjoy it.
The little one, youngest of the waiters, came with his phone with the Google translate application. He wrote every question he had. So you want alcohol? Are you paying cash? Which items of the menu you want to order?
And the food arrived. Moving octopus tentacles! A premiere for me; eating something alive was not one of my daily habits. Fresh octopus sliding under the teeth, they are enjoyed without sauce. Salmon and white fish on a plate of white noodles, a kind of salmon we never have in Lebanon! Scallops that look so bizarre and are so tasty with boxes of nori leaves. Fresh, crunchy nori leaves to make your own bites of sashimi.
I can't describe my happiness that night. I was eating alone, my friend freaked out when he saw the aquariums and there were large portions for four which I couldn't stop enjoying a bite at a time.
With that we received a plate of edamame, Korean kimchi, corn and mayonnaise with quail eggs, red spicy sauce and garlic.
Afterwards the woman approached me with a new idea. She opened her bag of nori, took one sheet, added some rice which she got from the kitchen, dipped white fish in the spicy sauce, added kimchi and asked me to eat it. That's when the experience started to become fun!
Hundreds of flavors, millions of feelings, that's a dinner I'm going to remember for so long. The quality of the fish, the taste, mixes and the vibes of the local community enjoying a Saturday night dinner the way their tradition taught them, it was wonderful.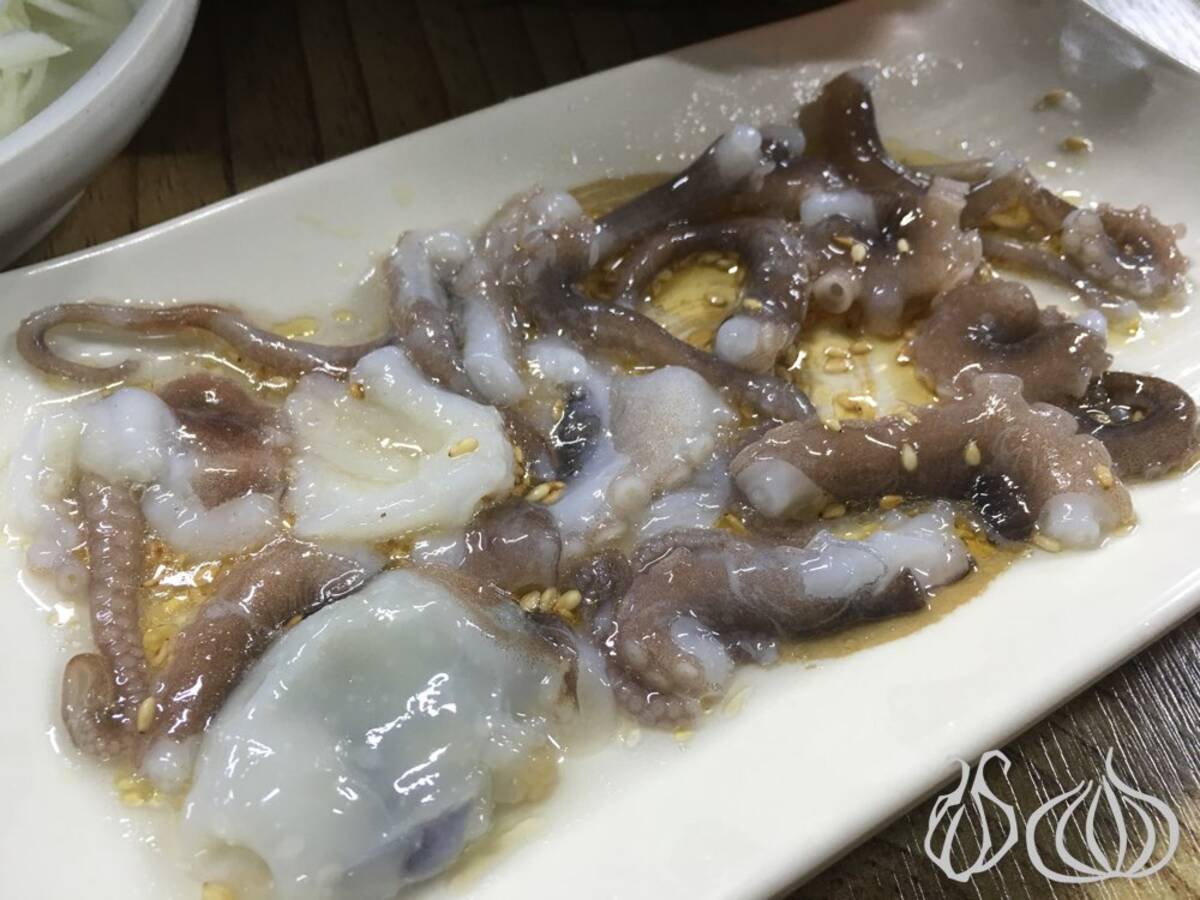 Sashimi like I never had before, a different approach to Asian raw fish enjoyed at a street food traditional place where locals eat. I will remember eating something moving for a long time.
That's a must try when you visit Seoul.