Here comes summer along with its intense heat, a beautiful season eagerly awaited in our fresh country. Beaches, mountain trails, barbecues, social gatherings, dancing on rooftop venues and, throughout it all, a continuous need to refresh and cool off our bodies. In my 2014 food predictions, published on NoGarlicNoOnions in December of 2013, I highlighted the many yogurt and gelato shops taking over Beirut; an endless choice of possibilities, each using long perfected techniques. Some are sorbet specialists, while others are perfect for creamy sensations. Light fruity, Italian or Arabic, we'll have plenty of time to try them all until the season ends in September. Let us start with some definitions
Gelato is the Italian word for ice cream, derived from the Latin word "gel?tus" (meaning frozen). In American English this word commonly refers to varieties of ice cream made in a traditional Italian style. Gelato is made with milk, cream, various sugars, and flavorings such as fresh fruit and nuts. Gelato is a type of soft ice cream containing purees and a relatively small amount of air. By law, gelato in Italy must have at least 3.5% butterfat, with no upper limit established.
Ice cream is a frozen dessert usually made from dairy products, such as milk and cream and often combined with fruit or other ingredients and flavors. Most varieties contain sugar, although some are made with other sweeteners. In some cases, artificial flavorings and colorings are used in addition to, or instead of, the natural ingredients. The mixture of ingredients is stirred slowly while cooling, in order to incorporate air and to prevent large ice crystals from forming. The result is a smoothly textured, semi-solid foam that is malleable and can be scooped.
So both are similar enough, gelato being lighter, less fatty, less creamy and definitely less commercial.
It is not the easiest of tasks to hunt all creameries in the country and I'm sure that there are many hidden gems yet to be discovered, so I chose some of my favorites and took a week to try them again all, with detailed images and tasting. From homemade styles, to the fine gourmet, or even the commercial ones sold at supermarkets, below is an interesting list of mouthwatering delicacies.
Ice Cream and Gelato shops:
Our ice cream and gelato journey started at Haagen Dazs, the international famous gelato shop that offers a large variety of choices sold in store as well as supermarkets. Sold for 6,250L.L for 90g, the ice creams are rich in flavors as well as rich in cream and fat. They are enjoyable, but take care, since you can feel the calories in every bite. The mango sorbet, today's choice, is fresh and full of flavor and the mango is clearly felt and enjoyed, but it has a creamy, heavy taste. The generous scoop was enough for dessert, but what's not reasonable is the price. 90g for 6,250L.L when the same Haagen Dazs ice cream sold at supermarkets is sold for 3,230L.L per 90g. The 390g box goes for 14,000L.L. In my opinion, Haagen Dazs can be skipped this summer; Lebanese creators have perfected tasty innovations at better prices.
Orso Bianco, which I reviewed last summer, has a wide selection of choices sold in one-liter containers as well as two fridges full of other sizes. Choose from their selection, produced daily, of flavors including chocolate, vanilla, strawberry, lemon, cheesecake, and more, or some of their more innovative creations like pineapple-basil, lemoncello, port-fraise, etc. One fridge is full of cones and cups of ice cream while the other displays Orso Bianco's ice cream sandwiches and sticks. With 16 different choices, I decided to go for the blackberry sorbet, which is naturally produced without milk or colorant. The 110g scoop at Orso Bianco costs 5,000L.L, while the one-liter containers start at 21,000L.L. I liked the freshness of this ice cream, its airy feel and watery crisp, but the final taste is a bit too sweet for my taste; an unpleasant sweet aftertaste that stays around for long. I would consider using less sugar in the recipes.
Hanna Mitri, the one-and-only Hanna Mitri, is my favorite ice cream in Lebanon and the world to date. Located in the heart of Achrafieh and serving ice cream for the fourth generation of fans, Hanna, Mitri's son still serves the premium ice cream his father always produced. An all time favorite, Hanna Mitri produces pure Lebanese ice cream using premium natural ingredients and you will feel it in every inch of your body. Better than any lemon sorbet I've ever tasted in my entire life. Not Haagen Dazs, nor Orso Bianco come even close to approaching this extraordinary creation. A taste of pure lemon hidden inside this yellow mix, concentrated and a soft, tender, watery and crunchy ice feel. In every bite, lemon zest explodes to activate all your taste buds at once. An ice cream that melts like butter and leaves a pleasant aftertaste that lasts for long minutes. The most important part is you can't taste the sugar. Rose water is the second best flavor; the smell alone is enough to make you smile. The journey starts with the smell and continues with a flavor that embraces all your mouth mucosa. I love the pure white color this ice cream has, just pure perfection! I would recommend not to mix rose water ice cream with anything else as the aromas cover all the other flavors. The biscuit at Hanna Mitri is for 4,000L.L or 5,000L.L as for the 1/2kg boxes, they vary between 10,000L.L and 20,000L.L: yes them are the most expensive of all, and worth every penny. Wait until you taste the "blood orange" Hanna does once a year or the black current special edition.
Oslo: And now was amazement time. A fine European style ice cream that's just perfect. How many times have I already expressed by love for this brand, which produces, in my opinion, the best European style ice cream in town as well as the best chocolate ice cream you can ever taste. Adequately sweet, perfect colors, great texture and a superbly generous portion, Oslo ice creams are for a reasonable price of 6,000L.L. Yes, only 6,000L.L, that's the cheapest priced with the finest quality. Awesome, to say the least. Every flavor is felt independently and produced with love, passion and dedication. Trying the 1 liter boxes is something, but visiting Oslo's shop in Mar Mikhael is a different experience. If you're searching for the best ice cream this summer, a great price, unique flavors and an experience that will put a smile on your face, that is it. Try the chocolate chip, oreo cookie or croquant... all exquisite.
When you hear Casa del Gelato, what does it inspire? A gelato store where you can eat, enjoy and try many choices of fine Italian ice cream... But that was not the case for me. I reached the cafe in Achrafieh, where people were sitting outside, with one single waiter serving. Inside the restaurant was a complete mess... Asking for some ice cream, if they have any, the waiter opened the metallic covers to reach for plastic boxes where the ice cream is hidden. "You want some sorbet?" he asks. Mango, kiwi and Mandarine in a cup. It was funny to see a cup of coffee and the large plastic coffee cup handed to me. Three large scoops cost me 14,000L.L., that's more than twice the price of Oslo. The mango is way too heavy and I had to skip it, the Mandarine is light fresh and enjoyable and the kiwi has an interesting texture, but it fades to a neutral taste of water, and I can't forget the ice chips sliding under my teeth. Disappointing for the name it holds and the expectations I had.
Azrak: People come from miles to enjoy Azrak's unique pastries and ice cream... So, driving the distance from Beirut to the beautiful hills of Baabdat in Al Metn was not a problem. They are so popular that a street in Baabdat was named after them... Riri and Robert, the Azrak brothers, have followed their family's footsteps and create the ice cream and sweets, using the best and most natural ingredients, loved and devoured by many. Azrak's Ice cream flavors: Banana, milk, pistachio, lemon, rose, almond, vanilla, cinnamon, pecan nuts, rum raisin, etaincelle (milk and chocolate), strawberry, mure, tutti-fruity, apricot with pine nuts, mango, amareddine, Smarties, musk and praline or others depending on the season. Azrak's ice cream is fresh, tasty and surely natural in flavor. I would tone down on the sugar though; the natural ingredients used are tasty enough and should not be masked by the sugar. As for the chocolate, I expected something stronger with more body and more flavor. Too milky for a professional. I have been touring around various ice cream parlors in town and I second people's fascination with this place.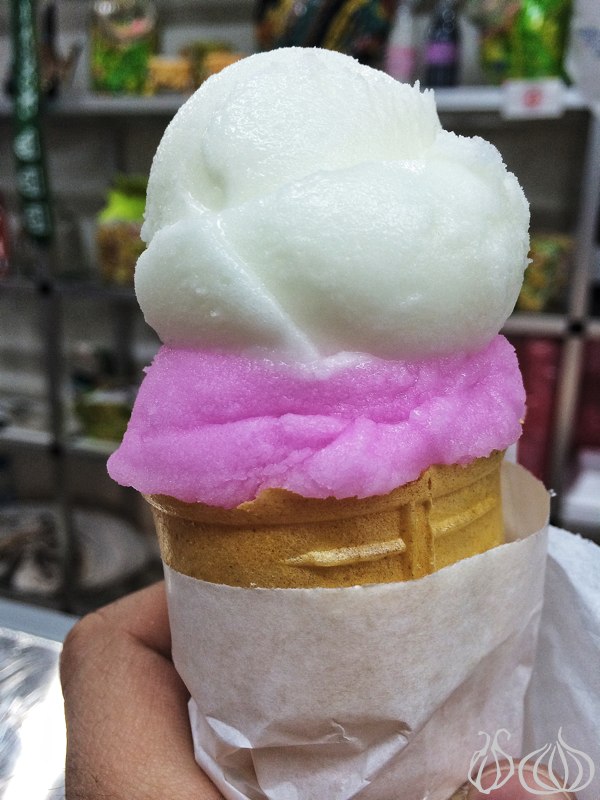 Bachir Ice Cream originates from a genuine family business, first established by founding brothers Maurice and Edward Bachir in the little town of Bikfaya. Bachir Ice Cream has a mission to allow for a delightful, honest and unparalleled exchange of value for citizens from all classes seeking to indulge in an exquisite, typically old-fashioned Lebanese ice cream. I've been to the factory and I can safely tell you that Bachir offers something clean and fresh produced for the masses without forgetting the original Lebanese taste. The cheapest ice cream in town, affordable to all, Bachir, despite its commercial look, can safely be considered as one of the favorites in Lebanon. The one I always order is their fruit selection, as well as the Ashta with homemade whipped cream.
The latest Lebanon has to offer is not an ice cream parlor, but a cafe/ restaurant and yes, they have a very good selection of sorbets. Al Mandaloun sorbet ice creams are special for two major reasons: The first for being prepared with fresh fruit with no additives or coloring, and the second is due to the technology behind this production, which is imported directly from Europe.? Today, I decided to have a bite of each of their unique flavors. Taste it all and discover the real secrets hidden behind cherry, watermelon, jellab, orange, amareddine and meghle. Yes, the famous Lebanese drinks and desserts known for centuries are now available as ice cream flavors. My recommendation will be meghle. Meghle: A sprinkle of dried coconut, raisins and crushed nuts (walnuts and almonds), and voila! The meghle is ready to be served. Meghle is a Lebanese form of rice pudding, made of boiled rice flour, sweetened with cane sugar and flavored with aniseed, cinnamon and caraway. This dessert carries with it a special meaning: honor for a newborn child. Can you imagine meghle in an ice cream? I never did until now. The same exact texture, color, smell and taste but served cold: It's breathtaking! Covered with coconut, dried raisin and walnut and having a light brown color, this creation could become the next big trend. Would it replace normal meghle on summer days? All of the ice cream above had something in common: freshness, consistency, minimal sweetness, lightness and natural ingredients creating an innovative product. You can buy 1 kilo for 34,000L.L, or ask for it in-house at 4,000L.L per scoop. Don't forget the famous merry cream as well, one of my favorites in town. Chocolate or milk, both are excellent served with mini biscuit cones.
Gelato Show: I've always been a big fan of chocolate ice cream but rarely found the one I've been dreaming of in Lebanon. The reason is simple: most commercial chocolate ice creams (even Haagen Dazs) are far too milky and sweet for my taste. Like my bars of good chocolate, I like my chocolate ice cream dark and strong. Gelato Show uses powder cocoa mixed with water, just a hint of milk and that is it. The result: 90% chocolate ice cream, never before seen in Lebanon. Every bite is unique, and so pure it makes you want to close you eyes and appreciate the deep fine aromas twirling around your tongue. Choose between pure chocolate or orange chocolate and enjoy them in a cone of cup. Every scoop – and I don't mean just any scoop – is actually a huge, generous chuck of ice cream – so indulge in the best ice cream I have personally ever had. The best part is that it's cheap. A huge and generous scoop of dark chocolate is for only $1. A cup containing 4 scoops is only $4. At other places, $4 will buy you less ice cream. You have to try it! Believe me it's worth it.
Frosty Palace: People have been talking a lot about Frosty Palace. This gem of a place, tucked away in a small road in one of Achrafieh's popular areas, Mar Mikhael, and has raised eyebrows lately with its unique sundaes. People have been rushing to try them and I became super curious to learn why. The dessert experience was beyond imaginable. I ordered the Caramel Banana Sundae: Crunchy caramel pieces, nuts, whipped cream, homemade vanilla ice cream, caramel sauce and banana slices served in a long glass. Every bite is a journey to the land of desire. Every ingredient is individually tasty. This is a uniquely prepared dessert, I strongly advise you to try it. If you didn't try Frosty Palace yet, you are missing out on a lot. Pass by during this summer heat to experience a delicatessen at its finest.
Cocoa & Co ice cream parlor is now open: Summer time is never complete without ice cream. One of our favorite coffee shops in town, Cocoa & Co just launched their sumptuous ice cream variety made in-house from the freshest natural ingredients. If their cookies and cupcakes are to die for, their ice cream must be heavenly. Flavors include chocolate, vanilla, caramel, mint-chocolate, cappuccino and rose, and sorbets including lemon, apple and strawberry flavors. From scoops, to sundaes and amazing toppings, make sure you stop by for a cold sweet bite! If you have a dinner or you're planning a night in, just get a half-liter or liter tub – they that also come with yummy toppings.
Abdulrahman Hallab: Yes, the best ashta ice cream by far. Ashta, our Lebanese cream, is the foundation for all pastries; yet it does not contain cream. Sure, there was a time when ashta was pure cream. Nowadays, it is made with milk and flavorings! The result: a clotted cream thattastes fresh and light, without any cream. Such is the genius of Lebanese pastry chefs. You can make it with powdered milk, milk, half-and-half, or?a combo of milk and whipping cream. Ashta ice cream is heaven on earth. Lebanese ice cream is made with mastic gum, which lends it a gelato-like texture. It comes in many flavors and is served in narrow cones. This creation is like no other, the history of Lebanese sweets in a cone. For less than 5,000L.L, this innovative creation makes me go up country to Tripoli to have them at least once a month during the summer season. Soft and tender Ashta ice cream with its enjoyable elasticity and crunchy bits of pistachio. So good...
Now to the yogurt places, of which I know two in town. Yogurt Früz and Pinkberry's.
At the back upper entrance of Le Mall Dbayeh is a new concept spot that caught my attention. A simple yet colorful place serving fresh yogurt mixes you can enjoy at any time of the day. Yogen Früz provides delicious and nutritious frozen desserts, just what you need to live a healthy and active lifestyle. What I loved about it: You pay according to the weight: each 28g is 1250LBP. Ü-Serve: Everything is self-service making the experience more fun and interactive and you make your choice from 10 different flavors – all yogurt and all light. How it works: Grab one of the free disposable containers. Fill it with all the yogurt flavors you like. Continue by adding some topics. Put it on the scale. Pay according to the exact weight: each 28g for 1250L.L. Enjoy your mix. A bit expensive, but enjoyable. I love yogurt with fruit.
Pinkberry: Are you looking for something refreshing this summer but worried about gaining weight? I think Pinkberry is your answer. You can now enjoy a delightful cup of nonfat frozen yogurt at ABC Mall in its five mouthwatering flavors of original, chocolate, passion fruit, pomegranate and coconut. Pinkberry, the famous Los Angeles nonfat frozen yogurt concept offers a tangy, refreshing taste and guilt free treat, made with real nonfat milk and nonfat yogurt containing calcium, protein, vitamins and minerals and packed live and active yogurt cultures. Their yogurt is certified by the National Yogurt Association in the U.S, and researchers have found early evidence linking live and active yogurt cultures to a variety of health benefits including support for a healthy immune system, joint health and flexibility. A gentle and professional staff welcomes you into a world of refreshing sensations. It always starts by afree tasting before choosing your desired flavor. Add any of Pinkberry's toppings: strawberry, raspberry, blueberry, blackberry, banana, kiwi, mango, pineapple, almonds, carob chips, chestnuts, chocolate chips, Cap'n Crunch, Cocoa Pebbles, coconut shavings, cookies 'n cream, Fruity Pebbles, granola, mochi (rice cakes), shaved milk chocolate, shaved white chocolate and yogurt chips.
Now let's here about your favorite ice cream...