LINA'S, a restaurant/cafe in ABC Achrafieh, with its warm and welcoming décor, is a venue where business people, students and shoppers share a relaxing stop while enjoying one of their freshly prepared meals made from their exclusive recipes and fresh ingredients.
In June 1989, Lina's opened its first outlets in Paris with an original sandwich restaurant formula. Lina's is now a well-established name with over sixty restaurants open worldwide. It has fashioned an innovative approach to fast food whereby the meals are based on original and exclusive ingredients of recipes that are prepared in a hygienic setting in front of the customer. Today, I decided to try Lina's again after a long break from the brand which had become too smoky up until the law helped reorganize some stuff. Rawad, the waiter, welcomed me with a smile. I directly asked him, without even bringing me the menu, to get me what is in his opinion the best sandwich and the best salad Lina's has to offer. He succeeded. We enjoyed a nice meal and as soon as we finished he came back with a dessert platter where we chose two beautiful pieces worth trying.
The place:
A big fridge, showing all the restaurant's fresh ingredients, welcomes you
Main items of the menu are posted over the bar
A cozy ambiance where you meet classy and calm people
Blue, red, yellow, beige and camel sofas
Orange, beige and red curtains
A view of busy Achrafieh streets
Parquet floor
Brown wooden square tables
Some greenery separations add some intimacy to the space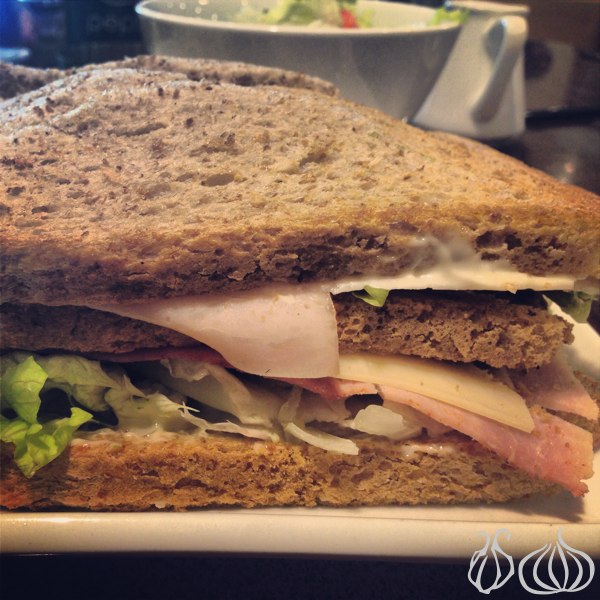 Lina's Weekly specials:
Grilled veggie platter on Mondays
Sushi cake on Wednesdays
Salmon cake on Fridays
The menu sections:
Les salades et les soupes

Les sandwiches
Les clubs
Les moities
Les Light
Les Chauds
Les Subs
Les Paves Paninis
Les Aperos
Les Desserts
Les Tartes
Les Boissons
Les Vins
Les Boissons Glacees
Les boissons Chaudes
Mariage Freres
We ordered:
Club Lina's: Jambon, fromage, bacon, lettuce, tomato, mayonnaise - 19,750 L.L
Blanc de Poulet aux Avocats: Melange de laitues, Parmesan, oeufs - 19,750L.L
Tarte au Chocolat - 9,750L.L
Cake au Citron - 7,000L.L
The Food:
The Lina's club is generous, fresh and tasty. A slice of cheese, another of ham, grilled bacon, lettuce and tomato packed inside three layers of brown bread and softened with a thin layer of mayonnaise. I would have grilled the bread more to make it crunchier even though the way it is served is fine. The sandwich is served with potato chips and a small portion of light green salad which looks beautiful.

The salad is as tasty as the sandwich. Half an avocado, a complete egg, shaved Parmesan, fresh French lettuce and slices of chicken breast. A very generous preparation served in a bowl. The chicken needs to be softer and juicier even though it is perfectly marinated in a lemon dressing. This salad is served with two slices of brown bread. Wouldn't be nice to offer some butter with the bread?
Chocolate tart is just great. A dark chocolate mousse layered on a crunchy dough. Every bite is unique
The lemon cake looks so nice. An appetizing circle of clear white spongy cake filled with blueberry and cranberry pieces of fruits and decorated with strawberry couli. The first impression is bizarre as it tastes like a muffin. A muffin should look like a muffin and be named as a muffin. This cake should be sold as a muffin and work on another version of the lemon cake.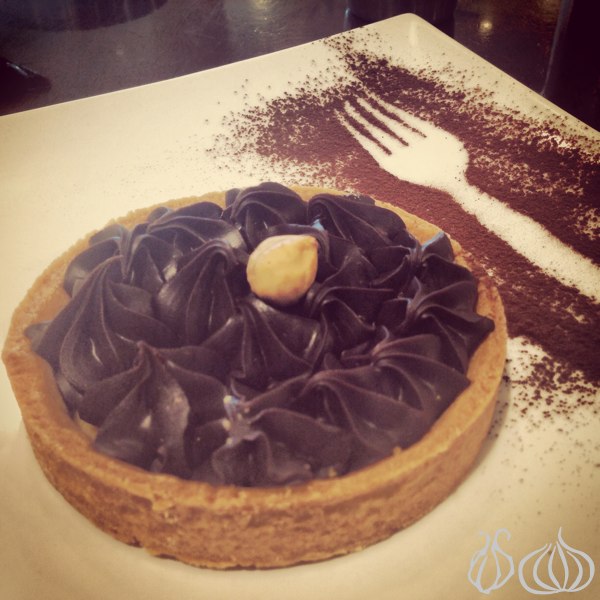 The pluses:
Today I was happily amazed

Lina's, although many have been bad mouthing it, still serves tasty preparations
The service was just great. Rawad, the waiter was so professional and the manager didn't stop moving around all tables
The only minus:
Each item on the menu should be detailed: The vegetables used in the sandwiches needs to be detailed. What if someone's allergic to one of the ingredients?
A lovely experience it is, proving that Lina's is still what it is. I enjoyed a great ambiance and tasty food in a cozy atmosphere. I will be passing by there again soon.