Honestly, I rarely get impressed with the breakfast normally served at four-star hotels, but the one I had at Tivoli Jardim Hotel was excellent. Simply extraordinary. I fell in love with this restaurant the minute I stepped into it. Restaurant Olivier Avenida is a restaurant bar during the day/night and breakfast space in the morning, guests are welcome into an utterly unique space to enjoy a wide choice of sumptuous breakfast choices.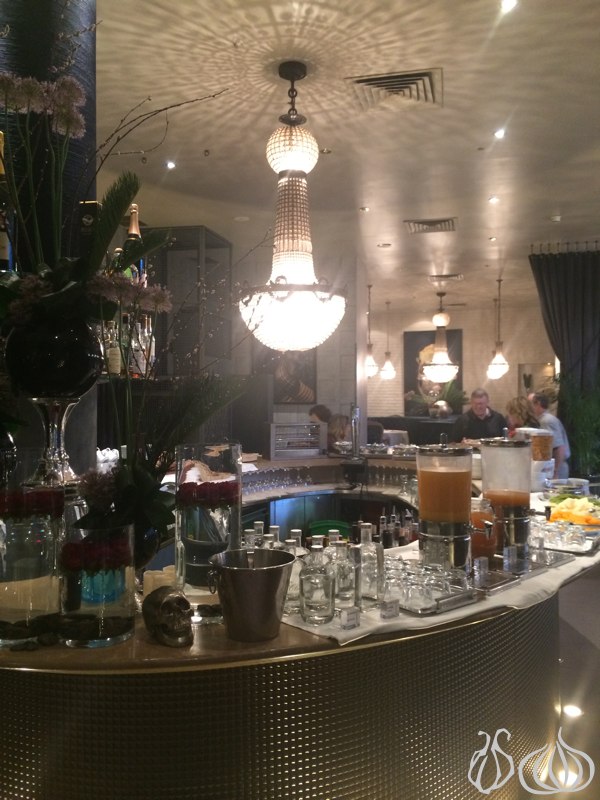 Located on the ground floor of Hotel Tivoli, Lisbon is Oliviers, a bar and restaurant is transformed into a breakfast reception every morning. In a beautifully designed space with big crystal chandeliers, breakfast is fun and intriguing at the same time.
The place's architectural wonders:
A large island buffet welcomes you in the middle of the restaurant
A few square tables are located on the right side and two benches with animal fur
An overall metallic beige ambiance
Metallic reflective and grey material cover the space. In my opinion this is better suited for a nightclub more than a morning area, but its no so bad
Up the two stairs, you'll find a rectangular room which is the main dining area
Filling the space, you will find round tables, square ones and a lot of sofas
On the white walls, brick on one side and decorative panels on the others, a big skull grabs your attention
Many crystal chandelier pend from the ceiling adding the needed amount of dimmed lighting
All tables are preset with tissue placemats, salt and pepper mills tend sugar sachets
The buffet choices:
Still and sparkling water
Orange, apple and peach juice
Orange, pineapple, melon, kiwi and bananas cut in large slices
A fruit salad
A fruit basket
Four choices of corn flakes
Yogurt
Milk jars
Honey, strawberry jam, fig and cinnamon jam, orange marmalade
Chest of turkey
Butter with and without salt
Flemish cheese
Cold meat
Olive oil
Bread slices to be toasted
Mini donuts
Custard lies
Plain Croissant
Multiple cereal and white baguette
Coffee, hot milk and hot water
Eggs
Bacon, sausages and mushrooms
Almond cake
What I enjoyed... The croissants were superbly light and crusty, the custard cream cakes (Pasteis de Nata) served hot were mouthwatering, the donuts were amazingly tasty, the French baguette were freshly baked on the spot, soft and crunchy, the fig jam with cinnamon was my tasty discovery of the year, the fruits were so fresh and the choice of cheese were prepared the same morning and not removed from the fridge as is.
It is worth waking up early to come and enjoy these fresh creations... And this is what I did everyday during my stay. 
A guy called "Jose" will definitely catch your attention. Two of his colleagues didn't show up that morning and he was all alone serving. With a constant smile on his face, he runs around, shouts out, prepares, cleans the tables and more...His 'happy go lucky' behavior will surely put a smile on your face. And this is not to mention his unique laughter that comes from his heart through his throat... you will unconsciously find yourself laughing after him, as if you have just heard a joke.
Jose is one of a kind... he watches all these half asleep people walk into the breakfast room and uses his charm to transform this gloomy feeling into something more positive. In my opinion, he plays a small role in  changing the world by putting a smile on people's faces. Bravo Jose.
The second day was just as good as the first one, Jose was here to welcome us with his wide welcoming smile that really changes your mood in seconds. I ate the same thing I had the day before and everything was just as perfect. I had to have those awesome croissants, their pastel de nada again, some fresh fruits as well as eggs and sausages - everything was great.
A pleasant way to start my day...