When Captain Cook first opened a few months ago, I received a number of messages recommending that I go try the place. I will be honest and tell you that I was not intrigued at all seeing a childish name and logo. I happened to be in the area last week and though why not give it a try and see what the fuss is all about. All I can say is that I was proven wrong. Happily so.
Captain Cook is a new concept in town, offering what they call 'superfoods' at very affordable prices. Nestled in the heart of Downtown Beirut, facing the Saraya and the United Nations offices, this small eatery has a lot to offer. Captain Cook is the pioneer in offering Superfoods Cuisine in Lebanon where you can be sure to receive a clean hygienic service according to the GHP (Good Hygienic Practices) standard.
Superfood is a marketing term used to describe foods with supposed health benefits. A non-medical term popularized in the media to refer to foods that can have health-promoting properties such as reducing one's risk of disease or improving any aspect of physical or emotional health. So-called superfoods may have an unusually high content of antioxidants, vitamins, or other nutrients.
Like superheroes swooping in to save the day, Superfoods are those that rescue our bodies from illness, provide us with healthier and thinner bodies and moral functions. Captain Cook is the superhero chef whose special power is to mix Superfoods to serve you deliciously empowering natural meals.
Superfoods used in Captain Cook menu: Quinoa, Blueberries, Broccoli, Pommegranate, Artichokes, Asparagus, Basil, Walnut, Flax seeds, Black seeds, Pumpkin seeds, Spinach, Salmon, Avocado, Cinnamon, Cocoa, Olive oil, Rosemary, Aneth, Carrots, Green tea Each meal can help you with one of the following: Heart, Immunity, Brain memory, Skin, Blood Pressure, Bones, Liver, Vision, Anti inflammatory, Cholesterol, Anti Cancer.
The place:
The place is small with no tables but a bar that can seat up to 9 guests
A small cube with a cashier standing at the end
Super hero posters decorate the walls giving a childish look to the place
Red paper placemats are preset on the bar with a bizarrely looking fork and knife
Red walls to blend with the original logo
Look up for the big Captain Cook logo behind the counter
Don't expect much, the place is intended to sell for deliveries and take away. No fancy decoration or relaxing seating
Good to know before we start:
Delivery is the main business so don't judge after seeing the place
Eat at lunch since Captain cook closes for dinner
Healthy and filled with vitamins, the meals will boost your day
Captain cook proposes food to boost the body and mind
Usually, restaurants have one or two special items on the menu. The concept behind Captain Cook is to offer a complete menu that is special and tailored for your benefit
Prices are cheap... really cheap. The strategy is to have a lower profit but be affordable to a larger number of customers
The menu sections:
Breakfast
Starters
Salads
Burgers
Pizza
Sandwiches
Pasta
Platters desserts
Beverages
I had for lunch:
Iron Claws: Crab, Pomegranate, seeds, avocado, iceberg lettuce, cherry tomato, black pepper, mango, basil, pumpkin seeds and cocktail sauce. All of this salad you see below for only 6,750L.L. Tasty fresh and filled with rich ingredients and pleasant textures. If you want to enjoy a rich and delicious salad at a very affordable price, that is the one. The softness of the crabs, avocados that melt like butter under you teeth, the crunchiness of the lettuce and it doesn't stop here. Hint of sweetness generated by the mango followed by cracking sounds of the seeds mix that makes all the difference. Yes, all of that as I already mentioned for 6,750L.L. A generous fulfilling portion.
Swiss Mushroom Burger: Soft sesame bun, Edam cheese, tomato, spinach. It has a hint of sweetness. A big bun, juicy meat, premium cheese and spinach for only 6,000L.L. You will enjoy this juicy burger and its hint of sweetness with a smile. A homemade feel and premium ingredients creating an interesting preparation with no sophistication whatsoever. Two thumbs up guys.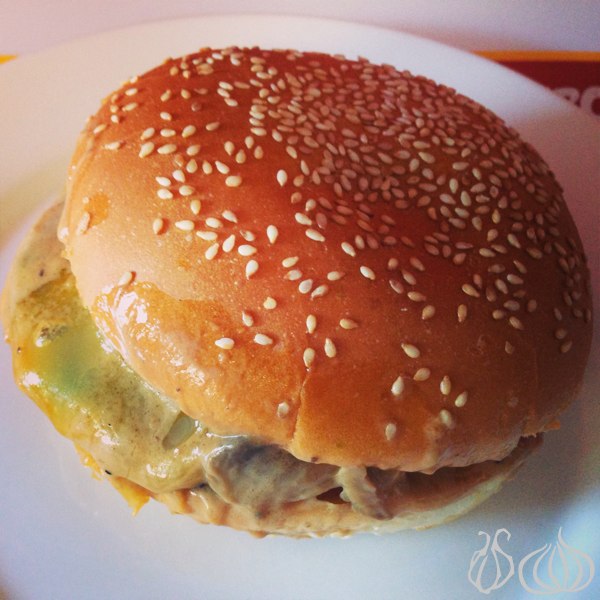 Fabulous French Fries: These are really nice. The normal frozen fries covered with cheddar cheese, mixed peppers, extra virgin olive oil, tomato, basil 4,500L.L. Fries like you have never tasted before. The simple normal fries covered with a colorful mix of vegetables makes the plate look nice as well as adds the needed flavors. Peppers, tomato, basil and olive oil would remove the sense of guilt that may arouse while eating fries.
Adding to the order a Pepsi, I only paid 18,000L.L. I left half the plates full. For 18,000LL the order can feed two people.
The pluses:
Color coded menu with notes showing how each meal is good for your body
The prices are very low and affordable
The plates are all generously filled
THe manager is always around to answer all your questions with the utmost professionalism
The minuses:
Parking is not easy and may be hard to find. You would have to park more than 200meters away
The place is not the best you would expect. It definitely needs a full refurbishment
If you work around the Beirut area, I would definitely recommend that you order from Captain Cook, where good food, healthy eating and great prices meet. I was positively surprised.