As I walked in, I enjoyed the positive and fresh atmosphere at Chop'T. An automatic smile was drawn on my face. The colors, the menus, the logo as well as the signs with creative ideas and tasty meals impressed me. How impressive it is!
Start on the left side. Salad or wrap? Pre-prepared or custom made? You'll find fresh ingredients sampled from around the country land in this fridge on a daily basis.
Green color is painted on the left wall; while grey takes over the right side. A counter occupies the entire facing wall from right to left. It starts with the salad fridge where your bowl is filled to top. The plates move forward towards the chopping board where six well build men chop with force and dedication. Sauce is added and you are ready to move forward to the cashier.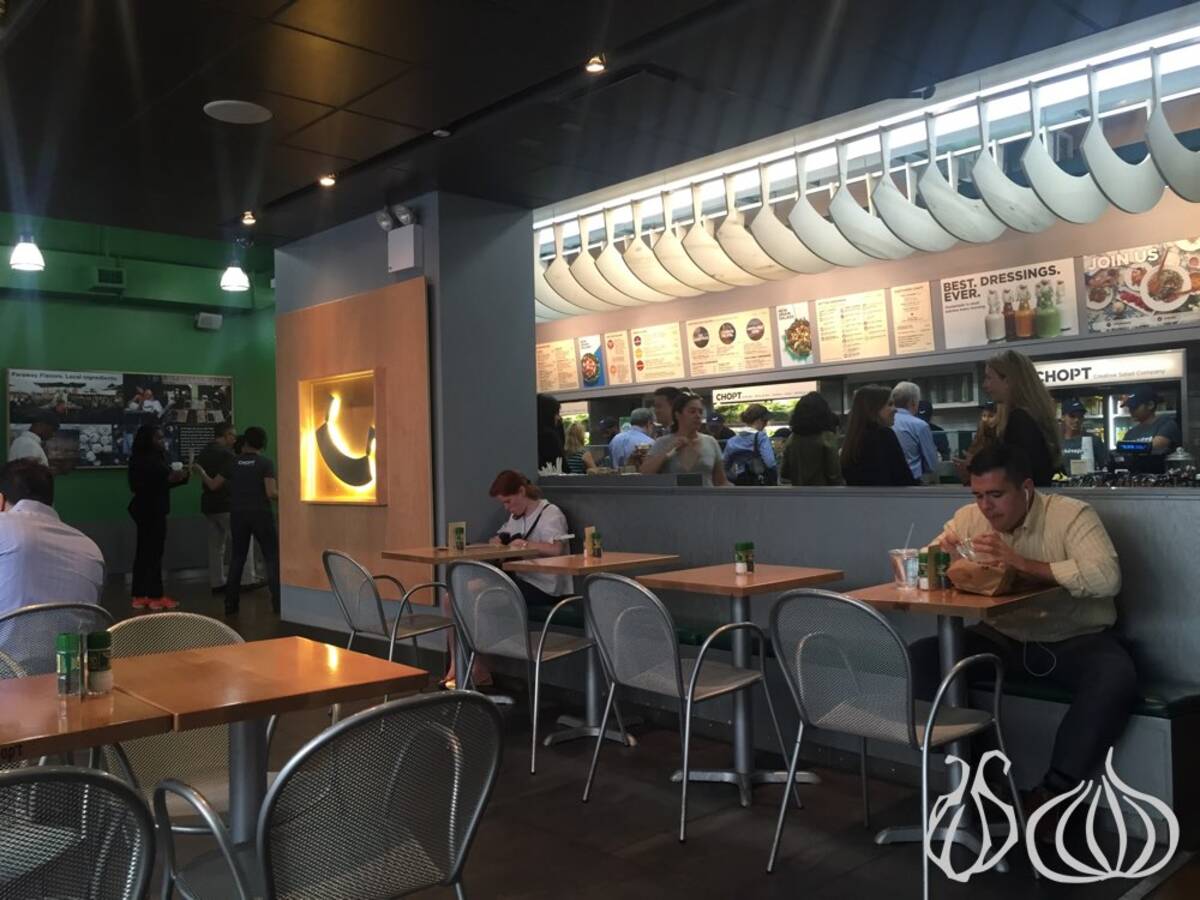 The menu:
Core chopping
The goods
Better dressing
Classics: Salads and salad sandwiches
Grain salads
How it works:
Choose salad or sandwich
See it being chopped in front of you
Add a sauce
The sandwich is wrapped
Pay and choose your drink
Have a seat and enjoy
A sandwich and a salad:
Cobb salad: Local feta cheese, shaved red onions, mama lily's spicy pepper, pita chips and romaine lettuce with Greek yogurt Tzatziki. A fresh salad with lots of taste and some interesting crunchy bits. The lettuce is really fresh and the spicy peppers add a fine end note.
Falafel from Lebanon: A huge and nicely wrapped sandwich filled with the same ingredients of the salad but with falafel inside and lots of vegetables. It's a full fledged meal. The best part is that they managed to replicate the same falafel flavors.... Seasonal radishes, English cucumbers, roasted tomatoes, Kale and romaine lettuce.
Chop'T is one of those new innovative concepts one should try.