"You are invited on a secret mission..." This is how it started. A card with my name on it arrived with a top-secret stamp… Intriguing to say the least. It's something new...
I was invited as an agent on a secret mission to try Crepaway's new menu. The new menu is scheduled to launch on the 25th of January.
The secret mission, which I accepted, started at Crepaway Zalka, where a bus was waiting. We were invited in blindfolds to the secret destination, a tour around the highway before arriving to "the kitchen".
Up on the first floor of Crepaway Zalka, a secret agent in a black suit was waiting to welcome us. Fifteen agents showed up to the meeting. Every one was seated in their places with their own placemat, a black hat and the top-secret folder for each.
A quick skim through the menu you'll see some changes: The soft bun baguette has been removed from the menu, the new items include a lot of red and green pesto sauce, a lot of garlic everywhere, the fish burger is now changed to teriyaki fish and the photos are all redone with touches of finesse and creativity.
With big eyeglasses, the man in the black suit presented the fist four items: Two dips and two salads, which were ready to be shot and reviewed.
All items served will be reviewed following presentation, temperature, taste and balance, sauce, texture and overall execution.
As you all know, I am going to be honest… so excuse me for being blunt and say things as they are. I was invited to taste and give my opinion, here it is.
Tasting the new menu:
Mango's World: Sushi rice over mixed lettuce and Toccos leaves topped with togarashi spices, shreds of cucumber, carrot, radish, crab and mango dices and fried bread shrimps. Drizzled with sriracha and sprinkled with coriander leaves. Served with bang bang sauce in the side. The salad looks better than it tastes. It's a huge portion of very cold rice, a couple of hot crispy battered shrimps and a sweet/spicy sauce; weird combinations and bizarre textures. The bulk quantity of rice at the bottom spoils the enjoyment. Are we trying to enter the sushi market!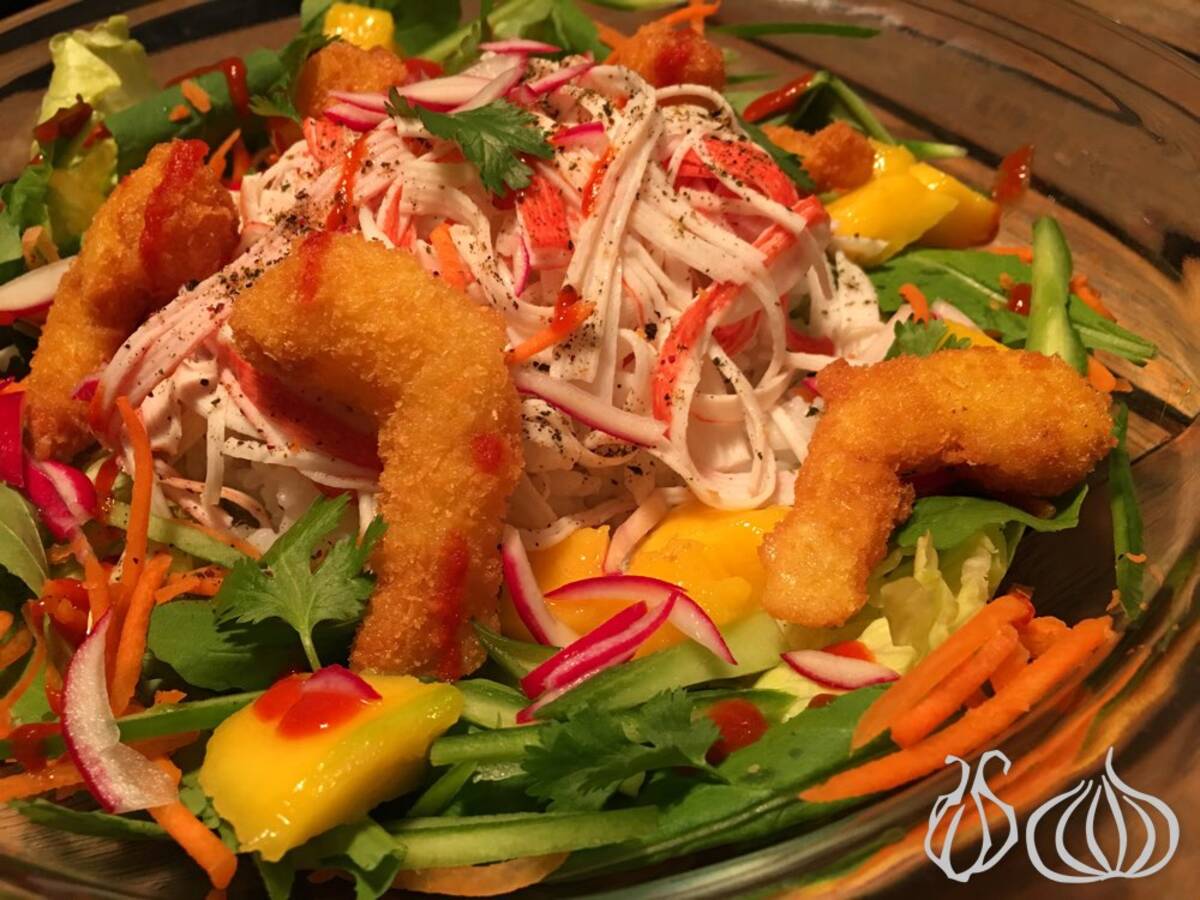 Salmon Goddess: Romaine lettuce tossed with a special green goddess sauce, topped with toasted sesame, radish slices, capers, garlic croutons and smoked salmon. All you feel is garlic... I didn't feel the salmon. Too much lemon, acidity and garlic! I'll change the dressing.
Baked mixed cheese with spinach, artichokes and Parmesan served with special bread and sundries tomato focaccia. In my opinion this plate could be way better. The dip is too soggy with no forwarding flavors. I didn't feel the real spinach or artichoke. The great bread on the side could have handled a richer flavor.
Deconstructed Pizza: Baked soft mozzarella cheese with pizza sauce, avocado, olives and pesto drizzle served with special bread and sun-dried tomato focaccia. That's my favorite. Simple with melting cheese on top, tomato sauce, avocado chunks and this great crunchy bread on the side.
Veggie Star: Warm soft mozzarella with slightly grilled squash, eggplant, mushroom, bell pepper and carrot, with Parmesan Roca leaves and red pesto. I loved the bread, enjoyed the consistency, but I didn't like the garlic nor did I enjoy having the eggplant skin slide under my teeth.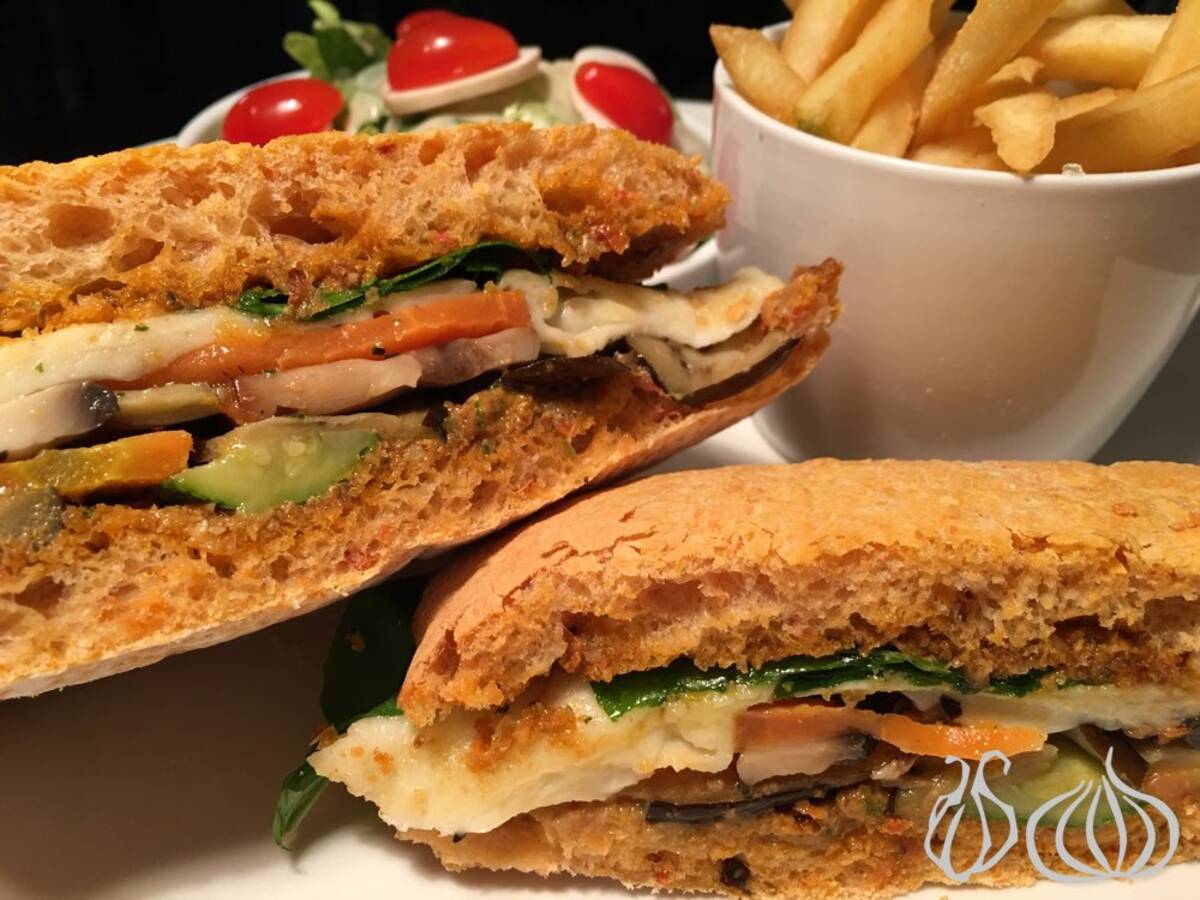 The Submariner: Cheese, ham, salami, cucumber, Rocco leaves, boiled eggs and sun-dried tomatoes on ranch mayo sauce: a superb equilibrium of flavors, an exceptional crunchy fresh bun and inside a load of ingredients that blend well together with sauce that's light and fresh at the same time while adding flavor.
Turkeese: That's my kind of sandwich. Turkey and yellow cheddar cheese slices with mango chutney, avocado, Rocco leaves, sprinkled with herbs and crushed nuts. The mango adds sweetness and enjoyment. It is a perfect sandwich. I loved the taste, the texture and the sauce.
Waldorf Chicken: Grilled chicken laid on iceberg lettuce with Parmesan slices, fresh grapes, walnut and the special Waldorf sauce. To start with, I would love to know what's in this special sauce; it's a client's right. The bun is chewy, the chicken is dry and the different ingredients used in this sandwich are all dry in general - walnuts, chicken, Parmesan... So this plate needs more sauce - something with less garlic because garlic is over powering and I would suggest using smaller walnuts chunks.
Chosen Mozzarella: Warm soft mozzarella with grilled chicken, pepperoni, Parmesan slices, sun-dried tomatoes and green pesto sauce. Come on! More pesto and even more garlic. It is a dry sandwich – the chicken is dry, the Parmesan is dry and great bread is dry when not a reasonable amount of sauce is spread.
Caprizza: Tomato sauce, soft mozzarella cheese, cherry tomatoes and a drizzle of presto sauce. A beautiful looking pizza and it stops here. A new dough with herbs that's chewy in the middle and under cooked on the sides. I didn't feel the herbs though because the tomato sauce over powers the taste of herbs. The cheese is a bit elastic and is not easily cut with your teeth. It's a no for me. And why the heck does it need pesto! It looks and feels like a pizza-mankoushe.
Fish Teriyaki: Fish filet teriyaki glaze, Edam cheese, lettuce, pickles, avocado slices, carrot, and cucumbers with s pinch of togarashi. Very salty! It needs more spices and less cucumber because they leave the only aftertaste. The bun is a bit dry needs more sauce.
Blues Chicken: Grilled chicken breast on melted cheese, with lettuce, pickles, crispy bacon, tortilla chips, blue cheese and ranch sauce. I didn't feel enough flavors but salt, too much of it actually. The bread bun lacks softness.
Mexican Carbonara: Tagliatelle pasta in special sauce with crispy bacon, mushroom and yellow grated cheddar. Topped with tortilla chips and Fresca vegetables. A had a bite and laughed out loud. Oh my God! A Carbonara made with tagliatelle! Over cooked bready tagliatelle! It felt like kids food. Too Creamy! Heavy! And diced tomatoes like that found on tabbouleh? A bizarre mix! I'm sorry but this is one of the most ridiculous things I've ever tasted. Name it whatever but not a Carbonara. Special sauce? Don't we deserve to know what we're eating?
Julia Crepe: A mix of 3 cheeses, choice of ham or turkey, grilled chicken and salami. Topped with tomato halves and a drizzle of pesto; again pesto and crepe. I don't think salami is something that can be heated as it releases grease and salt. The crepe dough is sweet for the savory cream. But overall, I believe many will like it.
Royal Cod: Pan-fried Codfish filet topped with Fresca vegetables and black olives, mashed potatoes, sautéed vegetables served with creamy pesto sauce. The plate looks good; but the fish is a bit over cooked and needs a bit more lemon, while the potatoes are mashed a bit too much. But pesto is not the sauce I'll use here. The vegetables are good.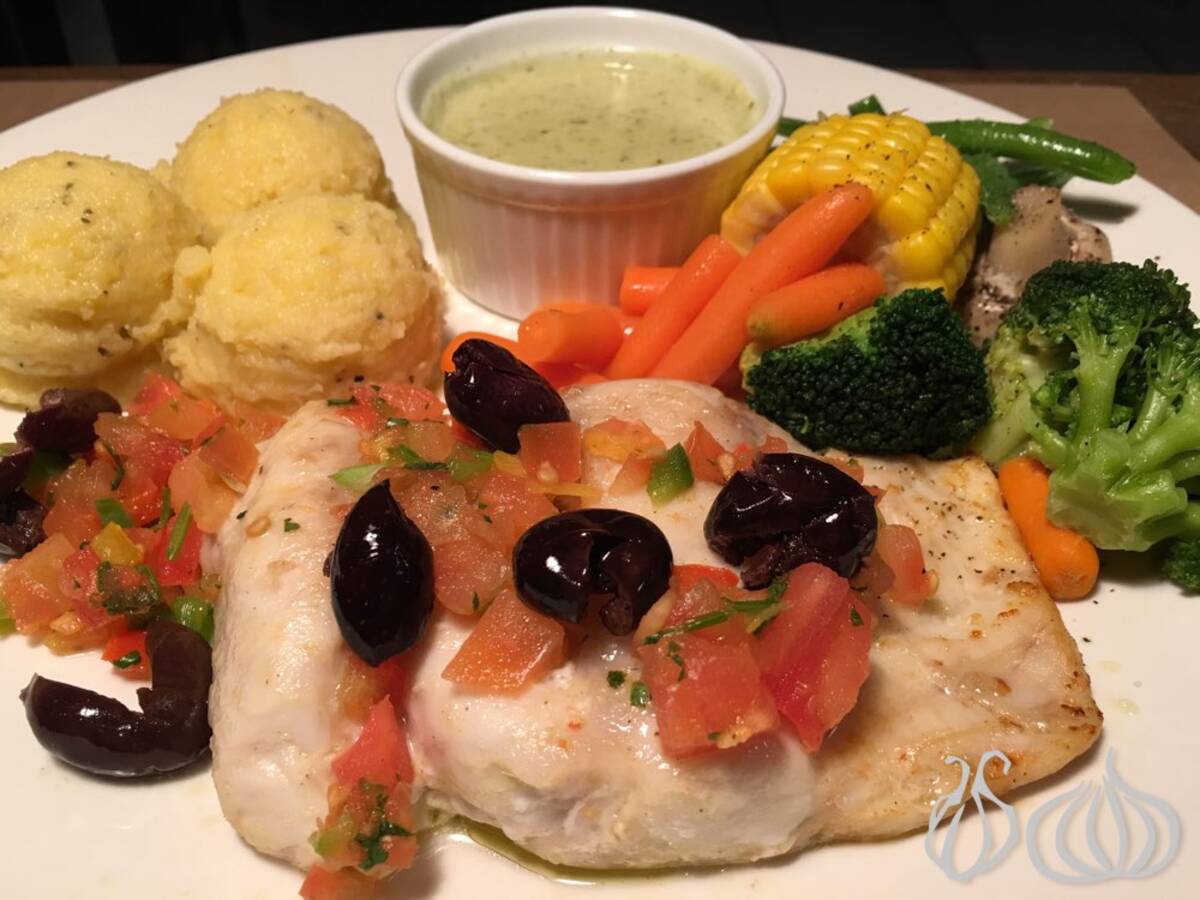 And now desserts:
Toffee Nuts: Layers of special peanut butter mix on almond biscuit, topped with caramel and peanuts. Many might fall in love with it. It's a matter of taste after all. Oreo Cheesecake: Thick chunks of Oreo cookies loaded with cream cheese and more Oreo. I was expecting to be amazed. I expected something the whole country will talk about. The cheese part is way too creamy and lacks texture and body. The Oreo part is the only good thing about it. PS: It doesn't look mouthwatering.
Cruella Crepe: Nutella spread, smooth custard cream and chocolate brownies bites, sprinkled with crushed hazelnuts. It looks great but I'll fold it differently so it doesn't chew. Unfortunately the dough is thick and chewy.
I expected something completely different. Crepaway started as one of the only two successful diners in town. When the menu last changed, Crepaway drifted from 'diner' style food to something more sophisticated. Back then I didn't quite get the idea but I accepted it. And what just happened today was even more bizarre. I think Crepaway is trying to create a fancy international menu, something way off course their original concept - with lost flavors and an unclear direction. I'm not sure what's the aim here!
I'll be coming back again as soon as they officially launch this new experience.