It's been sometime since I last visited DIVVY... I headed to their branch at the Backyard Hazmieh to have lunch with my friends, sat and appreciated the simple decor, its diverse menu and enjoy a pleasant lunch served by a professional team. A good variety of food, generous portions and beautifully presented dishes... I left happy and satisfied.
To be honest, when I first visited DIVVY more than two years ago, I personally didn't understand the concept. The food was new to the country and I believe the chefs were still in training. I might have compared it to the other diners around town … but today things have changed. A varied menu - a bit too much garlic around - interesting choices, generous portions and beautifully presented plates.
At the Backyard, DIVVY is small. A square place hosts a bar, two levels of tables and a high ceiling. Decor is minimalist yet interesting and relaxing. Light green high tables fill out the terrace set in front of the high glass facade under the DIVVY logo. The restaurant has leather stairs, glass tables, white tiles and black metal structures. Industrial with touches of red. I loved the recycled paper used, the big fans, the shining tiles and greenery. Cutlery is left at the table in a stainless steel cup.
On the menu, expect to read about a selection of drinks, starters (chicken, beef and seafood), salads, sandwiches (chicken, beef and seafood), pizza, pasta, potatoes, mains (chicken, beef and seafood), desserts and coffee. International cuisine including Italian, American, pasta, Mexican, French... a bit of everything.
You are given a card as soon as you arrive, a card on which the waiter's name is written and the name of their favorite dish to share. In here it's all about sharing, all plates are better shared. And we ordered...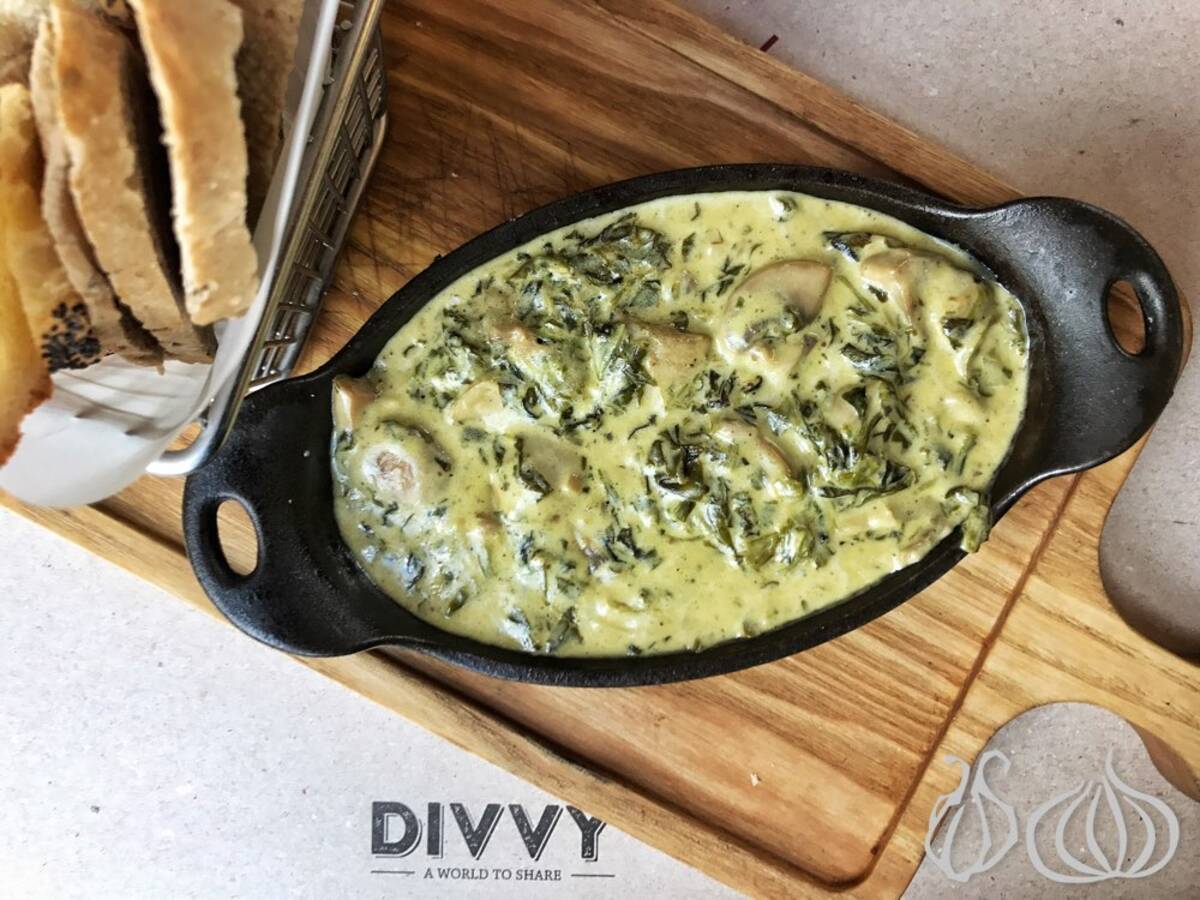 Lunch:
Spinach and mushroom dip mixed with cheese and served with toasted bread: a metallic plate filled with shredded spinach cooked in their creamy sauce with mushrooms and melted cheese. Dip in some toast and enjoy. I loved the texture, creaminess and taste. The toast is served in a metal fryer.
Goat and thyme tart served on a black board with a side salad: the tart is stuffed with thyme and sun dried tomatoes. The dough is good and lightly crispy, the heart is moist and balanced but the tart as is doesn't look appetizing. It is pre-cooked and heated when the customer asks for it, cheese on top is not melted and the chef had to cut half of it to make sure it's warm inside. Enjoyed its taste but personally believe it can look better.
I love potato purée and DIVVY's is good. Buttery and creamy soft potato purée.
Mac & Cheese, oven baked pasta in their creamy sauce and topped with melted cheese: between having a burger or a portion of macaroni for lunch, I'd surely pick the second one. A fulfilling plate with enjoyable flavors and textures. Try it for yourself.
Riverside Salmon; smoked salmon, lemon tidbits, dill, capers and cheese spread in a brown baguette. A fresh sandwich filled with premium salmon, a light crunch, lemony notes and a cheesy cream adding taste and moisture to the sandwich.
Asian baked salmon served on its cooking plate on a bed of shiitake mushroom with the signature Asian sauce. Loved it, loved its cooking time, its taste, the salmon quality, fat and juiciness, the portion size and mashed potato side. I didn't expect to eat this at DIVVY.
The good and bad: I loved the service, food presentation and taste... but I ask myself, what is the item that's good and unique enough for a customer to comeback to again and again? A huge menu but again...is DIVVY somewhere to go regularly...
A casual eatery serving international flavors without the sophistication of an upscale restaurant, try DIVVY for lunch or dinner; it's not an American diner and surely not a fast food chain. I enjoyed today's experience and will surely come back to try the rest of the menu.