I've been wanting to try the official airline of Bahrain for some time now and here I am on one during a flight to Oman via Manama. The first impression is great. A hostess welcomes you on board while two others make sure welcome drinks are served to everyone. The business cabin, where six seats are availabe per row, make the business space wider than that on AirFrance. Between your seat and the one in front, there's more than 80 long centimeters. But along the four trips I have experienced, I can say that the only thing you can be sure of is that space between chairs - otherwise, I am not sure you will be getting the same experience on every flight.
Gulf Airline's plane look old, or is it the beige color used? The TVs are small and the overall feel of the cabin is clear that the plane is not one of the newest... I put my headphones on, awaiting departures. There was a kitchen chef walking around the cabin: This intrigued me. I was just dreaming about what was going to happen. I dreamed of the food and started imagining the nice experience that will follow.
Even before takeoff, we were offered a refreshing towel, choosing between a cold or hot one. That was a premiere for me. Arabic coffee followed, then local dates presented in a basket. All of that and we were still on ground! It seems like a unique experience! Other than that, and since the plane is old, the business class receives a touch tablet to enjoy individually movies, games, TV shows and music. Unfortunately the choice is old and the music is only about CDs. No radio or latest hits are proposed.
Nice WCs: One of the biggest I've seen on a plate are enough to fit three persons at once. Wide and relaxed, there is a distance of a meter between the toilet and the sink. Napkins, moisturizing cream and cups are on display inside.
As soon as we took off, the staff dressed up in white from head to tough looking like real chefs. An apron covered their pants while they started preparing. The chef toured around to take the orders. Two choices of main plates and two choices of entrees only... Sorry, no more pasta for today, the choice has been discontinued. No menus were distributed and no drinks: It was clear that the smile on my face was disappearing slowly.
Food was served first with no drinks and no aperitifs. Bizarre no? I finished the starters, waited for the main plate without drinking anything with it. A mistake like this one makes you forget about all the positives of the experience if there are any. Asking the stewart, he answers me with a smile that I have to ask for anything I like and it will be delivered.
Starters:
Tabbouleh: A tasty unsophisticated salad I enjoyed
Hummus: Exactly like the one in almost all Lebanese restaurants
Labneh balls: Covered with seasoning, those labneh balls are indeed good
Lettuce
Bread and butter
Main plate:
Meat: Over cooked and chewy. Didn't like it even though its quality is good
Potatoes: Boiled and fried potatoes that melt like butter. Those were nice
Carrots and Broccoli steam cooked and covered with dried thyme leaves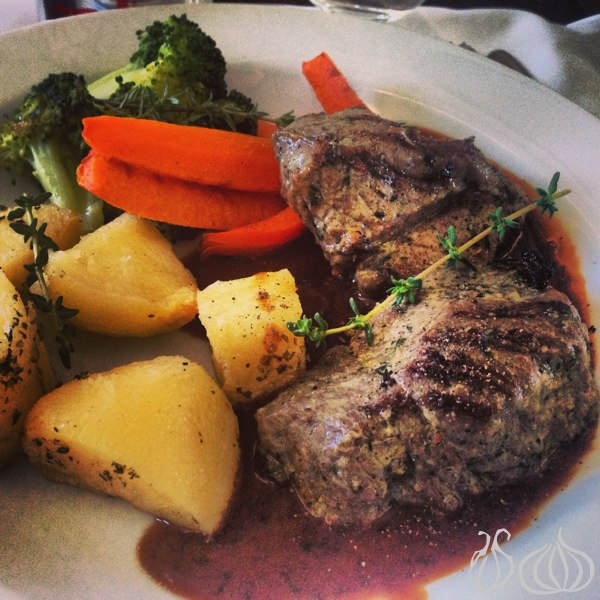 Why did we have a chef onboard? Nothing was outstanding!
Food was average and the portions were stingy. No cheese and other side dishes were offered. One starter, one main dish and one single choice of dessert. As a business traveler I would have expected to be pampered but unfortunately I was not. I surely have loved to see the dessert trolly or the choice of ice cream as well as a side plate of salmon and cheese: None of these. Alcohol beverages were not proposed and I didn't see any choice of wines, that is if they have any.
The food:
The meat was dry and over cooked,
The mezze platter was good enough
The bread was warm and fresh
The meat pepper sauce was delicious
After finishing lunch, and before even removing the dirty plates, dessert was served, even though it had no place to be placed. An experience, where a lot of fine tuning can make a difference.
The pluses:
A large WC
Impeccable welcoming
The idea of wearing white overalls is interesting
The minuses:
The seats are old and uncomfortable. I ended up with a back pain
My friend's seat didn't even work
Having to handle this heavy tablet is not the best of things. You cannot eat and watch a movie at the same time
The entertainment system is outdated
Food is average and the meat overcooked and chewy
Desserts were distributed with no forks
Many of the seats are broken and need fixing. Some money has to be spent to upgrade these planes
That was a long courier flight from Beirut to Manama that took 3hours and thirty minutes. Continuing on a shorter flight of 1hour and thirty minutes to Muscat, the plane was newer but the lack of finesse issue continued. I loved the coffee offered to start, orange juice and dates but when the hostess passed to take the order, without a menu distributed, she gave us a choice of fish or chicken then said: "Oh, sorry, we only have two portions of fish and nothing else."
No pasta on the way from Beirut, no Fish on the way to Oman... Is that acceptable in business class?
Gulf Air is good and can become great with small adjustments. An airline with lots of potential but a lack of proper organization has some major improvements on the checklist.