Through an extensive search on the internet, I came across La Fleur de Sel in Honfleur. Recommended by Le Guide Michelin as well as Gault & Millau, this small restaurant welcomes you for lunch and dinner, except on Tuesdays and Wednesdays. Chef Vincent Guyon prepares sumptuous plates; a restaurant I'll recommend to all my friends.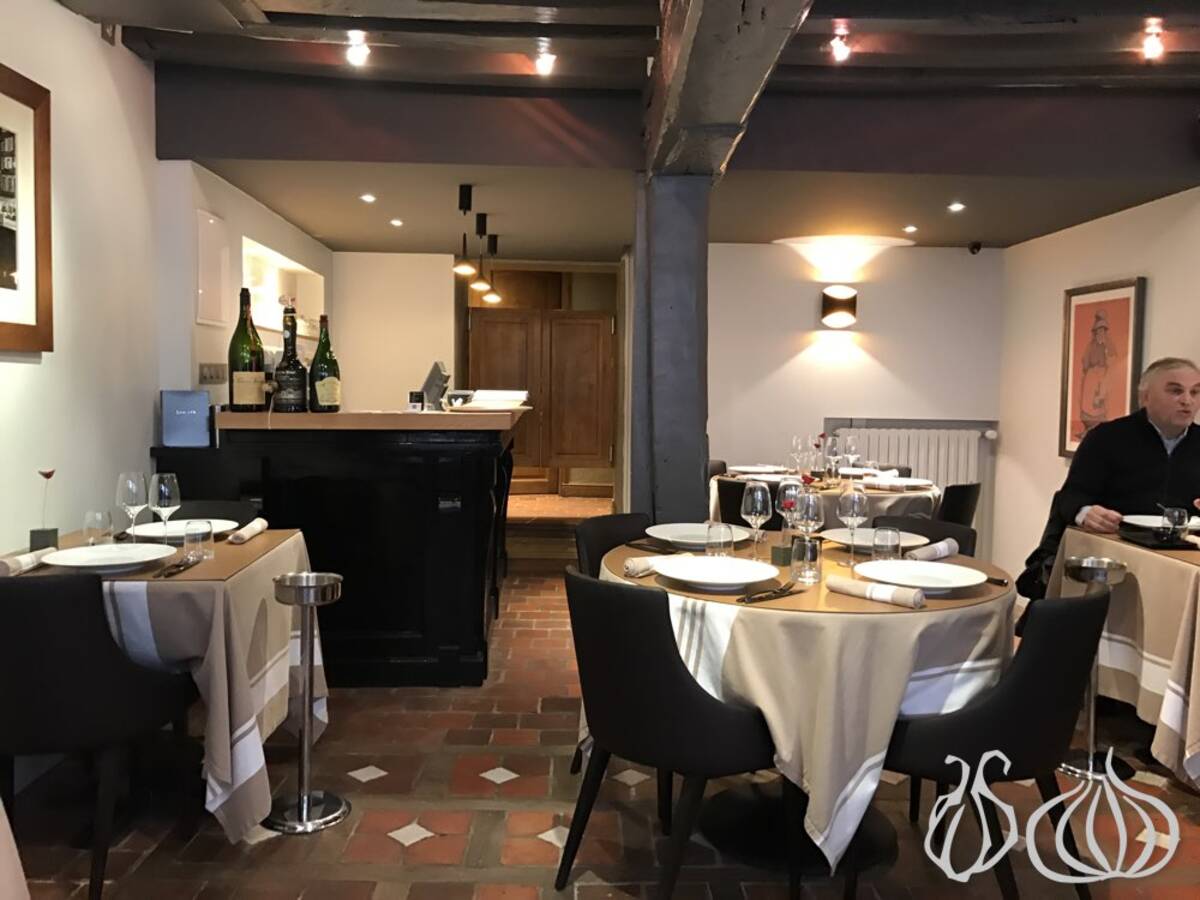 In the heart of the old city, a hundred meters from the historic port, a restaurant with a grey facade welcomes you. Ten tables, set to perfection, Guy Degrenne cutlery and glasses, a leather table cover, napkins, decorative table centers, large white plates, and a cozy ambiance under a wooden ceiling. This small restaurant is decorated with colorful paintings on one side and the panorama of Honfleur on the other.
The floor is made of wood and orange bricks, grey paint for the walls, wooden columns, and a bar. Smooth jazz plays in the background easing all your senses. This restaurant is mentioned as being the first of a hundred in Honfleur on Trip Advisor; my expectations were high.
Choose one of four menus. €32, €42, €52 and €62. A party of four, we chose one of each plate which will help me get a complete idea of the restaurant's cuisine.
On the menu you can find a selection of French specialties. Foie Gras, Coquille St Jacques, Ris de Veau, Tartare de Boeuf, pied de cochon, cabillaud, Pigeon and some desserts. They also have a selection of home aged cheeses.
Lunch starts with an amuse-bouche: cream of "blettes", smooth and richly creamy with a pinch of salt, decorated with olive oil and black sesame. A fork is added and another knife, cutlery is prepared to host the entrées. Bread is served, amazing bread, extremely soft and served warm. Exceptional!
We received our plates - pieces of art. Beautifully designed, each plate was a work of a grand-chef... and I said to myself, this restaurant is surely seeking a Michelin star. Colors, beautifully decorated plates, small portions with carefully chosen ingredients.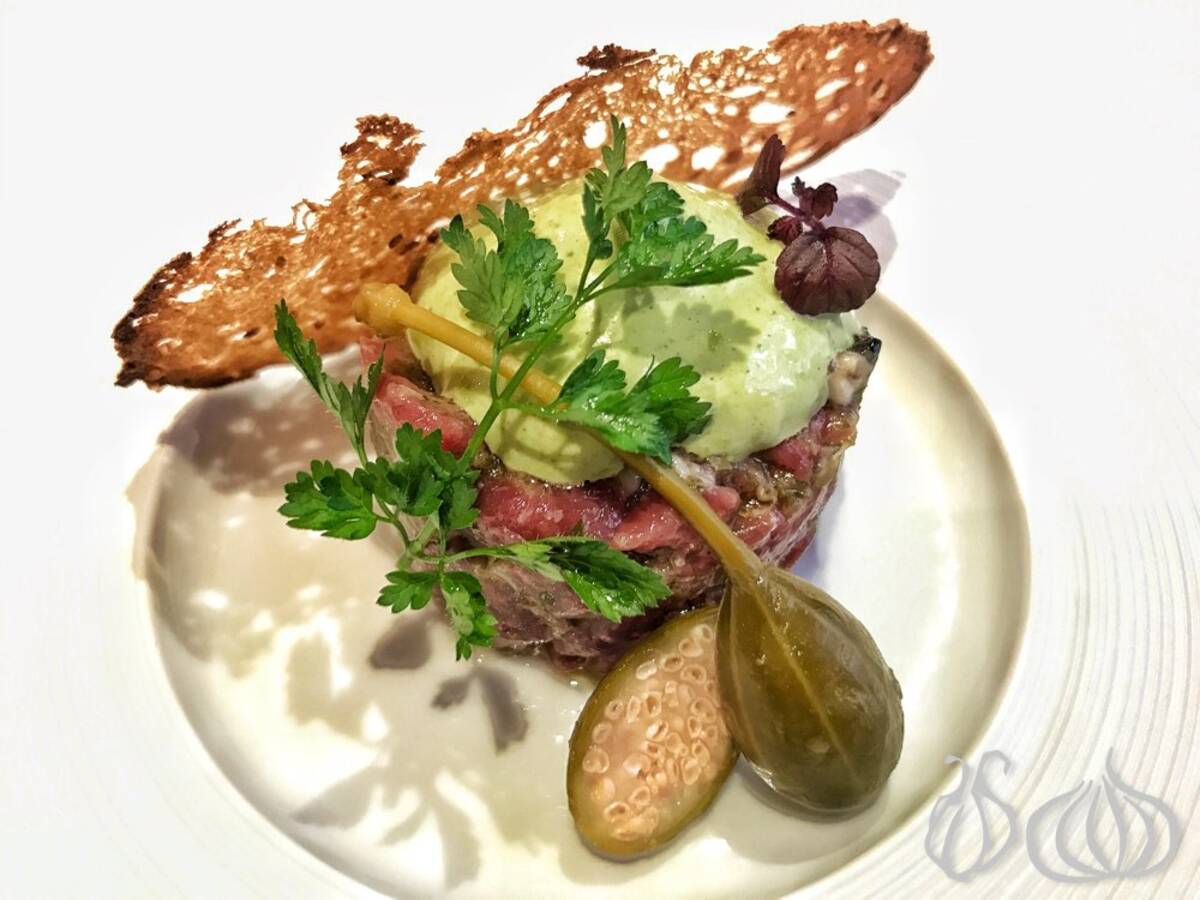 Starters are served:
Marinated butternut and haddock fish mousse, guacamole and avocado, vinaigrette of dried fruits. It's this moment when you take a bite and feel each of the ingredients, the way the textures are mastered, the different ingredients blending together to create a masterpiece.
Scallops tartare, the most beautiful of plates, apples, lemon, celery, ice cream wasabi with carrot vinaigrette. Using something cold with scallops tartar is spot on!
Beef tartare flavored with oyster and served with mayo capers, cream and very finely sliced toasted bread. Lightly salty, amazing meat quality, a faded peppery taste, lemony capers, more than food... a journey.
The main course:
Foie gras served warm, pear from Kampot, warm cabbage chutney and red pepper. It smells like heaven, tastes like heaven, the blend of flavors... the softness of the textures, the enjoyment within... bravo chef!
Cabillaud fish with potato risotto of herring and sweet and sour red onions. The plate looks so good your mouth begins to water as soon as it lands on the table. The real deal, fish so juicy and flavor so intense. Bravo chef!
Pied de cochon with nuts and epautre (a kind of old wheat the Gaulois used to eat) called spelt in English. Wait! I had a bite and stopped for a minute... it's so good, so tasty, so innovative, well done, beautifully textured... two thumbs up! You deserve a star. The crunchy batter, the mix of crunchy nuts, the sweet and sour sauce and the quality of tender meat. Food that puts a smile on your face is served here.
"Lieu" fish with Swiss chard and apple velouté. A piece of white fish served with chard. So yummy, this plate is carefully mastered the way an artist would create a fine painting.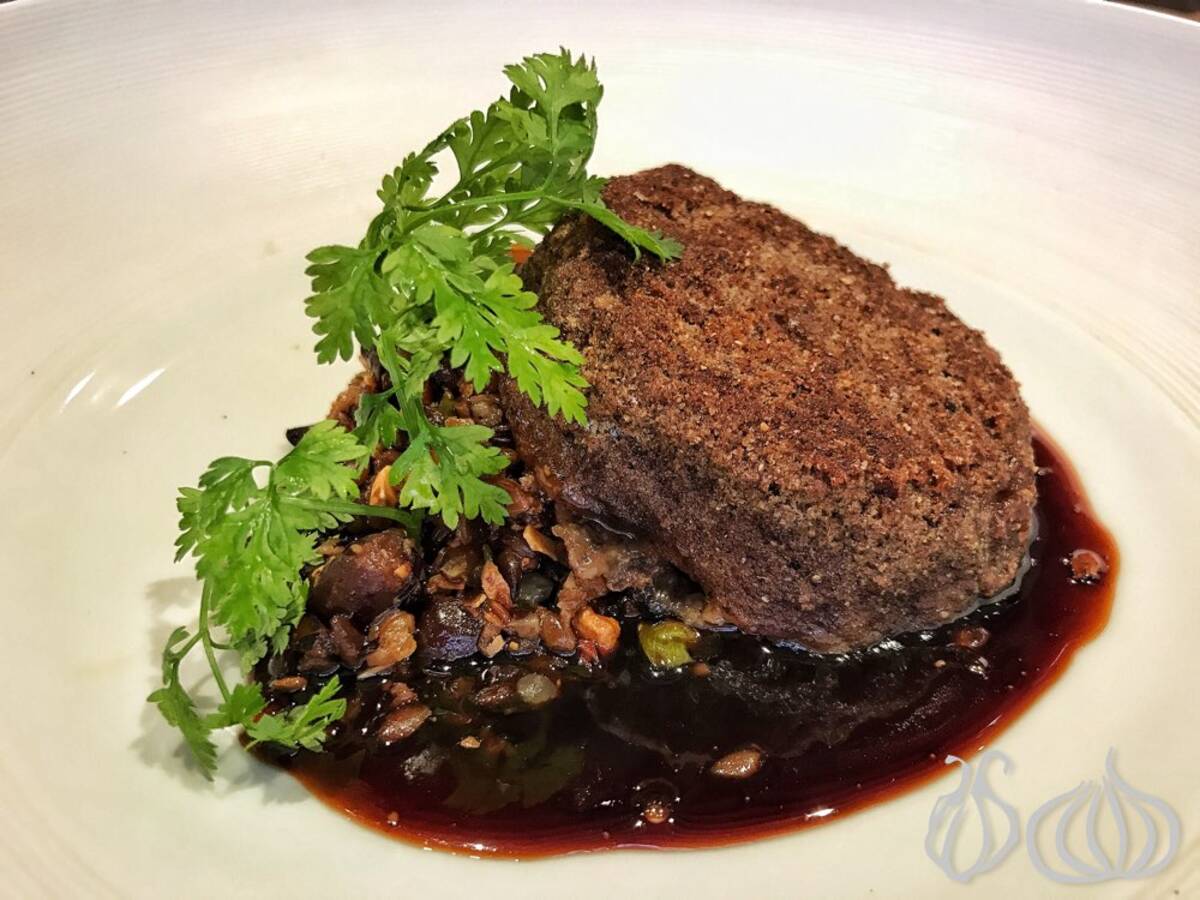 This sumptuous lunch deserved a 30/30, a grade I rarely gave to any restaurant.
Cheese and desserts followed. The desserts confirmed the strength of this chef, the beautiful plates, each with the right temperature, pavlova with peach sorbet and black fruit compote with wine, red figs sarazin, the caramel bar with cocoa ice cream and the crunchy mirliton. He surely deserves a star!
PS: €50/person is well deserved. The cheque is less expensive than lunch at a tourist restaurant like La Mere Poulard, or dinner at the average Les Manoirs de Tourgéville or the bad Drakkar...
The best culinary experience during this trip, around Normandie, Brittany, and Paris, Restaurant La Fleur de Sel deserves a star and probably more.