During our visit to Petra, we took a short bus ride to a Taybet Zaman Village just a few minutes away from the tourist site. Beautifully decorated, the resort takes you back down memory lane with a beautiful view of stone structure, timber ceiling and arches.
A hotel, village, shops and restaurant it seems to be a busy area during the season.
The story of Taybet Zaman is a timeless tale…
Once upon a time, an ancient village called Taybeh found itself on the brink of extinction, unable to find its place in the modern world. Yet the local mayor, Abu Firas, never lost hope.
In an attempt to retain Taybeh's rich heritage, as well as secure the livelihoods of its remaining families, Abu Firas presented an astonishingly progressive proposal to transform his village into a world-class resort.
His plan was simple: establish a cooperative relationship with a developer who would lease the village's land and buildings, and allow the locals to participate in its growth. He understood, however, that it would take an exceptional investor to ensure Taybeh's careful restoration.
We came here for lunch. A buffet lunch prepared especially for us. We were offered a choice of salads, tabboule, vegetables, as well as couple of hot dishes and desserts.
The place is nice. Timber ceiling, stone floor, stone arcades, long dimmed alleys in a space divided into many rooms that can be privately booked. All the spaces are filled with square tables covered with both blue and white table cloths.
Ideally situated just 12 km from the Rose-Red city of Petra, the ancient Nabatean city aptly recognized as one of the New Seven Wonders of the World, Taybet Zaman enjoys breathtaking views of the Sharah Mountain Range, as well as endless vistas of the valley and sky. Only a 2 ½ hour's drive from Amman, and 1 ½ hour's travel from the Red Sea port city of Aqaba, Taybet Zaman achieves the ideal balance for those who wish to experience the spirit of the 19th Century style of living without sacrificing modern comforts whatsoever.
I've tried the Daoud Bacha, chicken with rice, fish pane, sautéed vegetables as well as the pizza which were all good. For such a location and it's tourist feel, we ate well.
Two things I would say were bad:
Bad service as well as the lack of any diet beverages.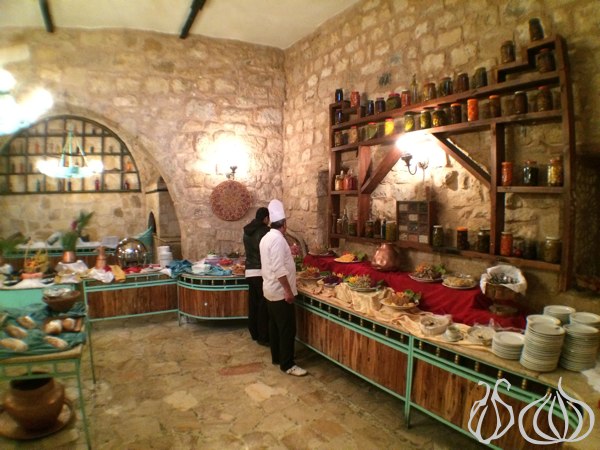 Lunch ended with a hot "Um Ali" local dessert, two cakes and some fresh fruits.
I'm not going to go into a detailed description of the food because I believe that coming here is not to appreciate culinary wonders but to live the experience of the region. We drank some Turkish coffee before we headed back on the road for a three hours trip to the Dead Sea.