While in Paris, I passed by the Fiat Museum & Expo over ten times in just 48 hours. Every time I crossed by I would look at my wife and say, "we should try this place." But we never actually did, up until, by pure coincidence, TripAdvisor lead us to Nolita while searching for an Italian. I had no clue that it was actually a part of Fiat until I read the description on their website. I thought, this is a sign, destiny actually wants me to come here and thank God we did.
A seriously-swanky address facing the Champs-Elysées complete with an Eiffel Tower view - Nolita restaurant goes full throttle for its upscale status. Fiat has has created a Motor Village as they installed an ultra-contemporary fine dining Italian restaurant on the second floor to keep visitors close.
Chic black and white interiors with big, beautiful curves give Nolita a trendy minimalist atmosphere favored by a fashion crowd. Alain Ducasse-trained chef Vittorio Beltramelli works with beautiful regional produce, impressing with classics like Sicilian suckling pig and more unusual dishes like Martini and shrimp risotto. Choosing from Nolita's excellent wine list is almost as big a thrill; there's over a hundred of Italy's great and good bins.
You reach the second floor of Fiat Museum and Expo where a vintage Alfa Romeo car centers this Italian restaurant. Look around and you'll see a bar and a long row of tables surrounded with beautifully designed chairs. An interesting discovery with a relaxing ambiance.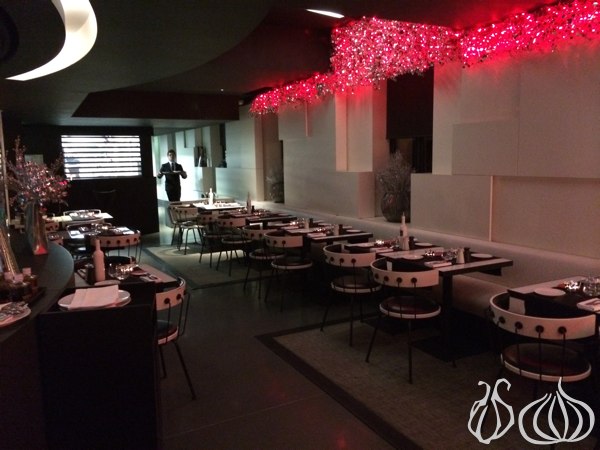 I liked the waiters black suits and professionalism. I felt that something interesting was yet to come.
The place described:
Alessi salt and pepper mills are setup on all the tables
Schott zwiesel glasses add the needed finesse
Black fabric placemats covered with red plates decorating the center of tables
Candles add a romantic feel to the space
Black ceiling blends well with the overall ambiance of the building
Simple Christmas decoration with red lights
Grey floor is covered with carpets under each table
Square tables are set along the wall which has a white leather bench following it
A closed terrace for winter
Galateo & Friends olive oil white bottle
Relaxing design chairs with white wooden backs and black leather seats
Enjoying a light jazz musical background we started browsing the rich menus of Italian choices.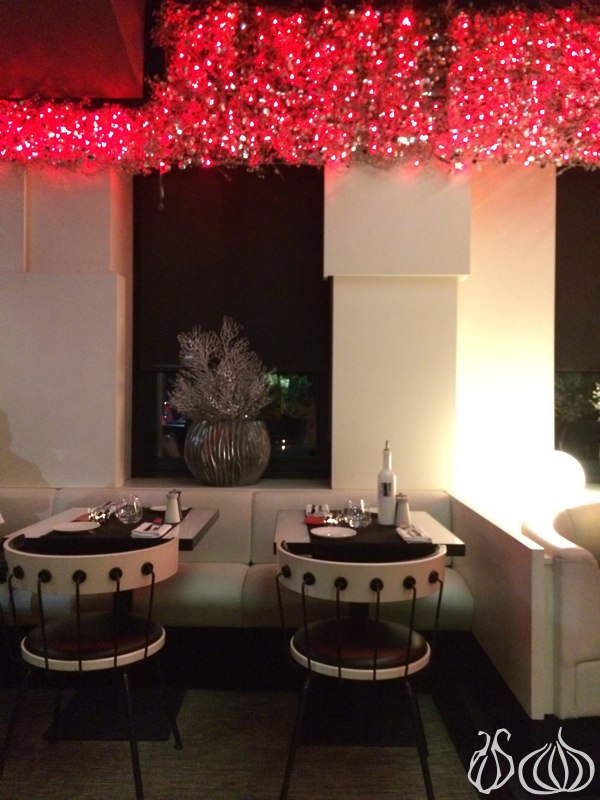 The menu is rich and varied you feel like you want to order everything:
Autour de la truffe blanche d'Alba
Antipasti
Pizzette
Pasta
Risotti
Pesci
Carni
Dinner started with a complementary amuse bouche: Jaret de bœuf, polenta, jus corse à la bière. Unfortunately not the best first impression. A plate with a bizarre texture and a very strong bitter unpleasant taste.
We ordered:
Calamari (Nos fame uses tagliatelles de calamars, confiture de tomato & chapeaux de Pecorino). The calamari slices are cut like pasta and covered with shredded tomatoes and served at ambient temperature. The plate contains a bit too much garlic that covers on many of the other ingredients. Other than that, its presentation, freshness and taste are interesting to look into
Vitello Tonnato (Fines tranches de beau roti, sauce legere au thim & fleurs du carper). This is a very good one. Thin fresh cold, sliced veal covered with a creamy, mayonnaise-like sauce that has been flavored with tuna and mint. The mix is seasoned with olive oil and capers.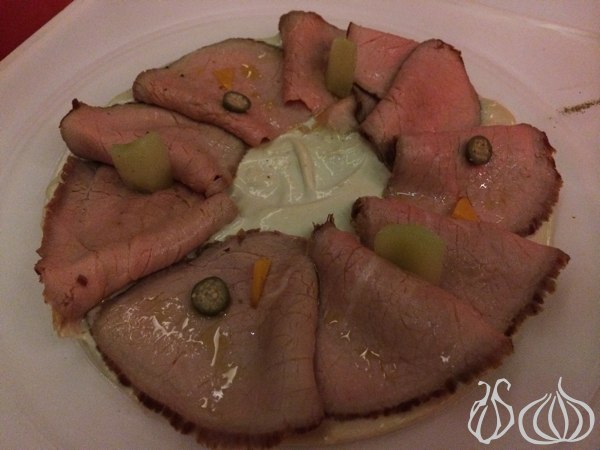 Mozzarella (La mozzarella BIO di bufala campana DOP de 500g serve avec son pain chaud maison et guile extra vierge d'olive Biancolila) is exquisite. Simply: A large mozzarella piece cut in half and soaked in olive oil. Yummy!
Nolita (Assortiment de legumes grilles & guile extra vierge d'olive taggiasche Galateo) Nicely colored crunchy vegetables served warm, very nicely presented. But that's a plate I don't recommend and won't order again. Too boring!
Pizza Spianata (Petite pizza a la mozzarella, tomato & legumes grilles): And here the problems began... We order this pizza to start and received it at the end, soaked in water, cold in the middle and inedible. This pizza is too thick and contains too much bread like a French baguette sandwich. Asking for another, we received the same one, only reheated and worse that the one before. I don't recommend Pizzas at Nolita at all
Risotto Milanese (Risotto a la bresaola, roquette & sorbet au parmesan et truffe blanche): Here is another problem. Beautifully presented on a red plate is a yellow mouthwatering risotto that was undercooked, super cold and not tasty. Asking for another one, the same plate was reheated making the rice soggy. This plate feels nothing like a risotto. More of the Lebanese dessert (riz b7alib). A bigger NO. Thank you for understanding the problem and not charging this plate.
Pasta Chitarra (Spaghetti alls chitarra au beurre et parmesan, ragout fin de beau): I enjoyed the pastas. A cylindrical shaped pasta roll mixed with dried veal cubes. Nicely aldente and covered with a Parmesan chips, this plate is way too fatty but tasty. Not for the people with high cholesterol levels. I loved it.
Pasta Amatriciana (Mezzi paccheri all'Amatriciana, tomato fraiche, pancetta fumes maison, oignons confits & percorino Romano). The best of the best tonight. We all loved it. Its cooking, ingredients and textures are superb
Even though we encountered many tiny issues, we enjoyed dinner at Nolita.
Desserts:
Panettone (Fait maison, creme de mascarpone & glade au safran): Papers, papers, papers. This dessert has nothing to write home about served with Mascarpone ice cream, Saffron ice cream and whipped cream. The panettone is a bit too dry and the papers around it are too unpleasant to remove. You can't but chew some of them. They definitely should be removed before serving
La Mela (Biscuit aux amends pommel reinette, mousse d'amandes ameres glacee au caramel, glade a la vanilla de Bourbon) Creative!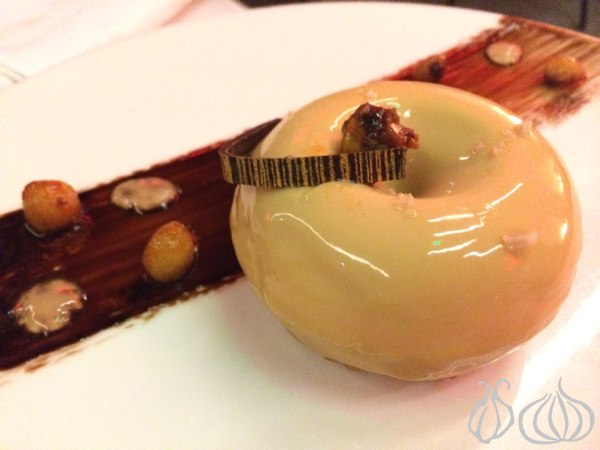 Nera Passione (Cube de mousse au chocolat, Abinao, coeur coolant au fruits de la passion & sorbet a cacao amer) On a beautiful plate, the same one as the risotto is a dark and rich chocolate selection we all enjoyed.
Tiramisu au Cafe: in a large cognac cup. That's a good dessert where all the flavors are felt. Bravo!
I loved:
The place's ambiance is very pleasant
The olive oil is unique with a strong aromatic taste
The black and white plexiglass plates are interesting
Professionalism of the staff: Women are always served first and the waiters are smily and attentive
The minuses:
Bread is not tasty, chewy and doesn't feel fresh
Some of the plates need more fine tuning
We were pampered tonight and even though two of the plates were not tasty, the risotto wasn't charged. I loved this place and will surely come back again. It has nothing to do with the touristic Renault restaurant up the street. Nolita is a restaurant worth trying.