An hour and a half from Malaga (Spain) is the small town of Ronda. A little historical destination a few know about. Amidst this small piece of heaven, stands a unique Hotel Reina Victoria, managed and handled very professionally.
Ronda: is a city in the Spanish province of Málaga. It is located about 100 kilometres west of the city of Málaga, within the autonomous community of Andalusia. Its population is approximately 35,000 inhabitants.
Hotel Reina Victoria, totally renovated in 2012, is settled in a unique environment, between a lovely pine forest in the middle of the town, very close to Ronda's landmarks and the famous Tajo de Ronda. Around the hotel, which has 95 fully equipped rooms, there's an amazing 3,000 sqm garden in which guests can enjoy the swimming pool and terrace with its breathtaking view.
Catalonia Hoteles:
Hoteles Catalonia is a family chain of hotels that has not stopped growing since it began. The company made the move from the real estate sector to the hotel industry in the 1980s, and is now one of the leading chains in the urban segment in our country (leader in Barcelona). The chain currently has 51 establishments. 43 in Spain, 1 in Brussels and 7 resorts in the Caribbean (3 in the Dominican Republic and 4 in Mexico). There are also 8 new projects for the coming years. 4 in Barcelona, 2 in Madrid and 1 hotel in Budapest.
This unique four stars hotel offers extraordinary details that will make your stay memorable. You enter into a square lobby with large sofa in the middle which can seat people on both sides. To the right, another saloon, two corners of chesterfield leather sofas, an LCD screen and an old chimney. Move on to the next room where the large bar welcomes you for an afternoon drink inside or outside on the terrace.
We're still down in the lobby and the experience is positively shocking. I wasn't expecting the hotel to be that good. Perfectly well lit with its light white ambiance, modern decoration and funky objects adding a modern touch to the architectural mix. I simply fell in love with it - especially its wood flooring that naturally gives a cracking sound with every step.
To the left side is the hotel's restaurant that has a wide area with large windows where you'll be able to enjoy the magnificent views of the surroundings. It offers à la carte service of regional, national and international cuisine.
The rooms, wide and spacious, offer a relaxing bed, relaxing cushions, a working desk, a large bathroom, two sofas, a round table and two drawers. The bathroom has all the amenities needed and a bathtub with an adequate water pressure for enjoyable showers. Good room temperature, a large square space, nice lighting, a pleasant view, calm and serenity and much more.
Breakfast is another part of the positive experience. You can enjoy a wide selection of fresh fruit, cheeses, cold meats and freshly baked pastries. The buffet always includes: bread with tomatoes (typical Catalan dish) and potato omelette. Cereals, donuts, delicious croissants, rice crackers and biscuits is all what you need to start a fresh day.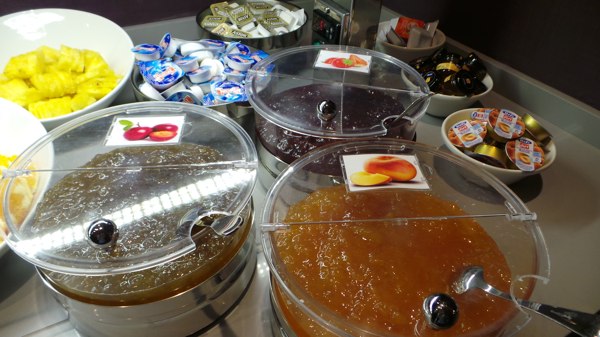 The positive:
A relaxing ambiance with a unique view
Big refreshing rooms
A pleasant terrace to enjoy a drink in the afternoon
A SPA and swimming pool
A full HD entertainment TV program. Any channel you imagine is a available for your entertainment
The minuses:
A disastrous Internet connection that cuts while moving in the hotel. It wasn't working in my room and not in the hotel's lobby. A mess. Please do something about it.
The room has literally everything, but the only missing thing which will make this hotel perfect are bathrobe and slippers.
The kitchen closes at 4pm. We arrived late and couldn't have lunch. Not even prepared sandwiches were available.
The next time you plan on escaping the hustle and bustle of the city life with your family, I recommend you visiting this village and specifically try this hotel.