In this heat, you want to just chill and have a good time. After a long day's work, kick off those heavy shoes, wear your flip flops, shorts and a t-shirt and head down to Mar Mikhael's newest spots - The Junk Yard.
The Junkyard, or like others call it, the Pop-up Container, Beirut's new Wonderland as the people behind, Food for Thought, the place calls it. You walk into a beautiful junk yard. How is using these two words together even possible? I will tell you how. Imagine a wall made of wine and beer bottles, an engine turned table, barrels are used as the bar, a container is the kitchen, a bread toaster on a poll acts like business card holder, empty cans and water bottles dangle down as chandeliers, walls a are artistically covered with graffiti, a Pétanque field, an industrial wooden floor, a couple of old couches, an old motorcycle brought in from the cars cemetery across the street, old bulky TV sets showing Tom & Jerry old cartoons, sea floaters dispatched randomly and so much more. On one side there's the Mona Lisa supervising over the whole logistics while CCTV Graffiti camera does the same from the other side.
Somebody super creative must have come up with this set up. Rami el KHAZEN, who's not a designer, nor an architect but an Lebanese Arak producer is the man behind the decoration and installation of the Pop-up restaurant.
The Junkyard, which will stay open until it starts raining, will be the location for the new Sushi Bar as well as other concepts by Food for Thought come end of the year. In the meantime, as the owners wait for the paper work to finish, they are making use of the plot in a fun and inexpensive way. Mario Haddad Jr. and Executive Chef Tomas Reger at the Sushi Bar have decided to create this contemporary restaurant where love and fun are the main objectives.
Chef Tomas Reger from Czech Republic head chef and partner has opened his restaurant for the first time and chose Beirut to put all his know how for his guests to enjoy.
The main idea is to have fun.
Having the chance to meet the Chef in person, I sat at the bar with a friend of mine to taste today's menu while enjoying the smells of Chef Reger's simple and trendy creations accompanied by soft and calm music. Everyday there's a new menu, depending on what's available at the market that day, for example there might be octopus on the menu, but today its not because its not freshly available- but tuna, chicken and meat should always be on the menu... as the chef tells me that the Lebanese like protein. The preparations are always fresh and include small plates for sharing, a variety of red meat, vegetarian, poultry and seafood is always there...But not one dish is like the other. A chicken platter today will carry a completely different set of ingredients than that of tomorrow's plate and so on. There's always the element of surprise. Whatever the day offers, Chef Reger creates an appealing menu adding to that the organic ingredients provided especially by "Wataneh" who helps local communities.
The day I was there the menu included:
- Mediterranean couscous, bruschetta with eggplant and rosemary jam, roasted beer roots with parsley vinaigrette and labneh, lentil salad with crispy vegetables and herbs. - Chicken skewers with tomato compote and basil, chicken with mushrooms and mustard sauce. - Salmon confit with pickled cucumbers an ginger, seared tuna with chickpea stew.
The culinary wonders:
- Eggplant, salt, sugar and rosemary served on a brown toasted bread decorated with parsley and love. A sweet and salty taste melting under your teeth. - Salmon confit with pickled cucumbers and ginger: Cooked at 50 degrees sous vide then grilled it with a little bit of oil and lemon zest with cucumber sauce. A mouthwatering and unique dish up to the standard of a Fine dining restaurant in a junk yard. - Seared tuna with chickpea stew: Spanish Moroccan dish prepared especially for me without garlic and onions with cumin and coriander and perfectly salted where the palate feels every ingredient. The chickpeas are adequately cooked and not crunchy eaten with cherry tomatoes. - Bananas cooked inside their skin and served win caramel sauce and whipped cream. yellow from the inside, black from the outside, a very simple yet exquisite delicacy.
It's the first time I've experienced a real fresh tuna that looks like meat with a brownish color, different from the pink ones you usually eat at Japanese restaurants. I really cannot describe the feeling which you would have to go experience it yourself.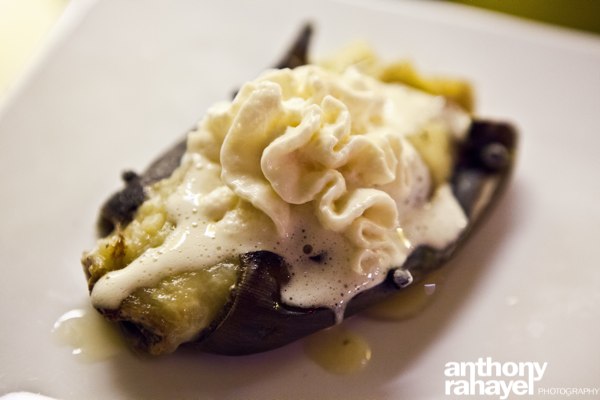 Simple yet exquisite food served in small portions with a complementary dessert. As chef Tomas says, "nothing is thrown away, food is made to be prepared intelligently."
A complete formula of fun, passion, decoration, design, happiness and entertainment awaits you so don't lose time as the countdown has just started.