Who comes to Dublin without trying Irish coffee? We have been here two days already and thought it was time to enjoy a good cup of Irish coffee, along side some cakes. Google Maps lead us to two places, one is the Queen of Tarts and the second is Cake Cafe. The Queen of Tarts website looked more appealing and closer to the hotel where we were staying, so we decided to walk there...
Queen of Tarts opened its doors for the first time in 1998. Sisters Regina and Yvonne Fallon trained as pastry chefs in New York City in the 1990s, returning home to Ireland to establish and run their own café. They knew what they wanted: to create a homely and welcoming space which offered the best breakfasts and weekend brunch in Dublin, the tastiest lunches – and the finest cakes, scones and brownies in the business. Not to mention, of course, the most sublime savory and sweet tarts too!
Queen of Tarts quickly established an iconic reputation – and today, ten years on, it's still flourishing. Everything is baked and prepared fresh on the premises; and Yvonne and Regina still use only the best ingredients – Lavazza coffee beans in their coffee machines, Callebaut fine Belgian chocolate in their chocolate fudge cake and muffins, and of course the freshest Bramley's Irish apples in their apple crumbles. The home-baked buttermilk brown breads are still moist and flavoursome, the soups are lovingly made daily – and the fabulous cakes and signature tarts still draw customers from far and wide. And now, a perfectly judged wine list is another reason to drop by.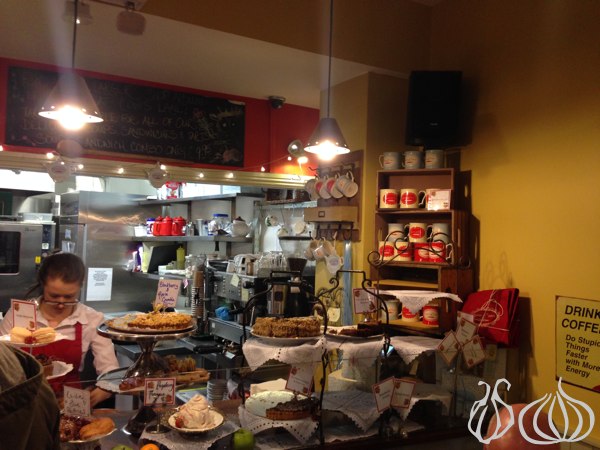 Located on Dame street, the Queen of Tarts has gathered many awards proudly hung one next to the other on the main door. Their success was phenomenal that they opened another shop just two minutes away from this one with a larger capacity.
We pushed the door and went into a small bakery filled with rich aromas. You can't miss the red wooden door of the Queen of Tarts or the big Dublin City Hall  in front of it.
The place little details:
Wood covers all the floor
A brick wall decorates the left side and a long mirrors decorates the right side
Mirrors are everywhere giving the place a wider feel
Old furniture adding this authentic touch you expect to have
A long bench with its old rugged fabric under the main mirror on the right side follows the wall
Light yellow colored walls
The counter at the very end with all its cakes and mouthwatering preparations
And then we waited forever. One single employee serves, cleans, prepares, collects and also serve the walk-ins! We waited more than 20 minutes until I went and ordered at the bar myself. It was a good choice since I took my time to appreciate the details and have a closer look at the displays.
As name suggests "tarts" I thought that I should order a choice of tarts that should logically be outstanding.
We ordered:
The Irish coffee: a cocktail consisting of hot coffee, Irish whiskey, and sugar, stirred, and topped with thick cream. The coffee is drunk through the cream. But this coffee is way too strong consisting of 90% whisky and 10% coffee making it undrinkable. I only took two sips and that was it. The heated whisky burns your throat as it enters going up directly to your brain like a shock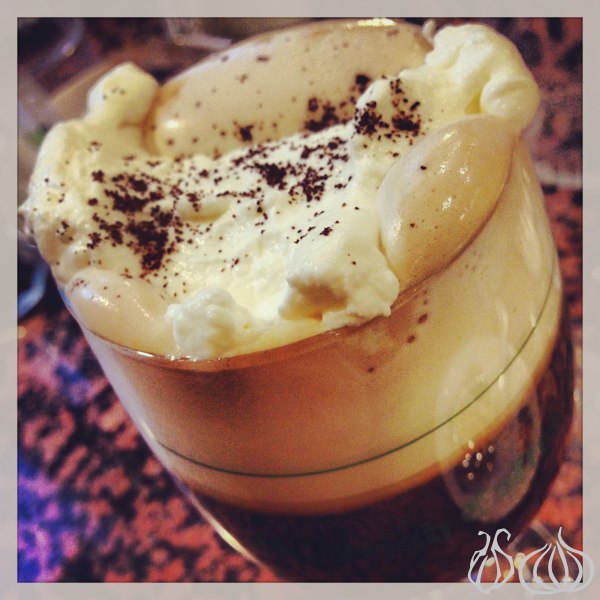 Carrot cake: The carrot cake, as they describe it is said to be the best in town is delicious. A dark color moist cake topped with a sugar icing and filled with cooked crunchy black walnuts. Simply yummy!
Bailey's Chocolate Chip Cheesecake: Very, very tasty indeed. A cream cheese cake flavored with baileys drink and filled with crunchy chocolate chips. Warm whipped cream on the side makes this portion remarkable
Old Fashioned Victorian sponge cake: A typical Victoria sponge with raspberry jam and whipped double cream. The jam and cream are sandwiched between two sponge cakes; the top of the cake is not iced but covered with a dusting of icing sugar. Fresh and spongy at the name states, this cake is superb. Moist and full of taste, it melts under your teeth like butter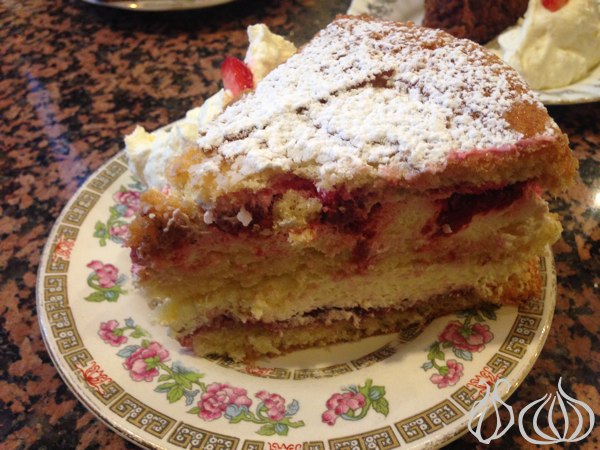 Decadent Chocolate Pecan Tart served with warm cream: A fondant/brownie on a tart with crunchy pecan nuts. It's a tasty tart but the least of my favorite. The cream on another hand that comes with all the cakes is delicious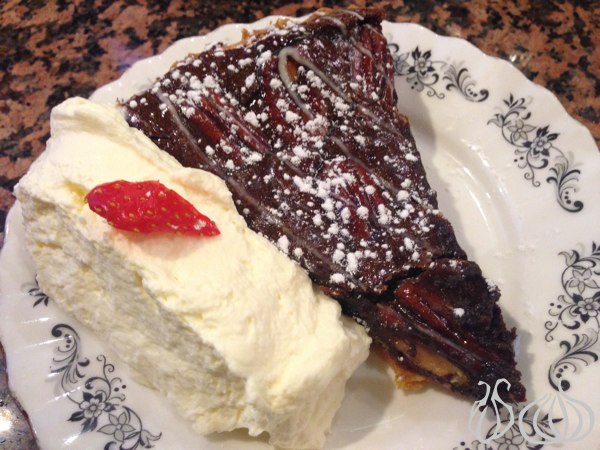 The Queen of Tarts has indeed great pieces of creations. A must stop while visiting Dublin
.
The minuses:
The restaurant is very dirty: bread crumbs on the floor, chocolate on the table, biscuit pieces stuck on the menu. Really unacceptable
The service is extremely slow since, one employee does it all - Why?
The Queen of Tarts hosts another bigger location just two minutes away from this one. I think we should have tried it for maybe better service and bigger staff.