A year has passed and it was time to give Toto another try. In my search for the best pizza and finest pain perdu in the country, this stop was important. Toto welcomes Italian food aficionados into a cozy 50?s ambiance in a trendy modern setup, all within a preserved, authentic Lebanese house. TOTO is a special Italian restaurant and pizzeria – something unique of its kind in Lebanon.
A 50's vibe, and an interesting combination of black and white fabrics on the chairs welcome you to Toto. Three wine coolers to the right next to the entrance and a long bar usher you in. The main pizza oven behind it, white wooden tables, a grey tiles floor, and two big round tables and some square ones fill the space. The same old Lebanese arcade house with its classic feel, while oval plates, thin stainless steel cutlery and beautiful Stolzle wine glasses decorate the tables. Lunch or dinner, Toto is always fully booked despite its noisy environment and bad ventilation... it seems people have a weakness for this place, its service, professionalism and food. Previously Toto was Chez Sophie, the only fine dining restaurant in Beirut. After the departure of Sophie to open her restaurant in Montreal, Samir Tabet, her brother, took over the premises to open up an Italian restaurant, that's truly unique. I say unique because of its setup, decoration, way of dealing with things, wine list, crispy pizza and professionalism.
Welcome to Toto, this Pizzeria nestled in the heart of Mar Mikhael, occupies an old Lebanese stone house restored to its original state.
The place:
A 50?s ambiance with an interesting combination of black and white fabrics in an old Lebanese house
Three wine coolers sit next to the entrance
A long bar faces the entrance and hosts the pizza oven
The tables are all black and white
Real wood parquet covers the floor
Plastic place mats decorate the tables using the same black tones found in the rest of the place and are covered with oval plates, thin stainless steel cutlery and Stolzle wine glasses
The walls are all decorated with black and white vinyl panels
Two black chandeliers are suspended from the ceiling
Photographs of Toto and the old Italian cinema decorate the walls
Zejd olive oil, Peugeot pepper mills and thick salt and spice containers fill in the middle of all the tables
New, colorful paintings with an erotic touch add a bit of color to the space
The menu sections:
Per Stuzzicare
Pizze Tradizionale
Pizze Creativa
Insalate
Antipasti
Primi Piatti
Secondi
Dolce
Despite a huge problem with the air conditioning system, tonight's dinner was enjoyable. It all started when a bread basket landed on our table. A basket of small square pieces of bread produced in the same oven that delivers the pizza. Small addictive pieces of crunchy and fluffy bread with a strong salty after note and an oregano flavor. Dip in the olive oil and enjoy. Dinner was very good:
Vitello Tonnato: Veal carpaccio and its tuna sauce LBP26,000. Amazingly flavored, Toto's vitello tonnato is unique for its premium and chewy veal along a unique sauce. This is something you won't taste elsewhere and a must try.
Insalata D'Iceberg con salsa al Gorgonzola: Iceberg salad with Gorgonzola cheese LBP25,000. I think the picture speaks for itself, right? A certain unmatched freshness felt in every crunch.
Cuore di Carciofi Farciti di Fave e di Piselli: Artichoke hearts with green beans LBP28,000. Green beans are a bit of a trend lately, but what makes the difference is the seasoning. Served with perfectly cooked artichokes, a beautiful plate blends earth colors in a healthy, tasty and fresh innovation. A soft artichoke, a crunchy tomato, a fine bean... with a strong lemony taste that tickles your taste buds. All wouldn't be perfect without the unique local olive oil.
Caprese Bufalina :Mozzarella de Bufflone, tomatoes, basil LBP29,000. So tiny, I forgot how it tasted! A $20 bite!
Risotto ai Frutti di Mare e Zafferano: Seafood risotto with saffron and lemon zest LBP30,000. Risotto Citron LBP22,000. This was the night's royal dish in my opinion. A crunchy al dente Arborio rice mixed with seafood. A strong, tasty lemon flavor is felt. A hint of saffron adds just the right amount of finesse and makes this plate an award winning one. Toto is known to have the finest Risotto in town. We ordered the lemon and the seafood and since it was a sharing dish for two, they were served in those double container plates.
Calamari fritti: Calamari pieces with tartar sauce LBP22,000. As good as you'd expect, crispy and oil free served with a tasteful tartare sauce.
The one-meter pizza: Tartufona (mozzarella de bufflonne, ceps, and black truffes, Italian sausage and parmesan), Ai Quattro fromaggi (tomato sauce, pecorino, gorgonzola, caciocavallo, parmesan), Gustosa (tomato sauce, mozzarella, ham, mushrooms, olives, oregano). That's something to order! We were six that night, enjoying a bite of every flavor of this unique pizza. Toto's pizza has surely improved. I remember having a thick spongy one when they first opened which turned out to be bizarre for the Lebanese. Another version then developed and now, perfected, the pizzas at Toto are a superb reflection of Italian culinary extravaganza. Crunchy on the sides, thin, hardly soaked in sauce and covered with a thin layer of fresh ingredients with calibrated flavors.
Order this 1 meter pizza for $60 and choose three flavors to top it.
Filetto di Manzo "Rangers Valley Black Angus MB3", filet de boeuf LBP68,000. Wow! A tenderness and juiciness to experience!
Now is dessert time:
Pain Perdu LBP16,000. During my last visit to Toto, I remember not enjoying the Pain Perdu much but another try was a must as this baked dessert was highly recommend. Indeed, Toto's pain perdu has changed, offering the experience one expects to receive from this square creation. On a round plate comes a square piece of bread, three centimeters thick and bathing in caramel sauce. Cut a piece to enjoy a sticky envelop while the heart, juicy and tender is sweet and enjoyable. A mouthwatering pain perdu... But the experience is far from being done. In the middle a surprise awaits. Trapped inside, a dark Valhrona chocolate is guaranteed to give you a memorable moment. A spongy sweet dough, a caramelized envelop, sweetness... And inside a chocolate that balanced the mix. That's a pain perdu I like.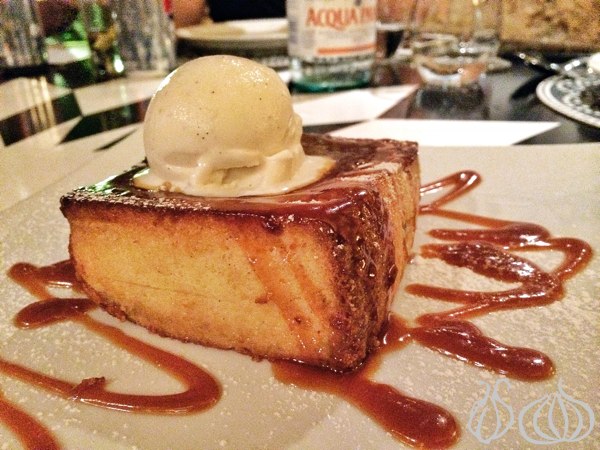 Pizza con nutella e banana: Nutella pizza with banana topping LBP15,000. Nutella fans, this is something for you. It's simply perfect.
The improvements are clear:
Lighting is better
The space is fresher with the new paintings
The waiters are happier, with a warmer attitude
Food is as good as always
The details I liked:
Zejd olive oil, Toto special edition bottles
A certain finesse fills the air, nothing to be compared to any Italian trattoria in town
Toto stands in-between the mid-range Italian places and the fine dining ones
The waiters are all different nationalities and are trained differently
The minuses:
The ventilation system is bad, really bad. The place is always too hot.
The ambiance is way too noisy. The music has to be turned off completely. The NOISE! Please. Find a solution. The easiest thing would be to change the vinyl panels and replace them with fabric ones that absorb sounds and echoes. On the other hand, keep the music off as it adds more chaos to the ambiance
I love Toto
, a must visit for all Italian food aficionados, Toto is different on all fronts. Expect to pay an average of 60$/person.