Let's meet a chef and a bartender today… Just one man walks in. Yes a two in one combo. Jad Ballout, Lebanon's Diageo Worldclass competition winner has pushed the bar higher than you can imagine inventing a new kind of drink never seen before. 
More than a month already passed since Jad Ballout traveled to attend
the World Class finals
. And I still haven't had the chance to visit him in his environment
.
 The 2013?s World Class competition organized by Diageo to find Lebanon's best bartender came to an end, with Jad Ballout as the winning candidate to represent our country on a cruise which took place along the Mediterranean.
Although he did not win, unfortunately, we are still proud to have one of the world's best 50 cocktail creators from Lebanon. I enjoyed Jad's creative spin at the bar and wanted to get up close and discover his world – Behind the Bar.
I arrived to Garcia's at 6pm, thinking that I will end up drinking a cocktail or two and leaving early, but the rich flavors and aromas Jad introduced me to, made me want to stay more and experience sunset, the music and the many drinks created in-house with special syrups and aromas.
Garcia's Cantina y Cocteleria
 was opened a year-and-a-half ago by Charlie Frem and Tony Rached, who noted that fresh-fruit cocktails work very well with Latin cuisines and – given the popularity of Mojitos, Margaritas and Daiquiris in Beirut – put two and two together and opened their bar-restaurant. Garcia's drinks are full of fresh fruit flavors, its food is Mexican-meets-the Med, the design is cosy and warm and the music combines Latin beats, with jazz, blues and old school. It is in Hamra where it joins the Black Lily pub in catering for an older professional crowd than the more typical student haunts in this the city's university hub.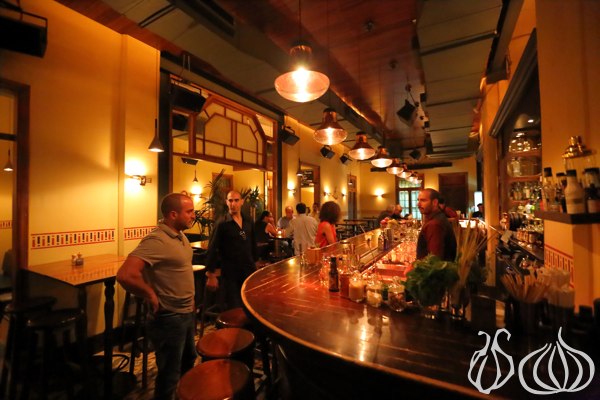 Jad Ballout is 24, but already has seven years experience under his belt, having moved to manage the bar at Garcia's after a spell at Lei. Jad usually takes his lead in drink development from the best herbs, fruit and vegetables at local markets. He counts bartenders Kazuo Uyeda and Erik Lorincz among those who inspire him, and is keen on equipment such as chefs' smoking guns and the Perlini shaker (which produces highly carbonated cocktails). Another facet of Jad's craft are his barrel-aged cocktails: classics such as Manhattan and Negroni, left to mature for three to four months in whisky casks on the bar top.
I couldn't imagine being impressed even more by Jad's ultimate creations until I was introduced to the Fattouch drink.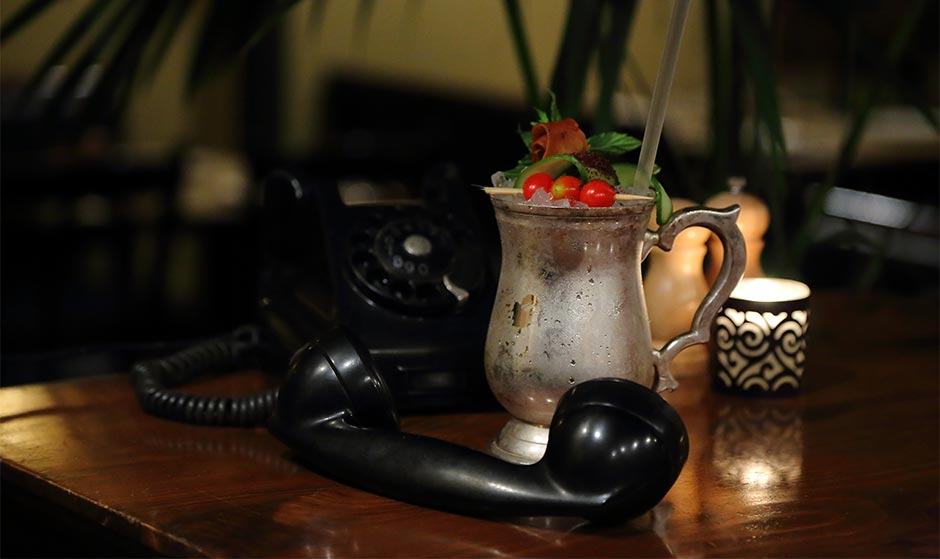 Food is also a big source of inspiration for Jad, and thus the Fattoush Cup was born. Based on that meze staple, the fattoush salad, it features many of the same Levantine ingredients, including olive oil and the spice Sumac. Jad found that the Ketel One Citroen with it's fresh citrus flavour was the perfect anchor for the drink. Unlike with the salad, the ingredients are blended finely before shaking and the result is a particularly good accompaniment to a meze.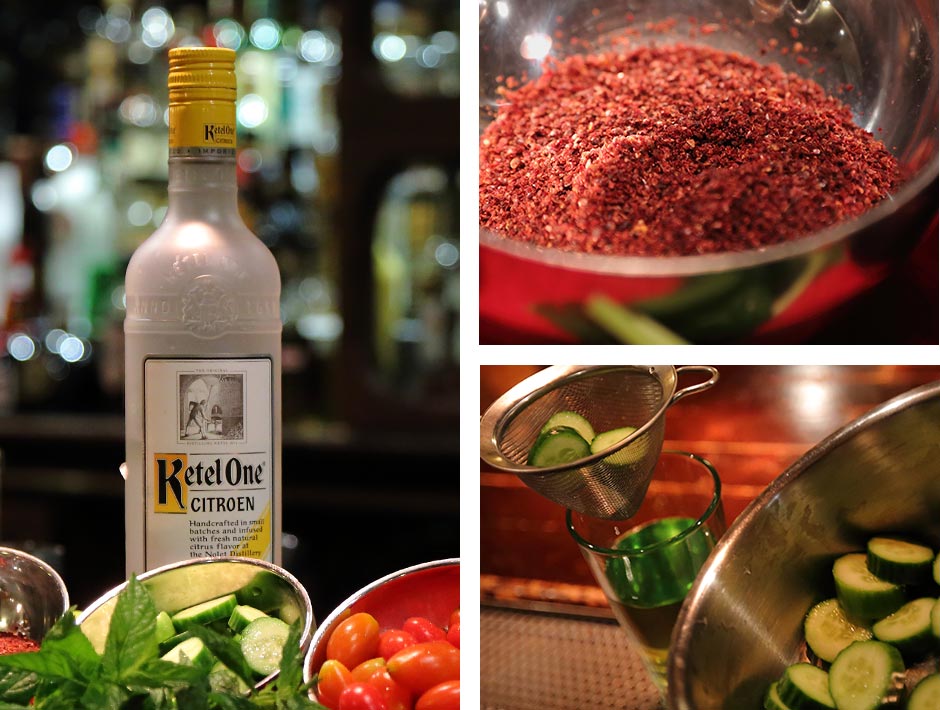 Fattoush is a Levantine bread salad made from toasted or fried pieces of pita bread combined with mixed greens and other vegetables.

 

Fattoush belongs to the family of dishes known as fat tat (plural) or fatta, which use stale flatbread as a base. Fattoush includes different vegetables and herbs according to season and taste. The vegetables are cut into relatively large pieces compared to tabbouleh which requires ingredients to be finely chopped. Sumac is usually used to give fattoush its sour taste.
Ingredients:
Ketel One Citroen • 70ml
Fresh lemon juice • 20ml
Sugar syrup (2:1) • 20ml
Cucumber syrup • 10ml
Extra virgin olive oil • 15ml
Sumac • 1 bar spoon
3 cherry tomatoes
3 mint leaves
Do it yourself:
Dry blend all the ingredients with a hand mixer
Shake the mix with ice
Pour into a traditional pewter cup
Serve with crisp bread on the side.
WorldClass 50, 2013