Who said to enjoy some good food you have to sit at a restaurant and order...? We tend to forget that some foods can be enjoyed on the go... In street food joints among others... Just a reminder to me and you that these bites have been prepared by hard working people who wake up everyday with only one aim in mind, and that is to prepare some fine pieces mastered to perfection with passion and dedication, over the years. Let's enjoy a sandwich somewhere... or maybe a quick piece of cake... or ice cream in a cone... whatever your desire, you can stop, grab it and leave... If I had to choose some of my favorite street foods to revisit in 24 hours, I'll pick the below places where I have found some of the best Tasty Discoveries this country has to offer. Places I can have breakfast, lunch, snacks, desserts and more... all on the go!
Don Baker is an upscale version of a 'local neighborhood mankoushi vendor'. Located on Badaro's main street, Don Baker is nestled in a neighborly surrounding. The place is small; You walk in and on your right you'll find a cashier, a glass display and a small bar- like stand where people can enjoy a bite while watching Badaro's locals pass by. Don Baker, serves one of Lebanon's finest crepes.
Welcome one of Lebanon's finest crepes: Yes, allow me to say it as it is, Lebanon's finest crepe eaten in a street food shop with fine dining qualities. I ordered the dark chocolate crepe (Chocorange), a blend of 100% Callebaut dark chocolate, orange jam and crushed almonds. Ouf! An overwhelming extravagant crepe presented in an uneven way and filled with a melting dark chocolate that's equilibrated by a small portion of orange jam that has a subtle taste while the almonds add this fine end enjoyable crunch. A fine piece of redefined finesse in every bite filling a thin dough that's crunchy on the sides and slightly chewy on the inside placing the ingredients upfront. Not only is the filling unique but the dough is extremely special. To make it even more exceptional, a gently sugar powder covers it. Breathtaking to say the least!
Many of you may know Hajj Nasr, one of the smallest sandwhicherias in Lebanon. You must have come across it, even if you haven't actually tried it. Nestled in the heart of Achrafieh's busy streets, Hajj Nasr, known for his abrupt character, has been welcoming people for the last 32 years, who wait in line for their turn to grab a hold of whatever is remaining in the kitchen to make.
Their kafta sandwich is produced in a special way. A large container of kafta is always handy where Hanna grabs a chunk to spread it in the double layer of bread. It then enters a toaster, as is, to be cooked and toasted. Few minutes later, mayonnaise, tomato and pickles are added before rolling the sandwich and delivering it to the customer. This
sandwich's taste is unique reflecting what real street food is but for me its too fatty, too oily and too spicy.
Don't leave before having dessert: Chocolate, banana, and cream: If you think that you're done, the chocolate sandwich will open your appetite again for a new round of sandwiches. Chocolate spread, whipped cream and so[ bananas wrapped in Lebanese bread. Again, its the simplicity will make you fall in love with what you eat. The sandwiches are extraordinary and unique in every sense: Yes they are fatty, oily, too spicy and unevenly wrapped, and the place is not of the cleanest, but it's the simplicity and love felt in every bite is worth trying for only 3,000L.L/piece.
Imagine a simple yet innovative burger prepared with love, passion and dedication; a burger that's tasty, fresh, generous and filled with premium ingredients; and a burger that has it all yet keeps you feeling light, even after devouring three of them – yes, I did... I had to...
At Rod's, order the "3a Zaw2ak burger". He names it that way, created as he feels that same moment, depending on your appetite and look. The "3a Zaw2ak" burger; a tradition, he says, he is known for, giving clients the green light to create their own burgers depending on their tastes.
Let's call mine the NGNO burger:
Bacon, mushrooms, caramelized onions, steak sauce, smoked mozzarella and coleslaw.
This burger is interesting; Rich flavors, sweet taste and a slightly crunchy feel from the coleslaw only adds style to the mix. Inside is a homemade steak sauce like no other, especially created by Rodolphe himself. The best part is the fried aged mozzarella square and the finesse the fresh mushrooms provides. This burger made me smile. I loved its soft tender bun provided by Prunelle, the rich juicy yet non fatty meat, the crunchy fresh vegetables and the rich taste of their homemade sauces.
I doubt that some of you out there have not heard of Hanna Mitri. The one and only Hanna Mitri known for his uniquely fresh ice cream, perfect Maamoul and arrogantly rude character. Following his steps is his son Mitri Hanna, the sole carrier of legendary ice cream recipes. So if you think you've had good ice cream before; trust me, you haven't until you've tasted Hanna Mitri's Middle Eastern ice cream in Achrafieh.
Pick up the best: N2ou3, Amareddine or apricot paste is one of the best. A superb ice cream constituted of fresh apricot taste and crunching cold pine nuts. Pine nuts, considered the gold of food for their elevated price are used generously and available in each and every bite. Lemon is Indescribable. Better than any lemon sorbet I've ever tasted in my entire life. Not Haagen Dazs, nor Oslo come close to approaching a tiny bit of this extraordinary creation. A taste of pure lemon hidden inside this yellow mix, concentrated and a soft, tender, watery and crunchy ice feel. In every bite, lemon zests explode to activate all your taste buds at once. An ice cream that melts like butter and leaves a pleasant aftertaste that lasts for long minutes. Rose water: The smell alone is enough to make you smile. The journey starts with the smell and continues with a flavor that embraces all your mouth mucosa. I love the pure white color this ice cream has. Just pure perfection! I would recommend not to mix rose water ice cream with anything else as the aromas cover on all the other flavors.
Reach a small, humble place, different from those buildings most famous commercial names have built. Sitting behind a desk, a man welcomes you with a smile. Simply ask about the Daoukieh... A green thing that looks like a knefeh or mafroukeh will make your mouth water.
Intriguing at first:
Is that the common Bohsalino renamed? Or something like maamoul madd? Maybe mafroukeh? My mouth started watering. I was offered a piece which I started examining closely, turning it around, taking pictures from all sides... so the man looked at me as if I was a kid seeing chocolate for the first time and said: "Fine, I will allow you to take pictures, just eat now."
Al Daoukieh is an extended version of the Bohsalino... Unique on all fronts. What makes all the difference are the non salted cashew nuts layered under the ashta, the ashta impressive quality and the pistachio specially mixed in their own way.
Just imagine:
A layer of pistachio purée, green like grass, topped with cashew nuts, a layer of ashta and on top of it more pistachio with little sugar bits shining beautifully in between. The pistachio mixed with semolina slide under your teeth, erupting with a rich taste while a strong flavor of pistachio caress your taste buds. Premium quality, cold and fresh ashta follows all this, melting together under your palate until you crunch into those cashew nuts which will put a smile on your face. While enjoying those heavenly
bites, all you have to do is close your eyes and feel the perfumes of orange blossom and rose water taking over your brain cells.
Chidiac is not located in Beirut but I couldn't publish this list without having it part of it.
Karabeej Halab is a type of ma'moul filled with pistachios or walnuts, and served with Natef. Those Karabij usually look like Maamoul or stuffed with the same filling making them lose their unique taste. At Chidiac, things are different, a Karabij is a Karabij, respected and created meticulously.
My teeth plunged into a thin piece of dough that melts as it touches your tongue. The soft dough pleasantly chews in style as the pistachio filling starts caressing your mouth. Moist pistachio puree, produced by people with intense know-how, cleaned to perfection and mixed together beautifully. Adequately sweetened, you can enjoy the smell of fresh pistachios in every bite stuffed in fresh dough...
It started with one bite, followed by another... until I found myself eating seven pieces in a row. My wife had to remove the tray from the table to stop me from eating. It's the first time I am taken by something like that, but believe me you would be as well.
As for the natef, the white foamy meringue cream served with Karabij, Chidiac's is incredibly delicious... they are made without eggs and can safely be kept unrefrigerated. Take one Karabij, plunge into the natef container and put it as is in your mouth... That's heaven on earth! The different textures and different aromas can provoke a heart attack. But if you want my advice, the pieces of karabij are so good that you don't even need any natef. I'm not sure if I expressed myself enough; you have to give these little pieces of heaven a try!
I found out that Ghattas is located in Achrafieh, just a few meters away from Tabaris and the SNA roundabout. It has been known for the last couple of decades for their unique bites all Lebanese crave for: Pizza, manakish, cheese, pizza, kebbe, Fatayer and more all in small sizes, prepared with the utmost perfection.
Inside a beautiful blue box with the Ghattas's name on, a number of triangular creations are just waiting to be eaten. I grabbed one and started feeling the details. A golden pyramid of 7 centimeters in diameter constituted of short crust pastry dough and filled with cooked spinach. Crusty and crunchy like that of a sablé dough followed by a so[ and tender inner filling, the bite is simply addictive. You will discover a light taste with crunchy borders of unique dough. A light flavor with a lemony after taste without the
harsh acidic feel that comes from your average fatayer, passes through your palate forcing you to say: Yum!
Years have passed and Pâte à Choux still offers the same quality and taste that few master today. Considered in my opinion as one of Lebanon's top pastry shops, I often pass by their Sodeco branch to enjoy their finest creations. The crunchy fresh croissant, dark chocolate cakes, thin light mille-feuille, banana caramel eclair, chocolate ball and much more – premium sweet bites that promise to activate different areas of your taste buds.
My favorite of all is the Bahamas... The Bahamas cake, invented by Pâte à Choux a few years ago, but copied unsuccessfully by many. It is the only cake that makes me want to close my eyes after every bite. A mix of soft ingredients between bananas, creamy and a fluffy cake texture... melt between your tongue and palate without even having to chew anything. You feel so[ness, tenderness, passion, aromas, sweetness and much much more.
The Pâte à Choux Bahamas is a round cylinder-shape individual cake covered with chocolate. What's inside is the big surprise: A yellowish cake that looks like a hamburger, a thick 2cm piece of cake at the bottom covered with Banana flavor pastry cream (crème pâtissière) embracing a few pieces of ripe banana slices all covered by another layer of yellow sponge cake. Simple! On the outside, is a thin layer of Crème Chantilly that is covered again with a robe of rich chocolate. Just imagine!
Cupcakery offers 17 different flavors as well as four weekly specials, depending on the seasons, occasions like Ramadan's special Turkish delights...Red Velvet to Carrots cupcakes, cookies, brownies and muffins, cake pops for events, decorated cookies as well as continuously new items like their newly launched line of Oreo cheese cakes and more... I loved the richness of the cupcakes, they moisture and their adequate quantity of sugar that doesn't leave an unpleasant after-note.
Banana Split:
Covered with banana paste, a double banana mix that is simply majestic. Yum... I was standing in the shop and couldn't but say WOW! Everybody turned to me like if I was an alien. A Chocolate Affair: This is not your usual cupcake. Imagine strong chocolate and marshmallow frosting, this spongy and moist cupcake is to die for.
Rising Sun Tangy Lemon:
The taste of the lemon zest revealed through the icing is amazing. This cupcake is rich and adequately sweet.
Chocolate Surprise:
This is my favorite. Just think of marshmallow cream dipped in dark chocolate...just like Tarboosh (formerly known as Ras el Abed). Smooth and airy inside with chocolate around un>l you reach the spongy layer underneath, every flavor is felt around your mouth.
The best muffins I had in Lebanon to date. Juicy and moist, they are simply extraordinary.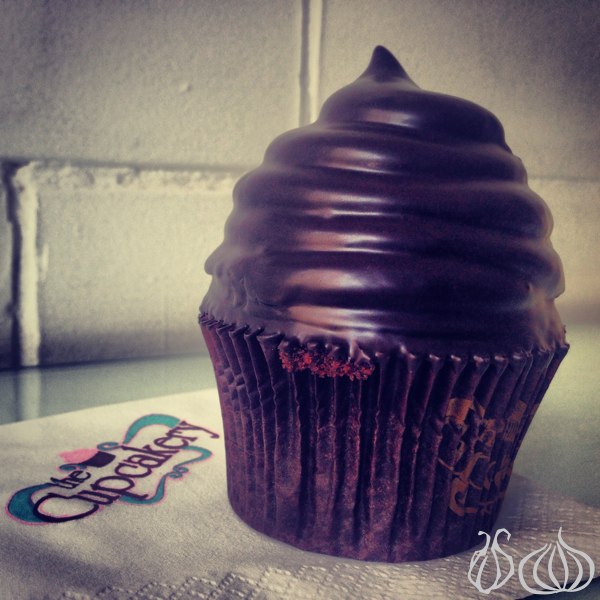 Yes! It is true! Shawarmanji is for Shawarma what McDonald's is for burgers, aiming to posi>on Lebanon on the international culinary map, further spreading the meaning of one of Lebanon's authentic foods, Shawarma – meat or chicken wrapped in Lebanese bread with a taste that will take your taste buds places.
Shawarmanji is a simple and small restaurant yet perfectly designed. It all starts with the outside clearly lit sign where the word Shawarmanji is written upside down giving the shape of our national pride: The Cedar tree. The venue's architecture is all based on the red color creating a funky yet classy concept at the same time. The quality of the meat, the way it melts in your mouth, just the right amount of spices, the right condiments added, the perfect bite size – all adds up to make it a simply perfect sandwich!
My favorite two sandwiches are the Pomegranate Beef and the Caramelized Onions Beef both exceptional. A new taste, a new flavor and a new approach to Shawarma removing the tarator and adding a subtle sweetness the pomegranate provide as well as the caramelized onions, creating a sandwich with international flavorful standards.
Zaatar W Zeit has been know for redefining the meaning of the Lebanese Furn, highlighting the "mankouche" in a different way. A simple recipe for a traditional product was the starting point of this unique concept back in 1999 in their humble Achrafieh branch where people stopped at all hours of the day to enjoy Zaatar W Zeit signature creations. That day, I fell in love with the Halloum and Bacon sandwich.
Halloumi cheese and bacon topped with tomatoes and mayo served on sun-dried tomato dough... Even though this sandwich has become super over priced, I can say that it's an award winning creation. Nobody ever could replicate this unique wrap of endless passionate ingredients. Sun-dried tomato bread like you never tasted in your life, wrapping little cubes of grilled bacon mixed with non salty halloumi and fine slices of tomatoes adding the final watery juiciness and sweetness to the mix. A line of mayonnaise is all what is needed to make this sandwich awesomely tasty. Yes, I am a fan since the early days and will always be.
Zaatar W Zeit's new concept, intertwining the best of all worlds into a "Lebanese style" cafe is a big success. You get a Starbucks ambiance, mixed with the Pret A Manger menu and concept, adding to it some unique Lebanese spells... you'll get a recipe for success: "Zaatar W Zeit".
Share with us your favorite spots...