My story with La Petite Maison has come a long way since the very first time I tried its beautiful location in Dubai a couple of years ago. Accompanied with my father in law, a fine gourmet, a while after, we tried the original one in Nice during a visit to the South of France. We enjoyed the original yet same authentic feel that is now spread all around the world. With off springs in Cannes, Moscow, Paris and London, Beirut is also on their map, today, offering Lebanese an experience that should be enjoyed at least once in a lifetime.
The home of Cuisine Nicoise, whose origins lie in old Genoese cooking, is the old town of Nice where French Mediterranean cuisine has blended and evolved with the influences of Ligurian Italy across the border. Combining the best fresh seasonal ingredients with the culinary influences of the Côte d'Azur and neighboring Liguria, Chef Patron Raphael Duntoye offers an inspired yet simple and delicious interpretation of French Mediterranean and Niçoise cuisine.
As I said, La Petite Maison is a unique restaurant indeed. The ambiance is so special. The flickering lights of the candles give warmth all over. Even when they want to celebrate someone's birthday, no music is played. The staff sings in total happiness together with the guests to celebrate the special occasion.
On the first floor of Hotel Le Vendome, Beirut, a fine dining restaurant has opened its doors in March bringing the best from Nice and Dubai for the local picky clientele to enjoy. The elevator door opens towards the entrance of the restaurant. A few plants and two benches decorate this white ambiance separating the hotel's stairs from the restaurant with glass walls where the famous logo "toys celebres ici" is printed.
As we were directed to our tables, my wife and I started appreciating the details, while comparing them with the Dubai restaurant that looks almost the same.
The place described:
After the elevator a facade of glass separates the hotel stairs from the restaurant
"Tous Celebres ici" printed on the glass facades
A long place divided by many columns supporting the building, give an intimate feeling
The open kitchen with a full display of vegetables
Vegetables on display today: Zuchini, capsicum, pomegranate, broccoli, eggplant, fennel, apple, lemon, tomato and even more
Pickles and casseroles behind the kitchen bar
Fresh lemon and tomatoes decorate the tables as well as a bottle of olive oil
Two menus (white and black)
A bar at the entrance in the left
Round and square tables
Dimmed lighting, candles on every table
Art work on the walls as well as the signature painted casserols
Light musical background, soft and low
Fine cutlery from Hepp Exclusiv with silver salt and pepper mill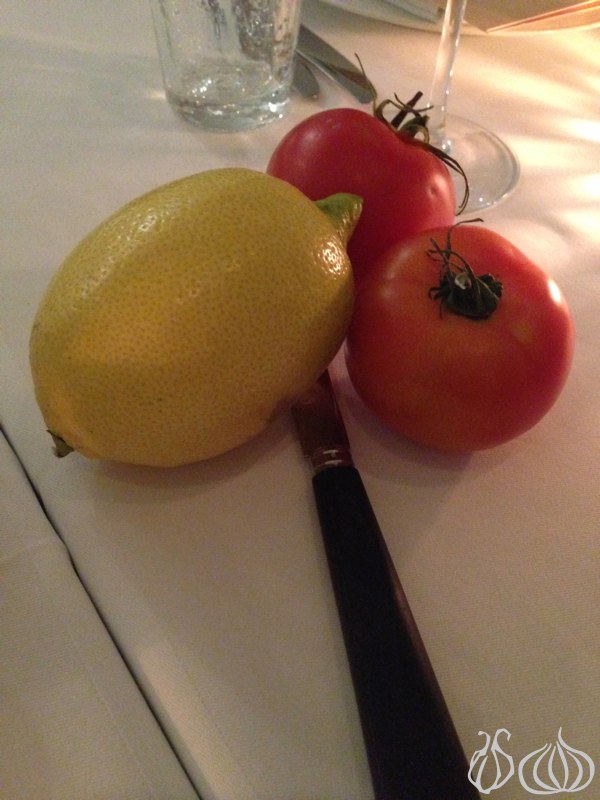 Everyone is smiling and happy around here with the professionalism often missed in town. From the welcoming hostess, to the floor manager to Elie our gentle waiter, everyone has only one thing in mind and that is to make your night one that will be enjoyed and remembered.
After choosing the wine with Ziad, dinner started with the distribution of the bread, crunchy warm baguettes presented in a picnic basket. Exceptionally soft and tender with an outer crunchy crust that doesn't even scratch your palate.
Reminder of the concept: "A sharing ambiance. Each dish is served when ready."
We ordered:
Ratatouille. Mediterranean vegetables marinated in olive oil with feta 20,500L.L: Served cold, the mix of large pieces of eggplant, capsicum from different colors along tomato sauce is an interesting yet simple dish I appreciated specially when feeling the lemony sauce absorbed by the cooked vegetables
Tabbouleh Quinoa 19,500L.L: Simple and clear, a quinoa salad/tabbouleh rich in colors, flavors and aromas. A few bites and it's gone but worth a try
Tuna Carpaccio 40,000L.L: Five slices of thick tuna, soft like butter soaked in lemon and olive oil. This fresh tuna from the local sea makes you proud of your country. I would recommend you enjoy it with style. Take three half nuts and lay them on a slice of tuna, then continue by rolling it into a sandwich. Put it under your teeth and enjoy the richness behind this sumptuous bite. A tender pure tuna melting like butter at the first contact with your teeth where a burst of lemon and extra virgin olive oil dissipate along your palate. A crunch, adds the needed finesse few have thought about. The grilling feel of the nuts blends adequately with the softness of all the other ingredients making you smile discreetly. As you swallow, the journey coming to an end leaves behind a peppery aftertaste that makes all the difference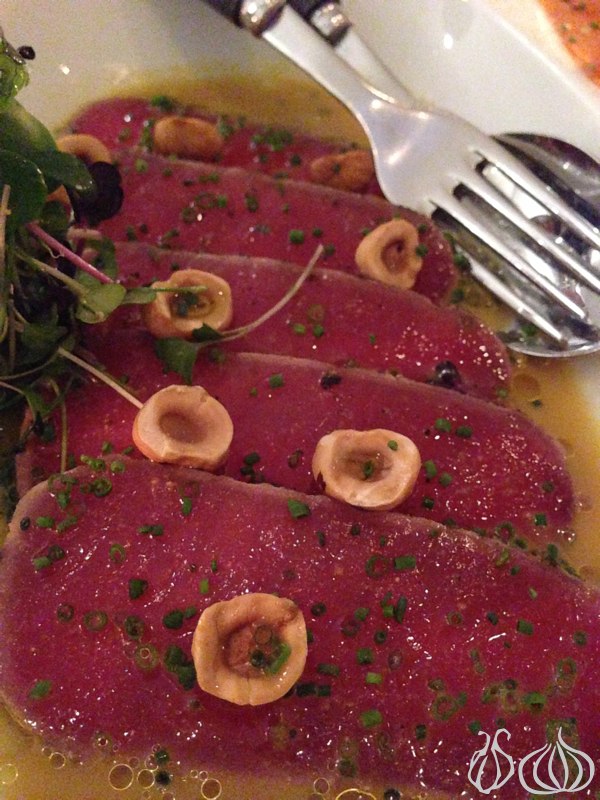 Tapenade of Nicoise Olives 8,000L.L: A rich concentrated bowl of crushed olives and lots of garlic, served with thin slices of toasted bread. I do recommend you order one to share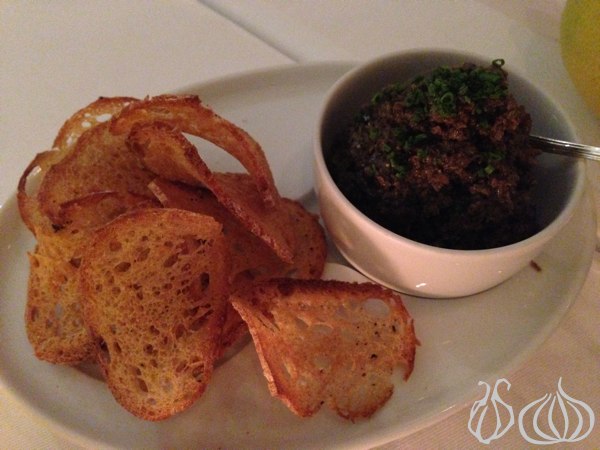 Warm Prawns with Olive Oil 35,500L.L: Our favorite plate tonight was recommended by the waiter and he was absolutely right. Fresh shrimps that slight under your teeth in class, marinated in lemon and soaked in olive oil, hiding a pleasant peppery aftertaste. Served warm, those pieces are to die for. They are simple, perfectly marinated and seasoned. A great appetizer to start with
Pasta with Beef Ragout and Mushrooms 40,600L.L: When I remember La Petite Maison Dubai, this is the first plate that comes to mind and I surely wanted to order it in Beirut. Simply wow! Large pieces of pasta cooked aldente mixed with a generous quantity of minced meat and mini mushrooms. Few basil leaves on top add a hint of color and finesse. I do recommend this plate
Homemade Pasta with Squid and Prawns and Pork 42,500L.L: Fresh homemade pasta mixed with tomato sauce, grilled calamari and shrimps. A super aldente plate, beautifully looking and full of flavors, aromas and colors. Basil leaves on top add a good appetizing smell. This is one of the plates I'll definitely recommend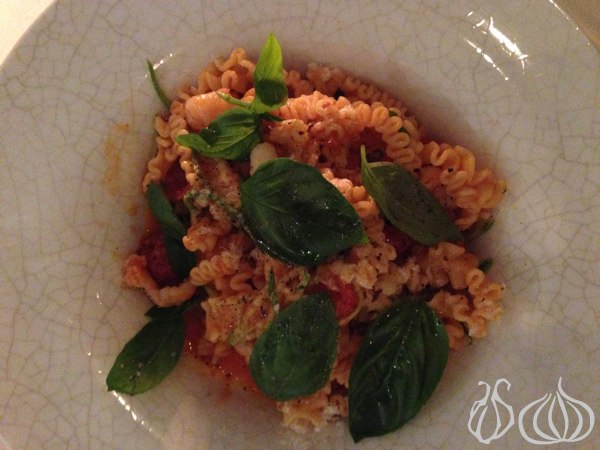 Rigatoni with Ceps Mushrooms 64,500L.L: This is the least of our favorite plates that were over coked, not aldente enough and are way too heavy. As the cream touches your tongue, you will feel like eating a whole cow. A good presentation and an interesting sweetness of the fried onions can make of this plate one of the best on the menu. Some interesting ingredients in here are well appreciated like the mushrooms, truffle oil, olive oil and spring onions
Roast Baby Chicken Marinated in Lemon 60,000L.L: Even though the plate looks cheap and empty, the smells exploding from this chicken open your appetite even more. A slight crunchiness of the skin followed by a lemon taste before the chicken's extreme juiciness offers all its generosity
French Fries 10,000L.L: You might ask why the fries are considered as a meal in this article. They do deserve to be mentioned as their freshness, crunchiness and seasoning are worth the price
Red Cabbage Salad 21,000L.L: Please do order this salad or side order. Awesome! Simple red cabbage marinated in lemon and mixed with spring onions, orange slices, apple cubes and roasted nuts. Sweet and sour combined with an after crunchiness. Amazing textures you won't forget easily
Salmon Carpaccio 38,000L.L: Recommended by the chef or house specialty don't make a big difference when you smell something that unpleasant. The white Japanese cabbage used has such a strong moisture smell like rotten cheese that blocks all possibilities of appreciating this place. Unfortunately for the good presentation and perfect salmon quality, using these cabbage slices is not the brightest of ideas
Desserts:
Warm chocolate mousse with malt ice cream 22,000L.L: That's a rich and tasty dessert indeed. Served warm, spongy on the sides and watery in its middle, this dessert is up to the standard of fine dining restaurants. I loved it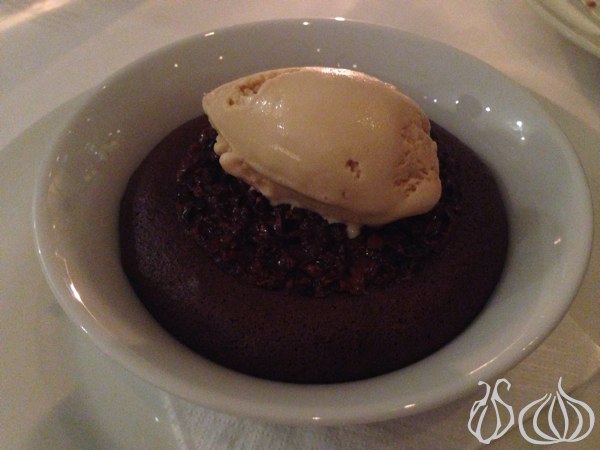 French toast with spice ice cream 22,000L.L: No! A big NO! Far from being close to an edible Pain Perdu, this dessert is better removed of the menu. Dry and crunchy on the outside and watery on the inside, I felt like eating raw eggs. As you put a piece in your mouth the extreme watery gooey feeling of the cake is so unpleasant that you feel like spitting back out. I'm sorry to tell you that in Dubai, I had one of the best Pain Perdu ever. Beirut has to find a solution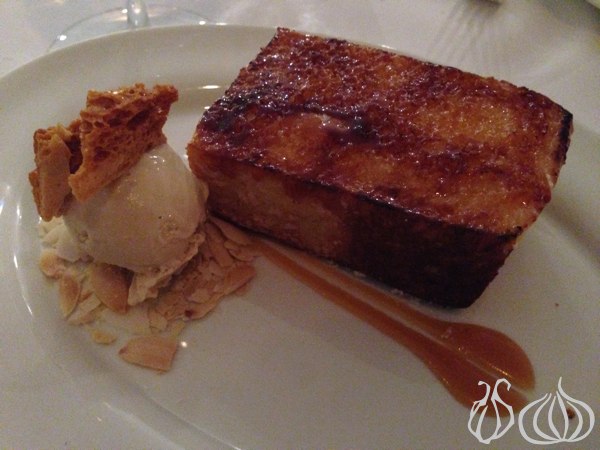 Cheese Cake (Gateau au Fromage Blanc) 22,000L.L: Light and tasty white cheese, served on a crunchy biscuit layer and red fruits on the side. A tasty dessert it is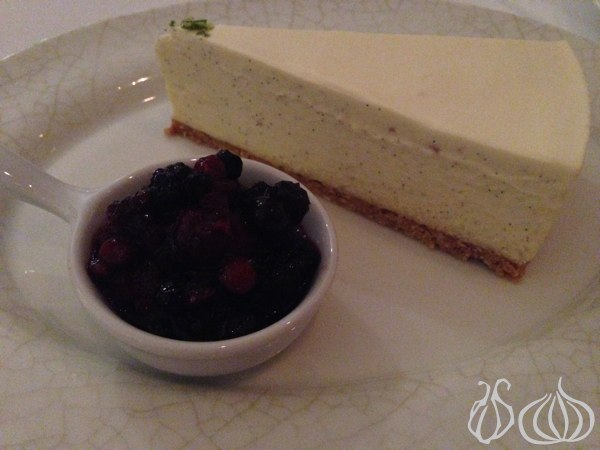 We all agreed that the warm prawns were the best followed by beef ragout pasta, homemade pasta and the red cabbage salad. I would continue with the chocolate mousse if I were you.
After dessert, Elie proposed La Petite Maison's signature digestive, the "Mentonello", that is similar to Limoncello with less sweetness and less alcohol. Just be prepared to pay 18,000L.L for a small shot of this drink. To better enjoy it... I would surely recommend it to be served with crushed ice.
Wine coupled with tonight's meal: Pascal Jolivet, Pouilly-Fume, 2011:
A vibrant yellow color with a dry focused nose of citrus and mineral. On the palate the wine is medium in body, incredibly precise and layered with clean, driving acidity.
The pluses:
The food is really good. Simple, non complicated, rich and flavors and tasty at the same time
The staff is gentle, welcoming, smiling and professional
The place's ambiance, decoration and music are so relaxing
The minuses:
We were literally sweating all night. The air conditioning system should be on at all time
White wine was not cold enough until we left it aside in the ice bucket from half an hour
A lovely night, positive on all fronts that we all enjoyed in style making sure to book our next visit before even reaching the car. La Petite Maison is a place I recommend for those who love and appreciate good food. Be prepared to pay a hefty check of $100/person, well deserved.