Pizza, who doesn't love pizza? This Italian classic is the second most popular food in the world, after burgers. From Italy to France, the United States to the Middle East, pizzas come in many shapes and sizes, but the end result is the same: an oven-baked, flatbread typically finished off with a tomato sauce, cheese, and various toppings. The modern pizza has its roots in Naples, Italy, and the dish has since become popular all over the world. So, back to our beloved country to enjoy some of the best pizzas Lebanon has to offer. Italian pizzerias and American pizza delivery franchises have mushroomed nationwide, while in a typically Lebanese fashion, creative minds have come up some innovative ideas like offering them in small cups that can be devoured in seconds. Join me on my journey around Lebanon's little Italy.
Gordon's Cafe: Good Food at the Gates of Downtown Beirut

Attending three days of training at Le Gray, I enjoyed discovering the ballroom for the first time, the new hotel entrance and most importantly the hotel food. There's something bizarre happening around here; the food is not good, the food irradiates happiness... it's excellent! After two meals at Indigo and four coffee breaks, I head down to Gordon's. I heard that the hotel has a new chef; it's obvious and clear!

Sapori e Vini: It's About Positive Vibes and Delicious Food

One of the country's best Italian pizzas deserves an award! Cooked in a 450 degrees oven in less than 90 seconds, the pizza is a cocktail of flavors and endless emotions. The flavors of burned bread mixed with wood transported me to a chalet up the mountain. Covered with a homemade tomato sauce and a handful of greens, the pizza, and its molten creamy Buffala is simply awesome! Eat it from the center until you reach the fluffy borders: a thin non-soggy crust with a tender border feeling like a pillow. Bravo chef!

Via Roma: Recommended Homey Italian Cuisine by Chef Massimiliano

The pizza landed on our table, Georges approaches with his big scissors to cut it. Exactly like the chef described it, the pizza crust is outstanding. Not only light, airy and fluffy on the borders, but it's also flavorful and tasty. The good thing about it is that it's not like any flour, simply flour to hold the filling, but it has a special character to it. Nuts and Gorgonzola on one side, baked potatoes and speck ham on the other side... the sauce, the flavors, the mix of ingredients, the generosity... this is waw! The pizza is much more than a pizza, it's a meal on the dough, and it's addictive.

Matto: A Crazy Italian Experience Opens in Jal el Dib
Now for the more serious things! That's a great pizza they have here. Spicy, thin, fluffy borders, a load of cheese; a real Italian Pizza. A slice then another, I could stop until the pizza was erased from the table. The fried seafood nibbles are awesome especially their lemon mayo sauce which feels homemade. Even though I'm not a fan of salads, the fresh vegetables one is excellent; balanced and full of flavors.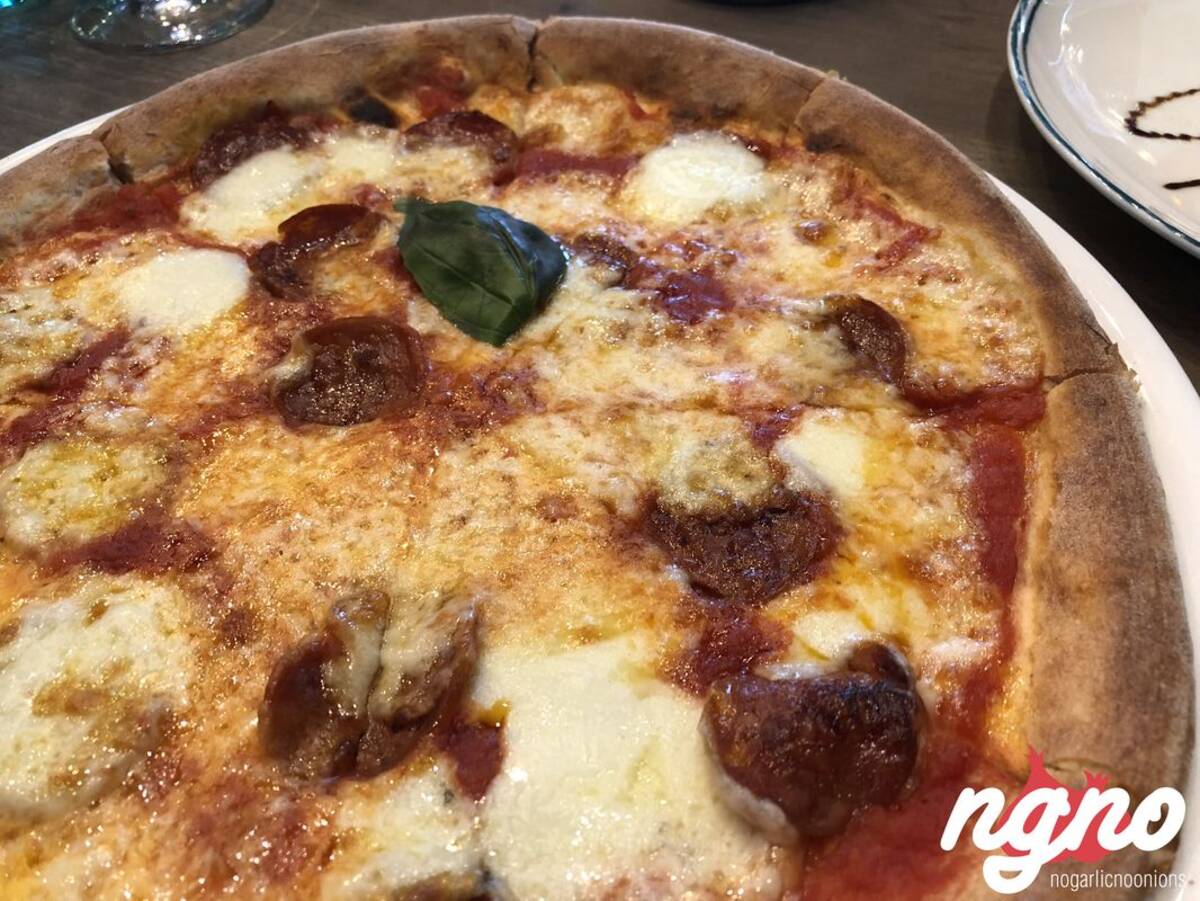 La Pizzaria: From Napoli to Beirut with an Impact
Behind the red curtain is the restaurant, La PizzAria serves real Italian pizza like they claim. The owner made it a long way in the Nestle and the oil business before leaving everything to cook. He spent one year in Italy to become a pizzaiolo. A small shop serves pizza and a couple of appetizers. Two floors and an oven, two tables outside, six high chairs at the bar and a simple menu. I was excited to try their pizza. Nduja Pizza: It's so yummy! The dough and the chunks of melted cheese, the spicy after-notes, the tomato sauce and the same fluffy, enjoyable border. It has a spread of salami which makes all the difference.
PZZA.Co: Great Food and Extravagant Dessert Pizzas

The "Pzza" is just awesome: Perfectly rounded, filled with the richest of ingredients, I looked at my pizza as a colorful piece of edible art, where all my senses were activated the minute I laid eyes on it. I can still visualize the strong red color... simple candy to my eyes. The dough is thin, fine and light. It's great to feel the extraordinary crust prepared with love and dedication... filled with aromas and flavors. It starts with a simple bite, which takes you on a journey around Italy and its wonders. Just when you think that the experience is over, you'll reach the edges! Awesome edges... Pleasantly crunchy yet tender in the middle... you will not want to miss out on this one... A salty aftertaste will put a smile on your face. I loved the pizza so very much, and I can tell you confidently to go try one of Lebanon's best pizzas.
Micelli's: An Excellent Homey Pizza You Have to Try

The homemade pizza place or more of the family affair, Micelli's is the story of a family who decided one day to open a restaurant. Micelli's is where food feels like home, starters, pizzas, and desserts like mum Zizo prepares them. Located on Jal el Dib's internal road, Micelli's occupies a small place in Mallah Center next to Ginger&Co. A fun place where you can have a drink while enjoying your pizza. Micelli's has been known to have special pizzas named differently like the "Porkoi pa", "The Odd One", "A Pizza has no name", "Monsieur Croq", "Sal's Catch" among others.


Nonna: Lovely Pizzas, Unique in Texture and Taste!

Nonna is your neighborhood restaurant located on the corner of Monot and Abdel Wahab. Music playing in the background, I was welcomed by a positive staff ready to serve lunch. Nona has a menu touring around the pizza oven. Italian starters, the famous thin pizzas, some salads, sides and the antipizza, which are pasta and the burger. Any pizza can be served with a whole in the middle making it lighter and fresher with some added greens. White wooden walls, red lights hanging from the ceiling, wooden logs decorating the first dining space, light coming in all around making it easy to take photos of those beautiful plates.


A Must Try, Charbel's Pizza: Hasroun's Huge Pizza

Imagine a pizza that's 60 centimeters in diameter. A pizza dough that's cooked on both sides then covered with a homemade tomato sauce, stacked with ham, topped with thyme from the village, fresh mushrooms and seven varieties of cheese all mixed together. The dough is first baked before adding the ingredients and cooking it one more time. On top, slices of tomatoes, a cocktail of bell peppers and salami, it's not only generous but extremely tasty and all for just LBP20,000. No words can describe the experience. I had four slices when I came here just for a tasting. The dough is unique and the ingredients are special as well. A combination creating one of Lebanon's best pizzas... All of that from an oven that cost less than $500, where others have paid thousands of Euros for their Italian furnaces.


Bar Tartine Achrafieh: I Had a Very Pleasant Lunch!

Oh my God... this pizza made me shiver! An oval shaped pizza made of a very soft dough covered with melted ricotta cheese; loaded with flavor and offering a kick of acidity and smokiness. Juicy and smooth, the cheese doesn't soak the crust. A thin crust with a very thin crispy layer, a spongy fluffy heart, and crunchy endnote. Along with the cheese, the pizza is covered win spicy slices of sausage, fresh thyme, fresh mushrooms, black olives, and cherry tomatoes.
Tavolina: Casual Italian and Good in Beirut

One of Beirut's best Italian restaurants is located in Mar Mikhael next to Prune and Das-Kutche. Open for more than five years already, Tavolina is the baby of chef Dany Khairallah and passionate entrepreneur Dany Aprat. I've been here several times already, to enjoy their unique pizzas and outstanding kinds of pasta prepared the traditional Italian way. The pizza: a very think border with a spongy and airy heart. A loaded pizza on a thin and moist crust. The acidity and intensity of the tomato sauce made of it a unique Italian creation few master in Lebanon. I had two kinds, the Diavola, and ricotta, both exceptional.
Toto: The Last Dinner in Mar Mikhael
Nestled in an old house under a stone arcade, Toto's black and white restaurant is still as charming as it always was. Having a great risotto and a delicious pizza, enjoying a fine Italian dinner for the last time, hoping the restaurant will reopen soon. On the menu; pizzas, cheese, and ham, bruschetta, fried starters, seafood, sides, salads, antipasti, main courses, and meats. Suggestions of the day propose several risottos, Pasta, fish, and meat. Wait; let's get back to the pizza. One of the country's best pizzas is just simple and unique. A thin crust, a tender dough, a loaded heart richly aromatic and flavorful. I've had a slice then another and a third and couldn't stop.
Di Fiori: For the Love of Pasta and Pizza up in Kobayat
For the love of his country and surely for the love of pasta, Tony Zaher and after a long tour around the world's famous kitchens settled down in his hometown where he passionately prepares fresh pasta. The food is undoubtedly tastier than many outstanding restaurants in Beirut and Tony's passion is like none. Worth a trip all the way to Akkar hoping the chef decides to have a location for him down in the capital.