This is our second time to Emporio Armani in Paris and will surely not be the last. My wife and I are in love with this place not only in the French capital but wherever we can find it around the world. We've already been to the one in Milan, Istanbul and Dubai - all with the same tasty Italian food which makes you want to come back again.
Milan is the hometown of The Armani ", set up by the famous fashion designer Giorgio Armani himself, and they do prepare impressively good food. ?It is in the heart of the famous bohemian area of St. Germain des Près just above the Armani shop itself. The décor is unquestionably chic and Italian.? The cuisine is gourmet Italian, with many dishes inspired from the Milanese area.
The Emporio cafe of St Germain is divided into three distinct sections. The terrace, the bar and the restaurant.
The place in few lines:
Choose between the outside or inside seating depending on the mood or possibility of smoking
Outside are a few square tables, orange benches as well as wooden chairs on a natural wooden floor
Inside, facing the entrance are the stairs that take you to the first level where the bar is
Take the corridor to the other side of the restaurant where the restaurant overviews the Armani shop
Inside is a luxurious setup candle lit in a black ambiance
The tables are all decorated with black cups filled with white flowers, Arthur Krupp cutlery and Stolzle glasses
The menu:
Aperitivo del momento
Collezione eac fevrier
I nostri antipasti classici
Le nostre paste classiche
Pesce
Carne
We started sipping on some Proseco while the Italian waitress took the order. She was kind enough to help us and try to ask the chef for a risotto Milanese that's wasn't available that day. Acqua Armani, their signature water bottle caught my attention.
Dinner started with a complementary amuse bouche. Velouté de courgettes covered with melting burrrata and topped with crunchy croutons: A soup-like preparation served in a small cup, well seasoned and covered with a tender mozzarella cheese and some tiny bread crumbs to add crunchiness and finesse
Let's eat:
Morbegno: Grosses tagliatelles de sarrasin, choux blettes, pommel de terre des pizzoccheri, fondue au from age de la Valtellina 18€: Strips of al dente cooked brown pasta are served in white sauce with soft potato cubes and cooked green lettuce. An innovative dish it is despite the fact that it's too heavy to have as a starter for one person. The pasta slices are too thick and too fulfilling. A must try
Pollo Di Cesare: Chicken salad served on a black board: That's not any simple chicken salad you've tasted before. Fine dining redefined in an Italian restaurant. The chicken quality is close to perfect while you enjoy the Mostarda de Cremona sauce. Yum!
Burratina Caprese: Mozzarella creme use typique des Pouilles, legumes de saision marines 26€: Mozzarella burrata served with a sweet tomato sauce accompanying some roman tomatoes and cherry tomatoes as well all in a rectangular plate. A good one
Malfadine Bolognese Bianca: Large pasta with white bolognese sauce 25€: Cooked al dente, this plate I personally ordered was breathtaking. It might not look too appealing but the taste and flavors hidden inside are extraordinary. Decorated with a couple fried Parmesan cones, this salad contains a hundred stories in every bite. A slight crunch of the pasta while the ingredients melt under your teeth like butter. Superb it is!
Spaghetti al Pomodoro e Basilico: Giorgio Armani's favorite pasta served with fresh basil and Parmesan 23euros: As good as it should be, I enjoyed the whole found in the plate to roll the pasta in, spearing you the use of a spoon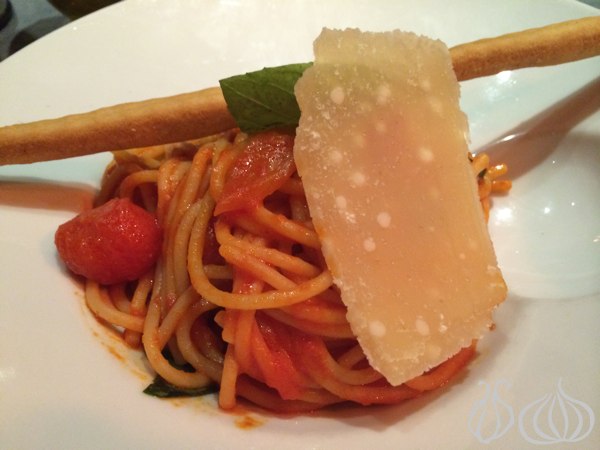 Risotto Ai Carciofi: Risotto Vialone nano delle abbadesse, mantecato aux artichauts, poivrade en persillade 26euros: Everything was great but not this. Even though well cooked, the plate contained more garlic than a whole vegetables market can host. This dish must be reconsidered!
Canelloni A Salve: Fresh cannelloni with eggs and chicken, rosemary and cheese sauce taleggio 29euros: Three large pieces of cannelloni floating in sauce. A slight crunch from the outside while the inner filling of shredded chicken
explodes all its rich flavors and aromas. Succulent!
Armani is one of my favorite Italians in the capital. The food and service were great. An enjoyable dinner like always. The Armani cafe doesn't stop to amaze me every time I visit. Generous portions, fresh food, tasty creations and innovative flavors. I simply love it and recommend it.