As we may have noticed, food around the world is following trends which we Lebanese are being influenced by. It was the year of Sushi in 2013, burgers in 2014, homemade pastries in 2015 and sandwiches for 2016 and 2017. What started ages ago as a portable food item or finger food has grown to become a popular food item worldwide and is found in various versions, with various fillings, shapes, sizes… the possibilities are endless. 2018-1019 are the years of Street Food... and sandwiches are a big part of that. Let's take a tour around the country's finest and tastiest "wraps & sandwiches" from across all corners of the country. Each one is worth trying – let us see why.

Steak Sub at Burger Bros in Jbeil
I was back for a taste of happiness, the steak sub to start, grilled chicken with melted cheddar strips then the club burger. My favorite is the club burger, a very thick beef patty stuffed between two thin layers of pain-de-mie with fresh salad, mayo, melted cheese, ham and much love. I enjoyed the sandwiches loaded with sauce, the thick cheese patty, the soft bun and the details that make of every sandwich an experience.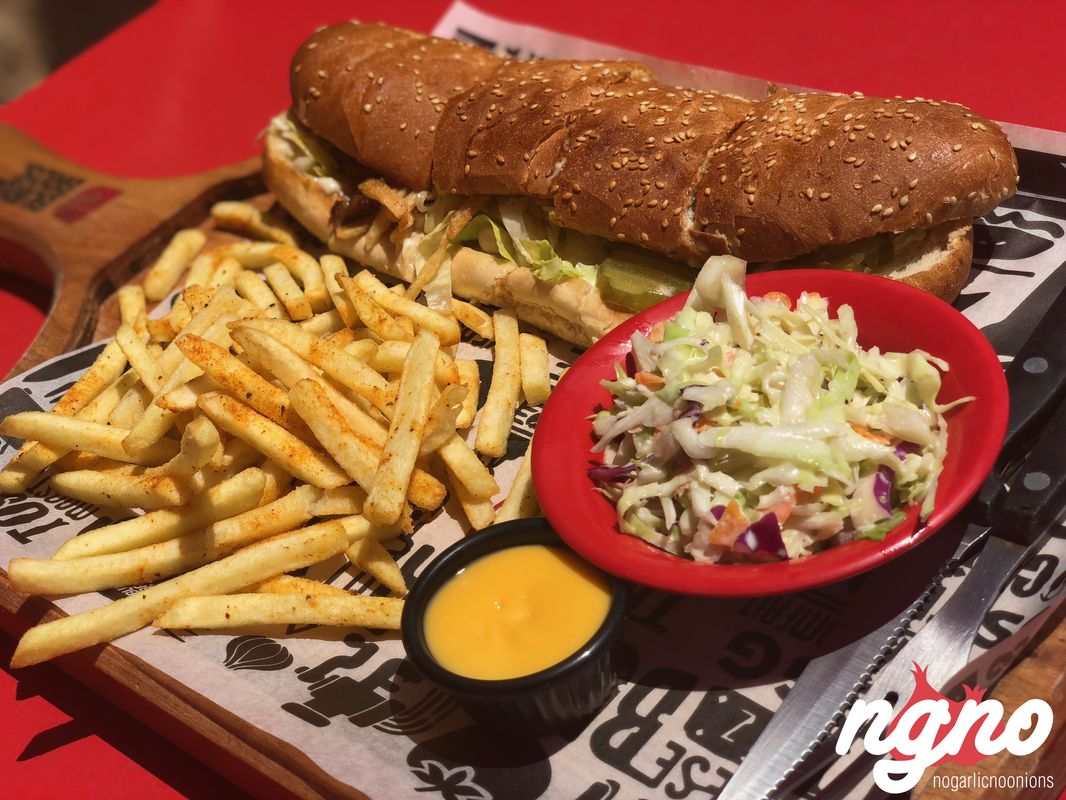 Gourmet Roast Beef Sandwich at Deli.Co in Beirut
Try the roast beef sandwich; and hear yourself asking... "Is this sandwich for real?" This is the first time I see and taste something so good in Lebanon. It starts with its superb look that makes your mouth water. An amazing cereal pain de campagne bread that's lightly toasted with a light chew, filled with layers of sliced meat, rocket leaves, thinly sliced tomatoes, pickles, and sauce. Let's start by the least important to the awesome meat. Delicious full bodied sweet pickles, fresh Arugula, beautifully thinly sliced tomatoes and the meat; what meat! Juicy as it should be, rich in color, tender and as perfect as it should be. And the sauce... Just spill around and see yourself smile.


Traditional Saj wraps at Al Rayess in Chtaura
Last year while walking around Hamra, I discovered a funky place called Rayess. A red and yellow kiosk occupying the entrance of this historical street, Al Rayess from Chtaura is in fact an authentic sandwicheria with touches of modernism. Visiting Chtaura, I gave the original location a try.


Amazing Hot Dog Sandwich at Freddy's in Beirut
A soft bun, the hot dog, cheddar cheese, Jalapeños, ketchup, mustard and chips; is what the sandwich contains. I really love their bun, enjoy their hot dogs' quality, love how the ingredients are balanced … it feels good to have this sandwich on the sidewalk, like a souvenir of a good night, the nostalgia … and it's tasty!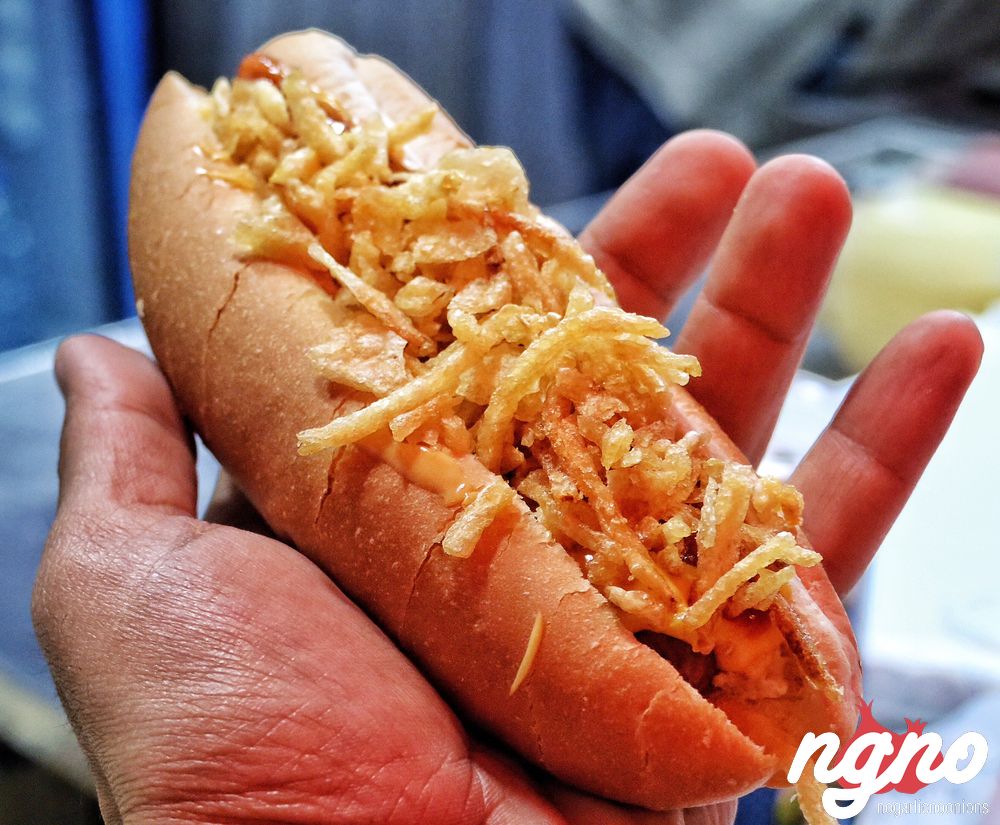 Moghrabieh Sandwich at Dabboussy in Tripoli
The moghrabieh is simple, containing semolina, hummus and onions. A filling food for the poor, Mr. Dabboussi tells me. All it needs is to be grilled with margarine fat and rolled into a sandwich. Honestly, it's a tasty thing. The fat is absorbed by the tender bread, while the inner filling melts slowly. Perfectly cooked onions you rarely feel, well-seasoned moghrabieh and crunchy vegetables transform a dish into a street food bite. All of this for only LBP2,000.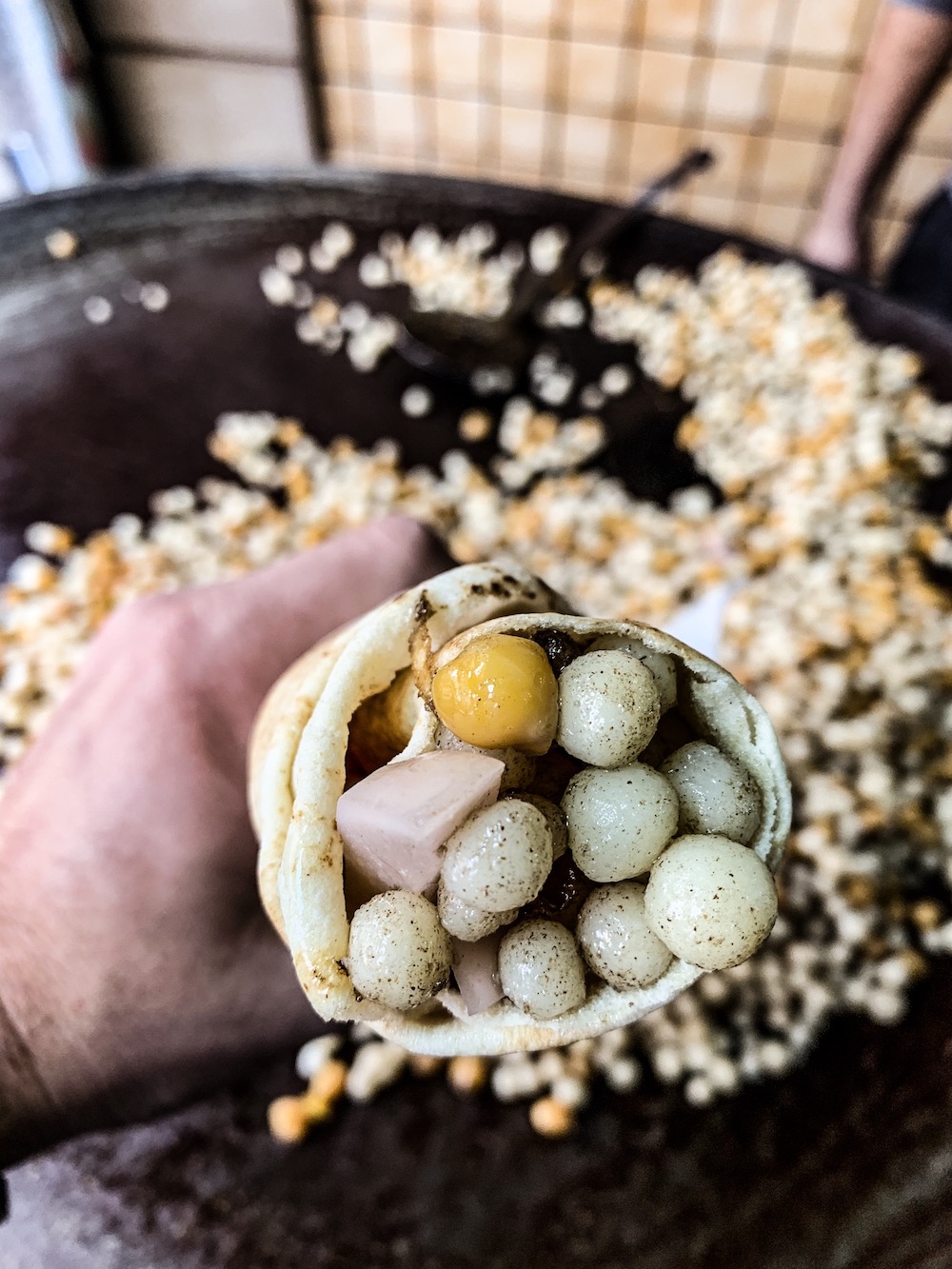 The Steak Sandwich at J.Makhlouf in Dora
The steak sandwich just rocks. The bread and lightness melting under the teeth. The well cooked tender steak offering a certain enjoyable moisture. The tender potatoes inside, the mushrooms and the sauce, adding a light sweetness to the mix. I've never ever eaten a steak sandwich that good.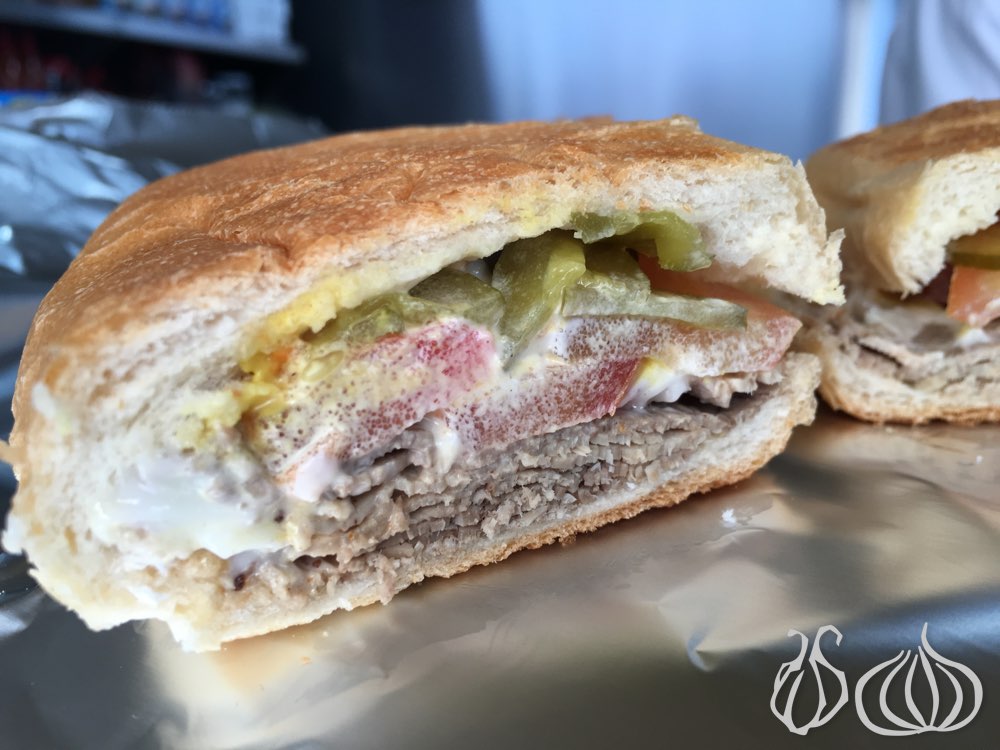 Fish Sandwiches at Georges Maalouf in Batroun
I enjoyed a simple raw fish sandwich. "Abou 2eshre" he calls it, raw fish that's violet in color and looks like tuna and tastes like the sea. He simply adds lemon and olive oil for pleasure. It's simple and wrapped in white pita bread. They look exactly like the rolled sandwiches we used to take to school. I then tried the calamari with a bit of cocktail sauce and lettuce, so fresh and full of flavor.


Smoked Salmon Sandwich at Woodbees in Jal el Dib
The smoked salmon sandwich made me smile! Smoked salmon slices stuffed inside soft cereal bread with cream cheese, chives and Woodbees' sauce. Lemon zest feel adds flavor to the fresh greens that will take you on a journey around an organic garden. A good combination of ingredients that create a premium sandwich.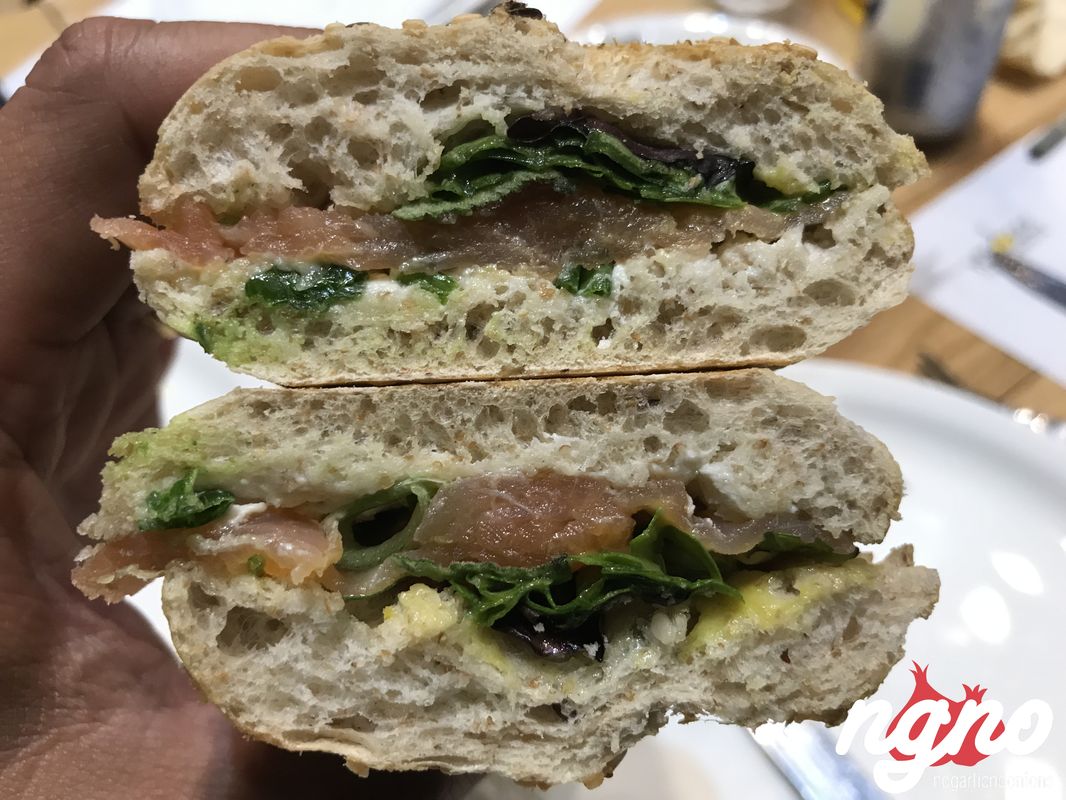 The Roastbeef Sandwich at Mido's in Saida
The roast beef sandwich: The same ciabatta bread stuffed with shredded roast beef and fresh vegetables. The thickest of Mido's sandwiches have a load of meat, mayo, lettuce, tomatoes, roast beef and mustard. They're good, really good and for only LBP6,000.


Eggs, Cheese and Ham at Sandwich.w.Noss in Gemmayze
I should have started with that and I'm so glad I ended up on such great notes. The egg, and cheese with ham sandwich. Oh my god! Melted cheese with mayonnaise, moist eggs -two or three of them- and lots of spices and additional ingredients your mom never thought of giving you.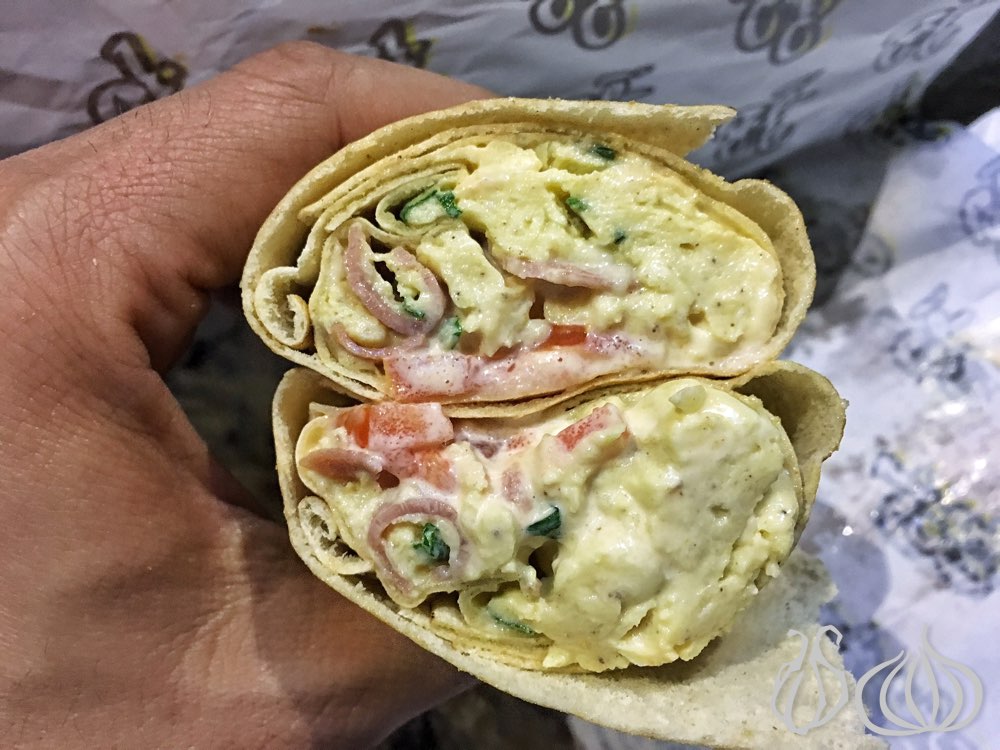 The Lobster Roll at Brgr.Co in Beirut
Brgr.Co's lobster roll uses only pure lobster, it's not mixed with anything else (like crab or shrimp), in a blend of premium mayonnaise with a subtle touch of spices. A small sandwich of around 15 centimeters, cut along the sides to eliminate the round edges, carefully buttered and grilled, before being cut down the middle and filled to the top.
Sahyoun makes a fine sandwich filled with light airy deep fried flavorful falafel, every fava bean mixed in each ball is enjoyed... add to that some freshly cut tomatoes, radishes and a mix of parsley and mint topped with a line of tarator sauce. Heaven… Trust me it's like nothing you have tried before. An enjoyable crunch of wonders with every bite… I'm not being able to put my feelings into words.


The Famous Kafta Sandwich at Hajj Nasr in Beirut
Kafta: The kafta is produced in a special way. A large container of kafta is always kept handy where Hanna grabs a chunk to spread it in the double layer of bread. It then enters a toaster, as is, to be cooked and toasted. Few minutes later, mayonnaise, tomato and pickles are added before rolling the sandwich and delivering it to the customer. This sandwich's taste is unique reflecting what real street food it is. But for me, it's too fatty, too oily and too spicy...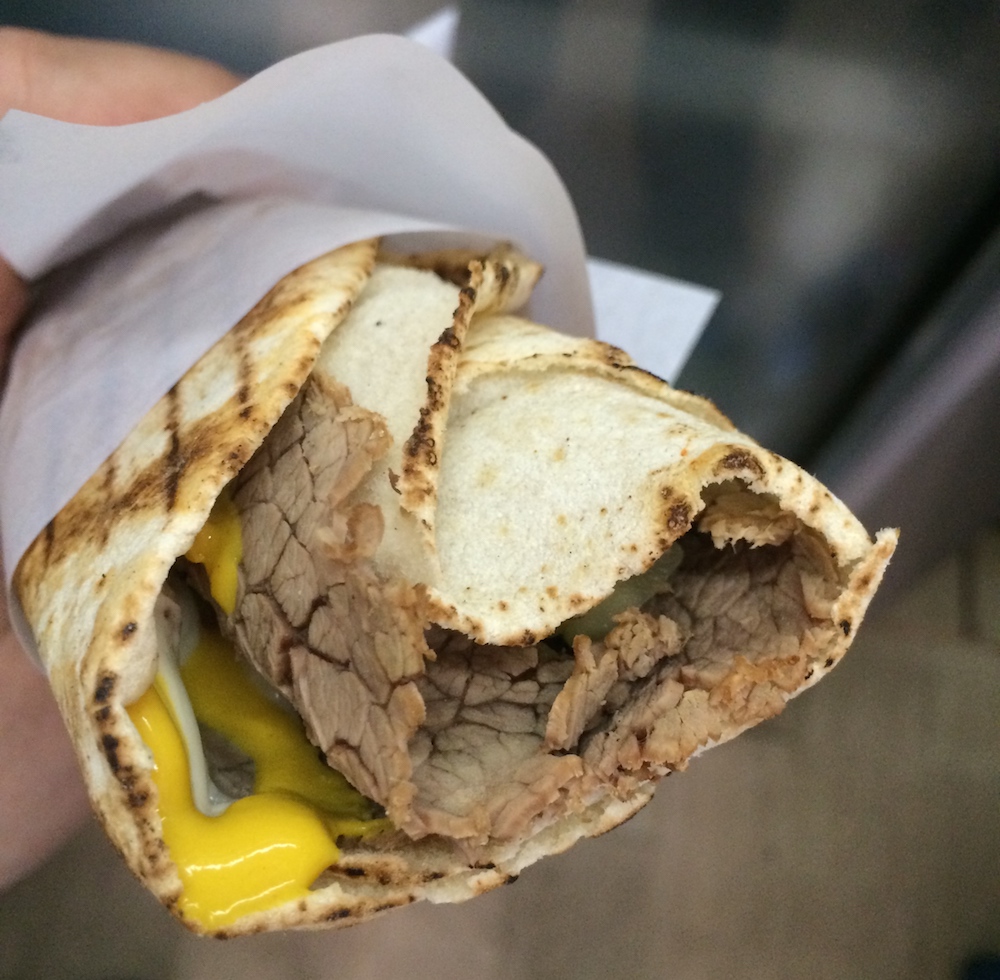 Smoked Salmon Bagel at Meat the Fish in Beirut
Smoked salmon bagel LBP18,000: open-faced Scottish smoked salmon cream cheese, lemon, black pepper, plain bagel. They call those bagels but in fact, they're French baguette with a hole in the middle. So this salmon sandwich is very tasty. Loved the cream cheese, the flavoring, and the premium salmon quality. If only the bagel was tender and fluffy like it should be.


The Mustard Chicken at Sandwiched in Antelias
The mustard chicken followed: Awesome to say the least. I was expecting a chicken sandwich or something like that, but surely not a slightly crispy envelope of homemade tortilla wrapped around a super juicy chicken along side melting Monterey-Jack cheese and honey mustard sauce. "Uuffff" was the word I said after the first bite.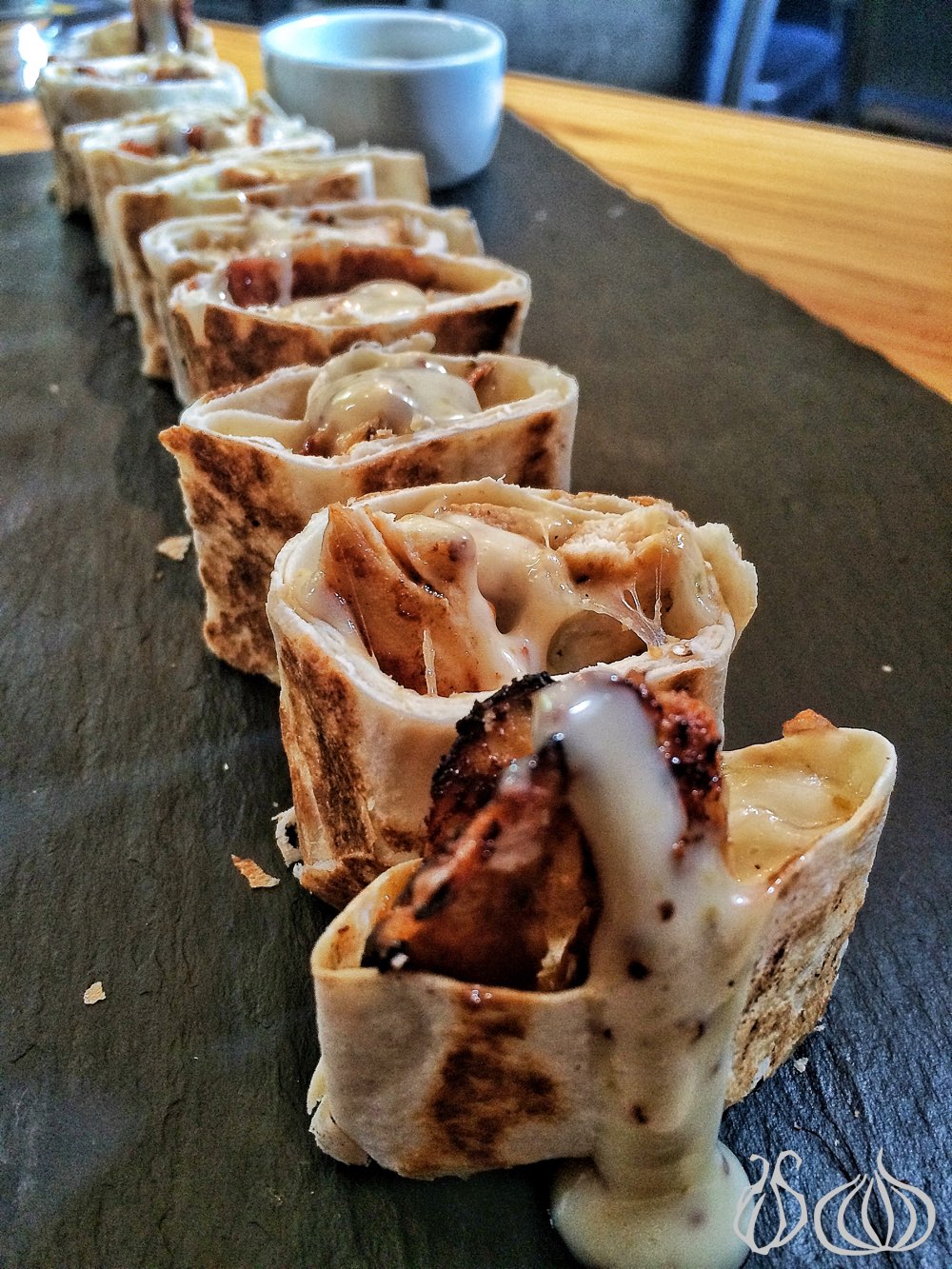 Awarma and Cheese, Soujok and Cheese at Abou Artine in Faraya
Arthur prepares a homemade soujok, instantly baked on the Saj, filled with the famous Armenian meat. What a taste! A crunchy border, a juicy heart, a blend of flavors, that's a delicious sandwich, which looks like a "Saroukh", closed on the sides and trapping the soujok inside. The other recommendation would be the mixed cheese with spicy tomato sauce. Rich red color with lines of cheese decorating the top. As enjoyable as the first one, the dough, the juicy fillings, the sweetness and hint of spiciness are all awesome!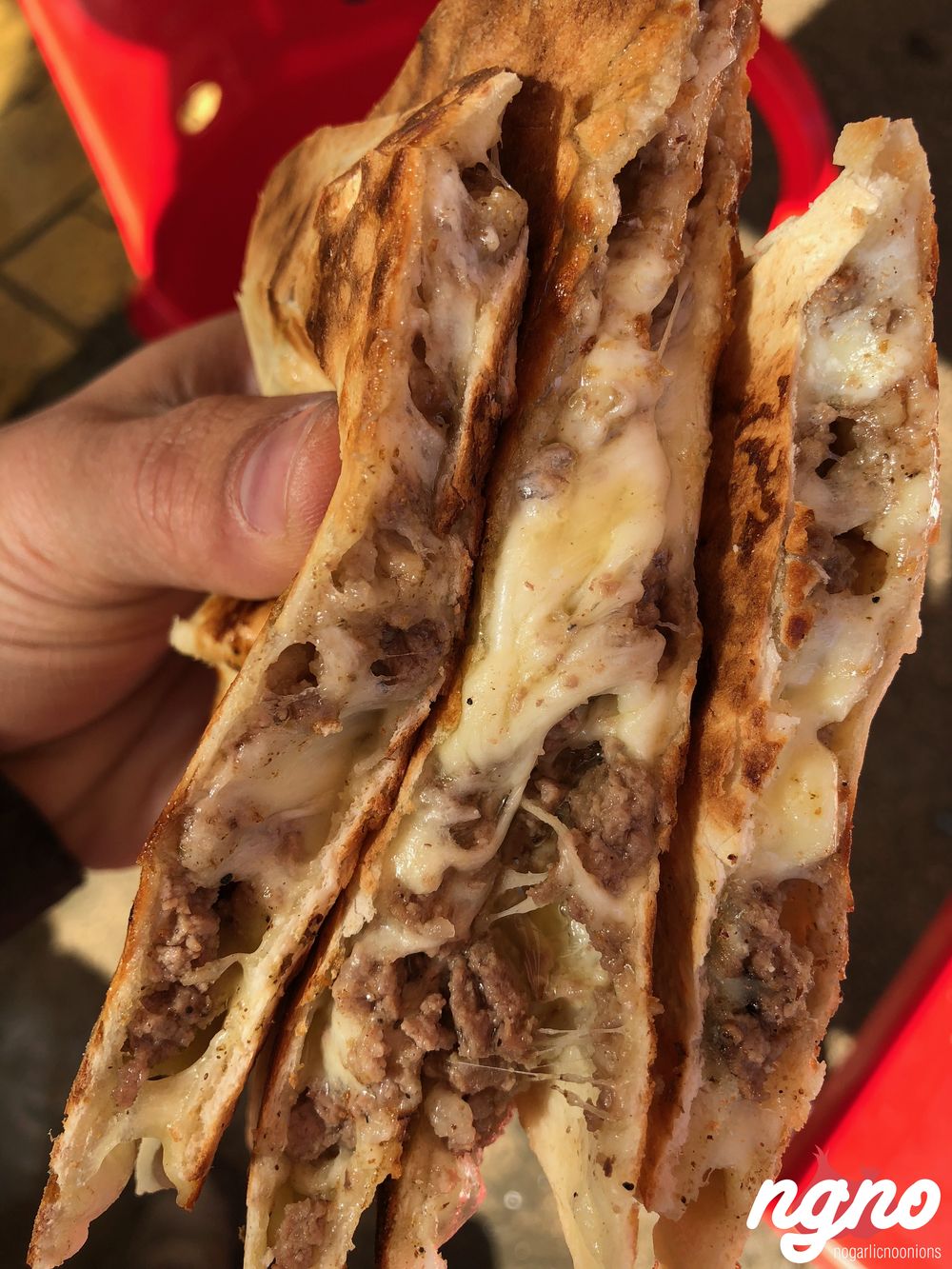 Tabliet Tawouk at Massaad in Zahle
While discussions continued, the tablieh landed in front of us. A sandwich containing a premium chicken, marinated to perfection being so juicy that it doesn't need any additional sauce. I've ordered mine without garlic and believe me when I say that it was so juicy and tasty. A nice lemony note is enjoyable and leaves a pleasant aftertaste. The sandwich is then toasted, brushed with the signature marinade which is followed by a sesame shower. On the side, a generous portion of hummus and another of coleslaw salad is accompanied by thick French fries and pickles. You'll be amazed by the quality of the salad, its freshness and crunchiness as well as the French fries, thickly cut in-house the homey way.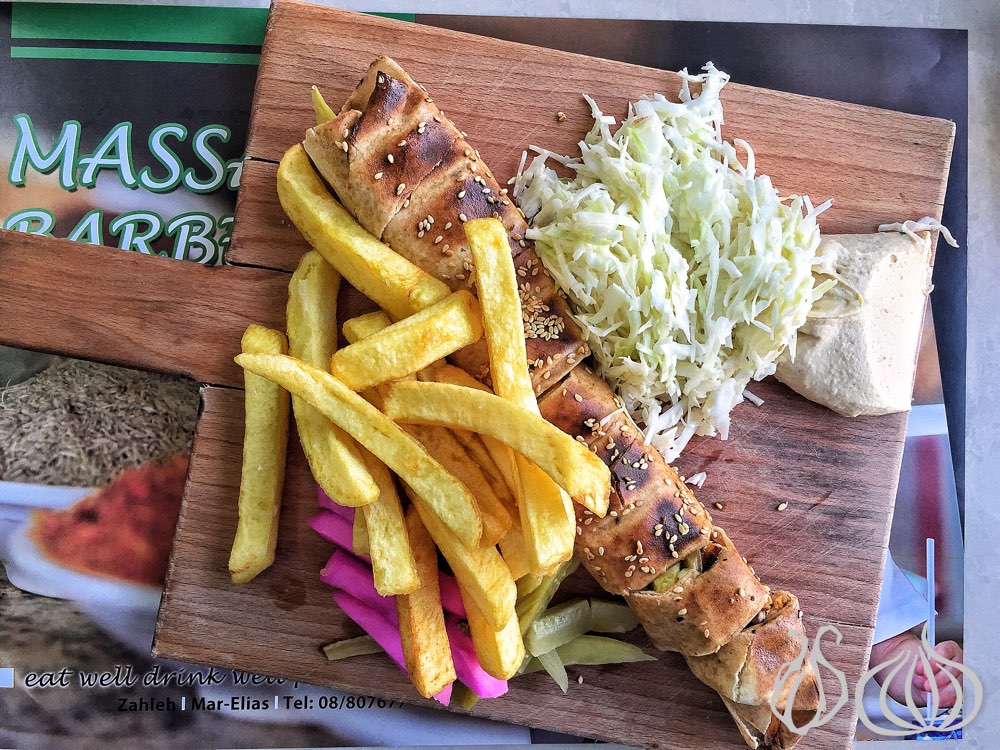 Lina's Fresh, Loaded and Crispy French Sandwiches
Welcome to Lina's home of crunchy sandwiches baked a-la-minute and loaded with a generous mix of fresh ingredients. I'm a fan, a big fan of Lina's sandwiches, of the unique bread and all the ingredients they put inside it. Few eateries have managed to keep it simple and innovative at the same time, balanced, tasty and not heavy.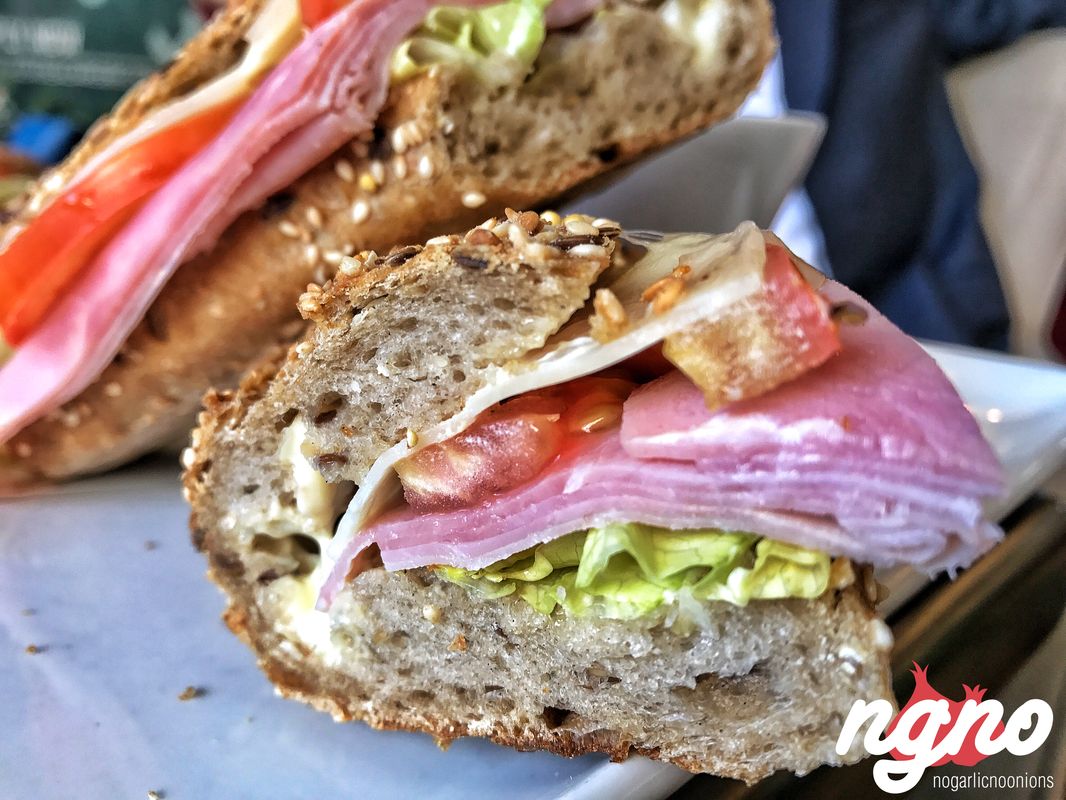 Spicy Fish Sandwich at Al Sayad in Tripoli
Spicy fish sandwich served with lettuce, tomatoes, and fries with a load of lemon juice wrapped in a Lebanese sandwich. What an amazing creation, what a good fish sandwich. Shredded fish mixed with spices, spread on a sandwich, lemon to add a rich flavor and those fresh vegetables. It's so fresh and unique, different from the commercial version made famous on the waterfront.


Beef Shawarma at Al Safa in Aley
The meat shawarma is huge and for only LBP5,000. A loaded sandwich filled with meat, juicy meat with notes of sweetness, tomatoes and, for me, no onions. Wrapped in Lebanese bread followed by a roll of markouk, it is carefully heated on the grill, adding a light and enjoyable crunch. It's heavenly, delicious.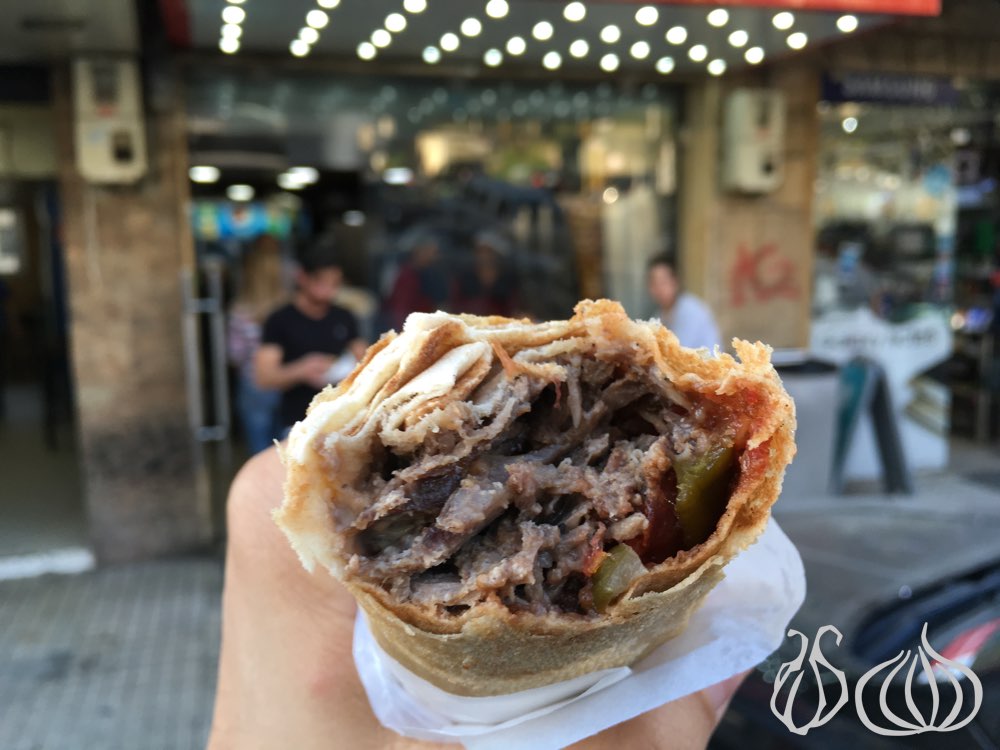 Shawarma at Aboul 3ezz, Dekwaneh
Still is one of the best Shawarma joints in town, Abul3ezz serves an amazing sandwich loaded with flavors and love, served with such a generosity like no one else does it. I love the bread, the way it's soaked in fat and grilled, the juiciness of the meat -chicken and beef-, the freshness of veggies and how they decorate it at the end with more meat because you get the first bite -first impression- once. That's not a detailed review but more of a statement, I loved the sandwich so much that it deserved a line; It really is worth a try, Abul3ezz' shawarma rocks!
Lahme Beajine: Kababji's famous Lahme Beajine, served in small portions or large ones, crunchy, crispy borders surrounding a thin layer of lightly chewy dough spread with meat and pomegranate molasses. Kababji's famous ground meat with a light, sweet touch and rich juiciness. I love how the dough is white, how the borders are homogeneously crunchy and how the flavors of the filling are balanced.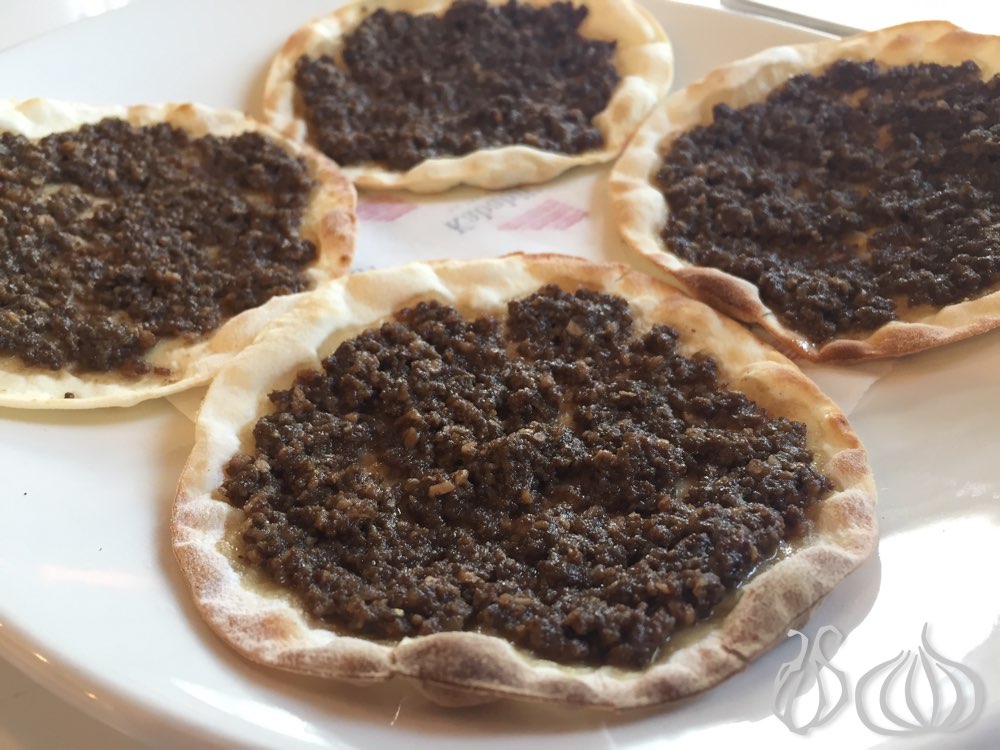 Eggs and Potato Markouk Sandwich at 3al Barakeh in Mazraat Yachouh
The formula is simple yet innovative. Al Khal prepares his own markouk bread that he keeps at a certain thickness that doesn't break if rolled into a sandwich. You have to see how he massages it and caresses it, putting into it some passionate spells... The dough first goes on the saj to be slightly cooked... Afterward, he fills it with rich ingredients, adds the needed seasoning, some freshly cut vegetables and sends it back and put it back on the saj to be cooked then rolled in style - and the outcome is large 30cm sandwiches that will satisfy any craving. My favorites include the eggs and potatoes, labneh and vegetables as well as their homemade kafta... Impressive simple sandwiches that are very tasty. While waiting to be served, Al Khal's creates positive a positive ambiance with full energy will. While in there, you'll automatically forget the day's stress. And that's not all.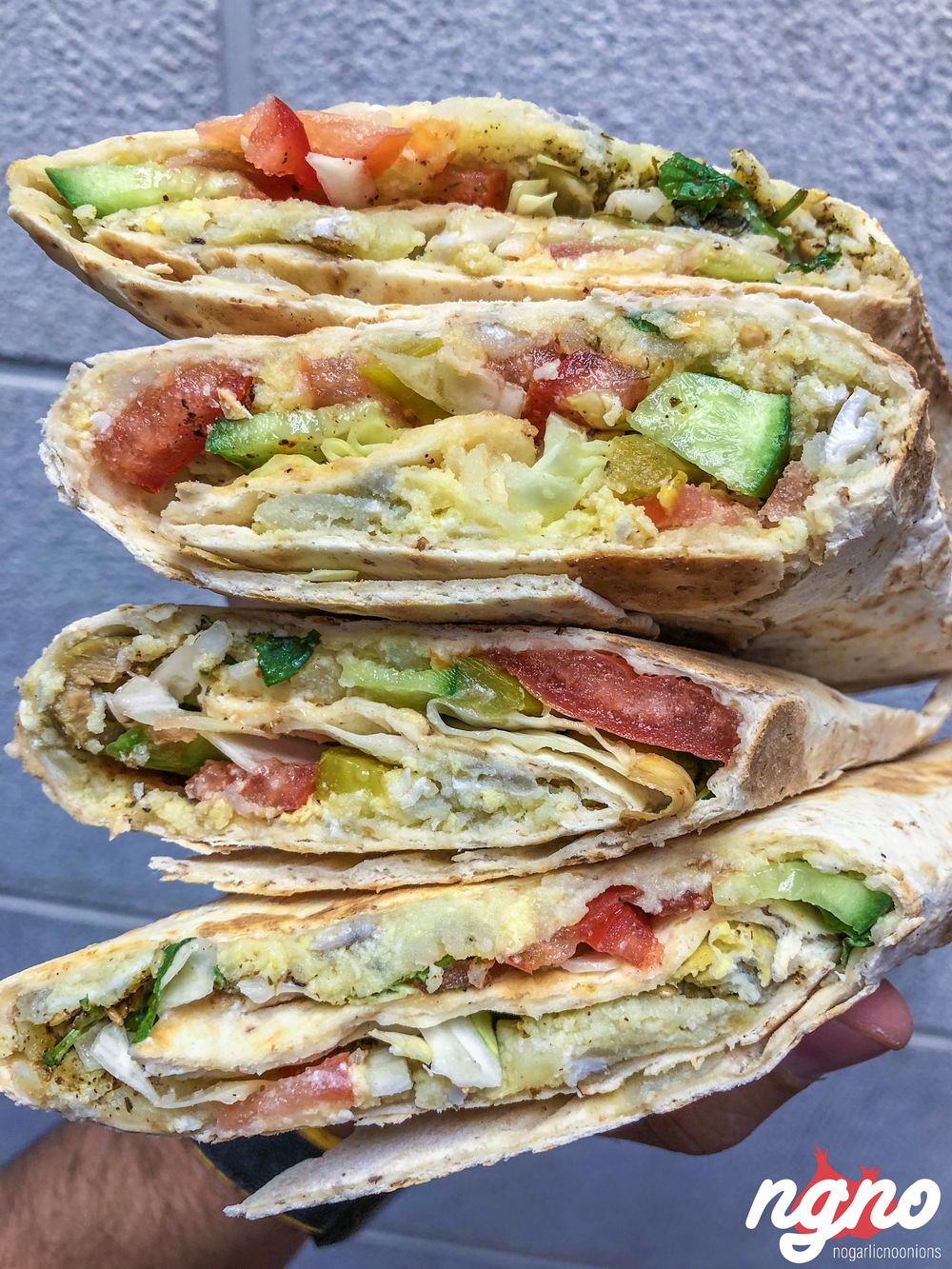 Fatayel Sandwich at Mahfouz in Saida
"What is Fatayel?" I ask. Fatayel is a filet which is fried and cut into small pieces like minced meat. Afterward, it is rolled into small sandwiches with tarator and tomatoes, nothing else. Feel the smoothness of the bread, thin, at less than a millimeter thick, the juiciness of the meat, which has a light taste and no oiliness, while the sauce and tomatoes add the juiciness the sandwich needs to be great. Small in size, you'll need more than 3 of those to fill up your stomach. For LBP2,000, it might be the first time in your life you'll eat meat for breakfast, and believe me it's worth it.


Eggs and Smoked Meat at Deli.co in Beirut
There is "good food," and there is "Deli.co Food"; food at Deli.Co is beyond normal. There is passion, love, know-how, balance, and taste in every bite — the most tender burger bun the country has ever witnessed filled with eggs and smoked meat. An "OMG" feeling of foodgasm rarely felt in a sandwich. The whole melts under your teeth waking up each and every taste bud of yours.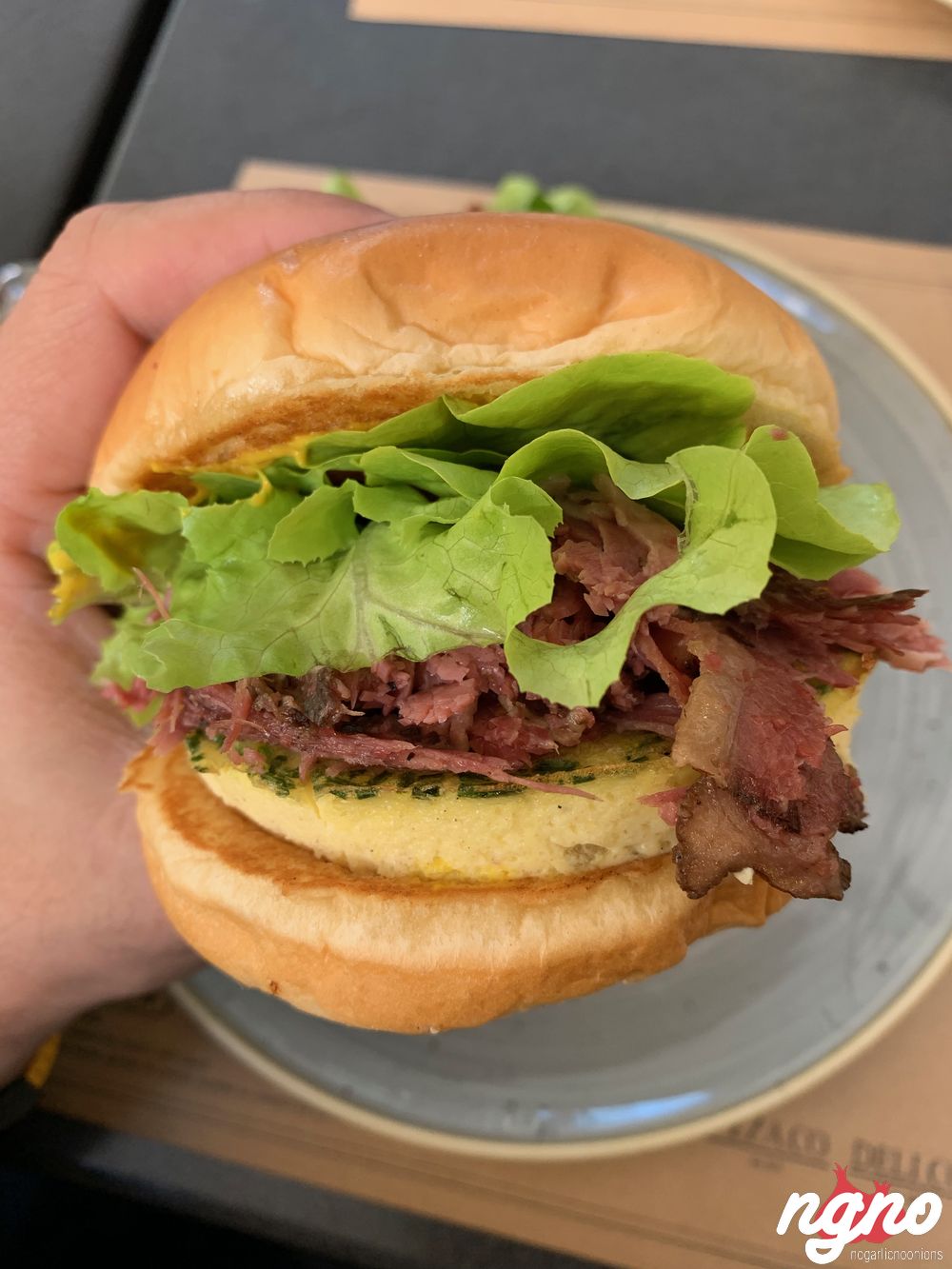 The Burger at East Village in Badaro
Because burgers are not created equal, Lebanon has "this burger" and then all the others. East Village serves the country's sexiest burger balanced by the best ingredients out there. A unique buttery bun melts under the teeth like butter, a sauce that caresses your tongue in style, a patty that tickles your taste buds to make you smile, laugh and scream. It's a burger where the meat comes from another planet not needing any condiment or sauce to cover up its taste. Bravo is not enough, a feeling of amazement that made me want to scream. Cooked medium rare, the patty is red on the inside with a flavor of grilling on the outside. I've had burgers... each missing something! The burger of East Village is complete.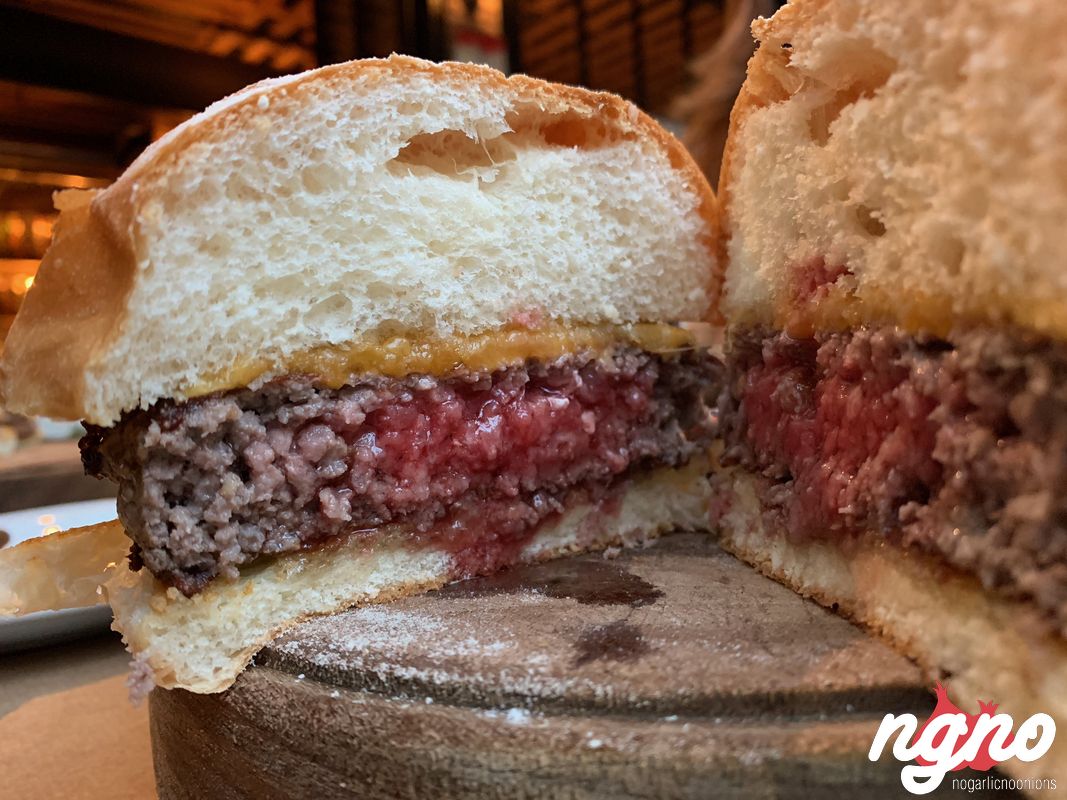 Homey Burger at El Estez in Achrafieh
Bravo for the burger, Bravo a hundred times! Bravo for the simplicity, the taste, the quality of ingredients, the balance of flavors and the presentation. Thank you for giving me the burger of my childhood, the simplicity of a sandwich not found anymore in town.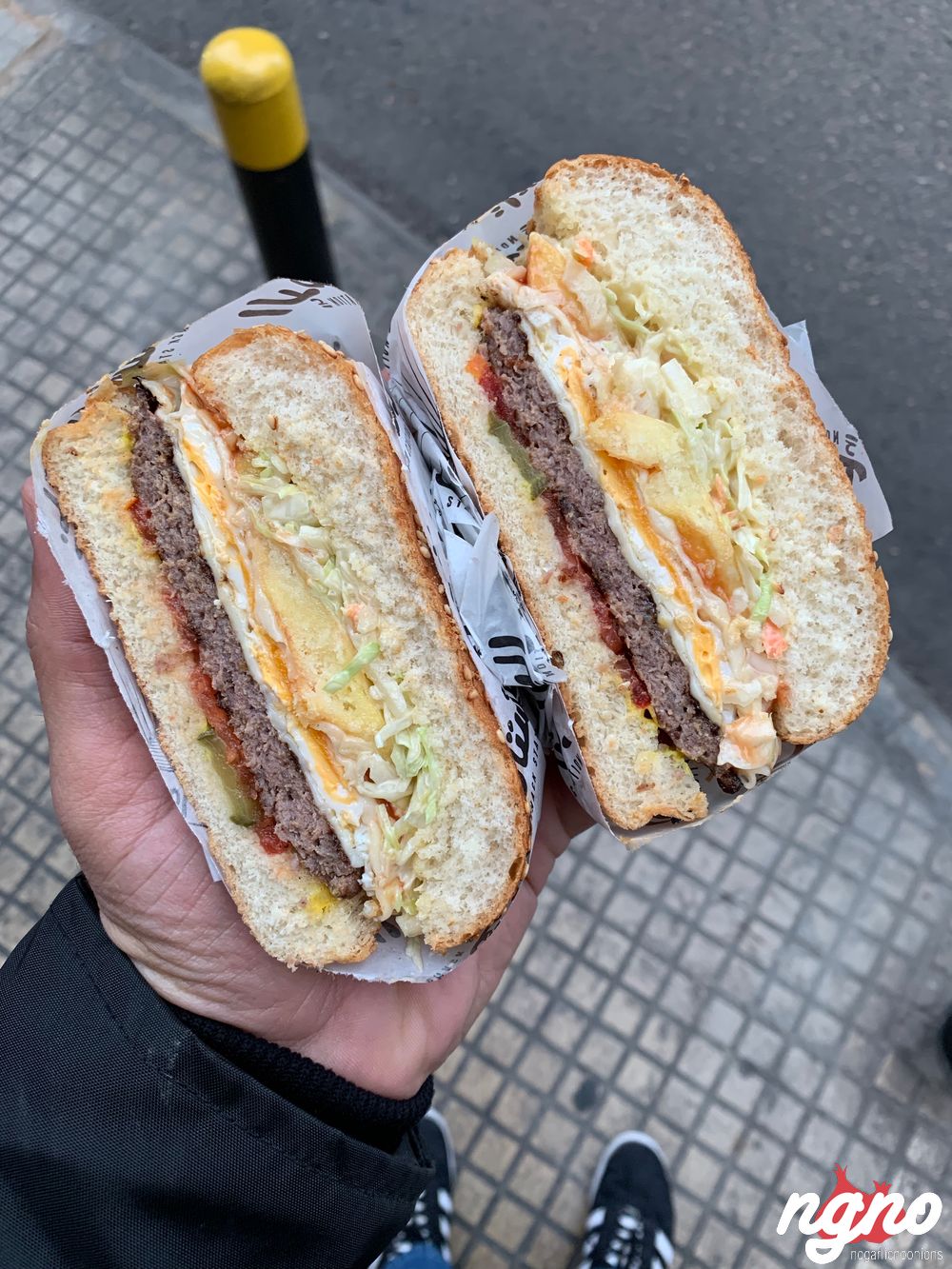 The Millionaire Croissant at Home Sweet Home in Mar Mikhael
I feel proud of my country when I eat things like this; I feel proud of the chefs of my beautiful country when I eat innovative things like this which were only found in the big culinary capitals of the world a few years back. Have the millionaire croissant which will make you feel like a rich guy without a penny in your pocket. Real scrambled eggs prepared to perfection and stuffed in a flaky croissant spread with avocado cream. The marriage of ripe avocados giving a certain acidity, the smoothness of eggs and crunchiness of the croissant combined, is a pure satisfaction to your taste buds.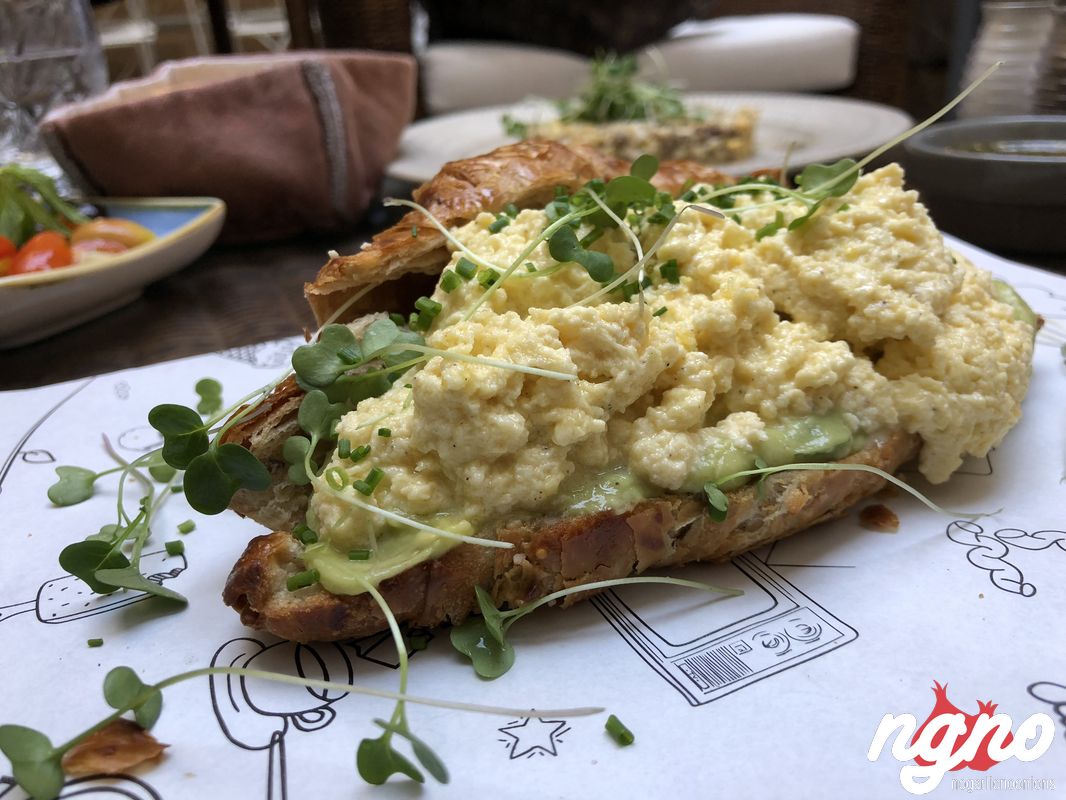 Avocado on Toast at The Sage Parlor in Mar Mikhael
I've had avocados on toast. Dozens of them, in New York, San Francisco, LA and beyond... I've never imagined feeling transported to the capitals of the world while having a sandwich in Beirut. It's simply toasted, a good quality bread topped with ripe avocados mixed with lemon juice. The lemon tickles your palatal buds drawing a gentle smile on the face. Salmon is for the style and class. A sandwich that makes someone happy... I never imagined avocados could have such an effect.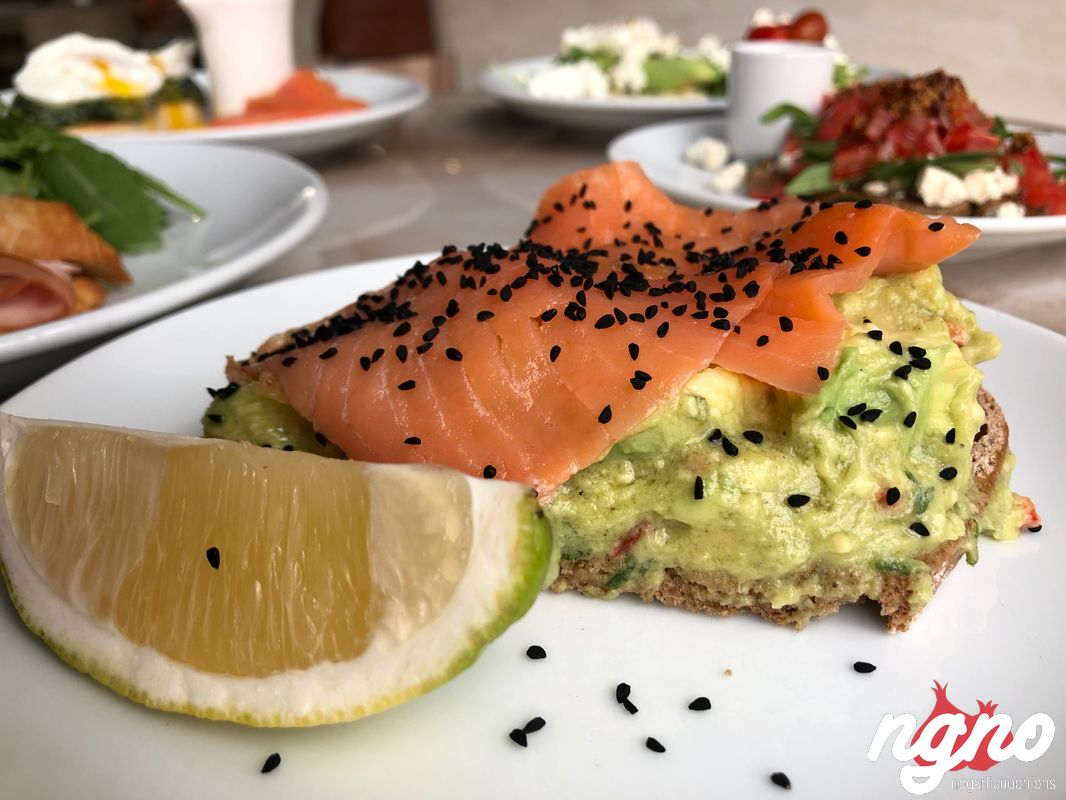 Tacos at Streat Eats in Faraya
When things started to become serious... imagine a taco filled with grilled shrimp, a big sized fried fish filed, cocktail sauce and crab sticks! Wow! What a combination! A gourmet taco for LBP10,000. Feel the fish, enjoy the shrimps, tickle your tongue with the crab and let the sauce caresses your palate.
It's excellent, simply excellent, one of the tastiest casual burgers in town, a nostalgia of my childhood; comfort food if I may call it. The spiel mozzarella is Crepaway famous burger, a tender and sticky bun covered with sesame and seeds stuffed with molten mozzarella patty, fried to perfection giving it a crunchy envelope, crisp lettuce, a sweet tomato, and a juicy patty. It's good, actually too good to be true. I love the meat quality, Angus beef quality indeed without the after-bites of spices cheap burgers leave in the mouth. The sauce is light bodied and offers a sweet touch caressing your taste buds in style.


Do it Yourself Pastrami Sandwich at Marky's Delivery in Lebanon
Yes, Lebanon's best, the one and only, the softest, the juiciest and the tastiest Pastrami ever! Cooked for hours, even days, smoked and steamed, thinly sliced and sold in nylon bags, Mark's pastrami makes you travel around the world and back. It's so good it made me smile, laugh, shout and dream... so peppery and flavorful, that Angus Beef pastrami in not for the faint of heart. It has a subtle fattiness to it that caresses your taste buds as you've never experienced it before. Leave it on your tongue, let it slide and melt while the spices kick! Smoked all the way to let the aromas go up to your brain, so juicy it feels like a sponge, so tasty it made want to cry. Some like it with mustard, others in a sandwich... I just like it as is!!!!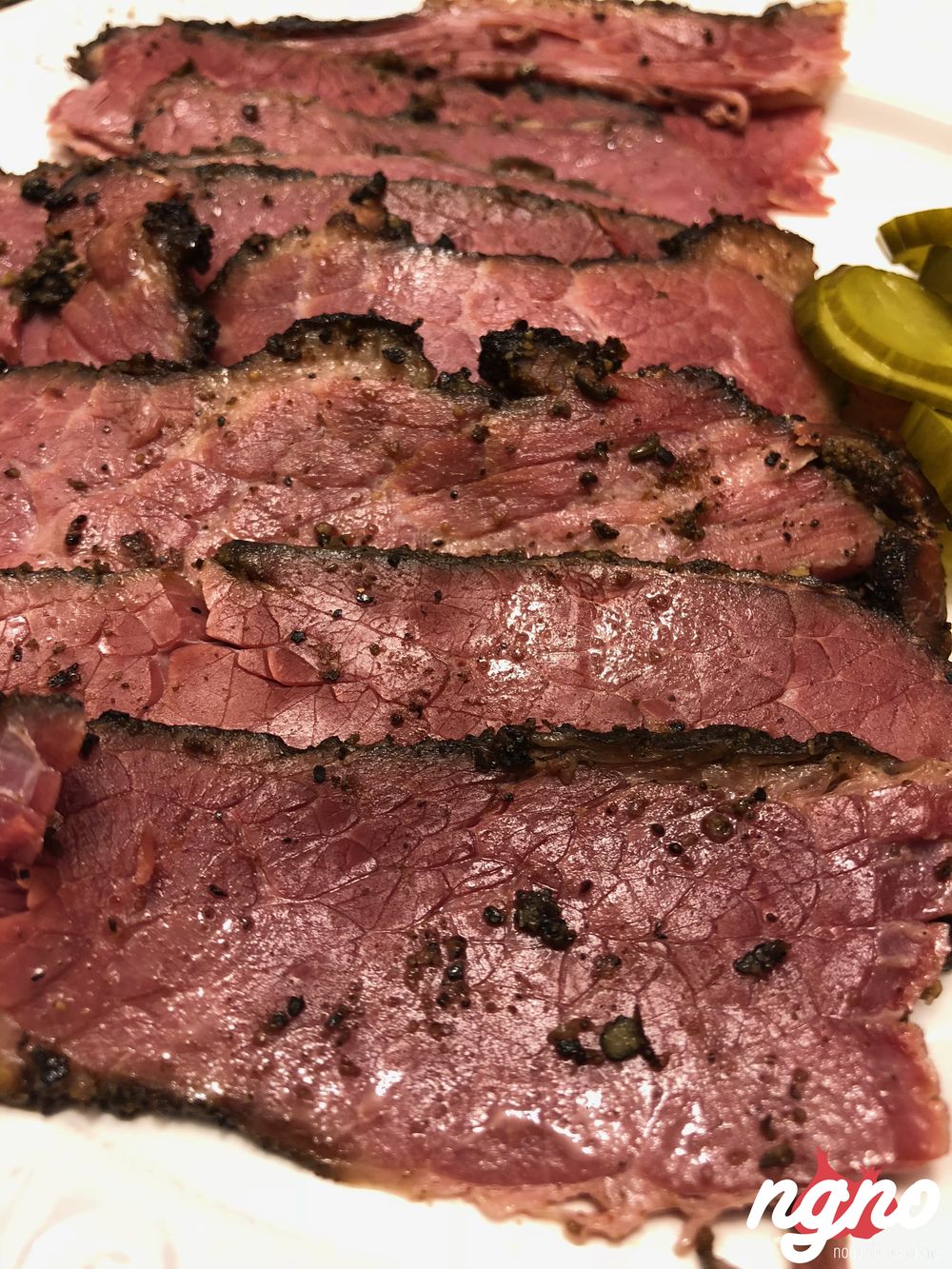 Labneh Sandwich at Breakfast barn in Achrafieh
A thick pain de campagne with a soft heart and crunchy crust topped with crumbled goat cheese and slices of dried figs, each decorated with a line of honey. The whole thing was sprinkled with sesame. Loved the bread quality, the smoothness of the cheese, the fig's texture and surely and most importantly the dish's color, presentation and generosity. The avocado look really nice! A spread of mashed avocado sprinkled with whole almonds and pomegranates, a loaded sandwich where each of the ingredients add value. Full of nutrients, it's an interesting plate. The chia jars are awesome! It's a jar loaded with nutritive items from crunchy nuts, to chia seeds, fresh fruits and honey to add the sweetness you need. Loved the cashew nuts, the thinly sliced bananas, the almonds, dried raisins and much more. The simplest of things and surely the best - in my opinion - is the yogurt cup. A super duper very flavorful yogurt cup served with your choice of add-ons on the side. A big bowl with one of the tastiest yogurts I've tried to date even before adding the ingredients one at a time. Berries, mighty granola, star berries, mango, dates, dried figs - the list goes on and on. I enjoyed it so much - this cup that reminded me of every breakfast I've had in a hotel abroad... I was feeling happy and proud to have a real Breakfast Barn in town.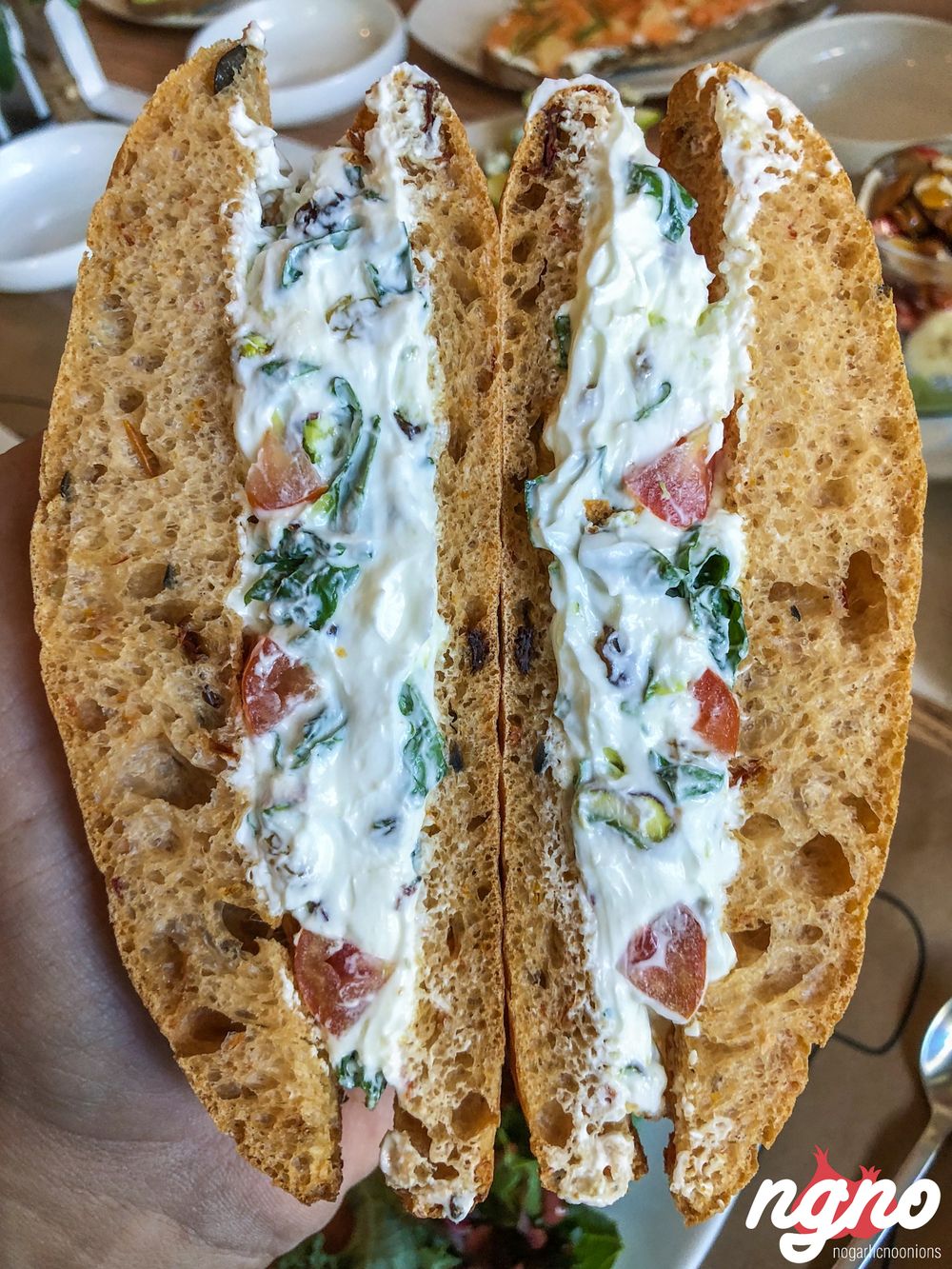 Falafel at Robert el Sadat in Kousba
"The" falafel, in my opinion, the best in Lebanon. "Robert Al Sadat" wraps them in a special brioche flatbread, garlic-free and bean-free, crispy crunch falafel. They feel light, enjoyed in a sandwich loaded with fresh vegetables.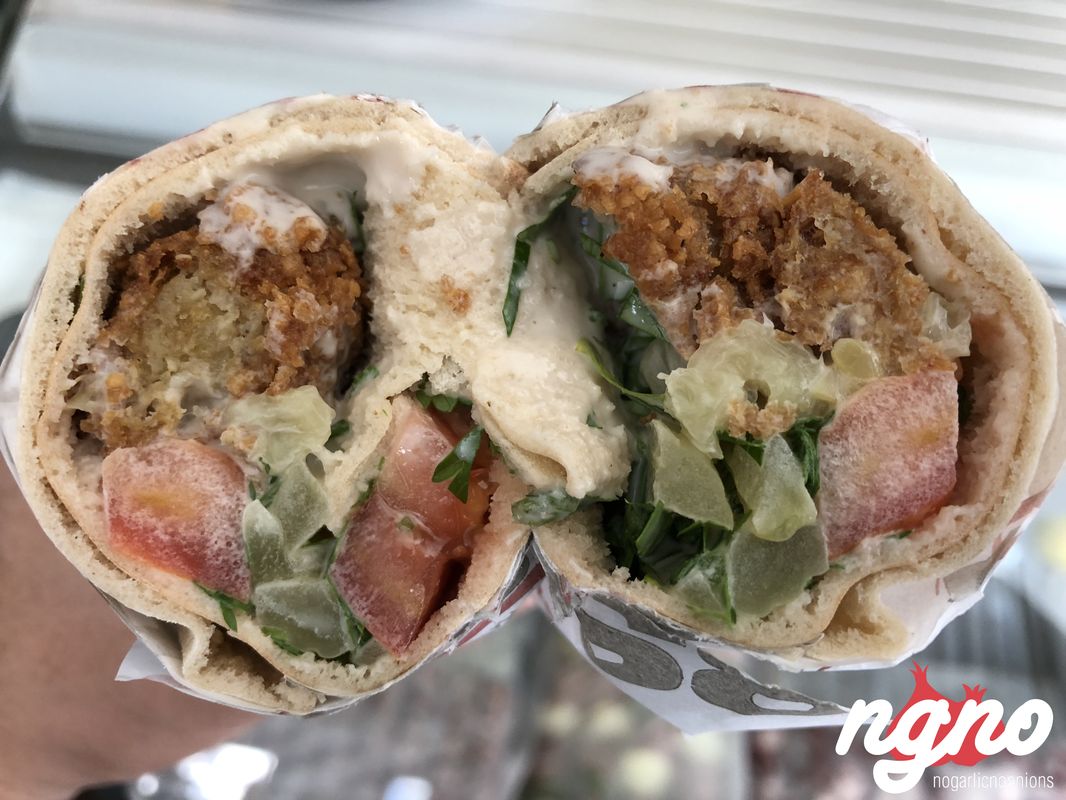 Homey Sandwiches at Sand-Witch in Bickfaya
The food at Sandwitch is simple; simplicity is key, flavors of your childhood, soft bread without any sophistication, no butter needed on the buns, no excess tasting... as it is, pure and clear putting forward the real flavors of each ingredient. I enjoyed the chicken submarine sandwich where the bread melts under the teeth feeling the sesame covering it, filled with juicy chicken enjoyment. The burger is that burger grandma never did, soft buns, juicy patty, ketchup, fries, and coleslaw.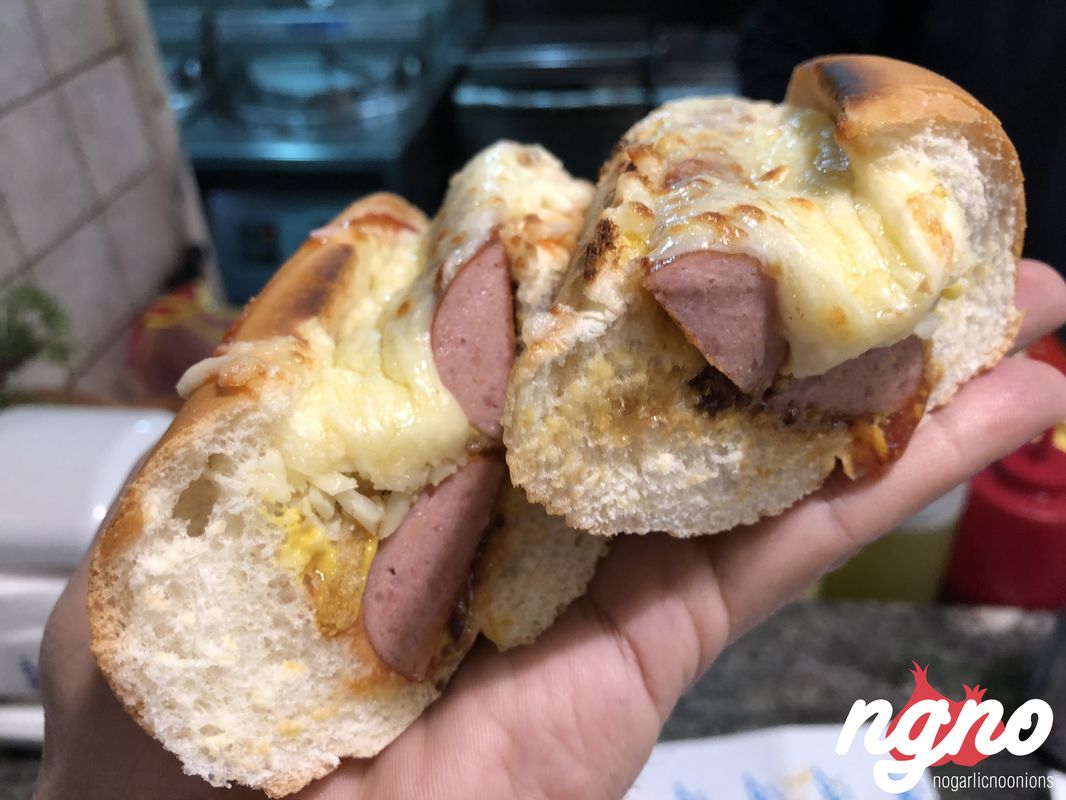 Sloppy Joe at Sandwiched in Jounieh
The Sloppy Joe: OMG!!!!!! It's not the Sloppy Joe you read about in books or see on Google but an impressive signature sandwich you'll want to try today! Buttered and lightly toasted pain de mie stuffed with a load of barbecue sauce and ketchup, melted cheese and a thick, very thick burger patty. So juicy, so enjoyable... heavy but I like it this way. The spiciness caressing your lips, the sauces splashing on your cheeks... loved it!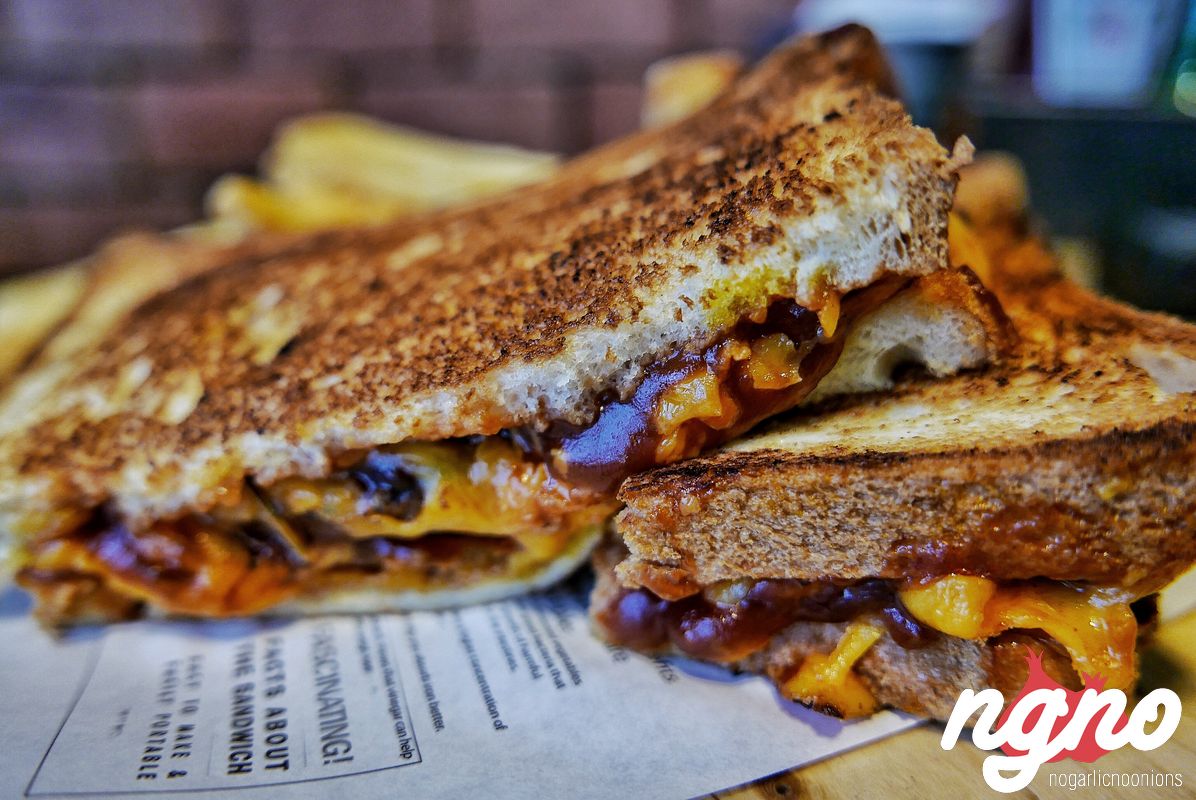 The Best Awarma w Labneh at Emm Bashir in Faraya
It is thin like paper, crunchy like a biscuit, generous like love and tasty like passion. Try her zaatar markouk, the simple normal zaatar without fear of any heartburn. Bite into this large Lebanese pizza style bread, which will break under your teeth like a galette de sarasin or a piece of whole-wheat French crepe; the dough is unique of its kind. Afterward, feel the fine oil and the local zaatar topping this UFO-like breakfast magic.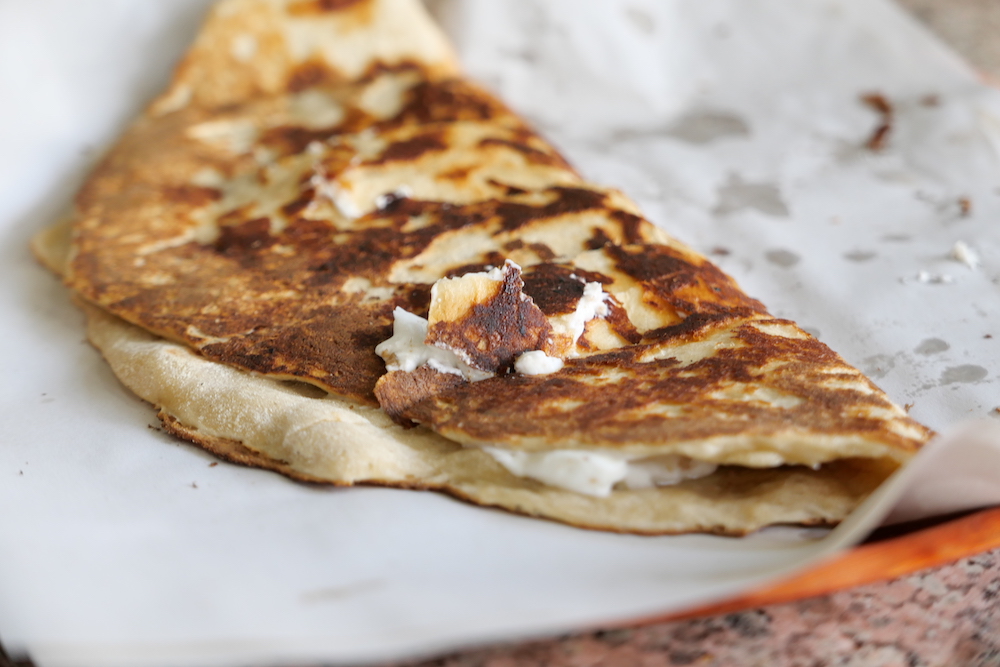 The Chicken Sandwich at Le Gourmet in Bickfaya
I personally order those chicken sandwiches with mayonnaise instead of garlic and enjoy them just the same. If you happen to pass by the area, Le Gourmet is your address. A snack that opens for lunch only until the quantity expires. The place is clean and professionally handled with care.


Flamed Salmon Sandwich at Emile in Souk el Akel
A chance to try a one-of-a-kind smoked salmon at Souk el Akel. Here world famous Scottish salmon has been taken to another level. Marinated and salted, Emile gets his salmon from the finest sources, drying it and smoking it vertically over the soft flames of oak. See it turn into an orange color, smell it and prepare to be amazed. Each portion consists of salmon with sour cream on the side and some boiled potato. Lay it on your tongue and enjoy while it melts like butter caressing every palatal bud. You can feel the love poured into this salmon: as I always say, it's one of the country's best.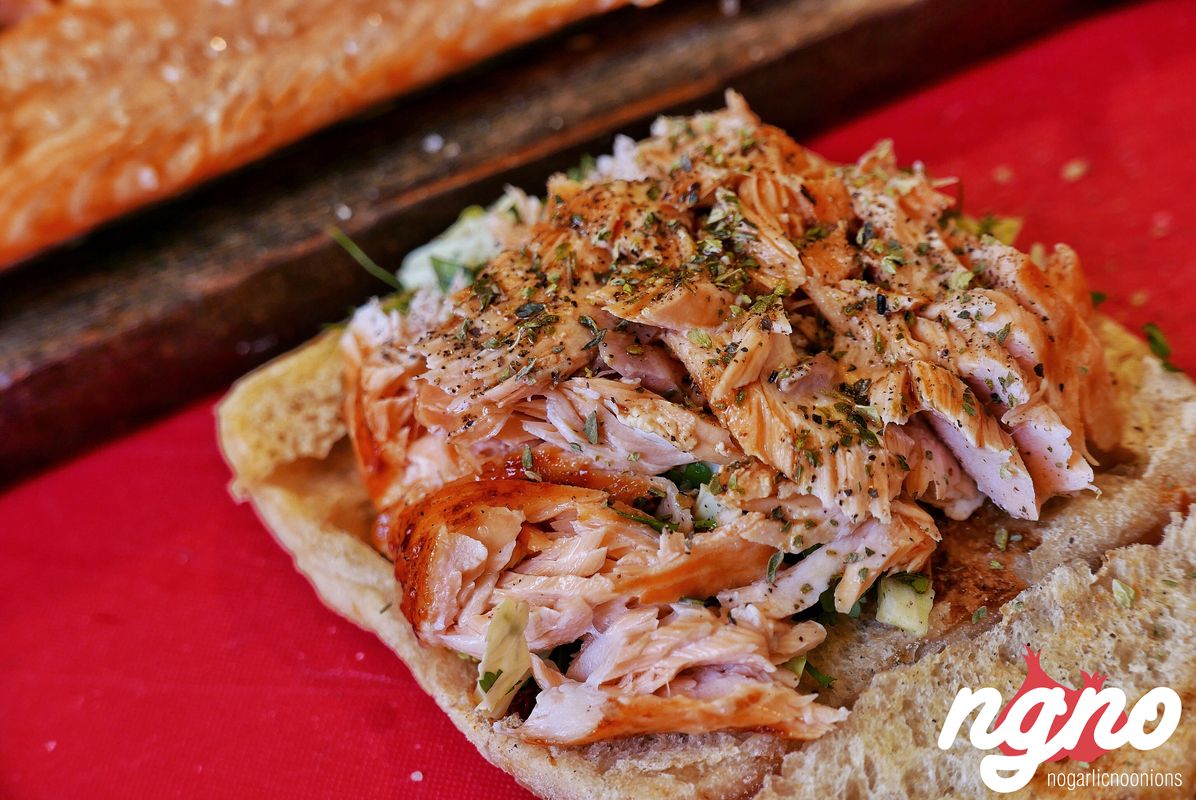 Armenia Style Sandwiches at Sako in Mar Mikhael
He takes the sesame-covered bun, cuts it open and stuffs it with all day-marinated steak. It's toasted, heated then filled with thinly sliced tomatoes, mayonnaise, fries, pickles and a sprinkle of salt. I loved the freshness of the bread and the tenderness of the meat while every ingredient adds a flavor to the mix. That's a good sandwich indeed. The roast beef sandwich, even though roast beef is usually dry, is not. Tomatoes, shredded salad, mustard, and pickles. I loved the juiciness of the sandwich, the generosity of the filling, the crunchy pickles and the lettuce. There's certain juiciness to it and a subtle, salty after note. It's a good sandwich. Chicken liver: Mayonnaise or garlic married with tomatoes. That's the best of all. Peppery, super juicy, sour and delicious all at the same time. Tender and moist chicken liver with some tomatoes to add more juiciness, and a hint of sweetness. A must try.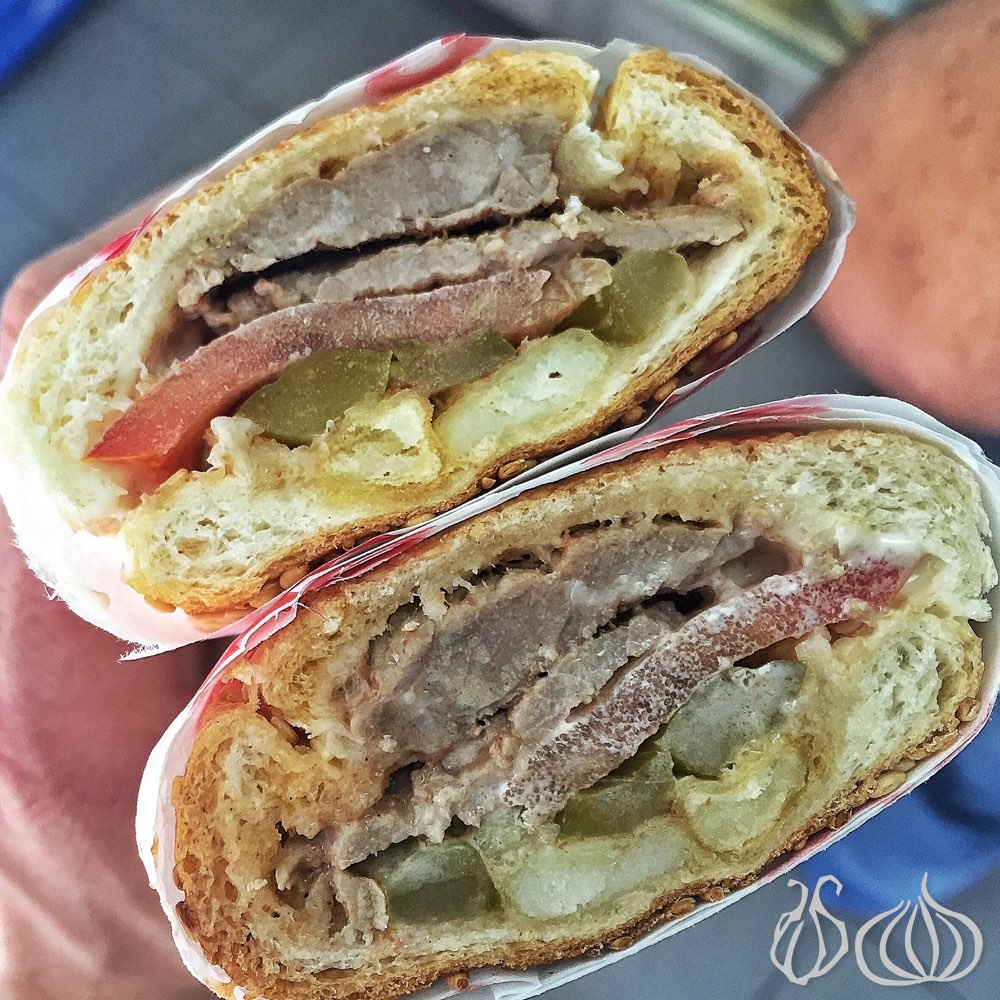 Slow Braised Lamb Sandwich at A Cote in Mar Mikhael
Wow, that's a very interesting sandwich, to say the least. I still had an aftertaste 10 minutes later. Just imagine round ciabatta bread filled with shredded lamb, roquette lettuce, sun-dried tomatoes, and a special curry sauce. Warm on the inside, a chewy bread, a premium filling... That's really a sandwich that's unique and one of a kind.